Janelle Aguilera-Daley leans forward in her chair as a customer approaches her. With masks on and more than six feet between them, she takes their order and payment. Smiling with her eyes, she gives them a clear takeout container with two cupcakes inside. 
This farmers market season is different from those in the past. While the University of Maryland Farmers Market, which usually sets up shop every Wednesday of the market season at Tawes Plaza, canceled its 2020 season, others — including the Hollywood Farmers Market and College Park Farmers Market — have found a way to stay open while keeping patrons safe.
Aguilera-Daley, a Hollywood Farmers Market vendor, has recently joined as a baker and has found success in selling her scratch-made desserts on Saturdays. 
Aguilera-Daley started Janelle's Crumb Shoppe Bakery after leaving her job at American Airlines earlier this year due to the COVID-19 pandemic. Her absence compelled her to pursue her dreams of baking. She first received orders after posting teasers of a pineapple upside-down cake on social media.
"I started with my blueberry lemonade cupcakes, then people started requesting other things … It just took off from there," Aguilera-Daley said. "I always wanted my own bakery."
On her first day at the Hollywood Farmers Market she was wowed by her success, selling out before the day was over.
Yet, there are a few restrictions that sellers and patrons serve must abide by during their shopping trip. In addition to wearing masks and staying six feet apart, patrons must follow a certain path to make their way to each table in order to avoid crowding.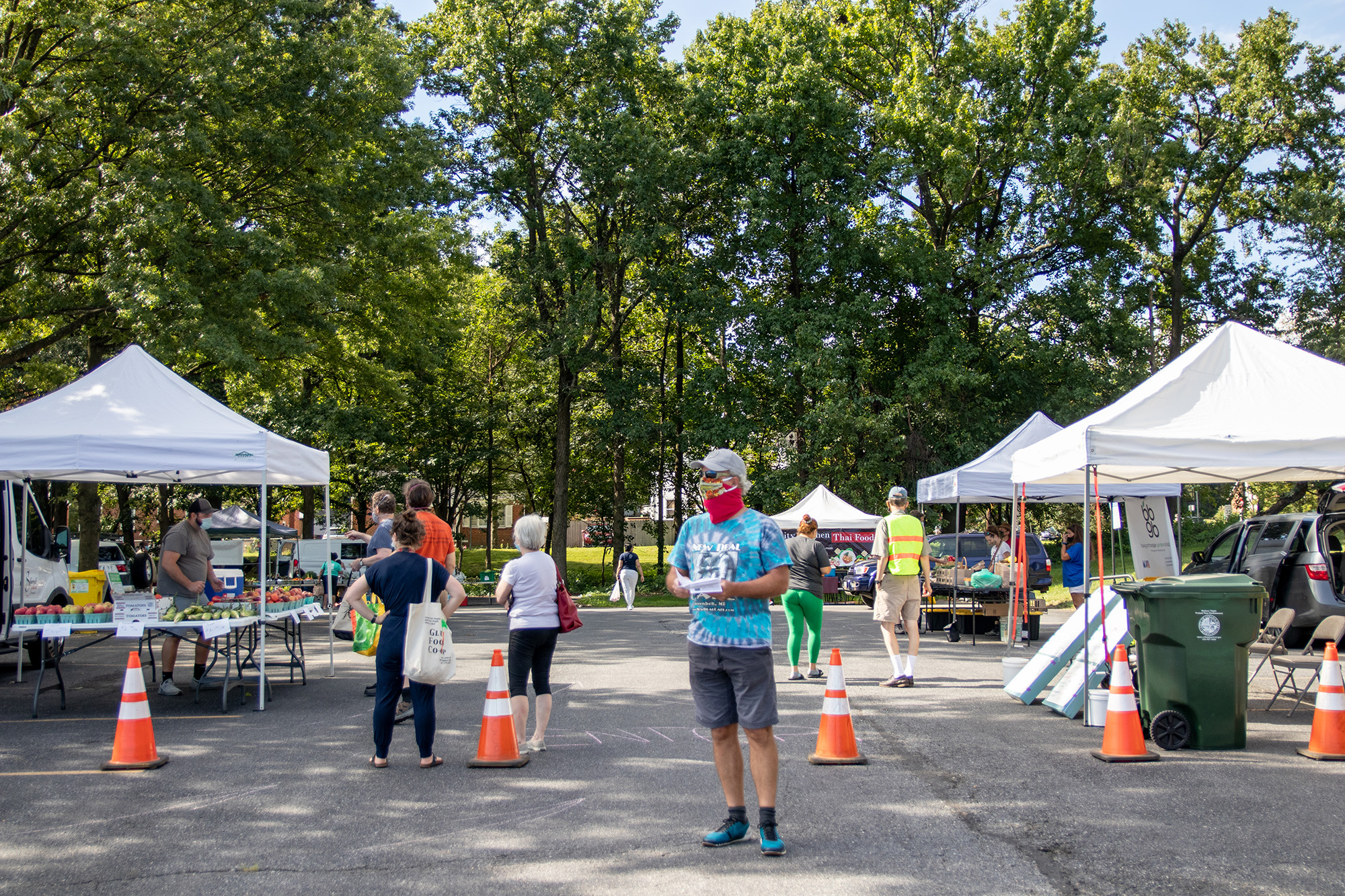 Aguilera-Daley said she has also had to find ways to make her new business safe during the pandemic by offering contactless delivery and preorder options for customers. 
[College Park residents brace for the return of UMD students]
Hannah Poland, founder of Unity Coffee Co., is a new vendor who started at the College Park Farmers Market during the summer and found success.
Poland works full-time as a higher education consultant but wanted to bring the College Park area another option for coffee from an ethical supply chain. 
She said that the lower volume of people at the farmers market makes the company's first summer lower risk. She's been able to take time to talk to customers about their preferences. 
"[We can] really find out what they like and what they don't like," Poland said. "And people are incredibly patient and they're really thankful."
This season has also been good for long-time vendors. Phil Miller's family business, Miller Farms, has sold at the College Park Farmers Market for 40 years. 
With the growing uptick of farmers markets in the area, there's been competition for vendors in the past decade.
"We did very well 10 years ago," Miller said. "Then when these other markets opened up, our business was cut in half. We're slowly bringing it back to where it was 10 years ago."
While the over 250-acre Miller Farms sells produce wholesale to local grocery chains like Giant, Miller goes to the farmers market every Saturday.
"People have been very supportive of us," Miller said. "There was something for them to do on a Saturday morning and come out and see us. Plus [they] get good quality fruits and vegetables."
Vendors who sell at farmers markets that are closed for the year have had to make alternative plans for this fall. 
This would have been pastry chef Melanie Parker's second year at the University of Maryland Farmers Market. 
Before the pandemic, it was normal for Parker to go to four or five markets weekly, but now she goes to two. 
"Me being at the market turns into repeat customers and then they will order maybe something on a larger scale off of the website," Parker said.
Parker sells a lot of desserts to people at University of Maryland Farmers Market but has found herself delivering items more now.
[Facing low customer turnout, the Downtown College Park Farmers Market's future is unclear]
Other vendors have had similar business shifts this year. 
Jessica Grotenhuis started Batter Up Patisserie in 2016 and has mostly sold at the University of Maryland Farmers Market. 
"College Park is a huge farmers market for me, and I love it. I love talking and seeing the kids that come through there every day," she said.
To be careful about putting other family members at a higher risk during this pandemic, Grotenhuis won't be selling at any farmers markets this year.
But for those who can get out and go to the market, it's been a big hit — whether you're picking up produce, browsing new vendor stands or even just socializing. 
"A lot of people I've talked to just come to the farmers market because it's a way to get out of the house and walk around and to be able to see other people," Poland said. "To me, it brings a lot of joy in a time where it's kind of hard to see things that are going well in the world."