In the early days of the COVID-19 pandemic, Isaiah Davis-Allen was optimistic.
"I didn't think it was that big of an issue at first," said Davis-Allen, a member of Maryland men's lacrosse's 2017 national championship squad. "I think that was a common thread among a lot of young people."
That thread would soon be dispelled, as COVID-19 became part of Americans' daily lexicon, its rapid spread bringing the nation, including sports, to a standstill. The NBA suspended its season, March Madness would soon follow — a prelude to the widespread cancellation of spring sports.
And for Davis-Allen, now a midfielder on Major League Lacrosse's Chesapeake Bayhawks, it became increasingly clear that his season, too, would be put on hold.
So, he headed to Dick's, got himself some training gear, and readied for a lengthy hiatus.
Now, after nearly four months of waiting, Davis-Allen is off to Annapolis. The Bayhawks take on the Philadelphia Barrage this Saturday, the first of 18 games set to take place across a nine-day summer tournament.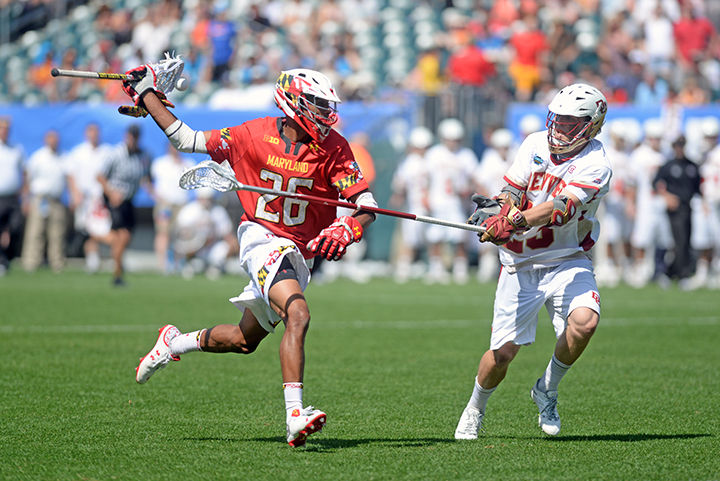 [Former Maryland lacrosse attackman Jared Bernhardt announces intent to play football at Ferris State]
It's not quite what players, coaches and executives had envisioned heading into this campaign, but with most major American sports still on pause, the tournament presents a unique opportunity for the MLL — a chance to thrust itself into the mainstream sporting culture.
And it's not an opportunity the league plans on taking for granted.
"When you're a small league and you're challenged, you can either capitulate and hide, or you can push through and hopefully break through," said Mark Burdett, the Bayhawks and Barrage president, MLL's chief revenue officer and fellow Maryland men's lacrosse alumnus. "I think this is a breakthrough moment for MLL lacrosse."
It didn't always look like that would be the case. As the coronavirus raged on in communities across the country, MLL executives coalesced on group calls, hoping to iron out the details of a potential season restart. Countless options were mooted, each one scrutinized.
Through it all, though, one thing was clear: The season had to be played.
"As a challenger brand, we basically came to the conclusion we had to play," Burdett said. "If we just capitulated … there's always a chance you become arena football, and you just never come back."
And as Maryland's restrictions on public gatherings began to loosen, the league pounced, eventually striking an agreement with the Naval Academy to secure Navy-Marine Corps Memorial Stadium as the site for the tournament.
The league is also consulting with Anne Arundel Medical Center to ensure its COVID-19 screening aligned with state and local guidelines. And for housing, the league has partnered with The Westin hotel in Annapolis. A two-minute drive from the stadium, the hotel will serve as the "COVID bubble" for players and staff, Burdett said.
[Maryland men's lacrosse left with more questions than answers after abrupt end to season]
For players, the MLL's return is significant — a chance to reunite with the sport that has for so long dominated their lives.
"As a team, we're always looking forward to that next opportunity to play together," said Will Snider, who was teammates with Davis-Allen on that 2017 team. "To have that thing marked on the calendar … it keeps you going."
The league's restart represented a return to relative normalcy; a goal to detract from the boredom and anxiety that comes with a global pandemic. And it was the thing that pushed players to race tracks and open fields — anything to get them back into playing shape.
For Davis-Allen, that meant socially distant workouts. Meanwhile, Snider — a second-year midfielder with the Denver Outlaws — took to Google, finding a bodyweight routine to help maintain his post-college muscle gain.
"If you just look at the overall structure of how the tournament is," Davis-Allen said, "who's been working out and who hasn't is definitely going to show."
And that tournament format is grueling — each team will play five games in seven days. Playoffs will take place on July 25 and 26.
It's a clear deviation from last year's schedule, which stretched from May to October. But for those involved, it harkens back to the days of middle school and high school — with lacrosse-packed weekends where kids came to games bursting with energy and left with flushed faces and sweat-soaked equipment.
It's this competitive atmosphere that the MLL hopes to showcase to the world — a task that becomes even more likely given the league's affiliation with another powerful business entity: ESPN. 
Games will be broadcast on ESPN2 and ESPN+ throughout the tournament. And for Burdett, this offers the league an opportunity: to drum up interest in a largely untapped American sports market.
"We've always been a believer that if our game could get exposed to the right number of people at the right time," Burdett said. "We could potentially … jump the shark."
The MLL's pursuit of "more" has come to define its restart efforts. More viewership. More influence in the world of sports. More development as a brand.
Yet, for all the changes the league has made to return to competition, so much of its potential success hinges on what has been foundational to Major League Lacrosse since its inception. 
The quality of the players. The quality of the lacrosse.
So when Davis-Allen and Snider take the Navy-Marine Corps Memorial Stadium field on Saturday, it will mean more: It's a chance to establish the MLL as a force in the sporting landscape.
And for players, coaches and league executives, that's all they can ask for.