The College Park City Council approved preliminary site plans for a new student housing development on Hartwick Road Tuesday night. 
The project, called "The Standard," will include 282 multi-family apartment units and 6,671 square feet of retail space. Landmark Properties — a developer out of Athens, Georgia — will be developing and managing the site, which is located behind College Park Towers. 
"We're going to be with this project … until it's completed, and then past that," said Eric Leath, a spokesperson for Landmark Properties, during the meeting. 
The Prince George's County Planning Board will review the project's preliminary site plans on May 14, and pending that application's approval, the board will discuss detailed site plans on June 24. 
Current plans propose a nine-story building with study rooms on each floor and a "clubhouse" on the top floor, with fitness rooms, a pool table, a sauna and roof amenities.
And unlike other off-campus student housing apartments in College Park, this development will feature five-bedroom units, Leath said. While rental prices usually depend on the number of bedrooms, Leath added that a mix of five-bedroom units could drive the price per bed down. 
Landmark Properties also proposed three courtyards surrounding the building, along with a small public park on Guilford Drive. The outdoor spaces will include a yoga lawn, cafe seating and benches.
[Read more: P.G. County approves plans for apartment complex set to replace Lotsa, Insomnia Cookies]
Landmark Properties will be joining The Bozzuto Company — the developers of the Southern Gateway Project on Guilford Drive — to create a new two-way road that would run parallel to Route 1, connecting Hartwick Road with Guilford Drive. 
Prior to Tuesday's meeting, city planners requested the width of the proposed road, which will include streetscape elements, be expanded from 20 feet to 24 feet. 
District 2 Councilman P.J. Brennan said the road could help relieve congestion from Route 1, which also runs north to south. The city's planning director, Terry Schum, added that the street will provide additional access to The Standard's underground parking garage. 
"I think this project does a good job of limiting the amount of impacts, certainly to Hartwick Road and Guilford Road … in regard to loading and garage access," Schum said. 
Leath said Landmark Properties will be working with Bozzuto not only as developers but as neighbors. 
"We don't view ourselves as a competitor to the Bozzuto project — we view them as complementary," said Leath. "I think they will be excited to have more heads in close proximity to the retail that they have." 
Landmark's retail space, on the other hand, will be located on the corner of Hartwick Road and the proposed road, facing the northeast corner of the building, Leath said. Current plans call for one tenant to occupy the 6,600 square-foot space.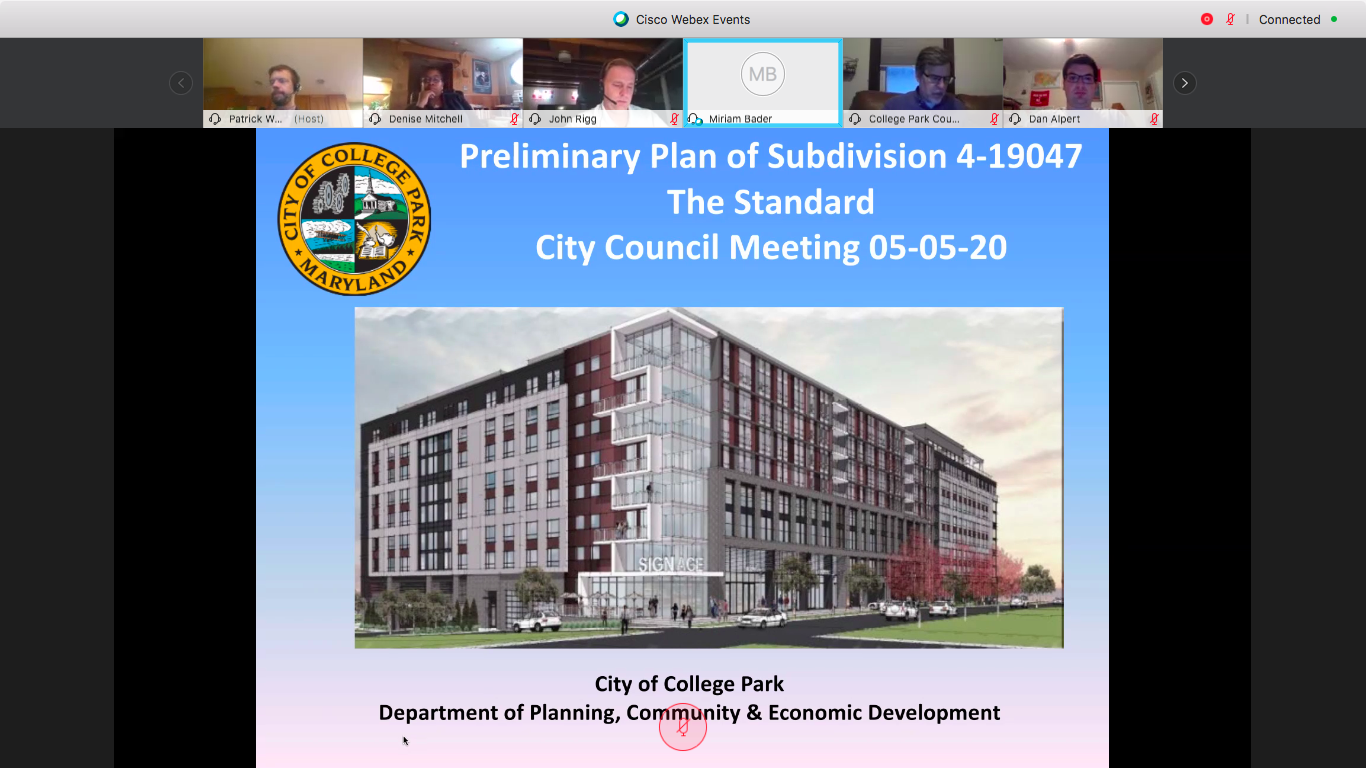 [Read more: Construction continues on College Park apartment complex project amid COVID-19]
However, some council members raised concerns during the meeting about the new building's structure and certification. 
District 3 Councilman John Rigg said the development's proximity to Guilford Drive could thwart the growth of trees along the road. Given the building's proximity to the curb, the greenery on Guilford could see less sunlight, he said. 
"Guilford run is, as one of our residents likes to point out, one of the prettiest streets in the city," Rigg said. "If I had my druthers, I would recommend that you pull back the southern side of the building and make it a story or two shorter."
Mayor Patrick Wojahn, along with Rigg, raised questions about Landmark Properties' choice to revise its standards for its sustainability certification. The developers opted for the National Green Building Standard's bronze certification rather than the Leadership in Energy and Environmental Design silver certification.
Leath explained that the NGBS is geared toward residential buildings, while LEED is better suited for office buildings. He added that they'd had positive experiences with NGBS on past projects. 
Wojahn and Rigg conceded that they were unfamiliar with the differences between the two procedures, but voiced concerns about the bronze certification being a downgrade from the silver certification. Both suggested the developer provide a memo explaining its decision to switch standards. 
Leath noted that Landmark Properties is happy to move forward with the development. 
"We're very excited about this project," he said.