Demonstrators expressed their pent-up frustration with Maryland's coronavirus restrictions Saturday, leaving the confines of their homes to protest the lockdown by pounding car horns in the heart of the capital.
A line of vehicles circling St. Anne's Church in Downtown Annapolis was backed up all the way to the bottom of Main Street. People shouted through megaphones from car windows and many — including some protesters who joined on foot — waved signs that decried tyrannical government overreach and demanded that the state "Open up our churches."
"We will not be your subjects, Hogan," one person shouted into a megaphone from a car.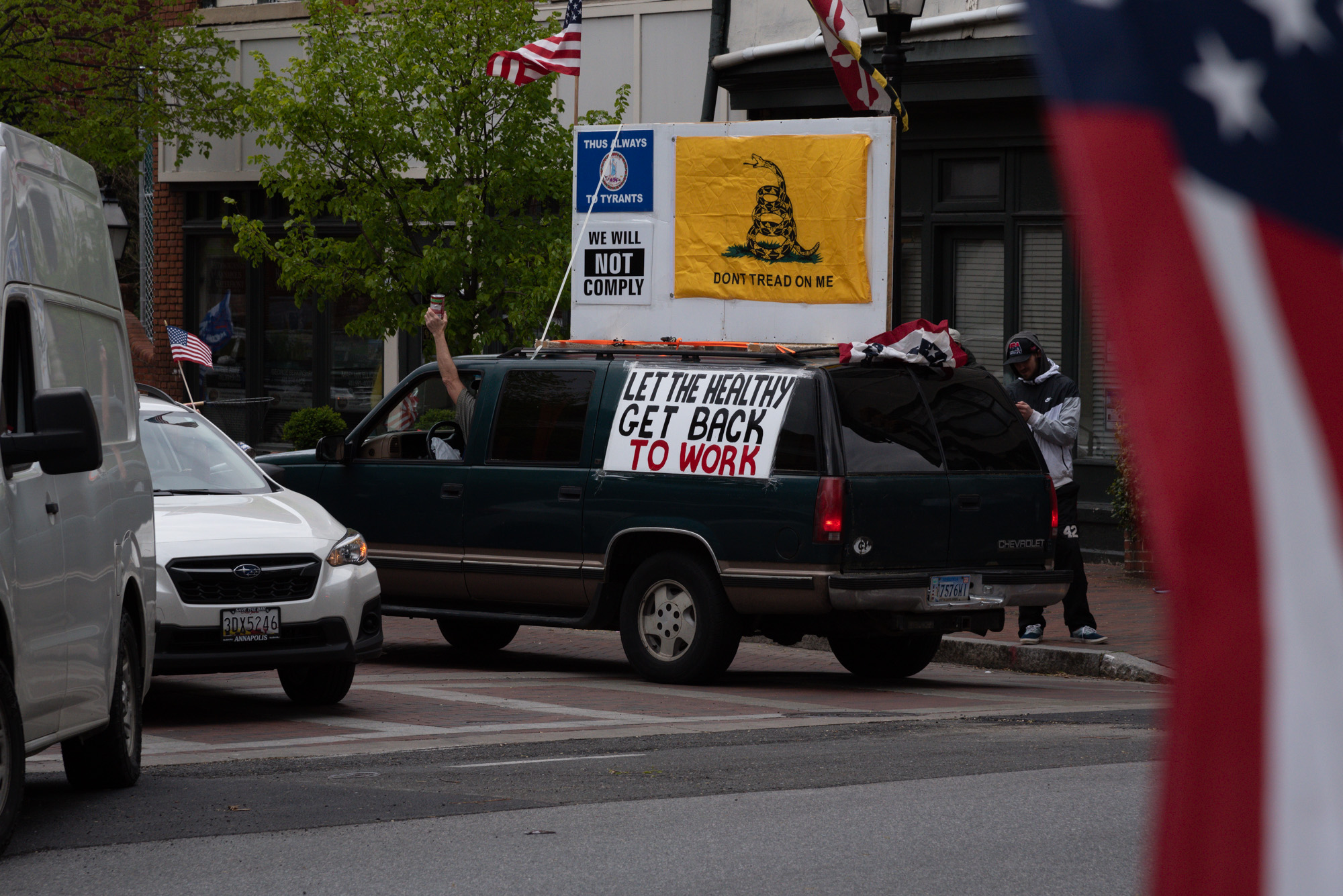 A few people walking past the demonstration made it clear they disagreed with. One man, John Schumaker, stood on the sidewalk and raised his middle fingers to cars as they went by.
A restaurant employee, Schumaker is now temporarily unemployed — but happily so, he said.
"I don't want to be fucking swimming in COVID shit every day," he said, calling the demonstrators "traitors."
[Read more: Some UMD seniors anxious about job search as unemployment soars amid pandemic]
However, Natalie Brown, a supporter of Reopen Maryland — the group that organized the event —  argued that the consequences of shutting down the state's economy have proven to be too great. Over the past month, almost 297,000 Marylanders have filed for unemployment.
"Businesses are failing. Families are hungry," she said.
The Mount Airy resident said she volunteers with an organization that provides food to those in need. But donations have been in short supply in recent days, she said — a "trickle-down effect" of the drained economy. The closures have also impacted Brown personally: The business she owns has been temporarily shuttered since Gov. Larry Hogan ordered all non-essential businesses to be closed.
She added that May 1 would be an ideal deadline for restarting Maryland's economy, arguing that Hogan's plan to roll out the recovery in phases would be too slow for paralyzed businesses.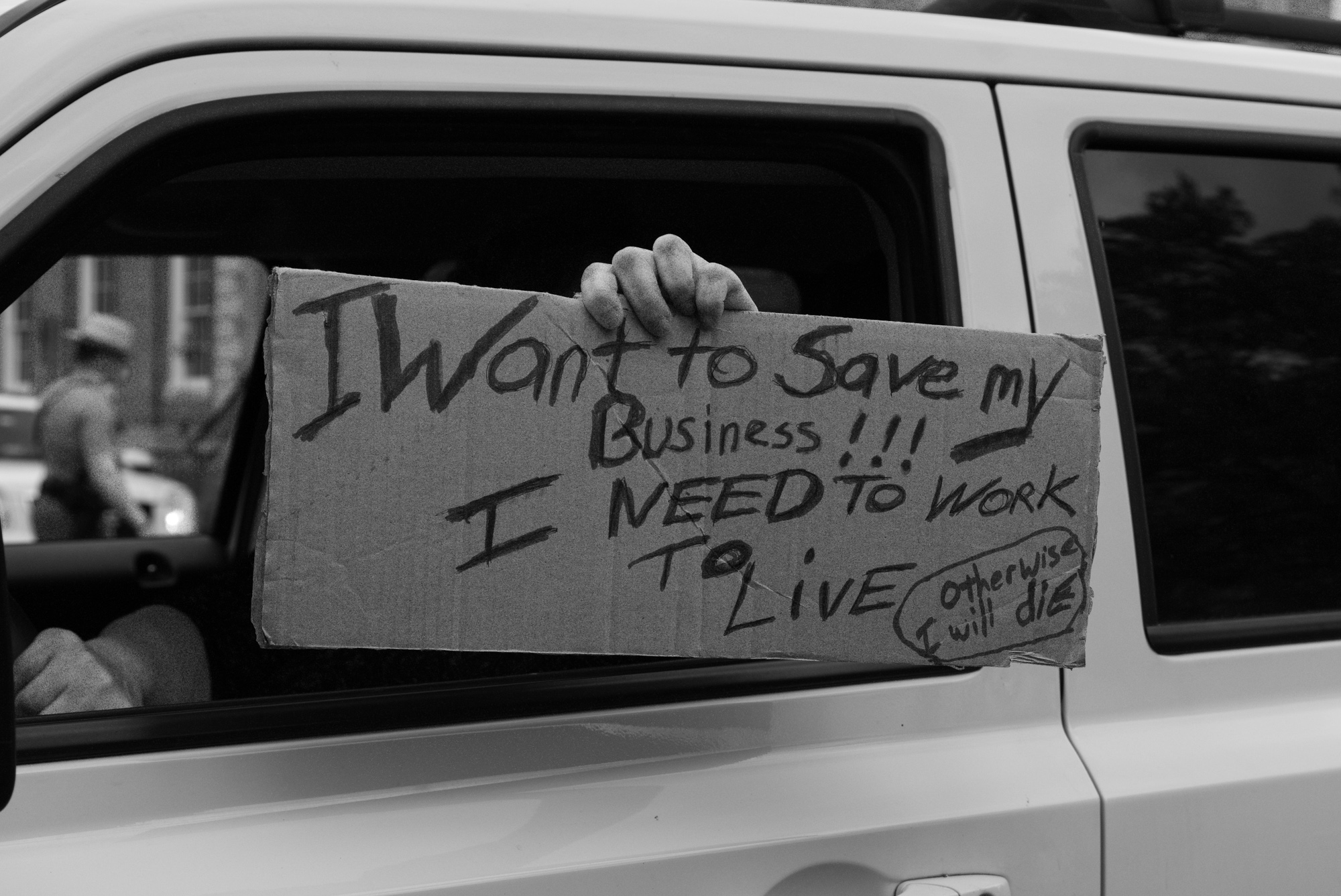 At a press conference Wednesday, Hogan announced his plan would predicate on the state's ability to expand its testing and hospital surge capacities, ramp up the supply of personal protective equipment and build a robust contact tracing operation. The governor said he will elaborate on Maryland's "Roadmap to Recovery" next week.
A spokesperson for the governor declined to comment on the demonstration or on Hogan's plan to unfreeze the economy beyond what he said Wednesday.
[Read more: Small businesses in College Park struggle through coronavirus pandemic]
Marylanders, who have been under a stay-at-home order since March 30, weren't the only ones protesting on Saturday — they were joined by demonstrators in the capitals of states such as Wisconsin, Texas and Nevada.
On Friday, President Trump tweeted out his support for the protests, calling on citizens to "LIBERATE" states including Michigan, Minnesota and Virginia — one day after telling governors to "call your own shots" on reopening their state economies.
Reopen Maryland made no mention of the president on its petition, started three days ago, to immediately restart the economy. But Trump's presence was felt throughout the rally Saturday, with many demonstrators wearing MAGA hats and waving Trump 2020 campaign banners.
Even so, Steven Strawn, chairman of the Annapolis Republican Central Committee, said the crisis was not a red or blue issue.
"Disease has no party. Disease doesn't care who it kills," Strawn said, emphasizing that he was not speaking on the committee's behalf.
He, like Brown, advocated for restarting the economy within weeks, saying there is "no guarantee" social distancing prevents the spread of COVID-19 and expressing doubts about how infectious the disease truly is. But, unlike Brown, Strawn said he would advocate for a gradual reopening of the economy.
"How many times has science been proven right and wrong?" Strawn said. "Common sense prevails."
Two onlookers, Dash Buyske and Javan Smith, walked along the line of cars, taking in the chaos. The demonstrators were just a bunch of conspiracy theorists, Smith said, pointing out a sticker on a protester's megaphone: Infowars, a website known for spreading conspiracy theories.
And who does Buyske trust to say when it's safe to reopen Maryland?
"Health care professionals."