By the end of spring break this year, Marathon Deli intended to have moved down the street from its current location, and into a new storefront next to MilkBoy ArtHouse. The move could help business, owner George Soldatos told The Diamondback in February, since the deli would be closer to the bars that masses of students often swarm in and out of.
But those plans have since come to a halt. Amid the coronavirus pandemic, small restaurants and shops in College Park like Marathon are facing a new reality: no more dine-in services, fewer customers and reduced revenue.
All nonessential businesses — including restaurants, bars and retailers — have been forced to close their sit-down service in a series of executive orders from Maryland Gov. Larry Hogan. The measures are part of statewide and national efforts to curb the spread of the coronavirus, which has already infected 992 people in Maryland, according to the Centers for Disease Control and Prevention.
For Michael Chmar, partner of The Board and Brew in College Park, business has been "severely impacted."
Before Hogan announced last week that all restaurants should close, The Board and Brew saw an 80 percent decrease in business, Chmar said. However, adhering to health guidelines has been more important than making a profit during this crisis, he said.
"Any restaurant that thinks they're doing anyone a service by staying open in this environment — forget whether it is profitable or not — they're really not helpful to society," Chmar said. "We should shut down. That's the responsible thing to do."
Uber Eats and other forms of delivery are not advantageous to his business either, explained Chmar, so operations have totally ceased. And this lack of business affects the "entire supply chain," Chmar said.
"It affects the farmer … it affects the manufacturer; it affects the distributor," he said. "It's a very serious problem that needs a lot of levels of understanding."
[Read more: "Health first": A shake shop in College Park delayed its opening amid COVID-19 pandemic ]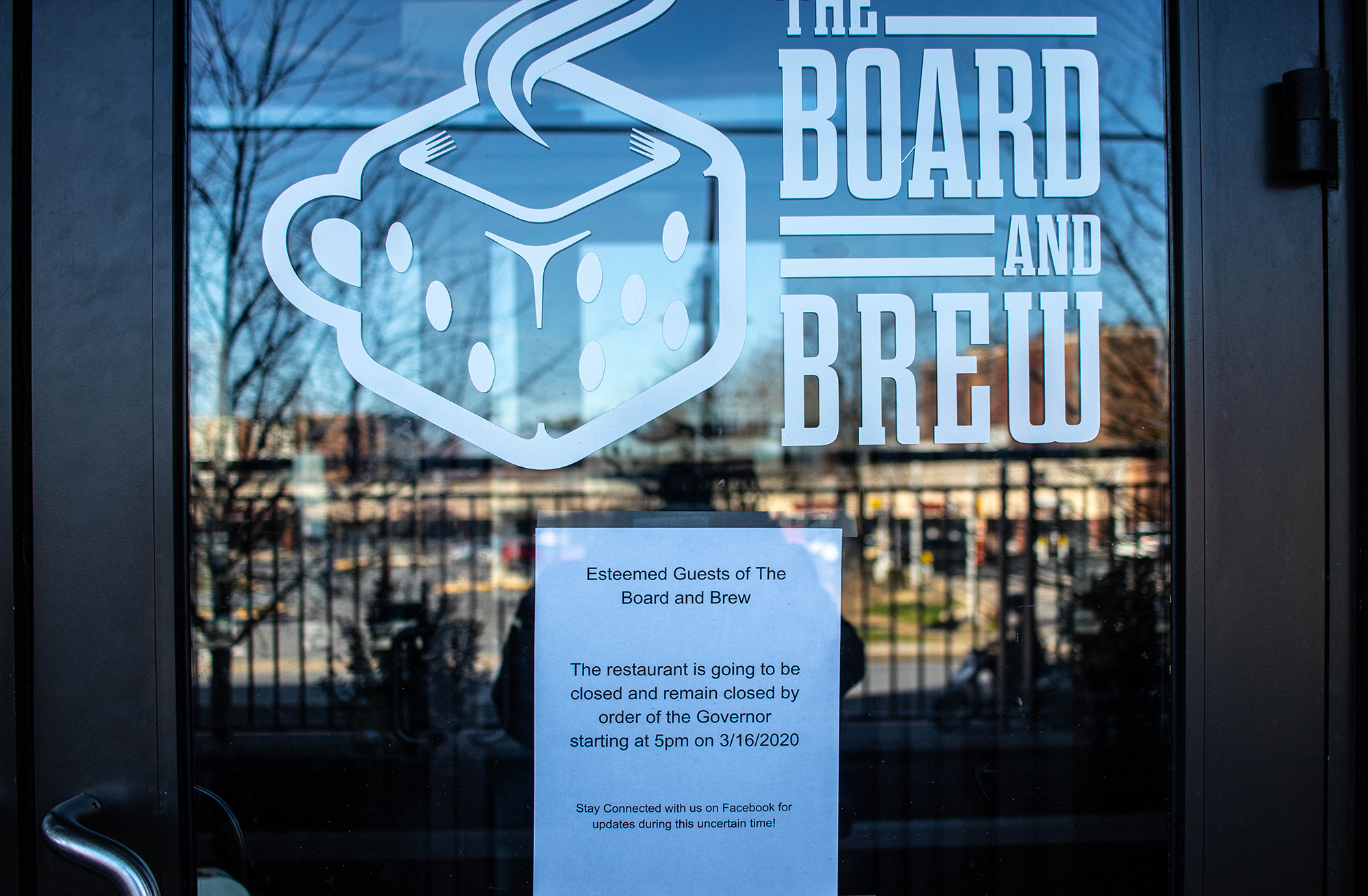 Less than a block away from Board and Brew, Vigilante Coffee has faced similar problems, owner Chris Vigilante said. Vigilante has two locations — one in College Park and one in Hyattsville — and both have closed to protect their customers and staff.
To help their staff who are now out of work, Vigilante started a donation page online, which has raised more than $1,000, Vigilante said. And before shutting their doors, they donated $4,000 in sales from their retail stores to the fund.
"We're getting a lot of support from the community," said Vigilante. "And taking those measures early on is helping create hopefully some kind of buffer, where we can give support to our team."
Online sales of roasted coffee have also helped the business, Vigilante said. The sales allow a small team of less than ten employees to package and ship coffee during a "sensitive" time when the company is trying to be as compassionate as it can, he added.
[Read more: Hogan orders all nonessential businesses in Maryland to close as coronavirus spreads]
For other local businesses, creativity is going to be critical for bringing in revenue, said Dan Alpert, student liaison to the city council.
"Businesses adopting creative ways to deliver food and give food, I think, is extremely important," Alpert said. "So both businesses can support residents that may need things, and residents support the businesses that need revenue."
Local shops in College Park often see less business during the summer months when students leave the area, Alpert said, but now that gap has been extended from two or three months to five or six months, since students may not be returning to the campus until August. He said he hopes the city is working on ways to encourage people still living in College Park to support small businesses.
College Park resident Stuart Adams agrees that community efforts — even when small businesses open back up — are necessary to help keep these places afloat.
"When we're able to leave our homes and start patronizing businesses more and congregate more, I really think that's when the local College Park and the greater College park area comes into play," Adams said. "Because we're the people that typically patronize the businesses, we're the people that typically go out to eat there."
College Park Mayor Patrick Wojahn has discussed different ways that the city can financially support local businesses, such as creating a low-interest loan program similar to what the national Small Business Administration has.
"I'm very concerned that we're going to lose a lot of those small businesses that we've been working so hard on fostering and supporting in recent years," Wojahn said during a city council meeting last Tuesday.
With Lotsa Stone Fired Pizza closed during the outbreak, University of Maryland student Ethan Welsh said he's left without a job and is worried about being able to pay his rent and financially support himself.
"It's hard to make any plans financially or even on a day to day basis because I really don't know what to expect from the government, what to expect from jobs going forward," said Welsh, a senior English major. "We need to get these bailouts out to the people."
On the state level, Maryland's commerce department has launched multiple loan programs to help small businesses. Eligibility for unemployment benefits has also been expanded in Maryland to include any person who is out of work due to the coronavirus.
And on Friday, President Donald Trump signed into law a stimulus package that will inject $2 trillion into the U.S. economy. Provisions include a $350 billion forgivable loan program for small businesses, along with direct payments and benefits for jobless individuals.
College Park business owners like Chmar and Vigilante said these types of loans could provide some financial stability.
"I think what should happen is the federal government should give an influx of cash to the local governments," said Chmar. "The local governments should work with businesses and … actually really see what people need and what is acceptable to them."
That being said, the long-term impact on business is still uncertain, Vigilante said.
"For a moment like this, to be honest, you never know what can happen," said Vigilante. "It's got a lot of work ahead of us."