Lately, Caitlin Hutcheon hasn't been watching the news much. She even disabled the alerts she used to get on her phone. But no matter how hard she tries, she can't keep her mind off the coronavirus outbreak.
"I still go to bed and wake up realizing I've had dreams about it," she said. "There's this sort of black cloud hanging over everything."
She's not sure how much her 2-year-old understands about what's happening, but he's definitely been acting out more than usual — getting frustrated easily, acting clingier.
That might be because he's picking up on the stress she and her husband have been experiencing, Caitlin said, or because he's upset he hasn't been going to the park. Or, it might have been because he's been able to tell that something was about to happen, even though he didn't fully understand what. 
He was right. Hutcheon was nine months pregnant. 
Even without a global pandemic to think about, pregnancy brings more than its fair share of anxieties. But for those who are expecting at a time when it feels like the world has been crammed into a food processor set on high?
"It's like double the uncertainty and double the feeling of being out of control," said Hutcheon, an instructor at a College Park yoga studio who also teaches classes on childbirth.
Also living in the College Park area, Elizabeth Massey, a musicology doctoral student, welcomed newborn Adah into the world on March 22. Brittany Pfister, another instructor at Hutcheon's studio, is also due to have her first baby next month, and Teresa Bippus, a classroom assistant down the road in Hyattsville, is expecting baby number three in August.
All four women hail from Prince George's County, the Maryland county hit hardest by the pandemic. The White House declared the county a national hotspot of the virus last week, and residents have been living under a stay-at-home order since March 30.
The situation has heaped a variety of unexpected concerns and complications onto this period of the women's lives — forcing them to reevaluate long-held plans and process new fears. 
But it has by no means snuffed out all the light.
"Even though it's a challenging time, I'm still really excited because this is new life," Pfister said.
"And," she added, laughing, "I'll have a really cool story to tell."
***
At this point in Bippus's pregnancy, she can feel her baby kicking when she places a hand on her stomach. But even though she lives well within walking distance of most of her family, only her two sons and husband have felt it.
"My mother hasn't felt the baby, my twin sister hasn't felt the baby," she said, "because I haven't touched either of them in, like, a month."
Back when Bippus was pregnant with her second child, she worried whether he would get along with her oldest. Now, with her third child due in four months, she's grappling with the reality that she doesn't know what the world her baby is born into will look like. 
"I like to plan things and solve problems, so I feel like it's kind of hard — it's too far out to make a good decision because we don't have enough information," said Bippus, who works at Hyattsville's St. Jerome Academy.
[Read more: UMD parents call upon university to make new childcare center more affordable]
Meanwhile, Pfister has been flooded by phone calls and messages from family and friends who are checking in on her and making sure she's all right. She appreciates their intentions, but it can be overwhelming at times; she isn't as scared or nervous as they are worried she is, she said. Instead, Pfister says she's been staying positive.
She even got to have her baby shower — back on March 14, when fears and anxiety surrounding the virus had just begun to hit a fever pitch. Then, there were just 26 confirmed cases of COVID-19 in Maryland.
At the beginning of that week, she said, 50 people had indicated they'd be attending the shower. But as the week whittled away, that number steadily dropped to 25. 
Still, Pfister said, it was a special party — the last time many wound up being able to gather in person. Nobody hugged, and everybody kept their distance from one another. At one point, everyone grouped up in a big circle, and shared a word or phrase they hoped she would carry with her during the birth.
Grace, one said. Compassion. Strength. 
"I have friends who haven't been able to have a shower, and they won't be able to," Pfister said. "I felt really fortunate that I was able to have that experience."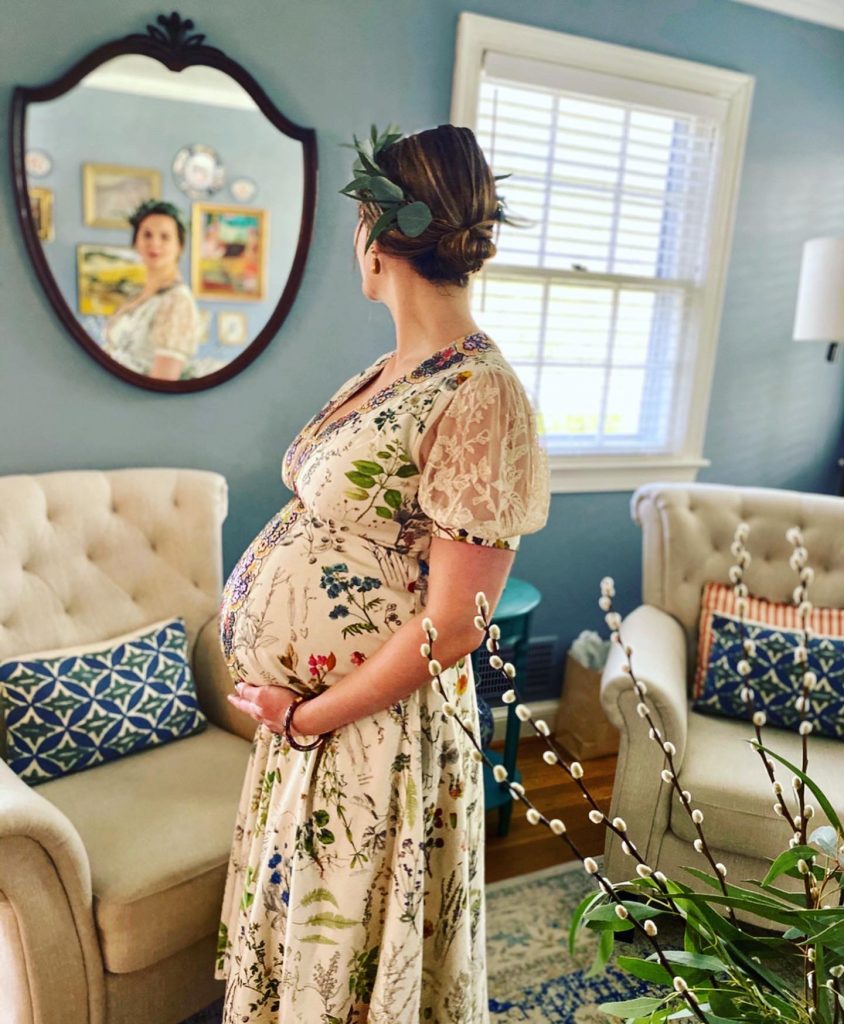 ***
Although Massey gave birth on March 22, she had been due for April 6. In between those two dates, the number of confirmed COVID-19 cases in Maryland jumped from 288 to around 4,400.
Leading up to her due date, Massey said she hoped for an early labor so they could get in and out of the hospital before its operations became too overwhelmed. 
And even though Adah arrived early, Massey was still extra cautious in the hospital.
"I didn't want to send her to the nursery," she said. "I kept her in the room with me the entire time because I didn't really want her near other babies who were near their parents, who —  who knows if they were social distancing."
In an effort to suppress the spread of the virus, hospitals across the country have changed their visitation policies — forcing some to decide between having their partners at their side as they give birth or their doulas, someone trained to guide people through labor.
[Read more: As online classes begin, some UMD professors juggle teaching and parenting at home]
Just one day before Adah came into the world, Massey realized the hospital where she was planning to give birth had done just that. So, Massey and her husband made a plan: Their doula would help her through labor, and when Massey was moved to the maternity unit, her husband would take the doula's place. This would give him enough time to find someone to watch their 2-year-old, Katie. 
As luck would have it, they needed this plan sooner than they expected — the very next day. Massey realized she was in labor at about 5 a.m., and Adah was born just before 10 a.m.
There was a problem, though: That morning, the hospital had changed its visitation policy yet again, prohibiting visitors from switching in and out.
In the end, though, medical staff at Massey's hospital loosened the rule a bit, allowing her husband to join her around dinnertime. Massey isn't sure why exactly they made an exception for her, but whatever the reason, she's grateful.
Like Massey, Pfister is also planning to have a doula assist her during labor. But since she'd rather have her husband in the delivery room, she said the doula will be coming to their house before she gives birth and providing support by phone or video conference throughout the process at the hospital.
Pfister was also hoping to go through labor in a birthing tub — another plan that has since gone out the window, since the hospital where she plans to deliver has temporarily barred their use. She's planning an unmedicated birth, and laboring in water helps with the pain.
"So now, we're just dealing without," she said.
Meanwhile, even before the outbreak began upending life in the U.S., Hutcheon had been intending to have a home birth — something she's noticed that other women have been considering, as well.
Each time she visits her birth center in Alexandria, she says the women behind the front desk are "inundated" with phone calls. Her yoga and childbirth education students have been reaching out to her too, asking for advice. She's also heard from pregnant friends across the country — calling from hard-hit cities such as Philadelphia, Boston and Chicago.
"I feel lucky, actually, compared to a lot of people," she said. "Just like I wouldn't want to be forced to have a hospital birth, I wouldn't want to feel forced to have a home birth if it wasn't something I really wanted."
***
Soon after her first child was born, Massey's parents were at the hospital to greet her. Her husband's parents drove down from New York, too, and stayed with them for a few days to help out — something Massey definitely needed after being in labor for 17 hours.
This time around, since Adah's delivery came so much faster, Massey says she hasn't been nearly as exhausted. But it still hurts that Adah's grandparents have met her only over FaceTime so far, and that they weren't able to have their typical Easter gathering.
"Both of us have big families, and they're important to us," she said. "It's just really different for us not to have anyone around."
Having the extra hands of friends and extended family members around the house after a new arrival could mean a few more hours of rest for new parents. But in the days of social distancing and quarantine, many will have to go without this assistance.
For the next few days, Hutcheon's mom will be staying with her family to help out with childcare. But that's not really an option right now for Massey's mother, who is 72 years old and still recovering from having open heart surgery in February.
On top of worrying about her parents, Massey is also concerned about when she'll be able to pick back up with writing her dissertation. With Katie's daycare shut down from the coronavirus and everything that comes along with caring for Adah, it will be practically impossible for her to do so until she gets some help with childcare — and she just can't be sure when that will be.
She's stressed, too, about the downward spiral the economy has taken, and worries about its potential ramifications.
"We've just given birth to a new child," she said, "and my husband could lose his job."
At an upcoming counseling session, Massey will be moving through her anxieties with a therapist — the same one who helped her through the postpartum depression she endured after giving birth to her first child. She's hoping that occasional mental health "tune-ups" will help make sure that she doesn't "fizzle out mentally."
People who are pregnant and those who have just given birth are already more likely to experience anxiety and depression than the general population — and Hutcheon worries that the rate of postpartum and perinatal mental health issues will only increase during the pandemic, as a unique sort of stress and sadness threatens to eclipse the joy that comes along with childbirth.
Even though Pfister said she and her husband didn't have plans for their families to visit the hospital right after their son is born, she still held back tears at the thought that it might be a while before their loved ones could see their son for the first time.
"It's sad, you know, that you can't have someone you love meet your child," she said.
***
Even in a time packed with uncertainties, there have been bright spots for the women — lots of them.
Bippus is just excited to meet her new baby and see how his personality will be different from that of his brothers'. And with both kids out of school at the Bippus household, the family has planted a big garden and taught their oldest how to ride a two-wheeler bike.
For the Massey family, quarantine has meant lots of bonding time — something Massey thinks has been good for their oldest. One morning, her husband built an obstacle course for the brand-new big sister in their backyard, complete with a rope swing.
"There's been some really fun things that have happened that obviously would not be happening were she in daycare or it wasn't just us four," she said.
Meanwhile, Pfister and her husband have been looking forward to taking some time to breathe from work once their son is born. Pfister manages a team of people at a nonprofit, and working remotely has been an adjustment — since she can't see her coworkers now, she feels like she always has to be glued to her computer or be online to remain present. 
She's also looking forward to what the future will hold for the newest member of their family.
"I just want him to grow and have all the opportunities in the world and to treat others equally and with respect," she said. 
And Hutcheon? Well, as of about 2 a.m. Monday, she has a little something that might help distract her from the news.
Her name is Clementine.