INDIANAPOLIS — Nate Watson stood on the corner of South Pennsylvania Street and East Maryland Street, black-and-gold overalls on, and glanced back at Bankers Life Fieldhouse in downtown Indianapolis.
The Iowa fan had traveled down from Ann Arbor, Michigan, to watch the Big Ten tournament inside of that arena. And when the conference announced no fans would be permitted inside beginning Thursday, he took the change in stride, knowing his tickets would be refunded — he bought tickets for each session, from Wednesday to Sunday's scheduled championship game.
But as Thursday morning turned into afternoon on the streets of Indianapolis, he needed to make another adjustment. He and his friends had been inside O'Reilly's Irish Bar to watch Michigan play Rutgers at noon when the announcement came that the remainder of the tournament was canceled altogether.
"It was awesome to be here. Great city. Seemed like a great environment," Watson said. "But yeah, just depressed that it ain't going on anymore."
The Big Ten is far from alone in taking decisive measures to curb the potential spread of coronavirus. And fans such as Watson aren't unique, either, booking trips to an out-of-state city and needing to make adjustments on the fly.
But there's an understanding — despite the added headache of interrupted travel plans and letdown for not being able to watch basketball — for why the Big Ten and other conferences and leagues are moving to postpone or cancel events.
"It's not surprising," said James Hicks, an Ypsilanti, Michigan, native. "I'm just waiting to hear that the whole tournament has been shut down, the whole March Madness. Which is disappointing, because it's my favorite thing to watch. … But if that's what they think needs to happen, that's fine."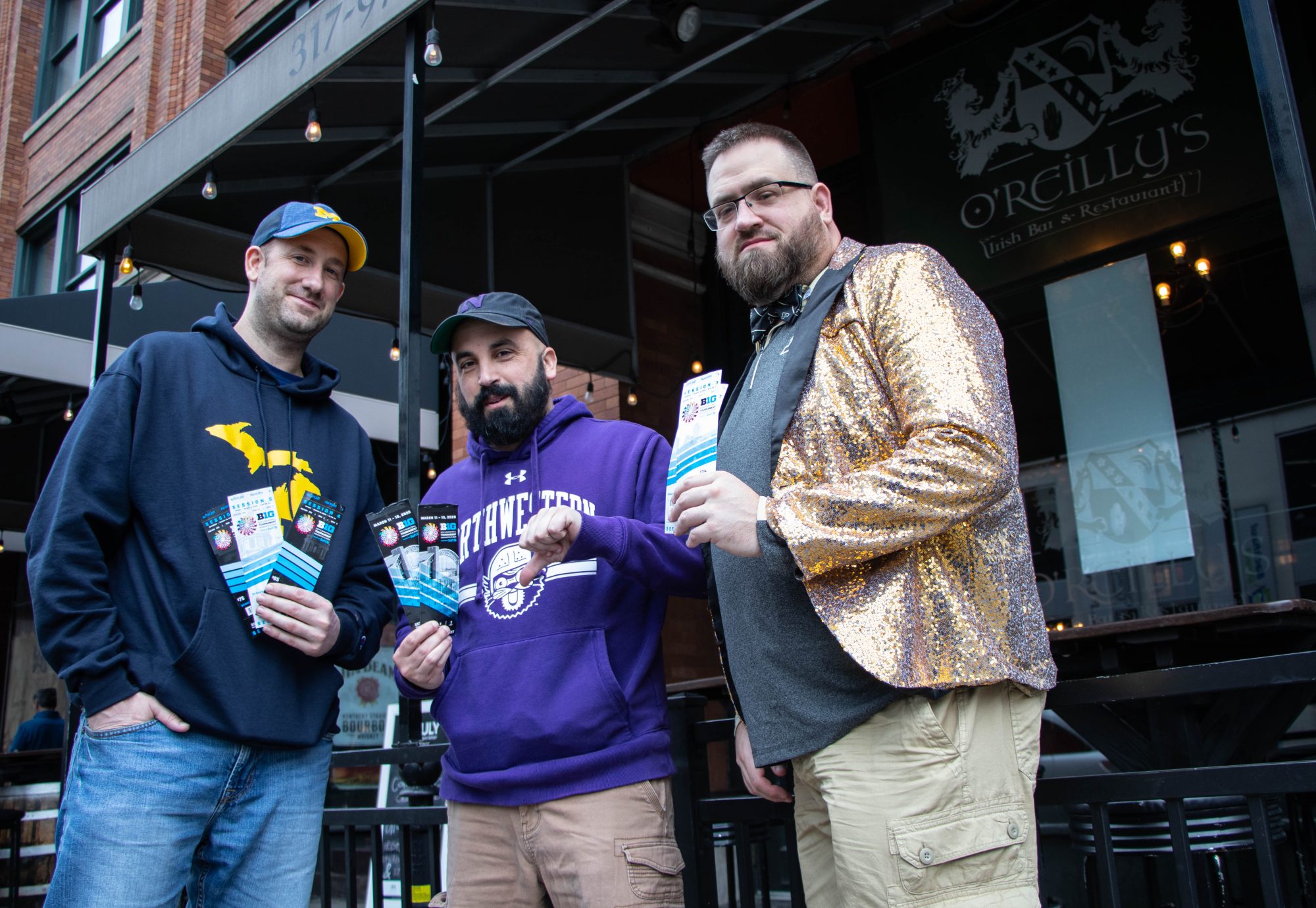 According to The Washington Post, more than 1,200 cases of coronavirus in over 40 states have been confirmed. And there have been 100,000 confirmed cases worldwide, leading the World Health Organization to label it as a pandemic.
Once two NBA players contracted coronavirus and the league postponed its season indefinitely, it seemed like only a matter of time to Hicks that other sports would follow suit. Hicks, who works as a horticulturist at the University of Michigan, said he was grateful his tickets would be reimbursed.
And while he won't get a full refund for his Airbnb, Hicks said he's not upset because it was a "super cheap" location. He plans to head back home to Michigan on Friday.
Watson, meanwhile, plans to stay the weekend anyway, even without basketball going on. He said his kids were on the way to Indianapolis from Ann Arbor on Thursday, so Watson figured they'd still play some laser tag, go to the zoo and hit up the mall.
"We're gonna ride it out," Watson said. "I'm here anyway, so may as well enjoy it. I've never been to downtown Indianapolis, so gotta enjoy it."
[Read more: Big Ten Conference cancels remainder of men's basketball tournament]
There aren't many fans taking Watson's approach, though. In a statement to The Diamondback, senior marketing and communications vice president of Visit Indy Chris Gahl wrote that the Big Ten men's and women's basketball tournaments were expected to "generate more than $15 million in economic impact."
The women's tournament was completed last week, with Maryland coming out as champions. But after one day of games, the men's tournament was canceled — and even before that decision, some fans had already decided to bail on trips to Indianapolis, such as Paul Miller, who graduated from Maryland in 1987.
Miller wrote in a message that he had paid for his Airbnb over a month ago but decided to cancel the trip early. He got a partial refund.
Maryland men's basketball hadn't left College Park yet, slated to begin play in the Big Ten tournament on Friday as the No. 3 seed. Some fans had already made the trip, though.
Rick Jaklitsch, a prominent Maryland booster and a personal injury lawyer from Upper Marlboro, arrived in Indianapolis on Wednesday. He said there were about 20 other people on his flight wearing Terps gear, and he received a call from Maryland just before he went to dinner that no fans would be allowed inside the arena.
"First reaction was, I should volunteer to be a ball boy," Jaklitsch said with a laugh. "… We would've been here till the Terps cut down the nets on Sunday."
Instead, he changed his Southwest flight and is departing Friday morning for home. And he said he suspects many of those Maryland fans he shared a flight with on the way to Indianapolis adjusted their schedules, too.
It's an unfortunate situation — for the fans who traveled, for the players who can't play — but those involved acknowledge the safety considerations that factored into the cancellation of the Big Ten tournament.
"Disappointed, but still understanding," Hicks said. "Not angry about it because what can you do?"