In a small dressing room, a student laid slumped on the white-tiled floor, trying to nap. Another stretched her legs above her head, cutting a joke about how many times she'd cried that day. At one point, her classmate watched Jeopardy! on a tablet, while another gnawed on a bagel.
They were all waiting for something to occupy the long hours they had to spend inside the University of Maryland's Clarice Smith Performing Arts Center for a required course. But for some, they said that time rarely came.
All of these students are currently enrolled in the show-focused section of TDPS479: Production Practicum, a course all theatre and dance majors must take that ranges from one to three credits. To pass the class, they'll have to be at The Clarice, on call and ready to go, during the three weeks leading up to and during their assigned show.
Over the course of about three weeks, students were called to work about 130 hours in their contract schedule, sometimes for six hours at a time. Though the actual time commitment varies by role, some students said it's too much.
It's a requirement that some say degrades their ability to maintain jobs and earn the money they need to live comfortably, while failing to impart skills that will help them following graduation. Current students and alumni of the course are in agreement: Something has to change.
One student, senior theatre major Lucy Taylor, described her experience working for A Doll House — a production that had its closing shows this past weekend. As a "dresser" for the show, Taylor worked about 80 hours over the course of three weeks. She said she steamed costumes, did laundry, handed off bobby pins and set jackets on particular hangers, among other duties.
On a recent Saturday, although she was scheduled to work from 9 a.m. to 11 p.m., she said she finished all she had to do in just a few hours. For the 10 that remained, she said she sat around.
"From my experience, it seems like I'm doing free manual labor and learning one skill," Taylor said. "[They disguise it like] we're getting all this experience, and to me, it just doesn't feel like that."
In a statement sent by a university spokesperson, Leigh Wilson Smiley — director of the theatre, dance and performance studies school — said the students' complaints were being taken seriously.
"[We] have formed a taskforce to look into the concerns raised by our students," Smiley wrote. "We value student input and are committed to opportunities that are fair and representative of real world work experiences in the arts."
[Read more: Chinese international students take precautions, face travel restrictions as virus spreads]

Theatre majors have to take four credits of the course — two of which are focused on working as backstage crew, while the other two are in a "production shop" in The Clarice, according to the class syllabus. Dance majors are required to take two credits: one show, one shop.
Bobby Hunter, the production and events coordinator who works with the crew, did not respond to an emailed request for comment.
By making the course required, the school aims to provide a real world show experience for students. But in the real world, Taylor said, the crew would be there willingly and would be getting paid for their efforts.
Some students question what they gain from the experience. When Jemma Lehner started off as a light board operator, she said she got a little excited to learn a new set of skills that could help her down the road. She said that's not what ended up happening, though.
"I spent two weeks listening to [the lightning designer's directions] every single day, just staring at a screen and pressing the exact buttons he told me," said Lehner, a senior business management and dance major. "And now that we're actually doing the shows, I just press 'Go.'"
Unsure she learned enough about lighting to mention it on her resume, Lehner doesn't think the class was worth "the amount of unpaid hours that went into it."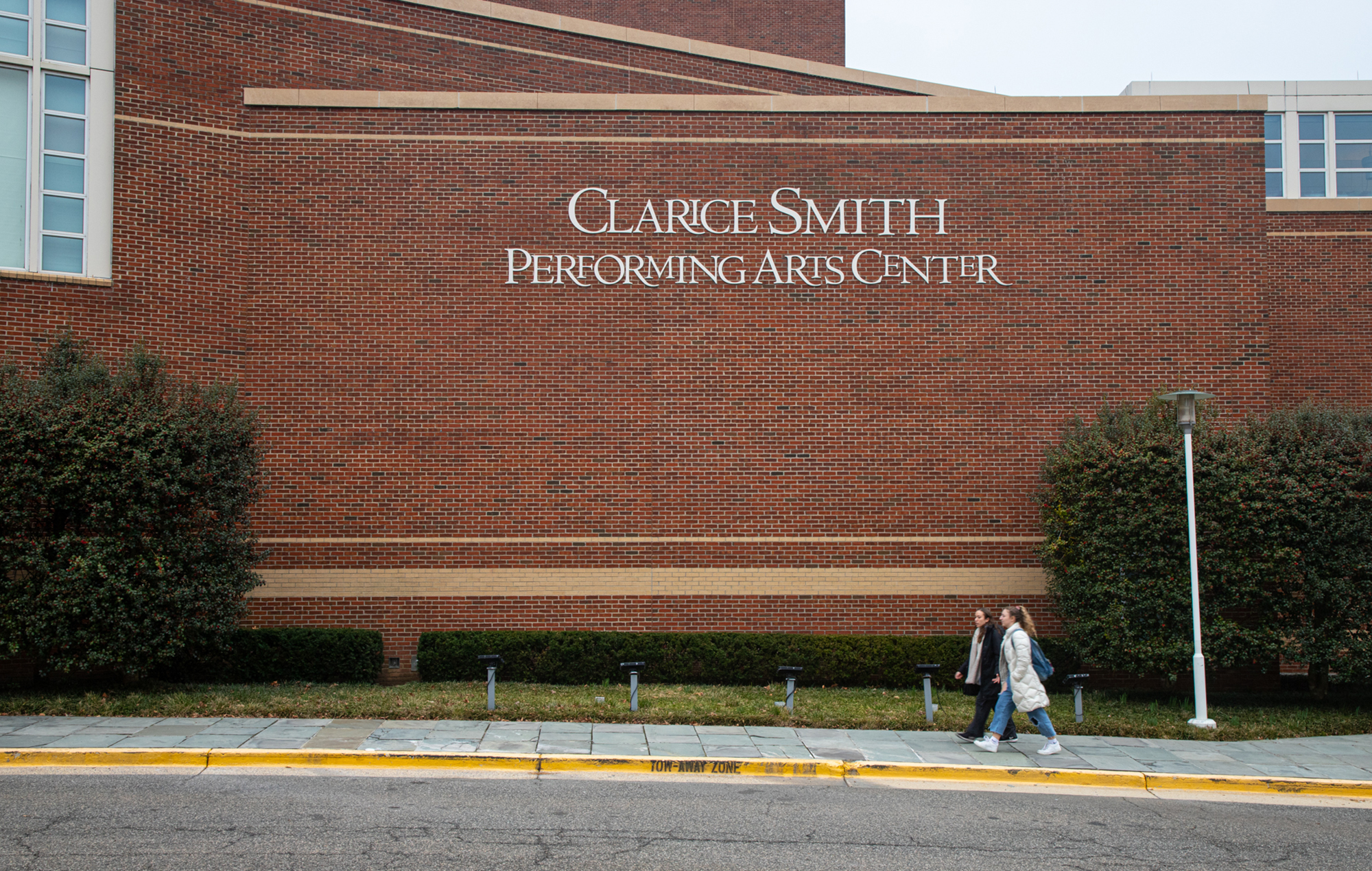 For Ayanna Byrd, a senior community health and dance performance major, balancing a 5 p.m. call time with a shift at one of her jobs that ends at the same time has been "tricky."
In addition to being a full-time student, Byrd usually works two jobs. And though she's always been a busy person, she's previously been able to have control over her schedule — strategically planning out her day-to-day so that she can balance all her responsibilities.
"I'm honestly just tired all the time," she said.
[Read more: Two years after mental health campaign, student group says they've seen progress]

In line with university policy, tending to outside work isn't an excused absence. Students can disclose scheduled conflicts in advance when signing a show contract, but some say they weren't met with understanding.
Though Byrd said she's had a good experience working with the assistant stage managers who supervise her, the hours she's been required to spend at The Clarice — to pass a class she's taking for one credit — has meant she can't work any other jobs. So, she's temporarily lost the income she uses to pay for her utilities and buy her groceries.
"That just seems absolutely ridiculous to me, and they're not very understanding of conflict," she said. "I work two jobs and I have to not work for this entire time because I have no choice. They'll fail me if I don't."
Byrd and her classmates want to see an adjustment to the way the class is structured — whether that means providing some form of compensation to students who are struggling, upping the number of credits their work is worth or better accommodating outside commitments.
With a task force set up, Taylor hopes things will change for the students who come after her. But she isn't sure how confident she is that the situation will improve.
"I really hope they make improvements, for the sake of my peers," said Taylor, who is set to graduate at the end of the spring semester. "It really causes people to stress."
CORRECTION: Due to a reporting error, a previous version of this story stated some students work about 130 hours over the course of three weeks, often pulling six-hour days at the theater. Students were called to work about 130 hours in their contract schedule, sometimes for six hours at a time, but the actual amount of hours they work varies by role. This story has been updated.