Maryland men's basketball forward Jalen Smith had his back to the basket and heard the Xfinity Center crowd counting down as the shot clock ticked below three seconds.
Smith not only faced the pressure of the expiring clock, but also a suffocating double-team from 6-foot-9 forward Trevion Williams and 6-foot-7 guard Nojel Eastern. With the shot clock nearing zero, Smith had no choice but to throw up a turnaround baseline jumper.
When the shot swished through the net, an astonished Eastern turned to Smith, wondering how he converted the attempt. It wasn't always that difficult for Smith, as he and his frontcourt running mate, Donta Scott, combined for 31 points to lead the No. 17 Terps past Purdue (10-8, 3-4 Big Ten), 57-50, on Saturday afternoon.
"Anytime you have a good big guy and you've got a stretch four that can make some threes, that opens up some space," Purdue coach Matt Painter said of the Smith and Scott duo. "That really helps them."
[Read more: Maryland men's basketball and Purdue are "eerily similar" in play style — except down low]
Maryland (14-4, 4-3 Big Ten) returned home after a disappointing two-game road trip that featured a blowout loss to Iowa and a letdown defeat to Wisconsin.
Playing inside the confines of Xfinity Center was a welcome sight for the Terps, who entered Saturday's game averaging 76.5 points and a 10-0 record at home, compared to 55 points per game and an 0-4 record in true road games.
But playing at home hasn't always been a precursor for success early in those matchups for coach Mark Turgeon's team, as slow starts have plagued his squad no matter the site — home games, road venues and neutral site games in the Orlando Invitational.
On Saturday, though, the Terps raced out to a 9-0 lead before Painter called timeout. By the time Painter signaled for his second timeout, that advantage had ballooned to 20-4, an emphatic response to the team's disappointing two-game losing streak.
"It just showed everybody that we're a glued team," Smith said. "And everybody fights for each other."
Scott and Smith played integral roles in Maryland's early success. Scott ignited the scoring on the team's second possession with a layup through contact that turned into a three-point play, and Smith knocked down two 3-pointers and a layup for eight early points.
After Painter's second timeout, the Boilermakers' offense began to take shape. But Scott didn't allow the Terps' lead, which grew to as many as 18 points in the first half, to dwindle. The freshman forward scored eight straight points on a layup and two threes as the two teams traded buckets.
The frontcourt matchup for Scott and Smith pitted the two against the Boilermakers' unique combination of low-post players. Purdue's roster features a big, bruising forward in Williams and 7-foot-3 center Matt Haarms.
[Read more: "He'll figure it out": Maryland men's basketball isn't concerned with Eric Ayala's slump]
But Maryland's frontcourt tandem bested that pair in the first half, scoring a combined 21 points on 8-for-11 shooting (4-for-6 from beyond the arc) to lead the Terps to a 36-20 halftime advantage.
As a team, Maryland tied a season-high for a half with seven threes on 15 attempts. Guard Aaron Wiggins, who came off the bench for the second straight game, hit two perimeter shots during his 12-point outing.
"Seeing so many shots falling, I was just thinking like, 'We're going to have a good game today,'" Wiggins said. "Everybody's hitting shots. … That boosts our confidence."
Williams and Haarms never gained any offensive traction in the game, but Eastern helped the Boilermakers climb back. He finished with 14 points, including a spin move into a layup to cut the Maryland lead to 44-37 and force a timeout with 11 and a half minutes to play.
Scott pushed the Terps' lead back to double-figures with 6:40 to play, elevating for a put-back layup that forced Painter to call timeout. The freshman's bucket capped off a 13-point performance for a new career-high.
"With Scott, they said he had low percentages from three," Williams said. "We wasn't helping on him as much as we'd help on Cowan or [someone] like that. Just with him, his threes kind of put us in a bind and made us guard up, [which] opened it up for other players."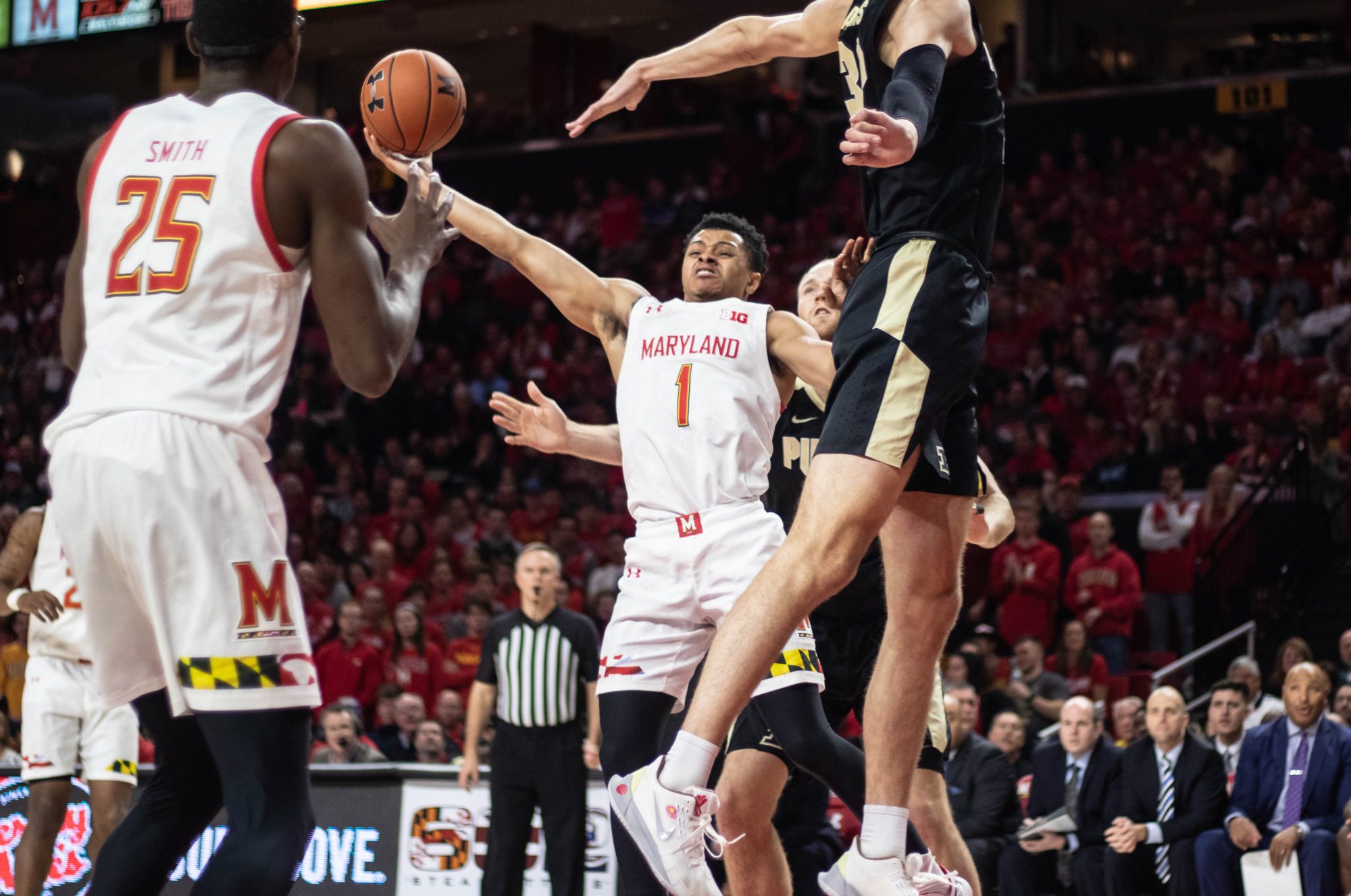 Purdue continued to battle back, though, cutting the Maryland advantage down to 53-47 with three free throws from guard Sasha Stefanovic following a Wiggins foul.
Smith, who finished with 18 points and 10 rebounds, extended the Terps' lead back to a two-possession advantage after receiving a pass from Wiggins and flushing an open dunk with two minutes remaining.
Maryland cemented the result on the defensive end, holding the Boilermakers without a field goal for the final six minutes — led by Smith's interior defense on Purdue's big men.
"He took that personal," Wiggins said. "He wanted to make sure that he was doing everything he could to make sure that he was getting stops and we were getting rebounds. That was a big deal for us, knowing that he's playing like that defensively."