Mark Turgeon had left the decision up to Eric Ayala and Aaron Wiggins. He needed one of them to come off the bench and another one to slot into the starting lineup. The Maryland men's basketball coach thought flipping what had become standard to that point — inserting Ayala into Wiggins' place — might be the best move.
But when the Terps took the floor against Iowa on Jan. 10, it was Wiggins in the starting five and Ayala on the bench, maintaining the team's standard lineup for a fifth straight game. In truth, both players are indifferent to whether their name is called pregame or if they check in a few minutes later.
"We have two guys who want to come off the bench, and I have to force one of them to start," Turgeon said. "I've never seen anything like it."
After that lopsided 67-49 defeat to the Hawkeyes, however, Turgeon took matters into his own hands. He switched Wiggins and Ayala, with both players enduring a shooting slump and looking for a spark. Since the role reversal, Wiggins has re-found his rhythm.
[Read more: No. 17 Maryland men's basketball holds on to beat Purdue, 57-50]
For the second straight game as a sixth-man, Wiggins put together an all-around performance. As Maryland shook off a two-game losing streak with a 57-50 win over Purdue at Xfinity Center on Saturday, Wiggins displayed what he can offer his team — a silky scorer capable of hurting opponents in multiple ways, from passing to rebounding to defending.
"We need him to score, right?" Turgeon said. "And then, because he's playing better offensively, his defense and rebounding's back to where it needs to be for us to be successful."
When the ball reached Wiggins in the corner just moments after he checked in for the first time Saturday, there was no hesitation. Any lingering effects from his 0-for-4 performance two games ago against Iowa, going scoreless for the first time in his Maryland career — and for the first time in longer than he could recall — were done and gone with.
Wiggins caught the cross-court feed from guard Anthony Cowan and went up with it. He pointed to Cowan after the ball swished through the hoop. And about a minute and a half later, Wiggins pulled up once more from three-point range and sank again.
After his uncharacteristic performance against the Hawkeyes, Wiggins responded with 13 points in 34 minutes off the bench against the Badgers, hitting three times from long distance. And on Saturday, in the same position once more, Wiggins chipped in 12 points, seven boards and three assists. It was a complete performance from a player the Terps often rely on for that kind of production — and often get.
"Throughout the whole season I've never worried about Aaron cause I know Aaron," forward Jalen Smith said. "He always pops up when you need him. So, just to see him get his groove back right now is amazing."
[Read more: "He'll figure it out": Maryland men's basketball isn't concerned with Eric Ayala's slump]
The 6-foot-6 guard is adamant about one thing — he doesn't care if he starts or not. When he got his chance Saturday, he played a part in Maryland's electric start, sinking twice from three-point range as one of his team's seven first-half triples.
And while he cooled off after that, finishing 2-for-6 from deep, he added two high-flying dunks. And late, after his defender fell down and Smith's man stepped over to cut off Wiggins' path to the rim, a dish to Smith led to a dunk.
He showed confidence to shoot and composure to dish when necessary. It was the kind of effort Maryland hopes to see on a consistent basis, regardless of his role.
"Any time a guy has struggled shooting and they do well, a lot of time people don't understand — just keep him where he is," Purdue coach Matt Painter said. "Now, if that's a rhythm for him, coming off the bench and he shoots better, that's good."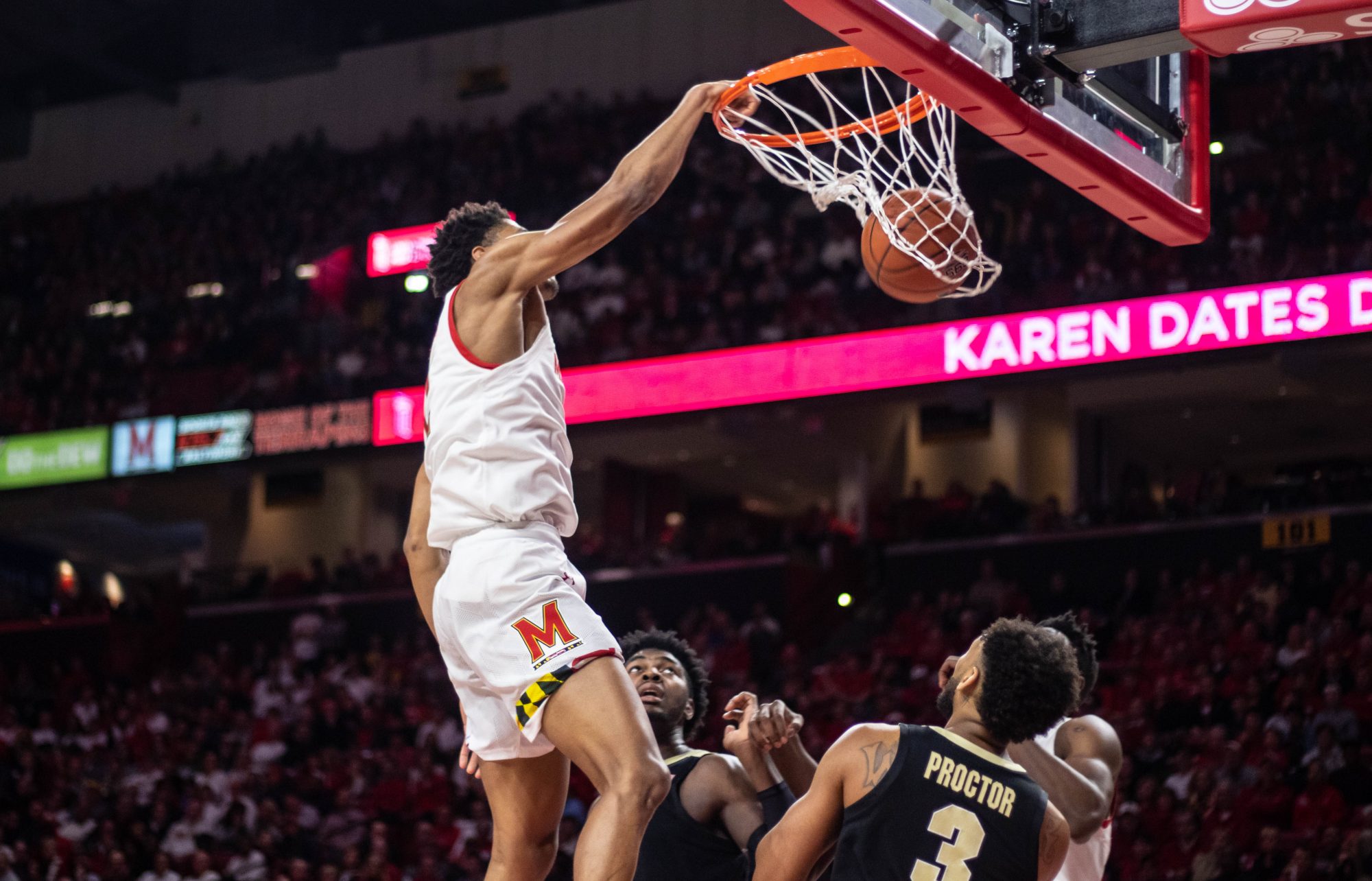 After his meager showing against the Hawkeyes, Wiggins seemed more relaxed against the Badgers when coming off the bench, Turgeon said. Following that two-point loss, Wiggins said he felt more engaged, competing on both ends of the floor.
Those sentiments carried over into a second straight appearance off the bench. He still plays starting minutes, though. He still helped build his team's first-half lead and played a role in securing it later. So when it comes to Ayala or Wiggins starting, there's really no difference.
"At the end of the day, if one of us is coming off the bench or if one of us is starting, we want to win," Wiggins said. "We're going to do whatever it takes."