Huddled up against the cold and waving signs that read "Dreamers Belong Here" and "Defend DACA," a crowd of thousands collected Tuesday morning before the Supreme Court, spilling from the plaza that stretches before the building onto the street.
As rain turned to sleet and sleet briefly into snow, a cry started to ring out in Spanish from under patches of umbrellas: "¡Ni la lluvia, ni el viento, detiene el movimiento!"
In English: Neither rain nor wind stops the movement.
More than 20 members of the University of Maryland community joined the congregation of protesters. Shouts of "Undocumented, unafraid!" and "Home is here!" echoed in the wind as inside, warm and dry, the nine justices heard oral arguments for a case that will determine the future of the Deferred Action for Childhood Arrivals program.
For many of the protestors, the cause is personal. Sophomore communication major Cindy Morales made the trip to Washington, D.C., to support one of her best friends, who she said is a DACA recipient.
"I can see her struggle," Morales said. "She wants to better herself and she's just afraid for DACA being taken away and not being able to pursue a higher education. So I'm here for her."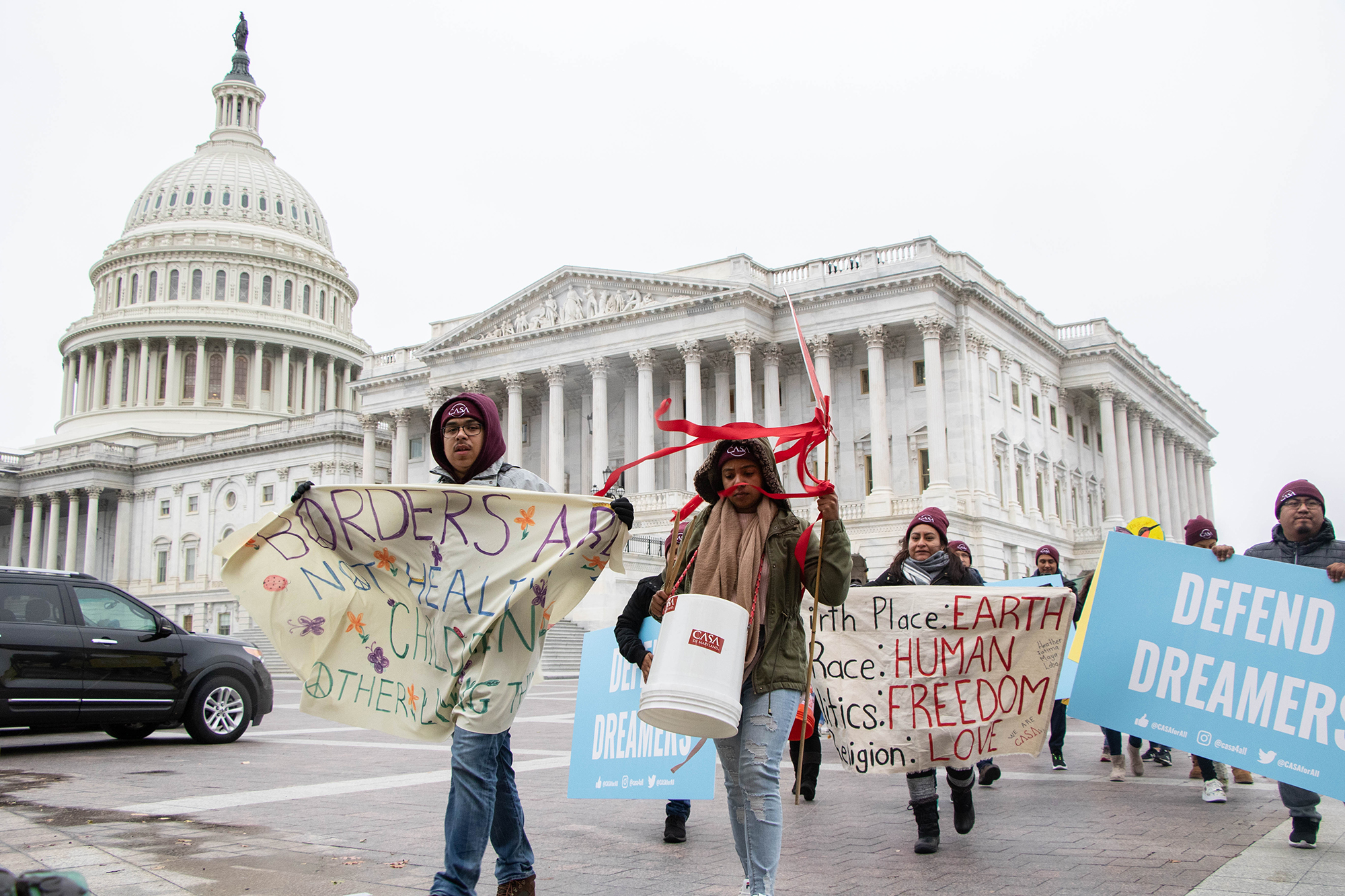 Established by former President Barack Obama under executive action, DACA shields undocumented immigrants who arrived to the U.S. before turning 16 from deportation. The program also provides its roughly 700,000 recipients documentation to study and work legally in the United States, though it does not provide a path to citizenship.
[Read more: Latinx students applaud UMD signing onto DACA brief, but want to see localized support]
President Trump tried to fulfill a campaign promise to rescind DACA in September 2017, but federal courts blocked the administration's phase-out plans — which automatically rejected all new applications after Sept. 5 of that year — and ordered DACA renewals to continue.
The Trump administration appealed the ruling to the Supreme Court, which announced in June that it would consider the topic in three consolidated cases. The court is ultimately evaluating whether the administration provided sufficient justification for its elimination of the program.
Renewal applications, which must be filed every two years, are currently still being accepted. However, the court's decision, which is expected to be announced mid-2020, could ultimately shutter the program — leaving thousands with unsure futures.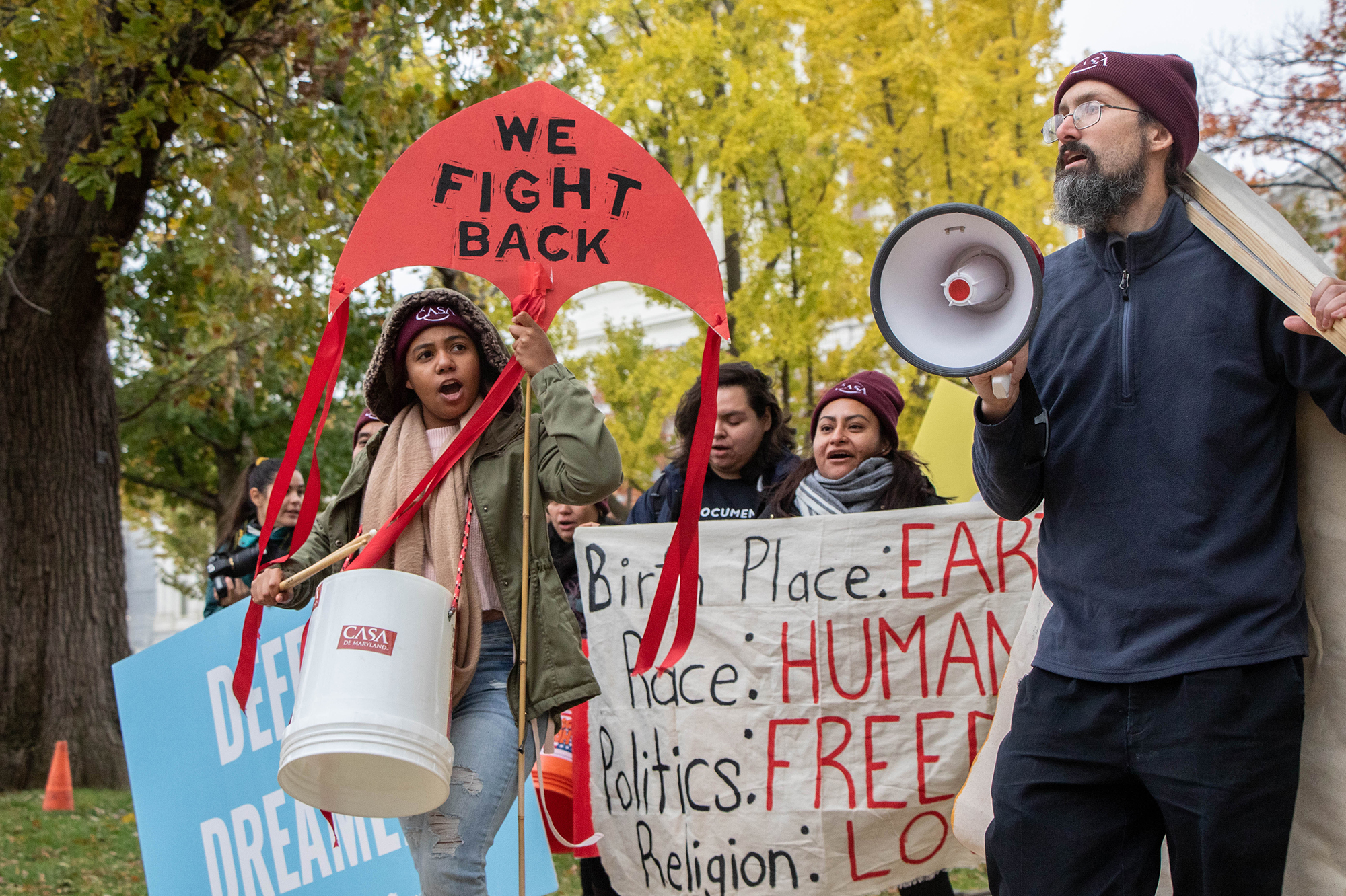 The university's undocumented student coordinator, Political Latinxs United for Movement and Action in Society, the Coalition of Latino Student Organization and leaders from CASA — a regional Latinx organization — arranged a bus to bring interested students, faculty and staff from campus to the protest.
"This is another way for them to show that their support goes beyond here, UMD, as an institution— that we're really thinking about you beyond your time here at UMD," said Laura Bohorquez Garcia, the undocumented student coordinator. "It's important to show that solidarity."
Thirty-two-year-old retail manager Brenda Flores, a DACA recipient herself, also arrived alongside university protestors with CASA. Flores, who immigrated from Mexico when she was 8 years old, said CASA helped her with the DACA renewal process multiple times.
Being a DACA recipient has allowed Flores to get a driver's license and a job. She's been saving money to go back to school— hopefully in the next year, she said. The program provided her a Social Security number that allowed her to take a course at a community college, where she learned sign language to take care of her deaf younger brother.
[Read more: UMD Latinx students are pushing for a cultural center on campus]
The relief Flores felt when the program was announced was enough to almost bring someone to tears, she said.
"You don't have to hide from other people," Flores said. "There's no words."
The stakes are high, but the protestors were jovial — chanting, drumming and even dancing for hours in the 40 degree temperatures. Some came from as far as California or Pennsylvania; others walked out of local high schools or universities. Monarch butterflies — a symbol of migration — adorned pins, T-shirts and signs. One giant butterfly, with orange wings supported by at least three protestors, floated over the throng.
When the plaintiffs of the DACA cases left the courthouse, holding hands at the top of the staircase, the crowd erupted into cheers.
Anthropology professor Christina Getrich teaches classes on the effects of immigration policy, and encouraged her students to come to the rally.
"That's just as important a lesson as whatever we would've been talking about in class," Getrich said. "It's important to me to sort of walk my values instead of just transmitting them in the classroom."
Some members of the crowd — senior marketing and supply chain management major Jaime Atilano, for instance — had experienced immigrating to the U.S. firsthand. After moving from the Philippines in 2006, Atilano said they were "lucky enough" to get citizenship.
"But knowing that I have this privilege here, I feel like it's my duty to fight for this," they said.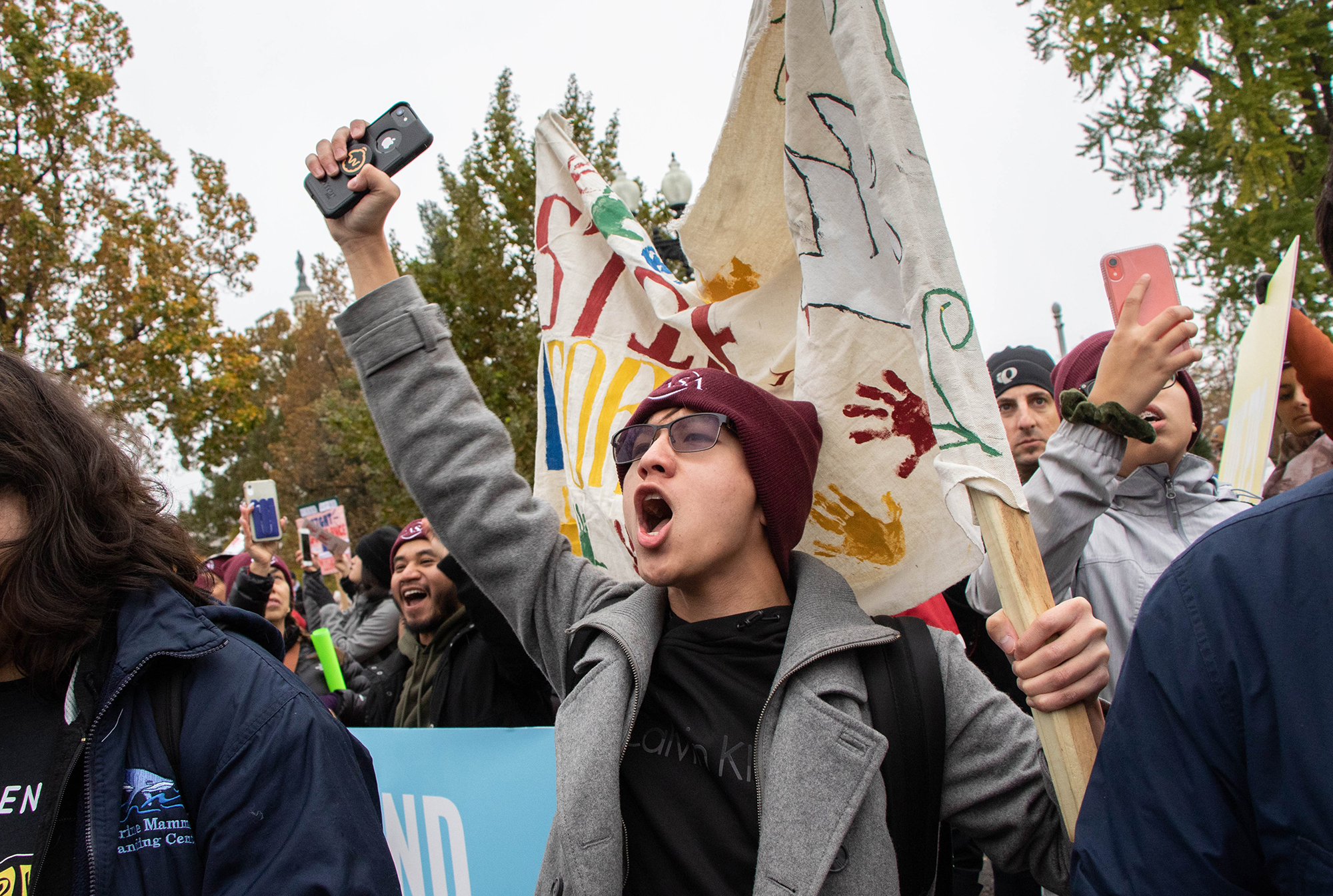 In October, this university joined 164 other universities in signing onto a brief supporting the continuation of DACA. The President's Alliance on Higher Education and Immigration, a group of university leaders from across the country that formed in November 2017, coordinated the argument, which came in the form of an amicus curiae brief — a report submitted to provide expertise or insight by a party not involved in a case.
At the time, Latinx leaders on this campus criticized the university for signing the brief and not supporting student-led efforts, such as their push to make Bohorquez Garcia's position a permanent one. Many at the rally, like Atilano, reiterated these concerns.
"The undocumented coordinator program needs to be a permanent position," Atilano said. "It doesn't make sense for it to be temporary because it's just not sustainable and its not helpful for the community who needs that as a resource."
But the university knows the role is an important one, Bohorquez Garcia said — especially if the Court rules in favor of terminating the DACA program.
Still, while she can't predict the future, Bohorquez Garcia said she's been inspired by how the immigrants' rights movement has become more community-oriented and multi-generational.
"I feel optimistic in that I know there's a lot of energy from the community to continue to organize," she said.