John Mulaney, the god of comedy and grabbing things on high shelves for his short wife, read from the front page of this humble, independent student newspaper during SEE's Homecoming Comedy Show and my life will never be the same.
After poking fun at the name of our beloved College Park and doing some other bits, Mulaney used a good ten minutes of his stand-up set to pick up The Diamondback, make fun of our name and read our content to a crowd of over 7,000 people. As many of us Diamondback staffers and our loyal readers have pointed out, the crowd was definitely larger than our print readership (hence the fact that March will see our final print issue … womp womp womp).
All the jokes about Mulaney reading the print edition more than students do: pic.twitter.com/wmTzFnEiqQ

— Leah Brennan (@allhaeleah) October 31, 2019
Needless to say, it was a really fucking cool moment. I was a bit nervous for assistant news editor Victoria Ebner as he read her entire profile on High Five Guy and laughed while rhetorically asking, "Who wrote this?" But she described it as her peak, and hey, any publicity is good publicity, right?
[Read more: Fearless ideas and fearful locations: How ghost stories explain campus history]
I was generally pumped to see someone I admire so much reading the paper we work tirelessly on every Sunday, but this was sentimental for me because — assuming I do not fail any of my classes — I will be graduating in December and thus leaving The Diamondback. I know, readers, you're heartbroken — I'm heartbroken too. I love The Diamondback so much, and this was one of the moments that made me remember why.
Reading The Diamondback on stage gave Mulaney a little glimpse into this university's culture, which inspired some really great comedy. He also read staff writer Carmen Molina Acosta's article about how recently passed College Park City Council legislation inspired students to register to vote locally. This gave him the fuel to make fun of the council for its definition of a gathering (eight people instead of four) and how students seemed to care more about their "right to party" than other political issues such as border control.
Mulaney has a really special gift. He used his interactions with the crowd and the little knowledge he got about our campus from those Diamondback pages to read the room and uplift us students through humor — not disparage us and the things we care about. He gave himself some flack for being too negative, but I perceived the opposite. He reminded me that I don't need to take the things on our campus too seriously.
[Read more: Here's why dining halls at UMD don't have waste baskets]
But he did tread into some risky territory with a joke about becoming the University of Maryland's president. He bantered with the audience about drinking his glass of water and staying hydrated, so he jumped into hyperbole and joked about rising in the ranks of this university's administration and becoming president so he could ban water.
He quickly noticed people in the crowd signaling him to stop talking about it, which was probably for the better, because if you've been paying attention at all in the last year, you'd know Terps football player Jordan McNair died two weeks after suffering heatstroke at a practice in 2018. McNair's death was the result of athletic staff failing to realize the severity of the situation. University President Wallace Loh has faced continuous criticism for his response to not only McNair's death but other student deaths during his tenure as well.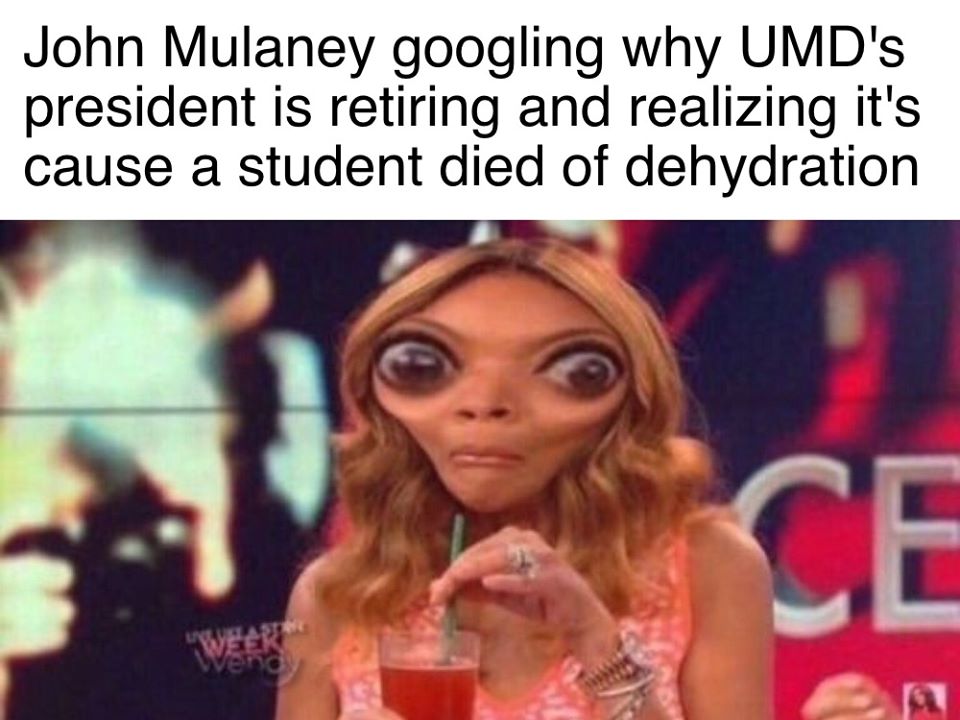 But Mulaney handled this misstep with grace — an audience member let him know Loh is indeed planning to retire and he intelligently chose to step away from the topic since he didn't know much about it.
I finally came down from the high of watching my favorite comedian read our newspaper on stage by the end of his set, but I felt uplifted again when he thanked the audience for our weirdness. He may have lightly roasted The Diamondback's content and said College Park sounds like a fake name for a city, but at least he enjoyed the spirit of our community.