Manuella Djomaleu walked into the University of Maryland in 2016 as a nervous freshman, insecure and doubtful she'd find success.
The now-senior physiology and neurobiology major was the first in her family to pursue a career as a doctor, and she wasn't sure if she belonged in the medical field.
But her pre-health adviser, Dr. Lisa Bradley-Klemko, made her feel welcome, Djomaleu said. From the start, it was clear that Bradley-Klemko cared about her outside of tracking the minutiae of her academics.
"She really wanted to know me. She wanted to know who I was as a person," Djomaleu said. "That's how I really knew she was on my side."
Over the course of her 35 years at the university, Bradley-Klemko shepherded many thousands of students pursuing employment in health care on to the next stage of their careers, opening as many doors as possible for them.
In the wake of Bradley-Klemko's retirement as assistant dean of the computer, mathematical, and natural sciences college on July 31, former students and colleagues shared stories and memories of the woman who pushed and empowered them — all while making sure the squirrels on campus didn't go hungry.
[Read more: UMD student affairs VP Linda Clement will retire this summer]
Bradley-Klemko became the director of the advising office for all the health professions on campus in 1990, a position she held until becoming assistant dean in 1999.
Throughout her career, she put students first and had high expectations of the ones she advised, said Christine Escobar, who worked in the pre-health advising office for several years in the early 2000s and has been friends with Bradley-Klemko ever since.
Escobar, who graduated from this university summa cum laude in 2003, remembered how Bradley-Klemko would "egg her on" to do better, using her academic honor as a nickname.
"I would … make a silly mistake, something I shouldn't have done, she'd just say, 'C'mon, summa!'" Escobar recalled.
Bradley-Klemko is very kind, Escobar said, but also has a presence that "demands respect."
Escobar recalled her first impressions of her former boss. "I thought she was intimidating at first," she said, paused, then added with a laugh, "I still think she's intimidating, actually."
A career of uplifting students
Bradley-Klemko was working as an instructor and adviser at the Virginia-Maryland College of Veterinary Medicine when the university's dean of life sciences — a school that eventually became the computer, mathematical and natural sciences college — came calling.
The university's pre-health adviser had suddenly left the post. It was June, right in the midst of application season, and about 300 students were in need of an adviser. There was a mountain of paperwork to be done and countless evaluation letters to be written, she said.
Bradley-Klemko applied and got the job, later becoming director — which had its ups and downs. There were the students who failed organic chemistry too many times, and the parents who wanted to know why their children wouldn't be given another chance.
"Sometimes I have to tell them this isn't going to work," Bradley-Klemko said. 
Bradley-Klemko carved a path for students to attend other medical schools, such as Georgetown and George Washington University. She established a relationship with Howard University, helping students from this university enroll at the historically black university's medical school for the first time.
Seeing Bradley-Klemko, a black woman, in an important faculty position was empowering for Djomaleu, who is originally from Cameroon.
"All of my classes, throughout undergrad, I was always one of the only black people," Djomaleu said. Bradley-Klemko would share her experiences and obstacles that she overcame. All of that served as motivation, Djomaleu said.
She said whether it was with her classes, research or medical school applications Bradley-Klemko was there to help.
[Read more: As UMD President Loh postpones retirement, USM takes first step to find his successor]
Bradley-Klemko always seemed to inspire those around her to be their best selves, said Alicia Thomas, who was the assistant director of professional programs in the pre-health advising office until July.
"It might just be the mom in her," Thomas said. "You have this feeling that you just need to do right."
Thomas said Bradley-Klemko was a "voice" for the students — she was always looking out for their best interests. Future students at the university will miss out now that she's gone.
One with the squirrels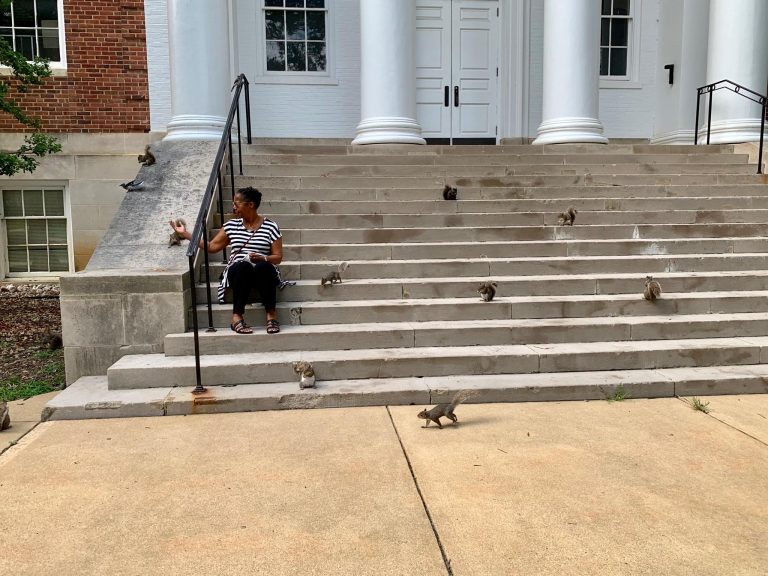 "Her squirrels will also miss her," Thomas added.
Yes – squirrels. A veterinarian at heart, Bradley-Klemko routinely fed the squirrels near her office.
"She keeps nuts on her at all times, which, like, that's not normal," Thomas said.
Bradley-Klemko said it all started when a squirrel jumped up on her windowsill, the first day after she moved into a new office in Symons Hall.
She left at lunchtime to buy a bag of birdseed and put it out on the ledge. "He came back every day," Bradley-Klemko said.
"And then more started coming," she said. And so she kept on feeding them, something Bradley-Klemko said she found relaxing.
Her son, Robert Klemko, a football writer for Sports Illustrated, called them her "praetorian guard," referencing the elite bodyguards of Roman emperors.
Not just an adviser
For Djomaleu to call Bradley-Klemko just her adviser wouldn't capture the depth with which she knew her. She recalled one pivotal moment in her sophomore year that Bradley-Klemko helped her navigate.
She was conducting research at the time, and it wasn't everything she had hoped.
"A part of me really wanted to stop my research," she said. "I wanted to stop everything and do something else, but I didn't feel confident in using my own voice."
She went to Bradley-Klemko.
"She told me that I know what I should do," Djomaleu said.
"I think that was the first of many times when she told me that I was smart enough, that I was brilliant enough to know what the right path for my education and for my research was, and I shouldn't be afraid to walk down the path that I knew was right for me," she said.