The Pavilion, a small gym tucked away in a corner of the cavernous Xfinity Center, is home to Terps volleyball games and wrestling meets.
Occasionally, it's also where Maryland women's basketball practices. Assistant coach Jessica Imhof utilizes the space for individual workouts.
Imhof has coached all-conference-level players such as Diamond Miller, Chloe Bibby and Katie Benzan in her time at College Park. But last week, she faced a different sort of challenge: A washed-up, 19-year-old student journalist who hadn't played organized basketball since high school. I wanted to gain insight into the rigorous Terps training program that has produced numerous professional athletes. Here's how it went.
I started with a few shots around the basket. The first couple clanked off the rim and drew a raised eyebrow from Imhof.
The assistant coach started my practice with a paint touch drill designed to loosen players' legs. Then, Imhof put me through various ball-handling exercises. Each one was designed and ordered to help players stack different combinations on top of each other. In a free-flowing Terps offense, Maryland needs its players to instantly read and react to the defender, and these exercises are a key part of honing that decision-making.
Soon after the stationary dribbling drill, Imhof has players use those moves in an off-the-dribble shooting exercise called "depth training." Pull-up jumpers will likely be a large part of the Terps' offense this season with guards like Shyanne Sellers and Riley Nelson.
Shooting drill pic.twitter.com/ocmW708Vis

— Refocus szn soon (@refocusszn) October 4, 2023
Depth training helps with that offensive versatility.
"A lot of times they're just training isolated spots on the floor, instead of a movement into something … so the depth of training will sometimes mess them up," Imhof said. "When you get into a game, you can come down and hit a pull-up, and then all of a sudden there's a steal and a kick-out three, so being able to switch that depth training is pretty important for them."
Depth training pic.twitter.com/kQBRLP5O5o

— Refocus szn soon (@refocusszn) October 4, 2023
[Maryland women's basketball releases full 2023-24 schedule]
My breath became jagged by the time I finished the ten-minute drill. Still, my ego nearly disrupted the break I desperately needed.
"Want to get a drink? Then we'll go to the next one," Imhof asked.
"You sure?" I responded, barely able to stand up straight.
"Don't worry, our kids drink water too," she said.
Imhof played four seasons with the College of New Jersey but knew her playing career likely wouldn't progress past Division III basketball.
By the time she was an upperclassman, her bond with the Lions' coaching staff had grown, allowing her to be hired as the team's assistant coach directly out of college.
She continued her coaching work from there, culminating in her previous role as North Carolina's scouting and video operations director. When Brenda Frese called, Imhof joined a young but experienced Maryland coaching staff in 2020.
She's become known for her strong work ethic and often stays in the gym at all hours of the day to help her players. Nelson, a freshman and five-star recruit, said earlier this month that she and Imhof had worked on coming off screens into shots.
That's the next exercise that the coach took me through. She brought a bucket of volleyballs onto the court to be my screening "teammate" and had me simultaneously throw a one-handed pass over my shoulder before exploding toward the basket for a layup. Then, I ran around the bucket of volleyballs to catch-and-shoot a mid-range jumper.
Everything Imhof does is designed to train multiple aspects of a player's game. She doesn't want her team to repeat the same standard moves. Instead, her drills stress read-and-react situations that align with what the Terps see in games. She also often looks to WNBA and NBA film to find any advantage.
[Here's what I saw sitting with Maryland women's basketball during Mystics-Lynx]
The next drill I took on is named after former Maryland women's basketball star Diamond Miller.
Miller, now a rookie with the Minnesota Lynx, often uses a step-through move in the lane. Imhof wanted me to practice taking no negative movements as I tried the move. That's something she's worked on with Sellers, who has previously wasted steps by moving backward.
After a few failed attempts, I began to understand the movement and my last rep was my best, drawing praise from Imhof.
Diamond Miller drill pic.twitter.com/0Y0mRX2nVj

— Refocus szn soon (@refocusszn) October 4, 2023
Finally, we arrived at the last drill of the practice, focused on three-point shooting. Maryland often finishes its workouts with what they call the M Drill".
Players run from the half-court Maryland logo into a pull-up three and need to make three shots in a row before they can stop. Maryland sharpshooters like Bibby and Benzan were stand-out performers in the drill, Imhof said.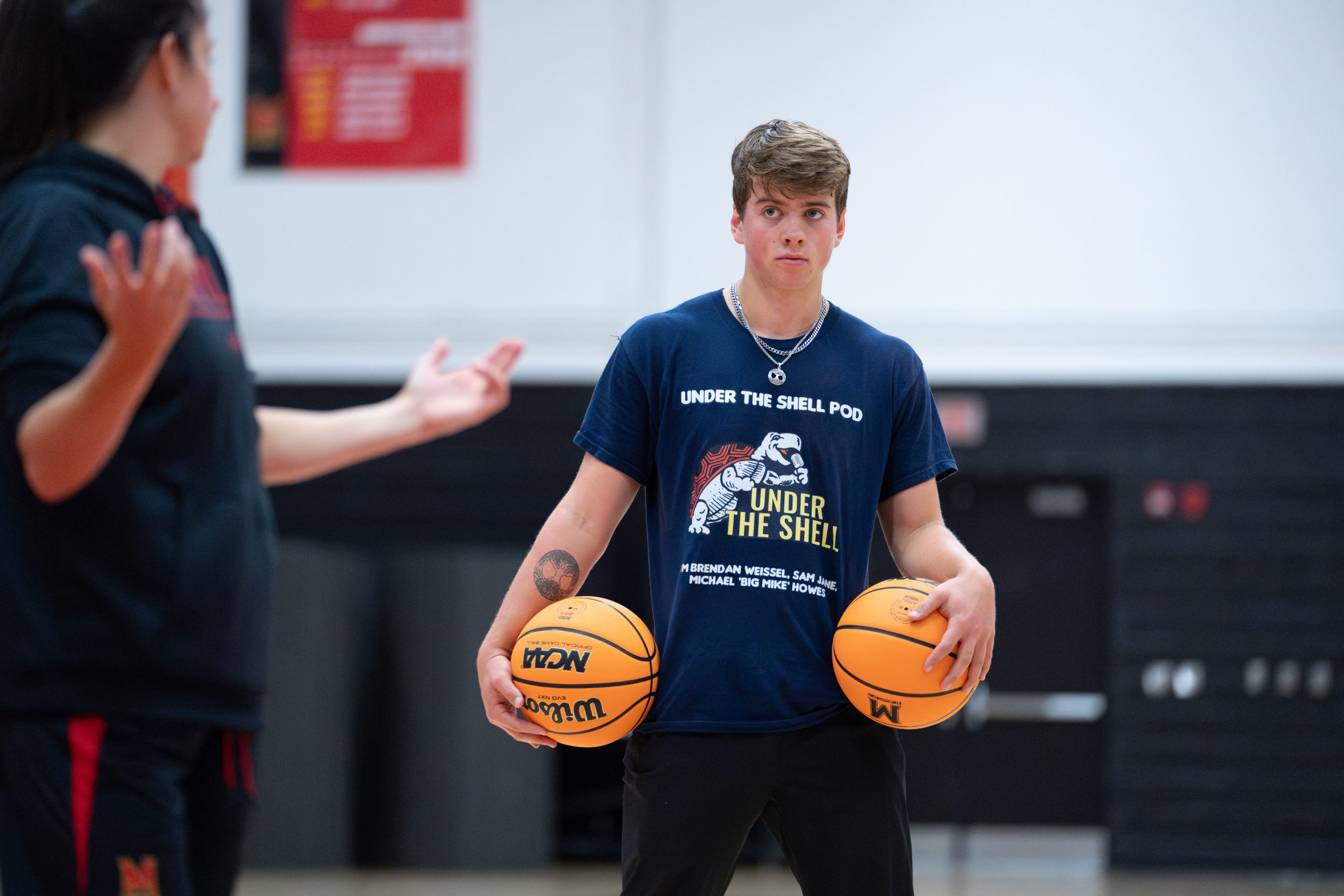 She gave me nine attempts. My legs felt shaky but gained strength after the first shot went in. Three of my nine threes went in.
I was just happy that every single one didn't airball.
Maryland players wrap up their days by running baseline to baseline, aiming to finish the sprint in under 11 seconds. Imhof's words of encouragement helped me sprint to a ten-second finish.
We slapped hands.
"You made the team," she said.
Immediately after she turned her back, I wobbled over to the bleachers and collapsed onto the first row.
The grueling workouts are at the core of the program's success. In just under an hour, the coach had given me a small insight into why the Terps repeatedly help players make massive leaps each year and have sustained success throughout Frese's decades-long tenure.
"So, same time tomorrow?" Imhof joked.
I passed on that offer.