Tyrese Chambers has had a long road back to Maryland.
Football has always been the force guiding the Baltimore native away from his home state and across the country. The sport, along with his faith, kept Chambers intact throughout his young life, even as he worked to overcome a lack of recruiting interest from colleges and a number of hardships growing up.
Now, Chambers' winding football journey, which included stops at junior colleges in Texas and Kansas before stints with Sacred Heart and FIU, has finally brought him home. This year, he's the oldest of Maryland football's receivers and has a chance to shine the brightest among them in his final college football season.
"My whole life, I had to fight and battle," Chambers said. "God blesses those who support others. It's about being a good teammate, showing love, making sure you're doing everything you're supposed to do. That's what I've been doing everywhere I've been."
The wide receiver didn't always think he'd return to his home state.
Chambers' mother, Brenda Williams, raised him as a single mom. Both his father and brothers were not around, he said, which meant Chambers took on a big role in helping his family at an early age.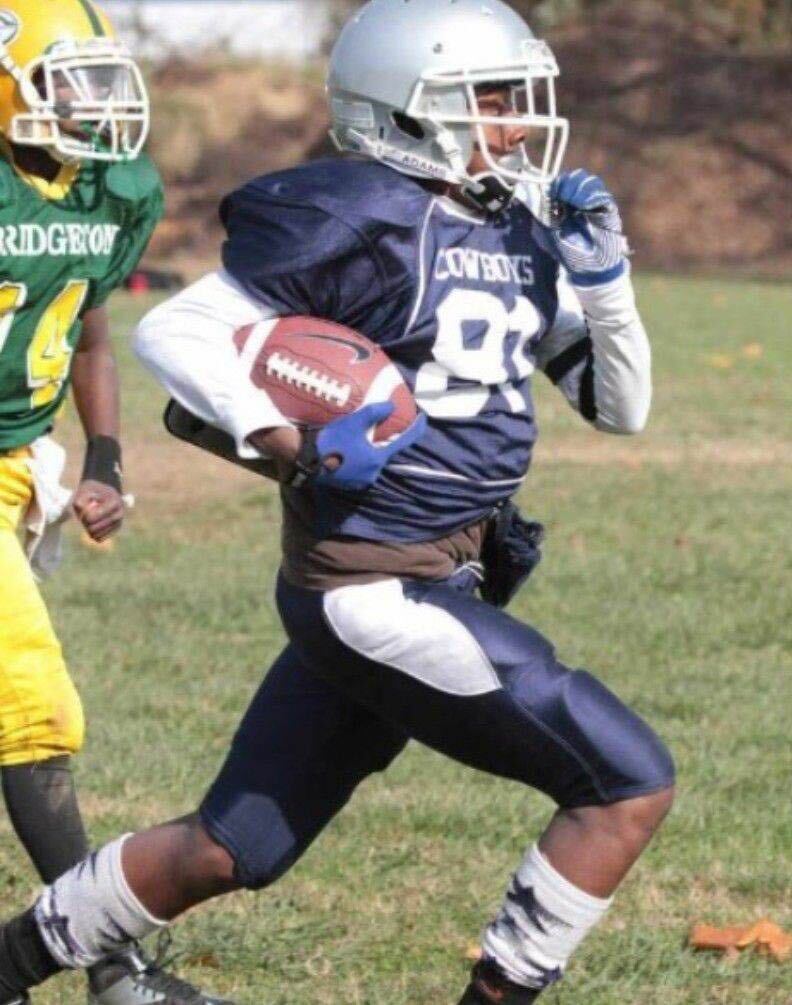 Providing for his mother and two sisters was Chambers' main motivation, Williams said.
"He wanted to be the protector, the older brother, the father figure," Williams said. "That's when he changed himself. He started getting better grades, he started pushing harder."
[Maryland football falls behind early again, roars back en route to 42-14 win over Virginia]
Chambers was determined to leave Baltimore, in part, because of the violence he witnessed there. When he was 12, Chambers watched police shoot his uncle on an East Baltimore street. His uncle survived, but spent a year in the hospital.
Chambers had to grow up early so he could take care of himself and his family, he said. He made an effort to avoid the circumstances that negatively impacted the people around him.
"Seeing so much failure around me, seeing people fail, I learned from other people's mistakes," Chambers said. "I knew what I didn't want to be like."
Williams sought counseling and therapy for her son to help him navigate his trauma. Most programs had little impact, but the strength of his faith helped the most.
Chambers leaned on his faith more after his uncle's shooting, and it still shapes who he tries to be today. Now at Maryland, Chambers and his teammates' conversations outside of football often center around the Bible. Back in high school, his faith helped him prevent the lack of interest and opportunities to discourage him.
"God has always been my therapist," he said. "He has changed my trajectory of how I see things, how I view things. I turned to God when I was a kid. The stuff that I've been through in my life, I always knew that God was gonna find a way for me, and I just trusted him."
Chambers joined Baltimore Polytechnic Institute's varsity football squad in just 10th grade with a reputation as one of the city's best athletes. Chambers felt he was ready to contribute immediately, but opportunities on the field eluded the receiver.
[Maryland football sustained defensive dominance with adjustments in second-half shutout]
He voiced his frustrations after his sophomore season.
"I'm not sitting back no more," Poly coach Marquise O'Neal recalled Chambers saying. "I want the ball."
Chambers blossomed into one of the best receivers in Maryland the next season and followed it up with an even more dominant senior year.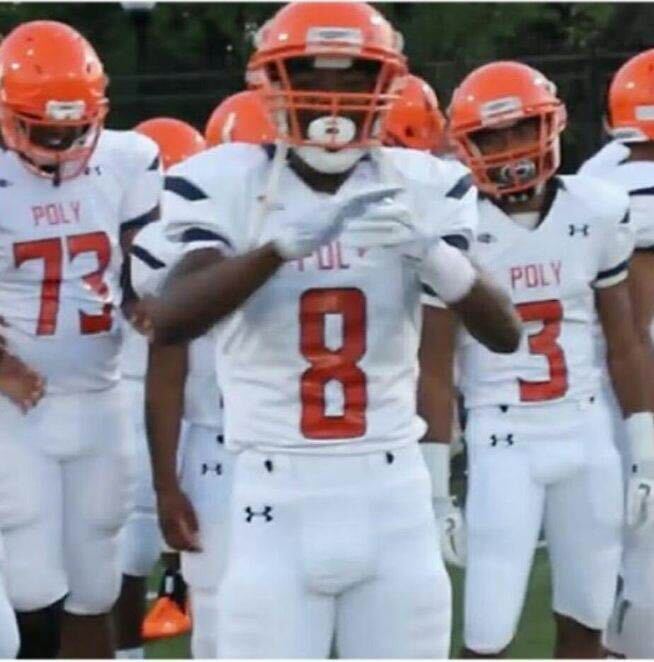 Chambers' highlights are ingrained in O'Neal's memory. One standout moment, O'Neal said, was Chambers' 214 yard, four-touchdown performance in a win at Tuscarora. The coach also remembers when Chambers scored all three of Poly's touchdowns in its annual rivalry game with Baltimore City College.
His confidence sped up his meteoric rise from a bench player to one of Maryland's premier talents.
"It wasn't an arrogance," O'Neal said. "He wasn't overstepping. He just wanted you to know that he's open if you wanna throw him the ball."
As a senior, he totaled 1,175 yards and 17 touchdowns and was named first team All-State.
"I left that school a legend," Chambers said.
But Division I programs never noticed.
Williams said Poly's coaches and advisers could have done better at putting her son in front of recruiters. O'Neal and Chambers are still unsure why no one at the Division I level wanted him, but he refused to let it disrupt his path out of Baltimore.
The lack of high-profile offers led Chambers to play at two junior colleges, one in Texas and then Kansas. From there, he transferred to Sacred Heart, FIU and now Maryland, where he wears the No. 0 jersey to represent the number of schools originally interested in his talents.
"You gotta be different to make it out of junior college," Chambers said. "For some reason, I was never nobody's first option … Nothing was ever given to me."
[Taulia Tagovailoa's deep ball accuracy could unlock Maryland football's offense]
His short stint in Texas wasn't without its own challenges. Chambers coordinated with neighbors and family back in Baltimore to ensure his mother had food and basic necessities. He nearly dropped out to return and help his mother, but she convinced him not to.
Williams, who said she's only ever missed three of Chambers' games, flew to Florida to watch his first game at FIU. It was the start of a historic year, one where he became the program's all-time leader in receiving yards in a season.
Now, Williams' trip to watch Chambers is just a short drive south. He always wanted to play at Maryland. Making it easy for her to watch was a big reason why.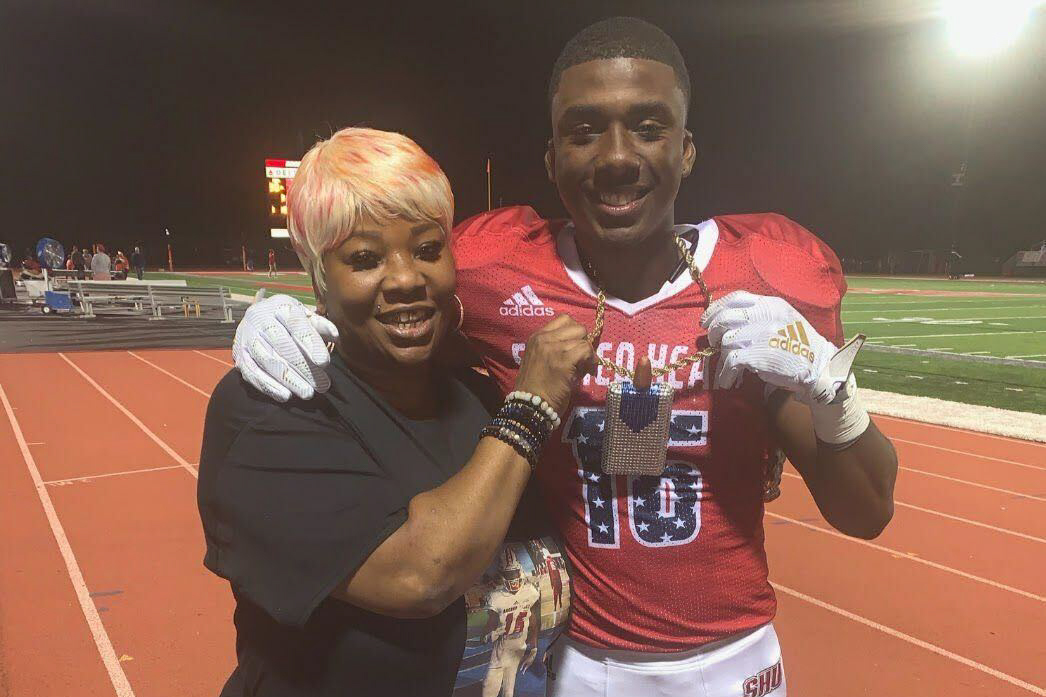 Chambers' long journey out of the city prepared him for a new position: a leader and role model for Baltimore's youth, who he teaches football and offers an escape to at camps.
It's a role Williams sees Chambers take pride in. The camps offer children from his hometown a glimpse into a future that could await them.
"I see him speak to these kids," Williams said, "and it leaves them hope."
Chambers was once in their place, an East Baltimore kid searching for a way out. His dream, which was born in that neighborhood, has been achieved. Now, Chambers wants more.
"The ones who make it out stand out the most," Chambers said. "Everybody in Baltimore's been through a lot of stuff. You can take it and use it for good, or you can take it and use it for bad. The ones who take it for good, they're very impactful in this world."