"One job should be enough," dozens of University of Maryland employees chanted outside of the Miller Administration Building Wednesday.
The chant was part of last week's "Do Better Rally," led by University of Maryland employees to push for fair wages, telework opportunities and fair treatment for housekeepers and immigrant workers.
The American Federation of State, City and Municipal Employees Local 1072, a union that represents around 3,400 employees of this university, hosted Wednesday's rally. The event marked more than one year of University System of Maryland employees negotiating for a master contract across all campuses.
[Aspen Heights apartment move-in delayed to mid-September]
Speakers at the rally emphasized how this university's stated missions, especially regarding diversity, equity and inclusion, contradict how the system treats its employees.
"There is a disconnect between the university's publicly stated aims to do good and improve the entire world, while not necessarily taking a hard look at what's actually in their own backyard," AFSCME Local 1072 president Todd Holden said.
A crucial priority for AFSCME Local 1072 members is to create a fair master contract for all university system employees, instead of separate contracts for each campus. The ideal master contract would include fair worker's compensation, equitable access to leave and consistent disciplinary procedures, Holden said.
Holden also noted that College Park employees are negotiating issues that are specific to the campus. Increasing telework options, reducing equipment and uniform issues and shifting differential pay are priorities for the College Park campus, Holden added.
In an email to The Diamondback, the university system acknowledged recent negotiations with AFSCME and remained optimistic regarding a resolution moving forward. The University System of Maryland and AFSCME are "currently engaged in ongoing consolidated collective bargaining negotiations," the statement read. "The system remains committed to that process and to reaching agreement on a consolidated memorandum of understanding with AFSCME."
[Newest College Park City Council member wants to prioritize green space, walkability]
Increasing Spanish accessibility on campus was another key issue rally attendees discussed on Wednesday.
Roxana Cruz, a housekeeper at Stamp Student Union and AFSCME Local 1072 member, spoke out about her management's negative workplace culture.
"Housekeeping management has created a workplace culture of intimidation, discrimination and bullying," Cruz said.
Cruz said she and fellow employees were told by their manager not speak Spanish while at work.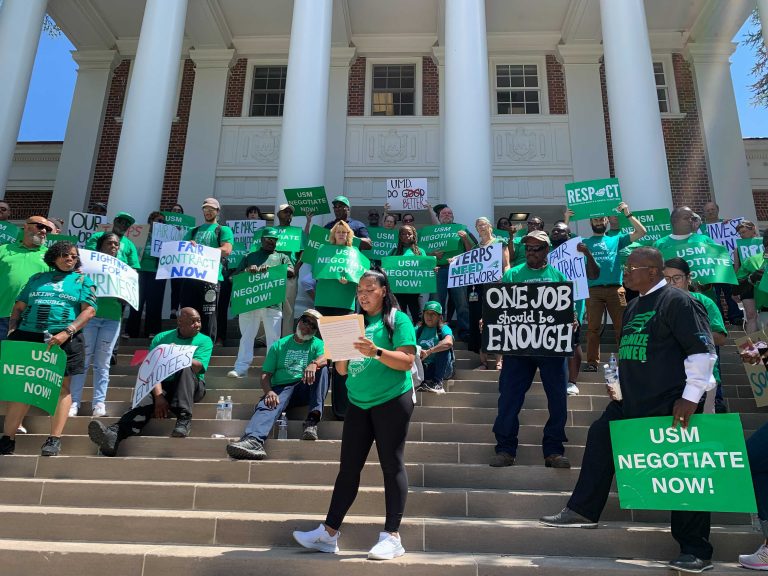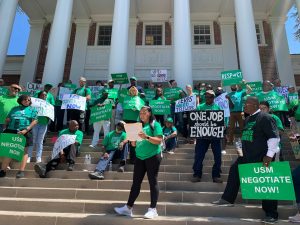 Written testimony by Margie Rodriguez, a housekeeper for Ellicott Hall, was read aloud by another union member because Rodriguez was not granted steward leave to attend Wednesday's rally.
In her testimony, Rodriguez said many employee forms and emails are not available in Spanish, leading her to translate forms for her coworkers. This led one of her coworkers, she wrote, to be unaware that she was eligible for health insurance for over a year.
In a statement to The Diamondback, this university highlighted how College Park employees "are informed during training that they are welcome to speak their native language to each other."
Speakers at the rally also accused some supervisors of intimidating staff over taking sick days.
Cruz recalled calling off work one day because she was feeling sick. The next day, she said, her manager questioned her about why she did not show up.
"Management is constantly bullying us and telling us 'you will lose your job if you keep calling sick,'" Cruz said.
Last-minute schedule changes happen often, Cruz added, which becomes difficult for employees who need two jobs to survive due to their low wages.
Workers also advocated for standardized procedures for telework options. Some said that telework policies, such as how many days a week employees can work from home, can change based on a supervisor's discretion.
"During the pandemic, we proved that we can fulfill the mission of the university remotely, and we exceeded everyone's expectations," Holden said.
The reduced capacity of telework at this university in combination with low wages has encouraged many workers to leave for better work opportunities, according to rally organizers.
This reality has left the remaining employees to bear the responsibilities of multiple workers.
Dwonne Knight, an IT coordinator at McKeldin Library, said he once worked for 16 straight days to keep his office afloat with staffing shortages.
Knight says he drives for Lyft and Uber to supplement his low wage.
"I know former co-workers who have left who would come back to work at [the University of Maryland] in a heartbeat if they can only be fairly compensated for their work," Knight said.
Moving forward, Holden said the union will have its next bargaining meeting with the university system at the end of this month. After the meeting, the AFSCME Local 1072 president hopes to accelerate the schedule to complete the contract.
"I stand with all of my fellow local members and am demanding that [the University System of Maryland] do better," Knight said. "Listen to the voices of us who do work."