As an undergraduate, Dr. Kevin Daniels had to be convinced to go to graduate school to become a scientist.
After graduating from the University of South Carolina, Daniels could have made decent money getting a job and becoming an engineer, but his undergraduate research advisor invited his parents to the campus to make the case for continuing with research.
Fortunately, Daniels had the resources to do so when he changed his mind. But now, as the principal investigator of the Daniels Dimensional Materials Laboratory and an assistant professor in the University of Maryland's electrical and computer engineering department, Daniels recognizes the burden on Black students looking to enter scientific fields.
"I wouldn't have gotten here without amazing support and mentors along the way, and so I tried to pay that forward," Daniels said.
Daniels is one of many Black researchers at this university opening new paths for Black students by showing them the options available to them and offering them opportunities to take on research-based fields.
In his time at this university, Daniels has mentored many undergraduate and high school students and offered hands-on research experience in his integrated circuit fabrication course. A similar class on advanced manufacturing will be offered in the fall.
This effort runs alongside exciting research in the Daniels lab. Daniels' research focuses on the characterization, growth and applications of two-dimensional materials, which when bent, have several unique properties.
[UMD employees union lobbies in support of telework, collective bargaining bills]
During the COVID-19 pandemic, the Daniels lab created a biological sensor for antibodies attached to the virus. Daniels hopes to continue creating materials to sense a variety of widespread pathogens.
Another professor who believes in showing students what they can become is Cecilia Shelton, an assistant professor in the English department.
Shelton's research focuses on the insights offered by dialects, linguistics and rhetorical practices of marginalized communities — in particular, the Black community. According to Shelton, these rhetorical traditions are often disregarded or devalued by greater academia, which values "standard" English.
"I know what kinds of rich and valuable and sophisticated rhetorical skills and practices come out of the legacy of [Black] culture," she said. "To disallow those kinds of things in a writing classroom and a professional space is a problem."
Shelton is working on a book that tries to determine a way for thinking about technical expertise and professional communication in the Black cultural and rhetorical tradition. According to Shelton, because technical expertise is defined along lines of race, gender and class, Black and queer people and people with disabilities are often forgotten.
Shelton also weaves these practices into a transformative classroom. She encourages students to be comfortable using dialects in their work. She also incorporates their life experiences into what is discussed in the classroom. Minimizing the weight of traditional letter grades and points-based assignments as well as prioritizing accessibility, equity and inclusion in her teaching are characteristics of Shelton's classroom as well.
"In some ways, I'm still complicit in those in [exclusionary] practices because I'm here and doing this work, but I can also resist that, and I can also make space for students who may not have found a way to see themselves as writers, as communicators with expertise, to see that option for themselves. And that's where the transformation is," Shelton said.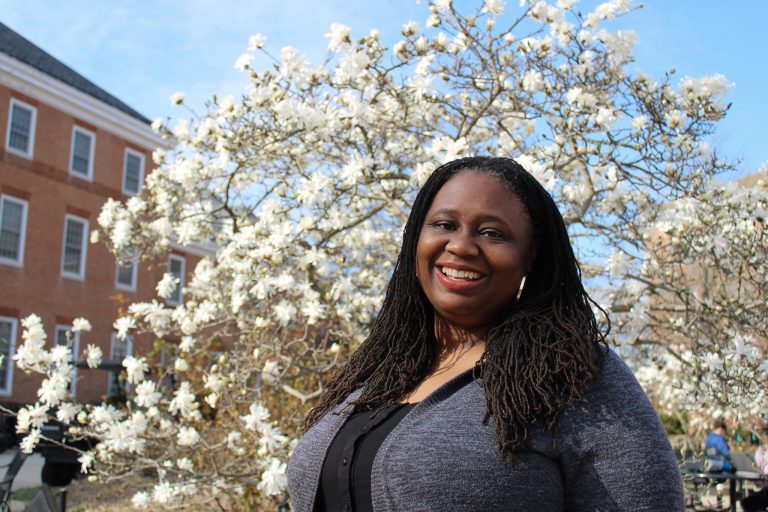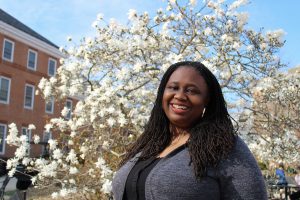 Dr. Nikolas Francis, an assistant professor in the biology department and Brain and Behavior Institute, also works to improve the visibility of research as a career option for Black students.
Growing up, Francis didn't see many Black scientists — on TV or otherwise. The struggle to become a successful principal investigator with a lab exists independent of race. But to Francis, the lack of role models in the field creates a barrier to interest and entry.
"It's up to people like me and other people who are in the field to try to recruit and support and find avenues for younger people who are still deciding what kind of field to go into," Francis said.
[UMD alum Tyler Denk on Forbes 30 Under 30 for $20M-valued newsletter platform]
Recently, Francis' lab is investigating how the brain differentiates music and environmental sound using mice.
The Francis lab also studies the brain connectivity of mice with behaviors similar to certain types of autism and how mice differentiate sounds. According to Francis, the mechanism of the latter isn't entirely understood, but this is part of researching the brain.
"There's so many questions we can still ask . . . It's this rabbit hole in the sense that you ask one question, and you realize, 'I could have asked it a different way and now, we can look at another angle.' And by that iterative process, we gain more and more understanding," Francis said.
Alongside efforts to support Black students, the work of Dr. Kris Marsh, an associate professor in the sociology department, takes a detour from typical research to discuss the Black middle class. Black America isn't a monolith, and everyone is exposed to racism, Marsh said.
Marsh recently finished writing a book on why a rising contingent of middle-class Black people are single, or unmarried and without kids. The book also considers more inclusive understandings of "Black love" and nontraditional Black family structures, Marsh said.
"There's a whole bunch of data out there that suggests that Black Americans, especially middle-class Black folks, don't reap the same rewards as other racial-ethnic groups being middle class," Marsh said.