Employees from Maryland universities lobbied their state representatives Monday at the Maryland General Assembly in Annapolis for several state bills regarding workers' rights — including one that would establish a process for contract impasses and one that would expand telework options.
About 50 members from the University System of Maryland, Morgan State University and Baltimore City Community College attended the lobby night, according to Stuart Katzenberg, the collective bargaining and growth director for Maryland Council 3, the state chapter of the American Federation of State, County and Municipal Employees.
"I'm here to explain to the Senate why it is important for us as [housekeepers] to come out and speak our mind, so they can understand what we are going through,"said Rhonda Leneski, a residential facilities housekeeper at the University of Maryland.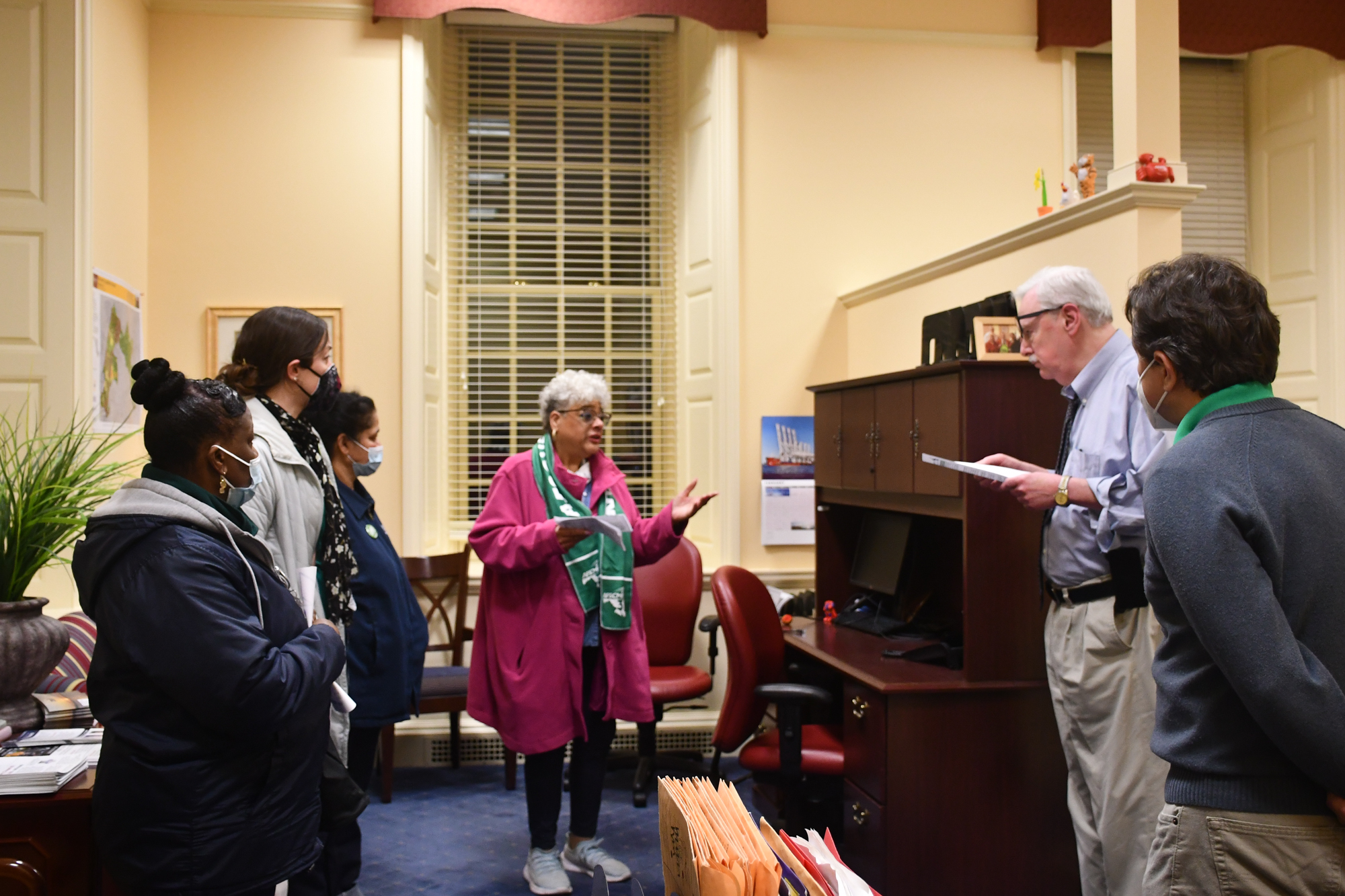 Binding arbitration, labor board reform and improving access to telework are among the topics higher education workers at AFSCME are most interested in, according to AFSCME Local 1072 President Todd Holden, who leads the chapter representing employees at this university. AFSCME members met with a number of state delegates and senators Monday to discuss these issues.
Binding arbitration allows a neutral arbitrator to make a binding decision when parties reach impasse during state and higher education contract negotiations. Some police and fire county employees in Maryland have had binding arbitration for years, and it has worked relatively well, Holden said.
[UMD faculty, graduate students testify on state collective bargaining bill]
The Public Employee Relations Act, an MGA bill proposed by Del. Jazz Lewis and Sen. Clarence Lam, would combine three labor boards into one cohesive board that would uphold Maryland public sector labor laws.
Holden said AFSCME is in favor of labor board reform because one labor board with better coordination, staffing and resources would help meet Marylanders' expectations for prompt, helpful responses .
AFSCME's Local 1072 chapter filed a labor board charge with the State Labor Relations Board — one of the three boards in the state — in 2020 and only received a decision almost a full year later, Holden said.
Telework fairness legislation currently proposed in the MGA would require state and education employers to offer a hybrid telework option to employees. It would also prohibit employers from entering employees' homes to check up on them.
In July 2021, AFSCME Local 1072 rallied on this university's campus to call for expanded telework options for that summer. More than 640 staff members signed a petition to urge university President Darryll Pines to discuss teleworking opportunities amid the COVID-19 pandemic. AFSCME still fights for telework to incentivize state workers to stay with their jobs, according to an information sheet by the union.
"We proved that when everybody was teleworking, we were still getting the university's business done," Holden said. "Whether you were teleworking for five days a week, four days a week, it was working and we were doing great."
[Maryland lawmakers expand USM unionization push to include faculty members]
Some Local 1072 members, including several residential facilities employees from this university, came to the lobby night with other topics, such as wages and service contracts, on their minds.
"Why isn't higher [education] as important as other state agencies? Because the other state agencies, they don't have these type of problems as higher [education] does in terms of us being able to live comfortably [with] working wages," said residential facilities worker Warren Roberts.
Julie Weber, a senior coordinator at this university's extended studies office, was interested in a bill that would require an agency to notify the exclusive bargaining representative it works with when the agency plans to sign a contract that would outsource work instead of employing state workers.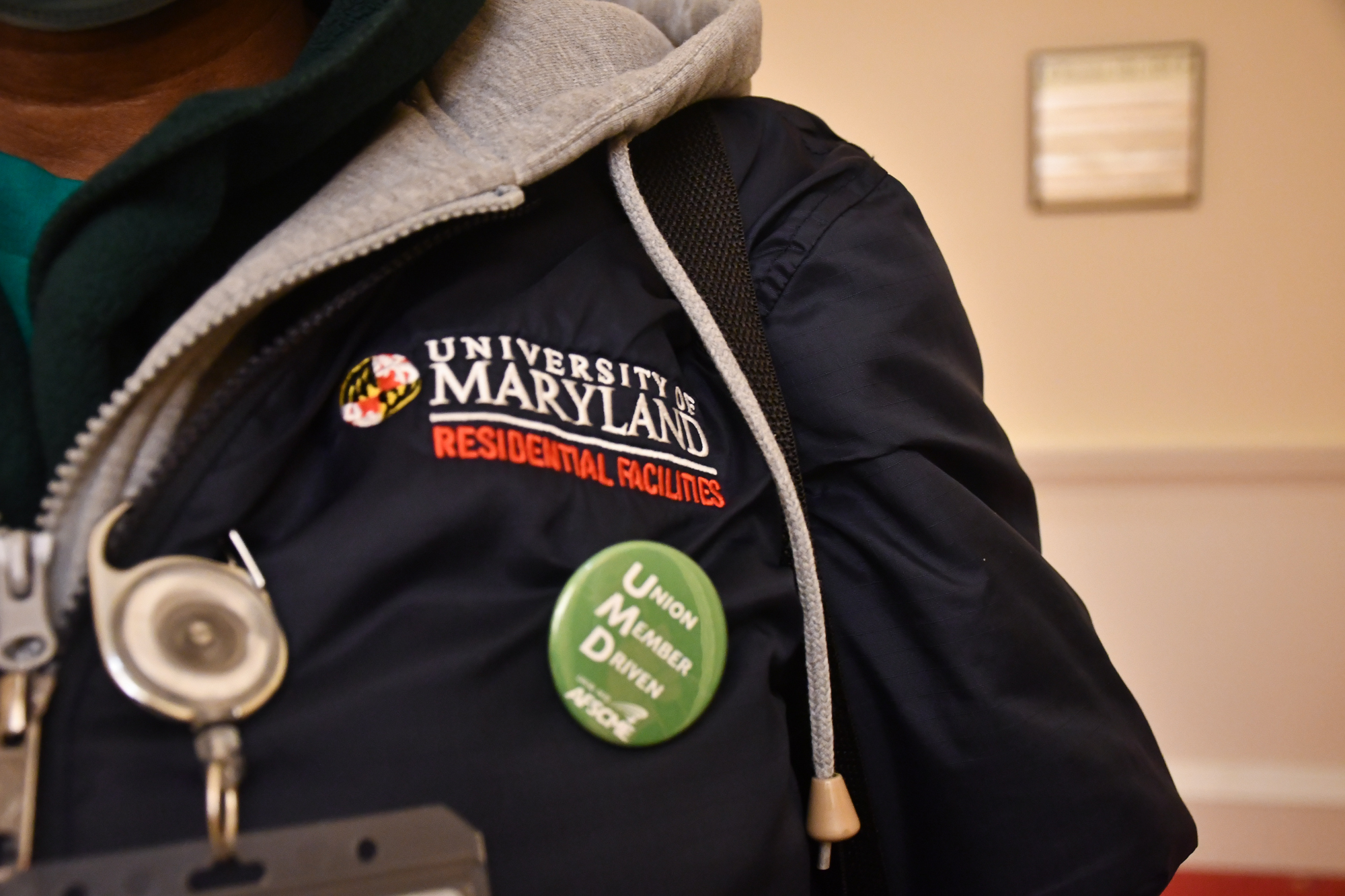 "We have a surplus of budget and instead of paying us well, they're outsourcing the jobs to independent contractors, which weakens our bargaining group," Weber said.
To end the night, AFSCME members stood outside of the Maryland State House to hand out flyers to people walking into the legislative session. AFSCME members felt that the lobby night was a success.
"I feel very good, very positive," said Andre Nottingham, the program development and advancement assistant director at the Nyumburu Cultural Center at this university. "The legislators were very pro with what we were saying to them."