Nationwide egg shortages due to avian flu are causing increased prices and impacting College Park businesses and dining halls.
Commercial and backyard poultry flocks have been infected by avian flu in 47 states since early 2022, when the outbreak began, according to the U.S. Department of Agriculture. More than 58 million commercial and backyard birds have been affected, according to the Centers for Disease Control and Prevention. Farmers have no choice but to kill the exposed chickens to prevent further spread of the disease, resulting in supply shortages that affect local businesses, including those in College Park.
The price of eggs purchased by University of Maryland Dining Services has doubled in the past three months, according to Dining Services marketing and communication assistant director Bart Hipple, but dining halls have been able to retain their supply.
This university gets its eggs from a local farm in Baltimore County, Hipple said, which helps keep up a steady supply because the university is a preferred customer.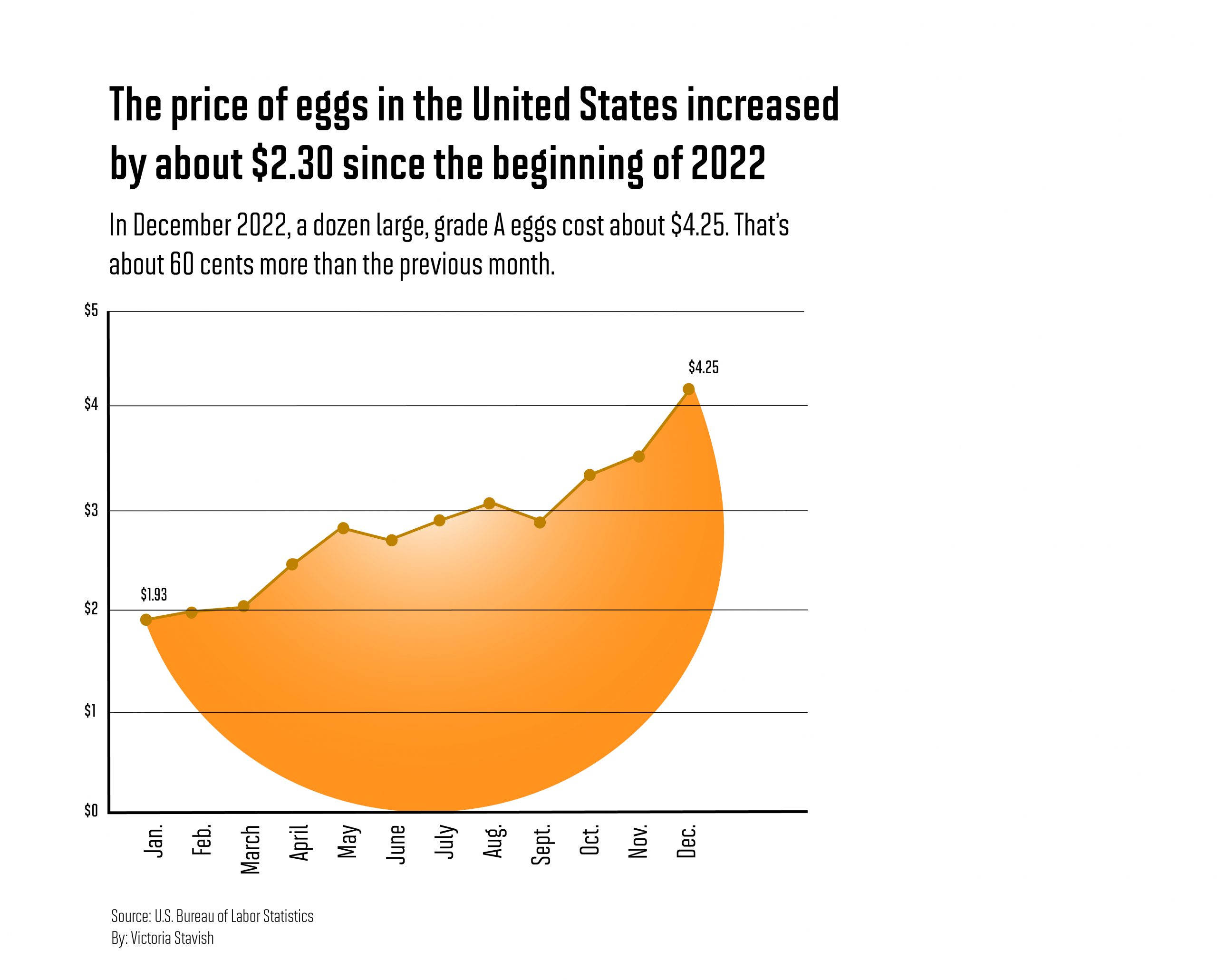 Local grocery stores have also seen first-hand problems with keeping eggs on their shelves.
[After contentious debate, College Park City Council sets 2023 election location, date]
Bart Ziemba, manager for Lidl in College Park, said the store is now seeing their supply go up again after weeks of dwindling cartons.
"We had a shortage of supply, so we couldn't supply customers on a daily basis as we wanted to and prices went up," Ziemba said. "But on the other hand, it didn't take that much long to get the eggs back to the store, and now we are fully stocked."
Egg prices have soared in College Park grocery stores since last semester. Diamondback reporters have found Target's egg prices nearly doubled, and Trader Joe's prices have increased 17 percent from December 2022 to February 2023.
Albright Farms in Baltimore County supplies eggs to University of Maryland dining facilities. Tom Albright, owner of Albright Farms, said while his farm hasn't seen an outbreak of avian flu, it has had to deal with tighter biosecurity measures.
Albright said the chickens, while still free roaming inside, now can't go outside to protect them from the virus. The family farm also takes extra precautions to prevent other animals, such as mice, from getting into the chicken area.
[Here's how the business scene in College Park is changing in 2023]
While Albright believes egg prices will go down and the market will stabilize by the summer, he said egg prices won't go back down to pre-avian flu levels because the price of feed and labor have both increased significantly.
"Each one of us has an intimate relationship with agriculture, but we take it for granted, because there's food on the table every day," Albright said.