By Dylan Jaffe
For The Diamondback
Four years ago, Chimere Ukwuani returned to the United States after a family trip to Nigeria, only to find his Gaithersburg home flooding. But he's grateful for the experience — it's what prompted his family to move to Prince George's County, where Ukwuani would discover his passion for thrifting and reselling clothes. 
"That's when I first started because the thrift stores were way better in PG County than they are in Montgomery County," Ukwuani said.
Now, Ukwuani — a senior at the University of Maryland, Baltimore County, studying biostatistics — has used his thrifting passion to create a business for vintage University of Maryland apparel, all through an Instagram account: @umdvintage. In the span of six months, the account has amassed more than 1,600 followers and sells the products within days.
"I would always see vintage pages, and it'd be specifically [for a] university and I thought, how come Maryland doesn't have that because Maryland is one of those prideful states. I always found it weird that nobody's selling Maryland clothes," Ukwuani said. "So I was like, 'Let me just try one day.'"
[UMD Meaningful Connections recital brings performers, audience closer to the music]
Customers can find a wide variety of timeless pieces of university apparel, including retro basketball tees, red windbreakers with the word Maryland stitched on or embroidered, and jackets with the Testudo mascot.
Ukwuani has prioritized affordability in the account. Vintage clothing can often be very expensive, so he has decided to price his products down what they usually cost.
"I would say I'm very, what's the word, empathetic? That also translates to my business. Like, if I wouldn't pay this much for something, then I'm not going to make other people pay that much for it," Ukwuani said. 
While Ukwuani is praised for his keen eye for fashion, he didn't always have a passion for unique clothing. In middle school and his beginning years at Colonel Zadok Magruder High School, he would wear the same hoodie almost every day.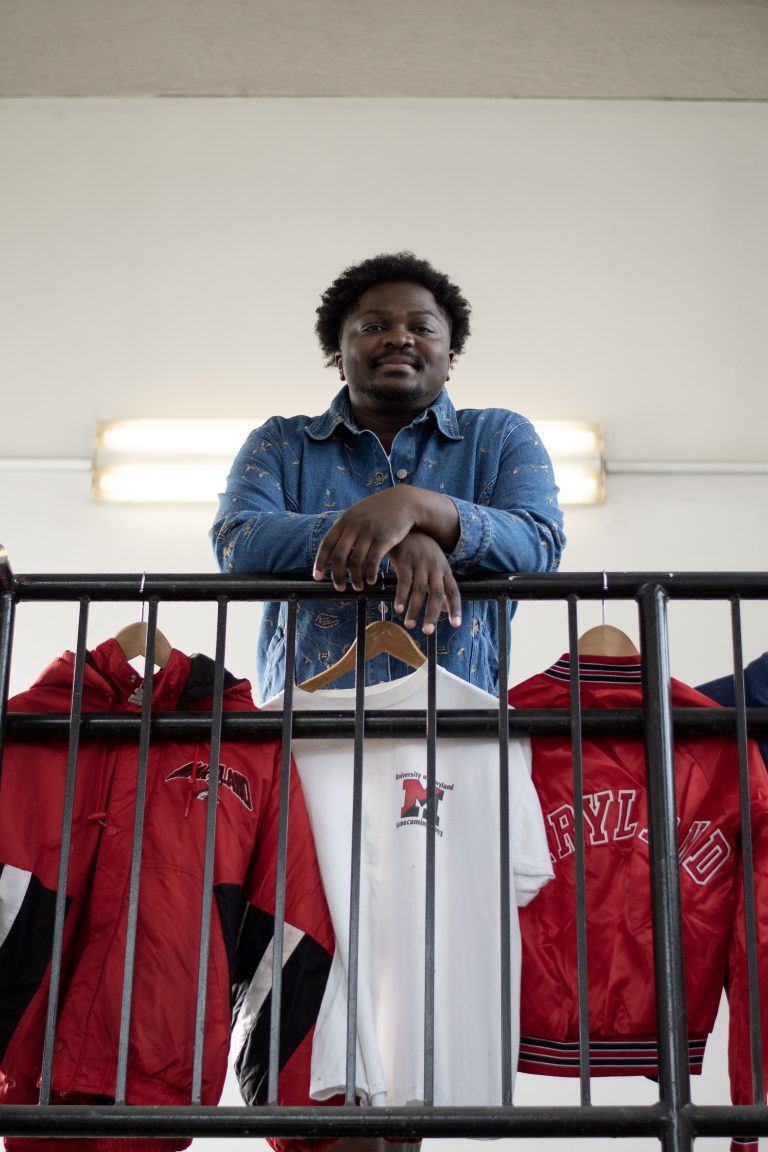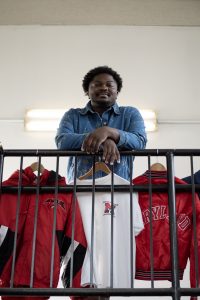 "It was this red hoodie. I would wear the same hoodie every day. I remember one time in middle school I wore a different hoodie one day . . . and then people started making fun of me," Ukwuani said.
It was not until his senior year of high school when Ukwuani started experimenting with his style.
Now, he spends hours online searching for pieces to resell, and his entrepreneurial mindset has boosted his success.
"He kind of has a very, almost tunnel vision work ethic, you know, it's very much like you don't have to convince him or remind him, you know, of anything. Nobody does," said his pastor, Brian Schafer, who has known Ukwuani since he was a child.
[Seraph Brass illuminated D.C. with impressive musicality]
The university apparel account isn't Ukwuani's first foray into the thrifting world. Since 2020, he has led a general thrift account, called @thriftbucket99, where customers can find patterned jackets and cardigans, fleece quarter zips, and '90s-style graphic T-shirts, among many other products. Ukwuani has also run a flea market in Montgomery County.
He also has his friends to thank for the success of @umdvintage, including new ones he has met through his business ventures and longtime friends. 
Ukwuani's charming and bright personality also help his business ventures, his friends say.
"I would say he definitely knows how to brighten your day and brighten your mood. He's hilarious," said Kaitlin Tumenta, one of Ukwuani's closest friends who has known him for about eight years. "He's just someone who's always there for you. Like if you call him he's gonna answer. And then his work ethic I would say is just really inspiring because he's so consistent."
At a recent pop-up shop in early November, the turnout was unlike anything Ukwuani has seen before. More than 100 students  waited to get their hands on an exclusive piece of vintage university clothing.
As @umdvintage grows in popularity, Ukwuani will have to find a way to keep up with the demand of students wanting to obtain the clothes he resells. He thinks his support system will allow him to keep helping people find a wardrobe that makes them feel confident and unconventional.
"I still believe that if you bless others, you will be blessed," Ukwuani said.