On a warm Friday afternoon, cheers of "Tiafoe" filled the stadium at College Park's Junior Tennis Champions Center as spectators excitedly chattered and waved cardboard cutouts.
The celebration marked tennis star Frances Tiafoe's return to his hometown in Prince George's County — and the tennis center where he trained in his youth — after he became the first American man since 2006 to advance to the U.S. Open semifinals last week.
"It's really unbelievable. To come here and feel the love after the best two weeks of my life means everything," Tiafoe said.
Earning his first top-20 ranking after his U.S. Open performance, he defeated top-ranked Spanish player Rafael Nadal in the fourth round and Russian player Andrey Rublev in the quarterfinal.
Tiafoe is also the first Black American man to advance to the U.S. Open semifinals since Arthur Ashe in 1972. At Friday's event, the Tiafoe family's pride for their heritage shined. When Alphina Tiafoe, Tiafoe's mother, celebrated the Sierra Leonean community the family is part of for their support, she was met with cheers from spectators waving Sierra Leone flags in the stands.
"From the bottom of my heart, I thank my beloved country, Sierra Leone," she said. "They gave us support, they watched the match until 5 a.m. Sierra Leone time."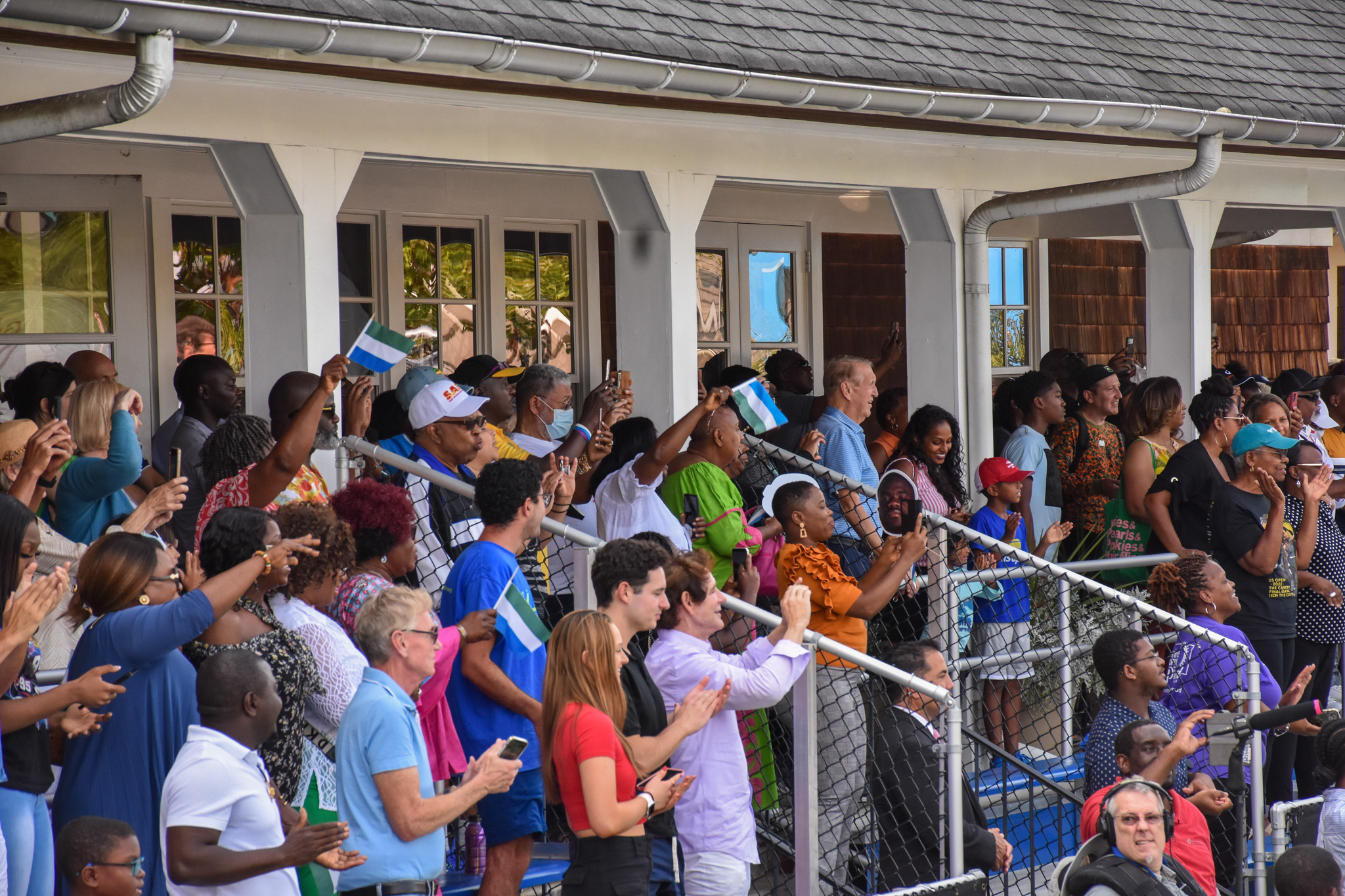 [Junior Tennis Champions Center and UMD to launch collegiate wheelchair tennis program]
The celebration was also poignant for Tiafoe's father, Frances Tiafoe Sr. After immigrating from Sierra Leone to Maryland, Tiafoe Sr. was part of the construction crew that built JTCC, and later became part of the facility's maintenance staff. He lived in a room in JTCC offices during the week, and Frances and his brother Franklin started their tennis training while living with him.
"It was a big opportunity for me to work here," Tiafoe Sr. said. "JTCC will always be a home … we are blessed to be here."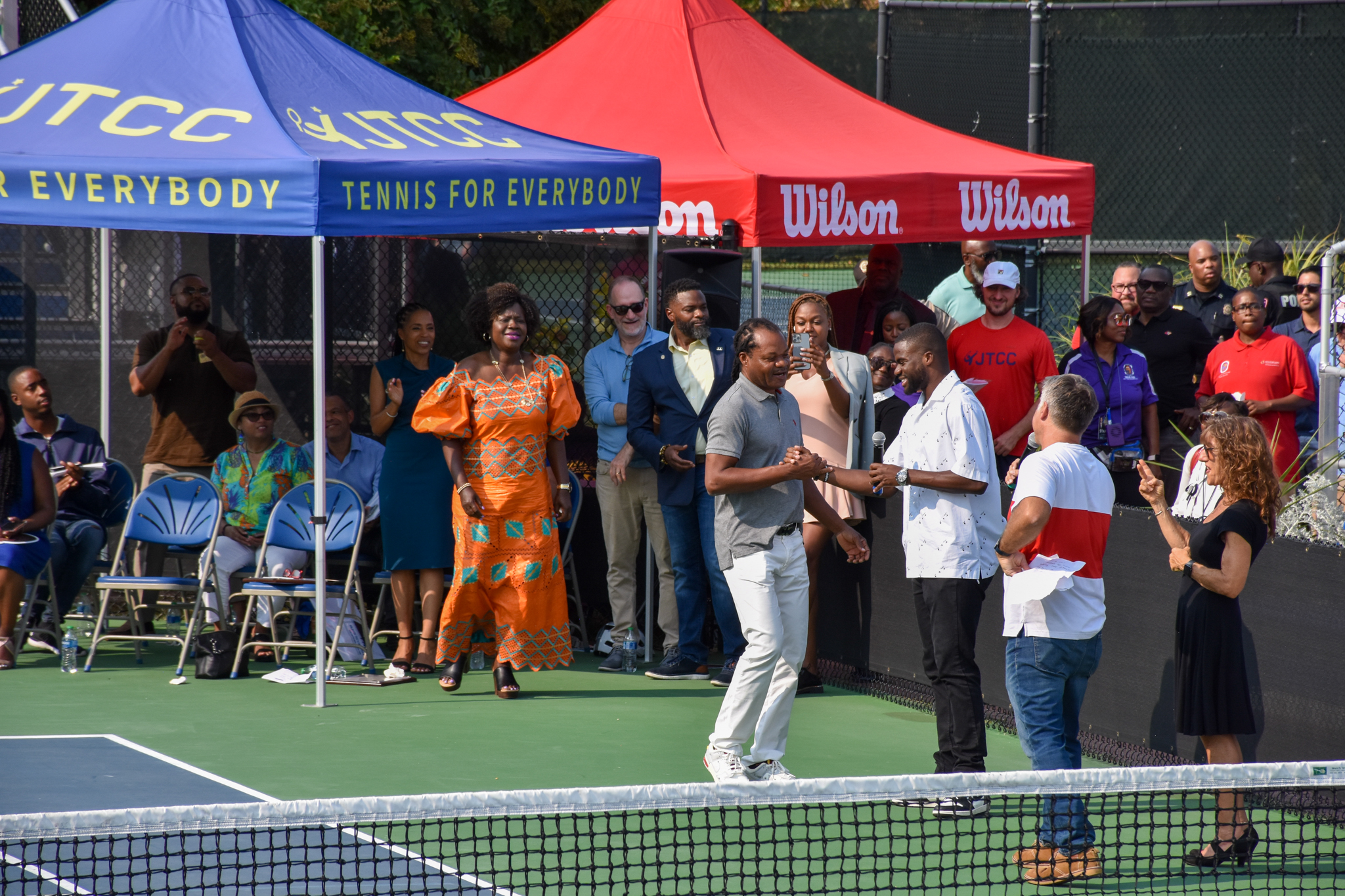 Joined by other local and state politicians, Prince George's County Executive Angela Alsobrooks presented Tiafoe with a proclamation naming Sept. 16 "Tiafoe Day" in the county.
"Frances is just getting started. We're proud to see greatness growing right here in him and growing in Prince George's County," Alsobrooks said.
Tennis can be an expensive sport, often excluding those who cannot afford high training fees and travel to tournaments at a young age. But at the Friday event, officials and JTCC staff changed the narrative to focus on accessibility and inclusion.
With scholarships that offset costs for young athletes to train at the center and community outreach programs that take tennis to local schools in the county, JTCC aims to allow underserved and lower-income youth to grow their tennis skills, according to the organization's website.
"This facility has helped hundreds and hundreds of kids move forward and achieve their dreams," said Peter Shapiro, the Prince George's County Planning Board's chairman.
[Maryland football overcomes SMU in 34-27 shootout]
State Del. Joseline Peña-Melnyk said at the celebration as an immigrant from the Dominican Republic, she understands financial barriers to participating in sports. Tiafoe's performance inspired her to push for change on a state level.
"Tennis is a sport that is not for us. Usually we don't get involved because it's so expensive," she said. "You have inspired me as a legislator to go back to Annapolis to talk to my colleague who is the chairman of appropriations … to say we need to fund sports and we need to fund organizations that allow our kids, especially Black and brown kids, an opportunity."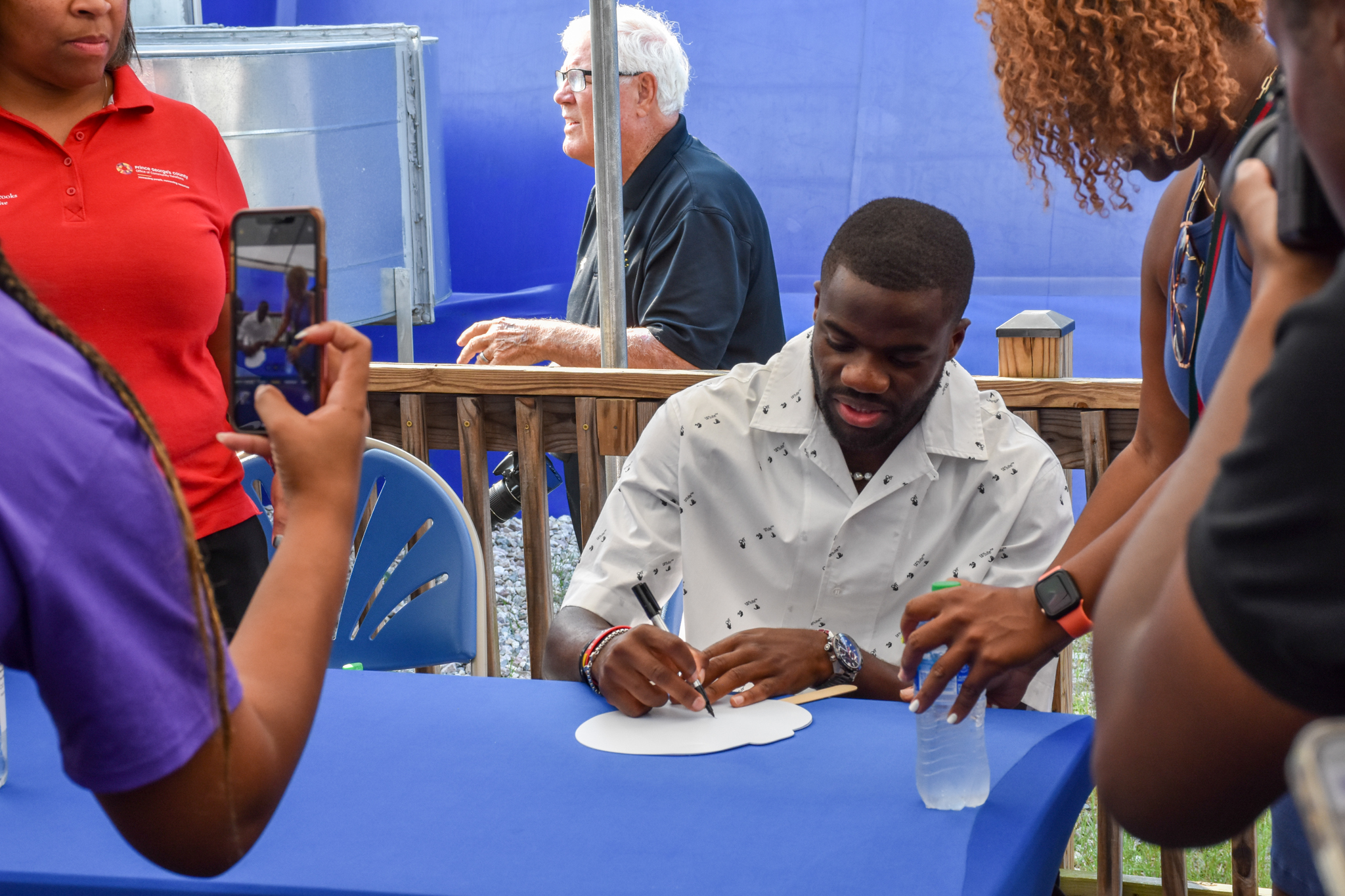 For Sean Tracy, a Montgomery County resident who came to see Tiafoe, the event was an opportunity to show his kids — who play tennis and train at JTCC — all they can accomplish one day.
"It's … empowering to see someone from the local community, someone that grew up right here in our backyard, make it to that level," Tracy said. "It just gives you something to strive for."
Though Tiafoe adopted his usual quiet persona at the celebration, saying few words and often passing the microphone off to others, he promised his spectators his journey wasn't over.
"I'm gonna work myself to exhaustion 'til this time next year to be having a totally different conversation," he said. "This is just the beginning."