One. Two. One, two, three, four!
The crowd roared as the three-man punk band Curb Alert strummed their guitars and pounded on the drums under the bright green lights of Songbyrd Music House. The venue was almost entirely packed, and the audience filled much of the space. 
Besides previous DIY shows in neighborhood activity centers, this was Curb Alert's first real live performance at a venue and its biggest audience yet.
"It was a fantastic set," said sophomore electrical engineering major and drummer Oliver Foley. "I'm so proud that we were able to perform such a good set in front of such a big audience."
WMUC 90.5FM, the University of Maryland's student radio station, hosted a back-to-school music festival Thursday night at Songbyrd in Washington, D.C. The concert featured New York band Deep Sea Peach Tree as the headliner and local artists Jeff Draco, Makeup Girl, Curb Alert and Plastic Sun as supporting acts.
Junior journalism major and WMUC program director Molly Szymanski said the plans for the festival date as far back as May 2022. Inspired by the success of prior events hosted by WMUC as well as other collegiate music festivals, WMUC staff members Jack Landau, Aidan Appelson, Foley and Szymanski organized what Foley thinks is the first music festival in the station's history.
One of the main reasons Foley, an assistant engineer for WMUC, attributed to the making of the event was a chance to improve the radio station's engagement with the university community.
[Review: Jennette McCurdy's memoir exposes harrowing details of child stardom]
[Review: Steve Lacy's 'Gemini Rights,' a summer horoscope]
"This is not only an opportunity to get more people involved with the station, but an opportunity to expand the definitions of what we can do as a radio station," he said. "From just being over the airwaves to actually being able to bring music live to people as well."
Foley also said WMUC wants to bring together different communities that make up the local music scene by inviting musicians of various genres. By doing this, Foley said each band can introduce their fans to each other.
The first two bands to play were Plastic Sun and Curb Alert, both of which had never performed in a venue such as Songbyrd. But this fact wasn't obvious when they went onstage. Plastic Sun played its "psychedelic indietronica," which is best described as an electronic and dreamlike sound with an ethereal quality. The crowd seemed to be enchanted and pulled close to the stage by the music.
"For my first performance, I am very, very happy," Appelson, who is a junior biology major and the vocalist for Plastic Sun, said. "We're chiller music, and they seemed to take it to an extra level."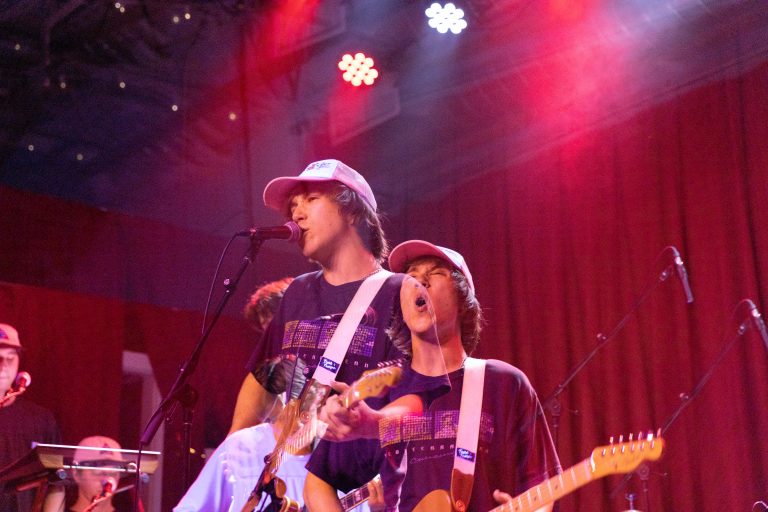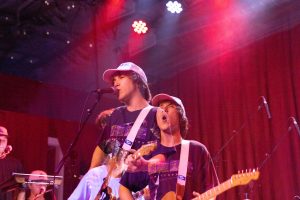 With Curb Alert next, all restraint was gone for those who jumped into the mosh pit. This was especially true when the band played a song dedicated to all the baristas in the audience.
"The crowd really was amazing," Curb Alert bassist and vocalist Noah Drajem said. "They had great energy throughout the whole set, which was super nice, and that always is what makes shows fun as a band."
Foley said he was initially afraid people in a bigger venue wouldn't have the same attitude as those at a DIY show. That fear was proven wrong.
"The pit was active, and that was fantastic," he said.
The next three musical acts were more established artists  in the regional music scene. Makeup Girl, led by brothers Brody and Avery Steck, made quite a show for the already pumped up audience. Their songs felt mainly like a mix of rock and R&B, but the Steck brothers said they are inspired by so many different influences that they simply call their sound "music."
Makeup Girl had people moving just as the previous bands did, but this time with a sense of style that comes with experience and a strong sense of identity. Brody seemed confident and comfortable behind his keyboard, and so did Avery as he strummed his guitar shirtless in front of the crowd.
Then came Jeff Draco, known offstage as Jeff Gilman and an alum from this university, Draco had a sense of energy for theatrics unmatched by the other musicians. His mix of dream pop and indie rock tunes had some dancing, some cuddling and some even singing along.
Draco played at Songbyrd before and was onstage for the reopening of the venue in its current location. He described his previous performance there as electric and said his last time being at the old Songbyrd location was a concert where he played with Deep Sea Peach Tree.
"It's good to be back," Draco said. "It's like a reunion."
Last came the headliner, Deep Sea Peach Tree. Described as sleepy surf rock by guitarist, vocalist and songwriter Kristof Denis, the band's music seemed like a natural progression from Draco's upbeat dream pop. Their softer and even more dreamy sound looked to have helped bring the night to a close as the audience became more relaxed as the time came ever closer to midnight.
After the music festival was over, WMUC staff expressed joy at the success of the event.
"It went way better than I could have ever expected," Szymanski said. "I think that it was a really fun mix of genres that was representative of the WMUC community and the UMD community as a whole."
Appelson said WMUC should do something like this again.
"If I'm still general manager next time and it's time to do this, I'm making it happen," he said.
The musicians seemed to have the same sentiment. Josh Poggioli, an alum from this university and keys player for Draco, said before the concert began that he thought it would be the start of something really cool. Afterward, he said the main significance of it all is that it's giving students a taste of the "D.C. experience."
"The college scene is so cool," Poggioli said. "It's very important, especially at college, because it's so many different people from all over the place coming into this D.C. hub."
Though the music festival was organized by a college radio station, there were some audience members who came who weren't associated with the university at all. Eliza Fletcher and Maddie Cook, two friends who were not students, came to the event and said they loved it. They said they're looking forward to future WMUC events in Washington, D.C.
"We would come to every single one of them," Cook said.
"Every single one," Fletcher added.
Once the music festival was finished and almost everyone who attended left, the Curb Alert band members still stood outside the white walls of Songbyrd and reflected on their night. Their final thoughts were about the people who came to listen to their music.
"Shoutout to the crowd, and thank you," Drajem said. "You really made the show awesome for us."