When Emma Silberman and her mother Karen made the drive from New Hope, Pennsylvania, to College Park for the first time in the spring of 2018, neither had any idea what was in store.
On what they described as a beautiful spring day, Silberman remembers her mom telling her just to enjoy the visit because odds were she wouldn't end up attending Maryland.
But when they re-entered the car to return home, Karen turned to her daughter and asked, "So you want to go here, right?" Silberman said yes.
The visit almost didn't happen — a mix of scheduling conflicts and Karen's hesitancy about her daughter's fit with the school — but within the day, they knew College Park was home.
Four years later, the gymnast is the Terps' top returning scorer and a leader for the 2023 roster. Silberman's rapid rise may not have been obvious to those who saw the gymnast in high school, but a passion for the sport helped her drastically improve.
"My name wasn't really out there, I wasn't a big name gymnast, so it was definitely a tough process," Silberman said. "It was definitely like, 'Go to these meets, and you'll be seen,' but [coaches] definitely looked at the bigger gyms, so it's definitely harder for me."
But finally, she was seen.
Maryland coach Brett Nelligan watched Silberman's floor routine at the Prince George's Sports and Learning Complex in Landover. After watching, he approached her gym's coach, Carla Ceralde.
The two had prior connections. Ceralde's husband John coached at Penn and knew Nelligan.
After Ceralde and Nelligan briefly talked about Silberman, Nelligan approached her with an offer — not a scholarship — but a chance to walk-on. That offer quickly turned into a scholarship for her freshman season.
After that freshman campaign, Nelligan realized the potential talent he had and made Silberman a scholarship athlete for the following three seasons.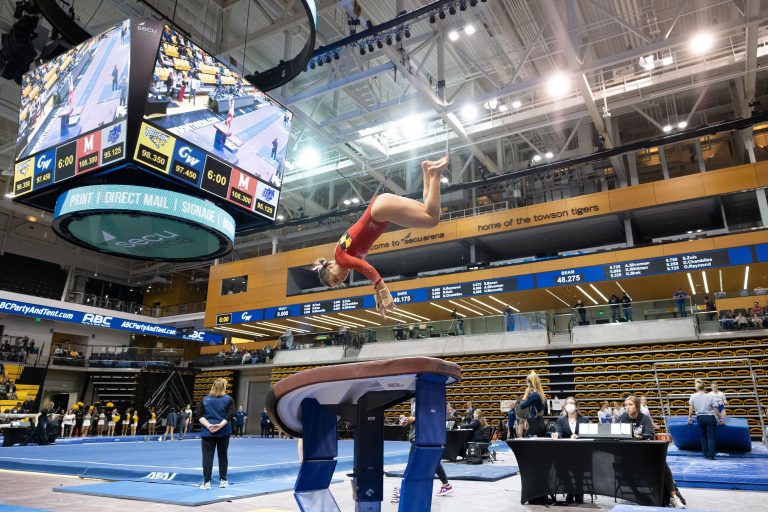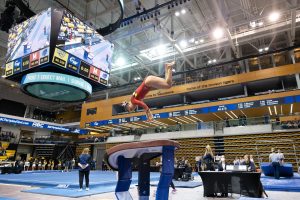 Silberman came from a small gym just north of Philadelphia called Central Bucks — a place that grew into a second home and shaped her as a gymnast and person.
Even early on, when she didn't put up big scores, Silberman's mental fortitude was clear. After meets in compulsory level competition — lower-level competition where each gymnast must do the same routine — the gyms are filled with young kids with tears streaming down their faces because they didn't have a medal to take home.
But that was never Silberman. Even though she had yet to blossom into a star, her love for gymnastics kept a smile on her face throughout her experience.
"Emma did not do well at the compulsory level," Ceralde said. "She is aggressive. She is a power gymnast. And she wasn't very flexible. So those compulsory routines really played off to those gymnasts who were flexible and a little bit more graceful."
['Family-run, blue-collar program': Maryland gymnastics' culture led to season of success]
Ceralde said Silberman lacked the natural flexibility the top compulsory gymnasts had. She said her stiff shoulders would make the beam and bars a challenge for many years.
Despite those physical limitations, Ceralde saw Silberman's potential.
"Her smile would light up the whole gym. She's fallen on her head several times, but that kid gets up every time, and she smiles, and she says, 'I'm okay,' and she'll go again," Ceralde said. "She's got grit … [the] kind of gymnast everybody wants."
Her teammates saw the same thing, too. Former Maryland gymnast Kirsten Peterman, who was a senior during Silberman's first year, noticed the freshman's immense work ethic.
"I knew that she was just going to be so good for this team and that she was just a very unique individual … I've never seen anyone work as hard as she does, but then again, is able to do it with a smile on her face," Peterman said. "I think a lot of people don't see some of the adversity that Emma has been through because she doesn't really show it."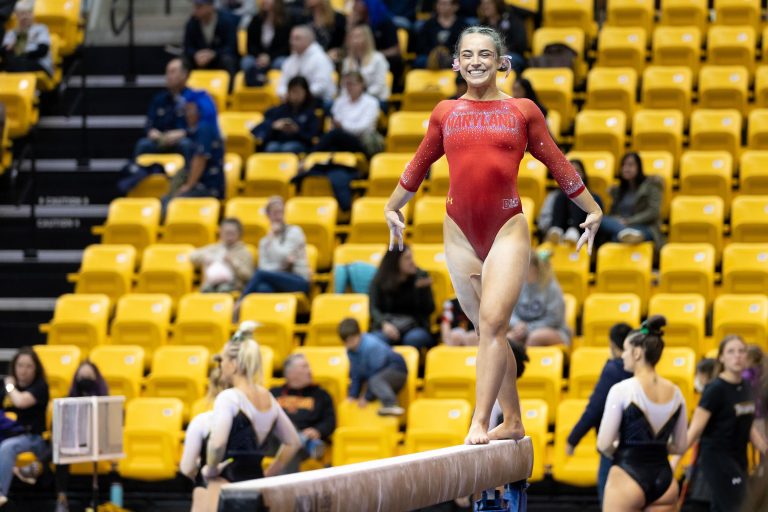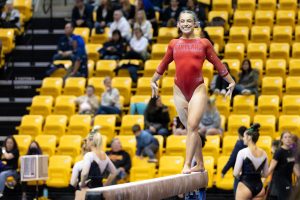 Adversity and tragedy struck Silberman at her second home: Central Bucks.
Owner Tom Ford and coach Bob Schultz helped make Central Bucks a welcoming environment for Silberman. Karen Silberman said the gymnasts and their parents worshiped the two for their contributions.
In October 2015, Schultz was rushed to the hospital with liver pain. He died a week later. A little over a year later, Ford died.
"Those were definitely two really hard milestones in my life that I went through. I never really knew what losing someone really close to you meant until then," Silberman said. "I feel like after each one of those losses, I learned what I needed to do to handle myself and to come out better on the other end of that, and make them proud."
Ceralde became the head coach following Schultz' death and thought Silberman was the perfect presence and influence the gym needed.
"She grieved, she was very, very sad. It was very traumatizing and heartbreaking for all of them," Ceralde said. "But we needed Emma in the gym, specifically, we needed that positive energy, we needed that more natural happiness. And I think that she was a big component in helping everybody else.
When it became time for Silberman to leave Central Bucks, she did so with her foot on the gas, entering College Park with a goal of becoming a better gymnast — working as hard and learning as much as was needed to do so.
"The growth that first semester was incredible," Nelligan said. "She was just an absolute sponge her freshman year. She's so hungry that when we finally made it to season, we started her in two events."
Two events quickly turned into three and by the time she participated in just her fourth collegiate meet, Silberman was competing in the all-around.
With several key gymnasts inactive, Nelligan called Silberman's name to step into their place. Silberman won the all-around and led Maryland to a ranked victory over No. 22 Illinois, establishing herself in the college gymnastics world.
"Maybe the audience and the commentators were surprised, but I feel like my team and the coaches … see me work super hard all preseason and during season," Silberman said.
[Maryland gymnastics falls short in NCAA Regionals, finishes third with 196.025]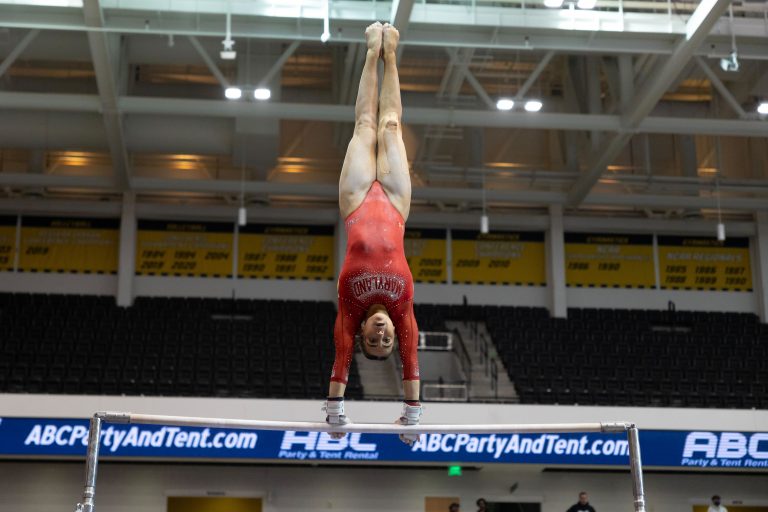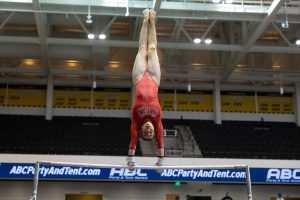 That moment could've turned into much more, but the rest of the season was canceled just five weeks later due to the COVID-19 pandemic. Silberman competed in the all-around her sophomore year but saw that campaign cut short in the seventh meet of the season when she tore her ACL and meniscus.
She spent the summer in College Park with teammate Aleka Tsiknias, who was coming off of a torn achilles tendon, as the two worked to return to full strength. They worked tirelessly, Nelligan said, taking on treatments and strength schedules together as they fought hard to return.
"They committed to staying here this summer so they could do physical therapy and strength," Nelligan said. "It just really speaks volumes to their character, and their dedication and determination."
Silberman was told she would likely be able to compete on bars this season, but with two severe ligament injuries to her leg. The odds were unlikely she'd be back to her prior level of competition.
But Emma Silberman has always been unfazed by unfavorable odds.
She started the season on three events before returning to floor to compete in the all-around. She'd excel, setting career-highs in both beam and bars, and tying her vault high six times. Her 9.950 score on bars tied a Maryland program record.
Silberman was the Terps' second leading scorer and will be the top-scoring returner on next year's roster.
Some of her Central Bucks roots remain when she competes in the Xfinity Center, with unique skills and sequences she learned before Maryland.
It's unlikely to see a college team have each of its six competitors in each event have the same routine, but the differences between Silberman's and her teammates' are striking.
Each of her teammates in the vault rotation competed a Yurchenko-full, while Silberman's vault was a twist-on, tuck-off the table. That vault, with a 10.0 start value, is hardly seen, and Silberman used it well, as she was the Terps' second highest vault scorer.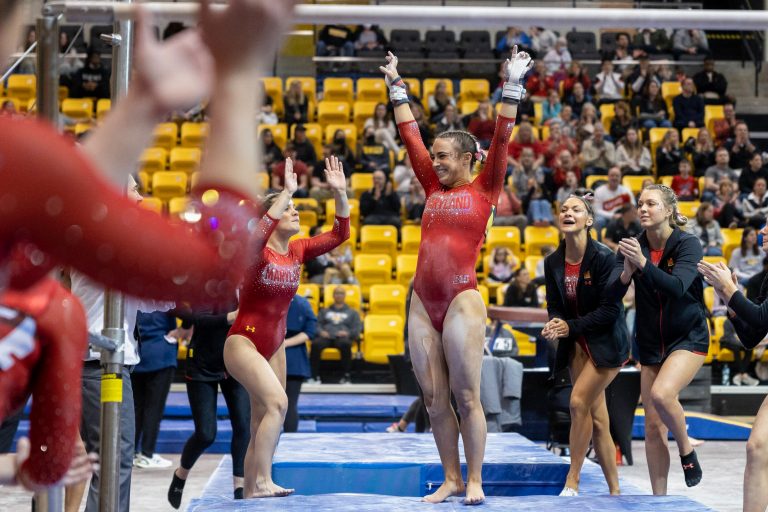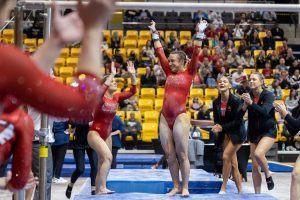 More common in the gymnastics world than her vault is her release move on bars, a gienger. Still, she's the only Maryland gymnast who uses it as a part of her routine.
After a handstand on the upper bar, Silberman switches her hand position, changing directions away from the lower bar before swinging off aggressively.
As she floats in the air, she twists her body with her legs glued together, catching back onto the bar before fluidly switching down to the lower bar in one of the sharpest lines on Maryland's roster.
Emma Silberman wants to make Ford and Schlutz proud. Their influence is clear in her success, as she's taken a lot of what she learned from Central Bucks to College Park. She's gone from walk-on to all-arounder at a Power 5 school. She recovered from a potential career-altering injury, coming back as a better gymnast than before.
She's surpassed every hurdle in her path and now, Emma Silberman is poised to step into a new role for Maryland gymnastics: its leader.