Hundreds of protesters gathered at the U.S Supreme Court building in Washington, D.C., Tuesday in opposition to a leaked draft Supreme Court opinion that would overturn the court's landmark Roe v. Wade decision — which established a constitutional right to have an abortion.
The draft opinion — which was published by Politico late Monday night and written by Justice Samuel Alito — showed a majority of justices on the court had voted to overturn the 1973 decision that has upheld the legality of abortion across the U.S. for nearly 50 years. The decision is a draft and does not represent a final decision, but is authentic, according to Chief Justice John Roberts.
Sophia Stone, a senior government and politics major at the University of Maryland, attended the protest. She learned the draft opinion had been leaked when her mother texted her the news. Learning of the leak felt like a "punch in the gut," Stone said.
"Abortion and keeping it legal is overwhelmingly popular with most Americans," Stone said. "This [drafted opinion] is not representative of what most Americans think."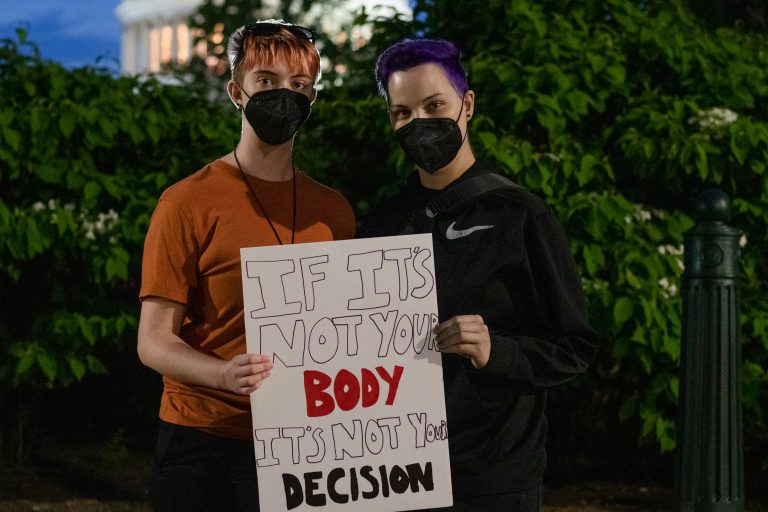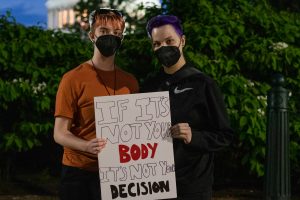 Dylan Lewis, a doctoral studentat this university's English department, also attended the protest.
"[Roe v. Wade] protects everyone," Lewis said. "I was there for myself just as much as I was there for all of the women in my life, and it really affects all of us."
Lewis, also a graduate student worker at the university's BookLab, went to the protest with some of his colleagues and a mobile letterpress printer — which allowed protesters to make their own signs with statements such as, "my body, my choice," and, "abortion is health care."
[Calls for higher wages, lighter workload dominate USAS workers' forum]
The ability to print posters allowed more protesters to have their voices heard, Lewis said.
"Our little letterpress area became kind of like a library in a sense," Lewis said. "That's what feminism is. It's collected resources and it's building community and sharing things."
Lewis pointed out that the drafted opinion comes even as there's currently a Democratic president and a Democrat majority Congress.
"The Democrats haven't been treating abortion as seriously as the Republicans have," Lewis said. "It's been the center of their politics for decades, and the Democrats haven't been doing that. So hopefully this is a wake up call for many of them."
Protesters said abortions will still happen even if Roe v. Wade is overturned, but it will become a more dangerous, illegal procedure.
George Washington University freshman Julia Glassen attended Tuesday's protest with her friends. Glassen and other students held coat hangers at the protests to advocate against the decision being overturned. If abortion is not protected by Roe v. Wade, women might have to go through drastic measures to perform an abortion, such as using a coat hanger, Glassen said.
"Women are dying and hurting themselves by going through these unsafe procedures," Glassen, a biology major, said. "You're not stopping abortions or stopping safe ones."
Protesters also mentioned how overturning Roe v. Wade could put contraceptives and other monumental rulings that are based on a right to privacy at an end, too.
"They're likely going to probably go for birth control … LGBTQ+ rights, interracial marriage," Stone said. "All these things are just about to reach into the private lives of so many people."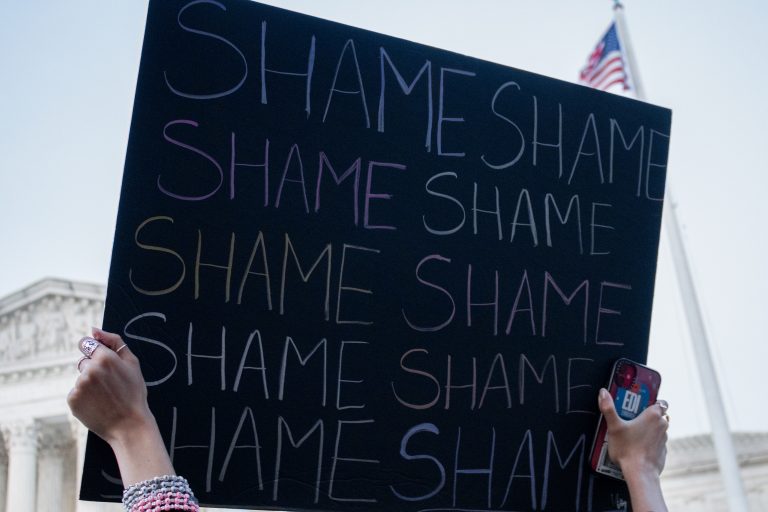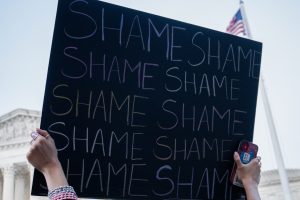 [Student activists at SGA rally demand that UMD goes fossil fuel-free by 2035]
Many protesters said Tuesday that the court overturning Roe v. Wade would affect people seeking abortions from low-income and marginalized communities the most.
"Safe, free abortions are really important in order to make generally poor people and other marginalized communities not have to resort to methods that are just unsafe for their bodies," Amaia Mayes, who attended the Tuesday rally, said.
The leaked draft opinion even prompted Lily Fleischmann to create a pro-choice organization at the University of Maryland.
Fleischmann, a freshman public policy major at this university, created the GroupMe for the organization, called Pro-Choice Terps early Wednesday morning, and it quickly grew to about 200 members. Fleischmann said she wanted to create an organization for pro-choice people on campus. She also noticed there was not a campus organization supporting abortion rights before she took action.
"We're sending out resources, organizing trips to the protests in D.C. and basically making a space for people to share any resources that they find," Fleischmann said. "My hope for the future is that we'll be able to help students at UMD get access to abortions possibly by providing rides to clinics and connecting them with the resources they need."
Fleischmann wasn't able to attend the May 3 protest at the Supreme Court building, but plans to go with other students in the near future.
"I think it's really important that everyone that cares about this issue right now makes it known to all [of] their representatives," Stone said. "It's gonna be a long, tough fight. It really is a big blow to women's rights right now."