So, you've got a bike on campus. Maybe you've been riding before you could walk. Maybe this is the first bike you've owned in your life. Either way, here's what you need to know about biking at the University of Maryland.
Where can I park?
The university's Department of Transportation Services offers uncovered and covered parking around the campus. Your best bet is to check out the online campus map and see what's available. All the red dots represent bike racks scattered around the campus, such as outside of academic buildings and dorms. Bike racks can be found from South Campus, near Van Munching, to as far on North Campus as Xfinity Center. Don't worry, they're all free.
Maryland weather can be unpredictable, take note of the covered bike parking spaces across the campus. There aren't as many covered bike racks, but they've got a few around campus for safekeeping. You can find covered bike parking at the Mowatt and Union Lane garages and academic buildings, such as the chemistry and architecture buildings. If you live in a dorm, you may have access to one in your building. For example, Oakland and Prince Frederick halls have indoor bike rooms for students who live there. 
[Bike, Scoot, Skate: Micromobility at UMD]
What if my bike needs a repair?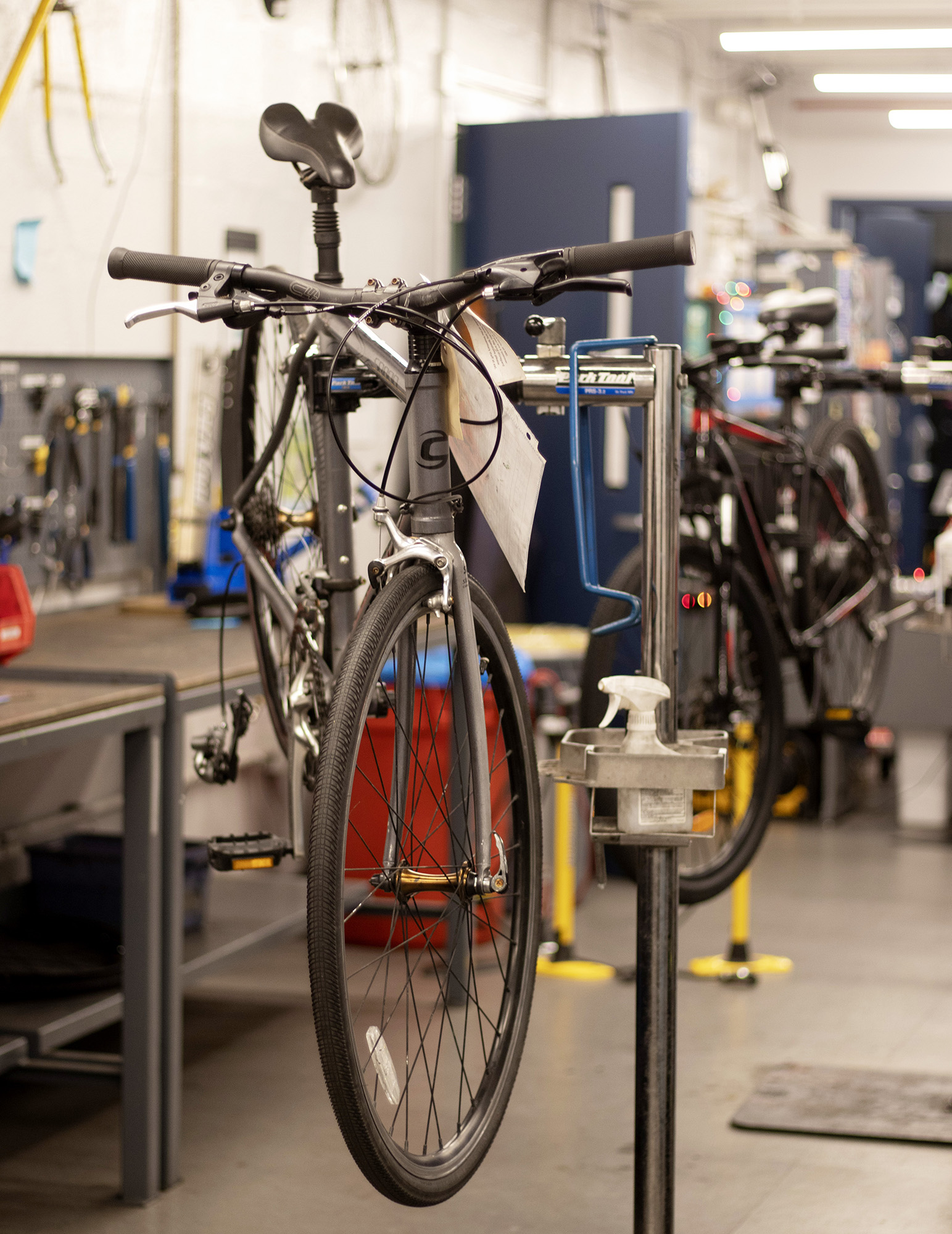 There are six bike repair stations across the campus, including the Mowatt Lane Garage and Washington Quad. According to DOTS' website, the stations have tools for basic bike maintenance, from changing a flat tire to adjusting brakes. 
You can also get free repairs at the RecWell Bike Shop, located in the Jones-Hill House. If you want a repair with support from a student mechanic, you can go to the shop and get help on a service. On a first-come, first-serve basis, you can work with a mechanic in real-time.
There are also independent repair opportunities if you're comfortable working on your bike alone. You can go to the independent repair stand if a mechanic says it's available. If you just need to borrow a tool, you can check with a mechanic.
I need to keep my bike on campus over break. How do I do that? 
For $10 a month, you can reserve an indoor, secure space for your bike. After filling out the form, stop by the cashier's desk in the Regents Drive Garage lobby. DOTS staff will take your bike and store it. If you're storing your bike for three to seven months, the cost drops to seven dollars. You can also pay $50 to store your bike for the entire year.
[College Park City Council unanimously approves new VeoRide contract]
Are there biking safety expectations?
It's a good idea to wear a helmet when riding your bike. DOTS' BikeUMD initiative recommends a helmet for anyone riding a bike. However, Maryland state law doesn't require anyone older than 16 to wear a helmet while biking. 
I ran out of air. Where can I pump up my tires? 
No worries, there are a couple of air pumps scattered throughout the campus. The pumps at A.V. Williams and the Iribe Center are available 24/7. At McKeldin Library, you need to have a student UID to use the bike pump. You can also go to the DOTS office in Regents Drive Garage, the Maryland Adventure Program desk or the RecWell Bike Shop to pump your tires.
Don't forget to register your bike
If you ride a bike around campus, you're required to register your bike through the Bike Index, according to the DOTS website. It's free, and as long as you have a UID, you can register your bike. This comes with some benefits, too:
If you ever need your locks cut, you can have it done for free.

If your bike goes missing, you'll have a registration number to help track it down.

If your bike is relocated by DOTS, or is at risk of being relocated, you'll be notified.

You'll automatically get updates on campus bike events, amenities, policy changes and safety issues.