When Maryland women's basketball takes on Delaware, Ashley Owusu will meet a familiar face: one she saw on her first Amateur Athletic Union team, one she carpooled and had sleepovers with, one who walked the line between friend and family.
That face is Paris McBride, a senior guard for the Blue Hens who started 22 games for the Colonial Athletic Association champions. She and Owusu both described Friday evening as a "full circle" moment ahead of what could be their final game playing on the same court.
"I was excited man," McBride said about her reaction to seeing the Terps as her first-round opponent. "We started together and this is my senior season, and this is my first time in the tournament."
The two, both Woodbridge, Virginia natives, were AAU teammates on the Fairfax Stars, starting when McBride was nine and Owusu was eight. Their time together on the Stars sparked a friendship between the players and their families that is alive today.
"We grew up together, we were close then and we're still close now," Owusu said. "Obviously, with us being at different colleges … separation, stuff like that. But yeah, we're still close."
It started after the first day of tryouts for the Stars. Owusu's father, Emmanuel, sat his daughter down in the parking lot. Another little girl, McBride, had used her speed to great avail, pinballing up and down the court.
[Angel Reese highlights AP All-American selections for Maryland women's basketball]
"I'm like, 'Did you see that little girl? Did you see how hard she played? Did you see how hard she was hustling?'" Emmanuel recalled. "I'm like yelling at Ashley and my wife was looking at me like 'okay, enough.'"
After he stopped, he heard a voice in a car nearby. He turned and saw McBride and her father, James, also yelling at her about not playing hard enough. The two fathers turned to each other, nodded, and smiled, kicking off the connection. 
The friendship manifested in all the ways that usually happen for two teammates that live close together. Owusu and McBride carpooled to and from games, hung out at the hotel pool after tournaments and stayed over at each other's houses.
"We all stayed together when we went out of town, things of that nature," James said. "They had sleepovers … we'll go to their house for barbecues and vice versa."
Owusu — who's reserved by nature — clicked immediately with her teammate. The pair were laughing and talking since the beginning, according to Owusu's mother, Betty McCurdy.
"When you first meet me it's like pulling teeth but once you get to know me … it's different," Owusu said. "When we first met … it was just natural … it just flowed immediately."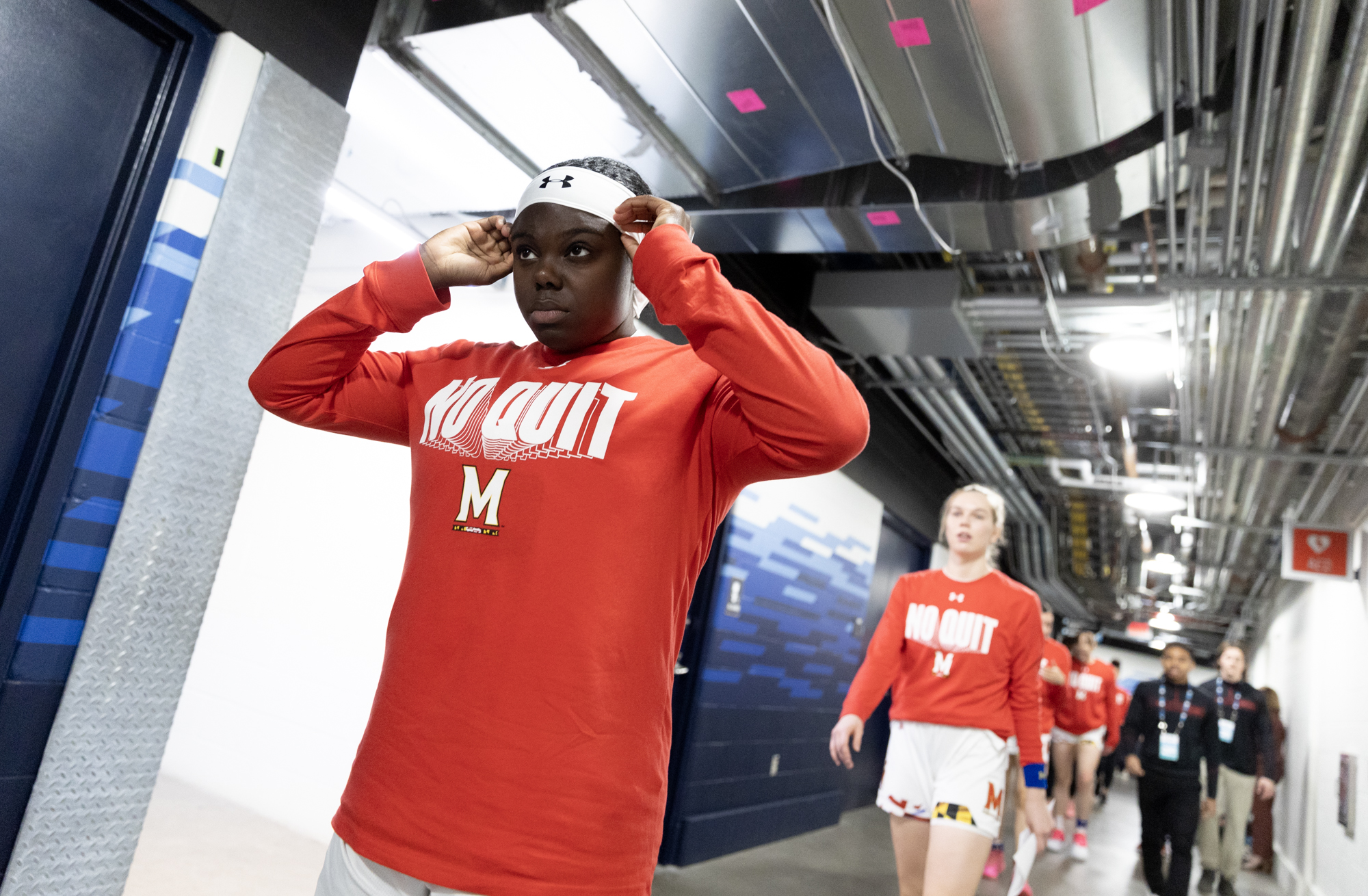 "Ashley can be quiet … but it's never [pulling teeth] when Paris is around," McCurdy said. "And I do have to say … the same goes with the families, we just click right away."
The parents would spend time together at the tournaments, meeting in the lobby after the kids had gone to sleep to play rowdy games of spades with a healthy dose of trash talk.
[March Madness preview 2022: Maryland women's basketball]
Eventually, Owusu and McBride's paths diverged. They changed AAU teams and played separately in high school, with Owusu playing at St. Paul VI Catholic High School in Chantilly, Virginia, and McBride staying home at Woodbridge High School.
They've played each other twice before, once in a scrimmage between their high schools and most recently in Owusu's freshman season at Maryland, when the Terps beat the Blue Hens, 99-55.
Much didn't change when the families joined to watch their kids play on opposite teams. The families were still split and rooted for teams sporting different colors, but wanted one player on the opposing team to have a strong showing.
"It really doesn't make a difference. We're always rooting for the girls," McCurdy said. "We're sitting and talking actually so much, we forget that we have to watch the girls and watch them play."
McBride said she expects to guard Owusu, meaning her familiar face will be pressed up in the Maryland guard's for large parts of Friday's NCAA tournament contest. While only one moves forward in the postseason, two childhood friends will write another chapter in their basketball story, a story that started together.
"We grew up together," Owusu said. "To be able see this come back full circle, especially with her being a senior, I think it's pretty cool."