Two University of Maryland graduate students formed a new business — dubbed North Star Creations — for parents to help their children understand their emotions with educational toys.
For seven years, co-founder of North Star Creations Mat Parsons was a teacher helping at-risk students graduate. Since he was always helping kids, he was inspired to turn that passion into a business with his wife, Elaine Parsons. He is also pursuing his graduate degree in business administration at this university at the same time.
A child's first language is play, according to Elizabeth Aparicio, an assistant professor in behavioral and community health. Using toys and books to interacting with children has significant benefits, she said, such as letting children know their voice matters and that someone is listening.
"It's really affirming for children and it's an awesome opportunity for learning implicitly," said Aparicio.
She said parents focusing on children's mental health was highlighted due to the pandemic, alongside the need to address children's mental health in the same way as adult mental health.
[UMD study says gender-affirming policies benefit student mental health]
Mat said that through research, they found one of the best ways to play with kids that also maintains mental health is by role-playing with dolls to help them express emotions.
"We decided that we really wanted to help parents read more to their kids and play more with their kids," he said.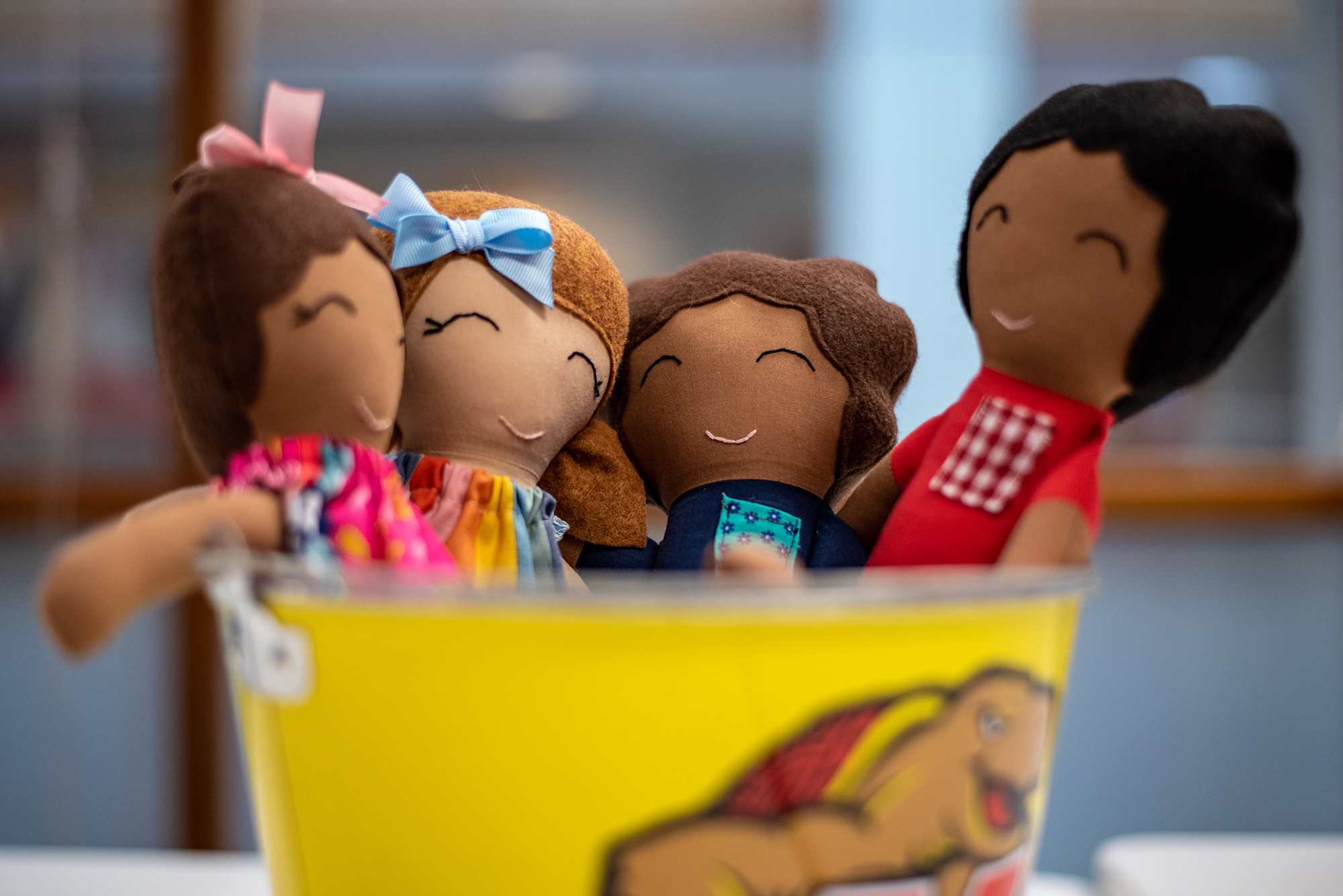 Mat said it was the business school's Dingman Center for Entrepreneurship — which provides resources for students to take their businesses to new levels and build their leadership skills — that helped him realize he wanted to make a different product that could help with kids. With the center's Fearless Ideas competition, the Parsons researched toy companies and mental health with the National Alliance on Mental Illness, Mat said.
North Star Creations won the competition in 2021 and Holly DeArmond, managing director of the Dingman Center for Entrepreneurship, said they had a successful Kickstarter campaign.
"They have their Etsy shop, they're in some stores," she said. "They're a great winner of that track because it kind of did what we hoped it would do — take an idea to an actual business."
Currently, North Star Creations is promoting its book and doll combination, according to Mat. They wrote their first book, "How Does it Feel?" as an introduction for parents. He explained the book is a walk through identifying emotions in kids and how to understand and process different feelings.
Denise Moyer, who has been a preschool teacher for 15 years, said her son bought her the book for Christmas. She said the book is great because it is geared toward young children talking about feelings with real people and examples, and it has a lot of diversity.
As a teacher, she noticed children don't always know the right words to describe what they're feeling. Many of them were not socialized with other kids because of the pandemic, and are now experiencing new emotions, so she said it's a good thing that the book is out.
[UMD faculty, staff navigate parenthood amid pandemic]
However, she said Mat needs to give the book to every preschool because directors and teachers don't know it exists.
"I wouldn't have known about the book had my son not bought it for me," she said. "So I do think he needs to figure out a way to a market, not just to young parents, but to educators."
North Star Creations was also involved with the Do Good Accelerator Fellows Program of the Do Good Institute during the fall semester. The Do Good Institute offers leadership courses, a fellowship for nonprofits and competitions to promote leadership and social innovation. They received coaching and advising, participated in workshops and obtained resources like funding for their project.
Kisha Monroe, accelerator manager at the public policy school's Do Good Institute, said the Parsons set up donation boxes around campus to get toys for their business.
As a part of the Do Good Institute, they received a grant and were able to donate over 115 toys they collected to the Marine Toys for Tots holiday campaign.
"I really enjoy working with Mat," she said. "This is an initiative that basically addressed the gaps in emotional intelligence development for pre-elementary school children."
The Parsons reapplied to the Do Good Accelerator Fellows program to participate again this spring, Monroe said. Similar to their partnership with the Marines in the fall, they plan on partnering with the National Alliance on Mental Illness to do more donations and set up a community walk.
"If we're really going to make an impact with mental health in the country, we have to start from a very young age before the kids get to school to make a difference," Mat said.