Dozens of students gathered under a clear sky at the state capital Friday, braving the cold and 25 mph winds to show support for an environmental human rights constitutional amendment.
But 15-year-old Kerrington Scott's voice rose above the crowd.
The wind reverberated through Lawyers Mall in Annapolis as Scott, donning a white puffer coat, stood tall before about 50 demonstrators to demand lawmakers afford every Maryland resident the right to a clean and healthy environment.
"As students, the power of our voices has been underestimated for years. We have been told we're too young for this, or it's a bigger issue than we think," the Bard High School Early College sophomore said. "If [politicians] won't listen to the next generation, who will they listen to?"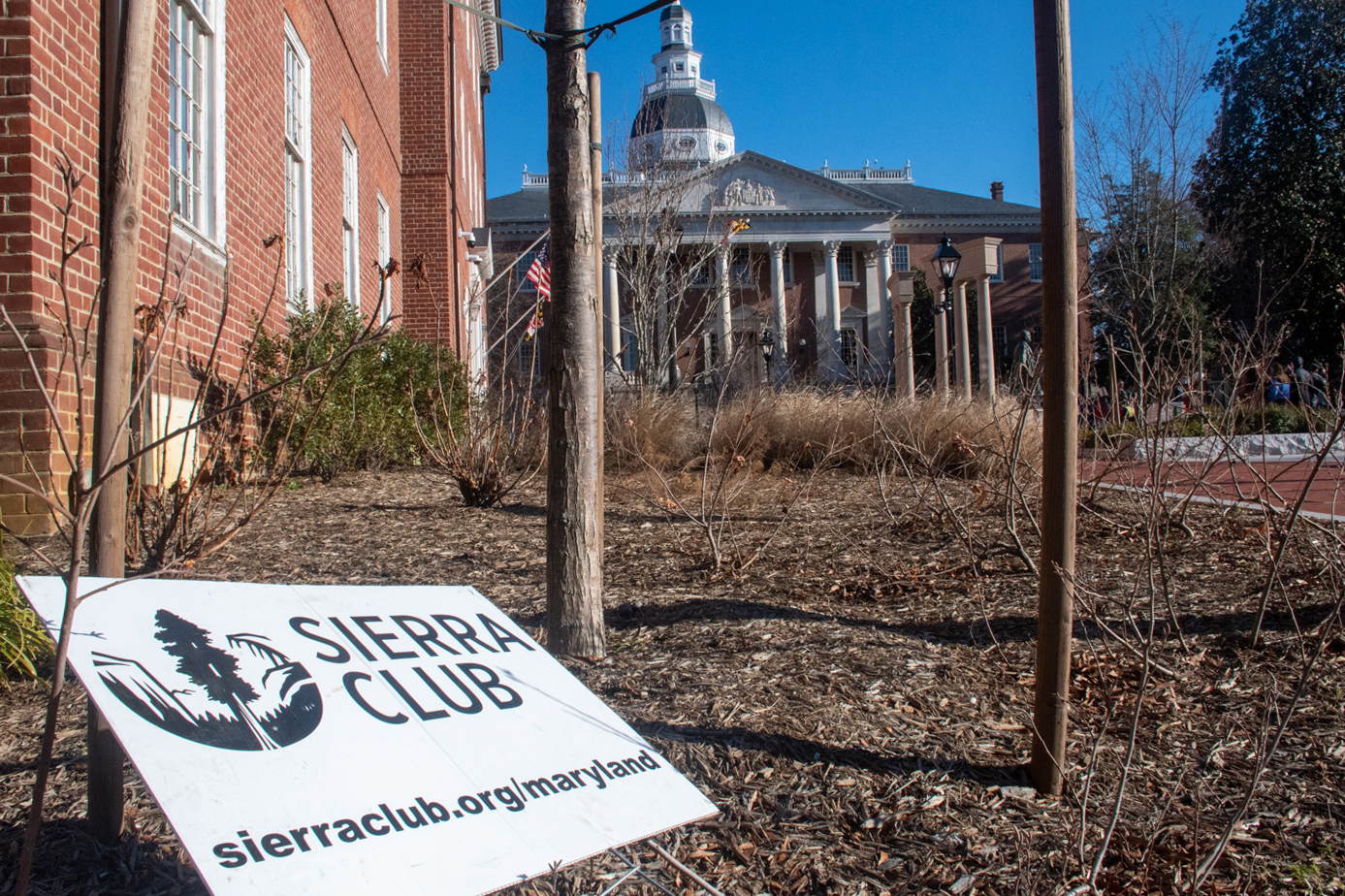 Scott and dozens of other students from across Maryland were taking part in the Environmental Human Rights Student rally, just steps away from the Maryland State House. The rally, organized by the Maryland Chapter of the Sierra Club, saw students from this university, Loyola University Maryland, Johns Hopkins University, St. Mary's College of Maryland, Annapolis High School and others.
If passed by both chambers of the General Assembly, the Environmental Human Rights Amendment would appear on voters' ballots this November, allowing Marylanders to join a select few states where citizens have a constitutional right to a healthy environment.
[UMD business school hosts discussion on predicted global trends]
Many demonstrators highlighted how students have been on the front lines for environmental justice legislation in the state for years with little payoff.
Kallan Benson, a climate activist with Fridays For Future, was in attendance. The day before was her eighteenth birthday.
"I've been here, year after year, working on environment and climate legislation," Benson said. "I cannot tell you when this bill will pass … but I can tell you that we will be here until [it does]."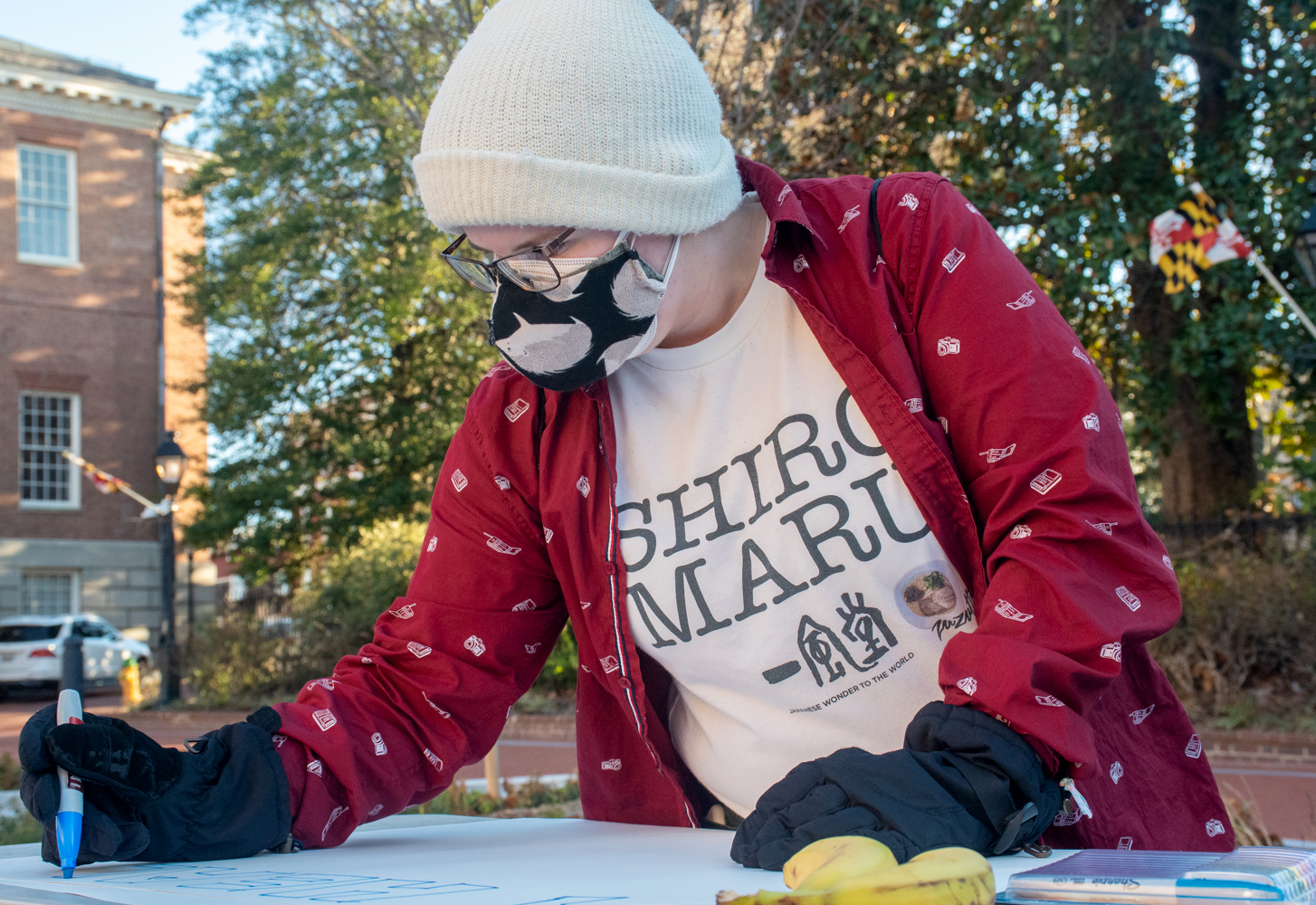 Despite some frustration toward lawmakers' complacency on climate change regulations, the hope among melee was palpable. Students lined the perimeter of Lawyers Mall, proudly displaying signs reading "we are not disposable" and "fight for our futures."
Some students such as Meredith Lyttle believe the amendment is important because human rights should be at the center of any environmental movement.
"Like the slogan suggests, environmental rights are human rights. That's what we need to keep in mind," the sophomore speech pathology major at Loyola University Maryland said. "That's why we came out here today. That's why we made these posters. That's why we're advocating."
[Proposed Maryland bill would restrict biometric information collection]
University of Maryland Sustainability Council member Serena Newton added that the amendment shows how important environmental issues are to every Marylander.
"I think [environmental justice] goes beyond a lot of our differences too," the freshman agricultural and resource economics major said. "It gives me a lot of hope."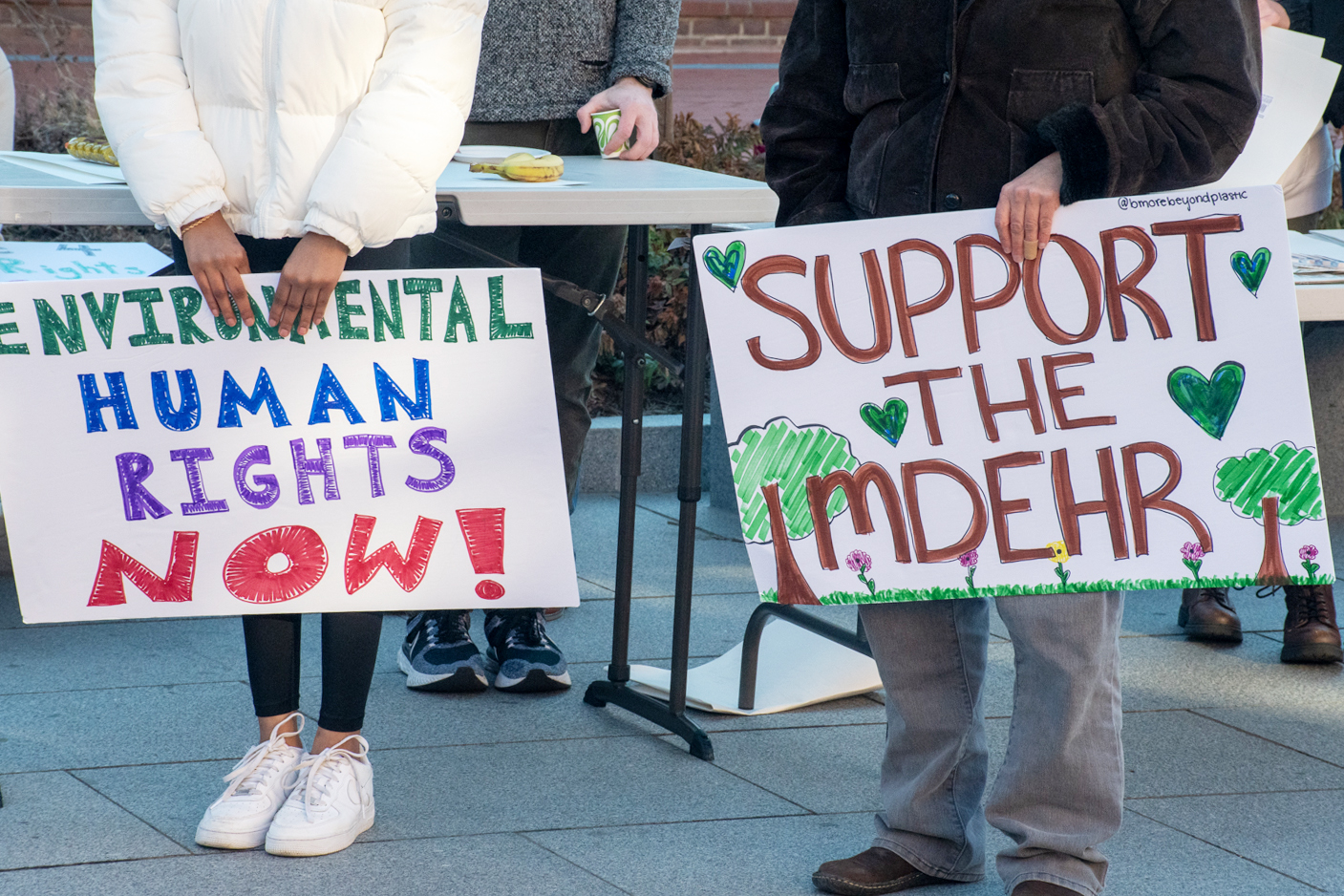 Climate justice advocates, including members of the Maryland Chapter of the Sierra Club and staff from the Baltimore Office of Sustainability, also shared information with students on providing written or verbal testimony supporting the bill. During the event, students also crafted handwritten notes to send to legislators urging them to take action on environmental human rights during this session.
Rosa Hance, chair of the Maryland Chapter of the Sierra Club, told The Diamondback students are a cornerstone of the push for environmental human rights legislation in the General Assembly this session.
"I think the movement is more powerful when more people are involved, and students are most impacted and have so much energy and excitement," Hance said. "Honestly, it keeps a lot of people motivated to know that students are into it."
The bill's sponsor, Del. Wanika Fisher (D-Prince George's), also attended the virtual element of the rally and emphasized the importance of the environmental human rights amendment for communities that are disproportionately affected by environmental factors across the state.
The student support for the environmental human rights bill was poignant because each student at the rally would be the next generation of lawmakers, runners of nonprofits directors and more, Fisher said.
"I know that you all have amazing great futures," Fisher said. "This is such an important part of it because we want to assure that your future is actually going to be in a place that's healthy and that you can live in."
CORRECTION: A previous version of this story misstated the governor needs to sign the bill for it to appear on voters' ballots. The bill only needs a 3/5 vote from both chambers of the General Assembly to appear on the ballot for the public. The story has been updated.