Jack Miller stood next to the bar in the Metro Gallery in Baltimore as Jeff Gilman, whose stage name is Jeff Draco, performed on stage. He nodded his head to the beat of the music and whistled when the music was over.
Miller and the six other band members of The Never Ending Fall walked onto the stage, which was illuminated by a dim, red light. They brought with them their instruments, including Graceson Moore's flute, Mike Paxton's saxophone and Conrad Boyd's old, one-of-a-kind Rickenbacker guitar from the 1980s his uncle gifted to him. Then, once they were ready, they began to blast music fitting their description on Spotify — "jam funkin' jazz."
The Never Ending Fall performed at the Metro Gallery Friday night with Gilman as their opener. They played mostly new music, which they plan to release as an album in the future, as well as some of their old songs and a few covers.
[Local band Rex Pax will return to live music at Pie Shop on Sunday]
Band members of The Never Ending Fall had a hard time defining what genre their music falls under since their style changes with every album. When it comes to their newest unreleased album, vocalist and Towson University alum Miller described the sound as being "funky pop" with a lot of synthesizers and an electronic feel.
Tommy St. Clair, a Towson University alum and the band's drummer, described the differing sounds of each album as representative of their own growth. St. Clair and fellow Towson University alum Boyd started the band as far back as when they performed at a talent show in fourth grade, and they released their first album in high school. Their music has been moving to a specific point while expanding at the same time, St. Clair said.
"I feel like all our albums … are all these stepping stones to the sound that we're getting to," he said.
Not only has their music grown with them, but so has their experience performing live. Before the pandemic, The Never Ending Fall had gone on tour three times. Their usual locations included every state on the East Coast between Maryland and Florida. A lot of their shows were located in Florida, and, as bass guitarist and Sheffield Institute alum Johnny Hohman described it, they would zigzag their way up from the bottom of the state.
"We would just hit all the different towns and cities," he said.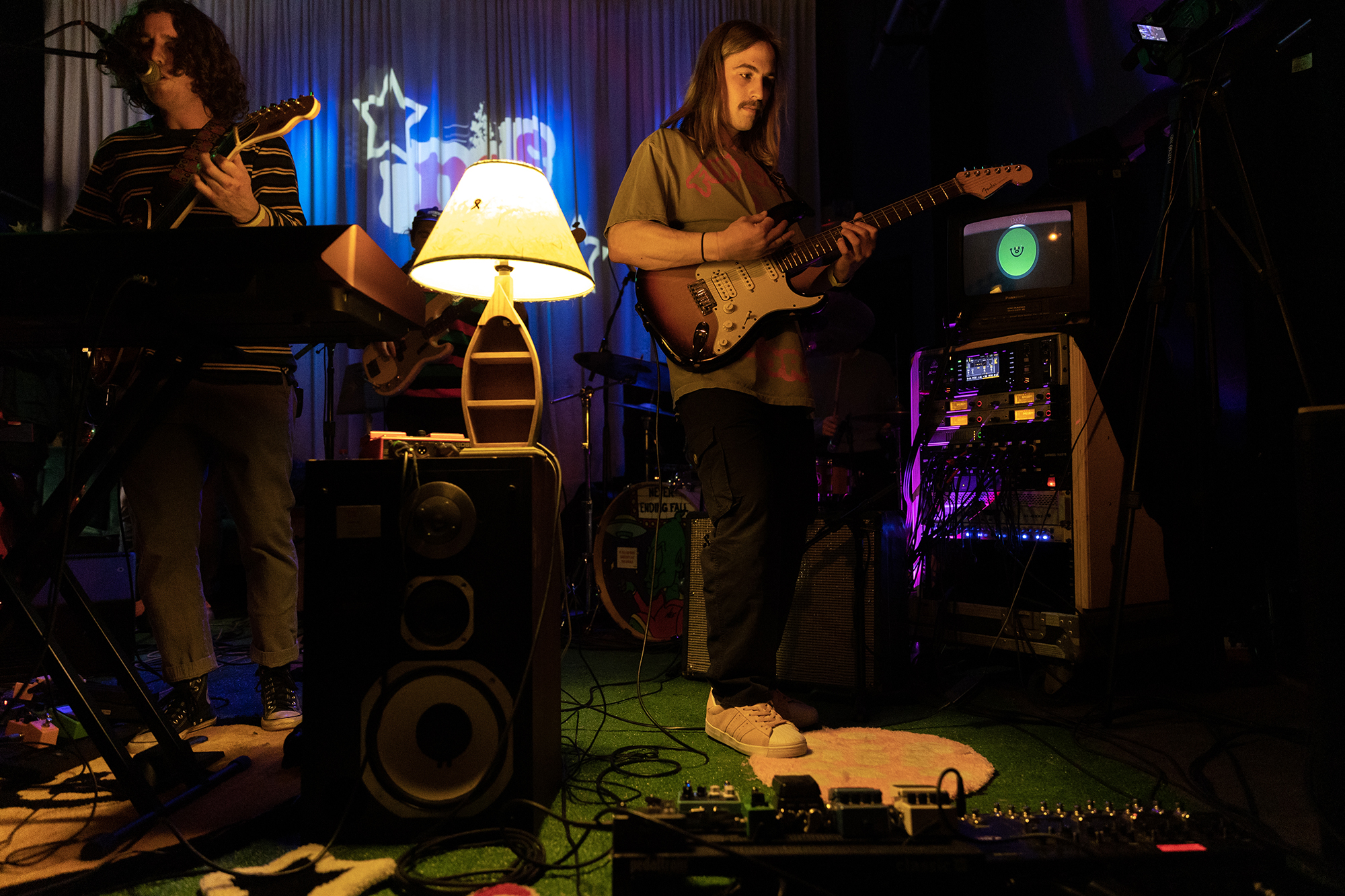 What made these extensive tours possible was their bus, Hohman said. They were fortunate enough to get a school bus donated to them, and they converted the 42-foot-long vehicle to include six bunks, a storage area for equipment, a living area in the front that switches into a four-person bed and even a bathroom. 
Though the bus helped the band travel long distances without being crammed in a small space, there were times when it would break down on the road. Hohman recalled one time when the band was stranded in the middle of North Carolina, and they had to live in his summer home there.
"The bus was cool, but it definitely has its caveats," Hohman said.
Before the pandemic, the band was traveling, getting show offerings and making connections with other groups. Then, the pandemic hit — and all their plans were canceled.
"You couldn't go on tour, you couldn't play shows, you couldn't see anybody in person … you couldn't do anything," Hohman said. "It really halted a lot of progression."
There was a time during the pandemic when the band members didn't get to see each other for a long time, St. Clair said. Eventually they met up again one night and decided while drunk that they should go on a road trip to Los Angeles. They woke up the next day and booked a $5,000 Airbnb.
The Never Ending Fall announced a Kickstarter in June 2021 to fund their road trip and the recording of their upcoming album. They were able to raise around $20,000 in about a month.
The band spent seven days driving, camping and talking to each other constantly as they stopped by destinations such as the Grand Canyon and Las Vegas. During the whole trip the band members shared and listened to music together, Miller said. They arrived in Los Angeles in early August and began to record the new music they would perform at the Metro Gallery.
"It was an awesome trip," Hohman said. "It was very life changing."
The Never Ending Fall has performed at the Metro Gallery in the past, according to St. Clair and Hohman. They've also known Gilman, a senior marketing major at the University of Maryland, for several years. They most recently performed with Gilman in September of last year. 
Josh Poggioli, a senior communication major and member of Gilman's band, said Wednesday after a performance at DC9 Nightclub that he couldn't wait to see The Never Ending Fall on stage.
[Mitski returns with the introspective 'Laurel Hell']
"They got so many different elements to their sound," he said. "That's like half the reason I'm going besides playing."
While The Never Ending Fall performed at the Metro Gallery Friday night, Poggioli danced along to both their new and old music with his girlfriend.
"I thought it was awesome," he said about the band's performance. "They are very talented guys, and their new album is going to be number one on Spotify, I swear."
"Amazing as always," Gilman also said.
Ally Blood, who's been a fan of The Never Ending Fall for 13 years and knew some of the band members since middle school, thought the new music was "vibey" and a lot of fun.
"I'm really proud of all of them," Blood said. "I'm excited to see where they go from here."
Mariah Bethke, dressed in a Jeff Draco shirt, had seen the band twice before and enjoyed that night's performance.
"They're really good," Bethke said. "I'm not a huge fan of listening to songs that I haven't heard before yet, but when they started playing the songs I have heard before I was vibing."
Hohman said he believes the audience received the new music well.
"You can always tell when the crowd isn't really into it … they're talking," he said. "They were definitely attentive pretty much the whole time. It was really nice."
There were a few moments of improvisation during some of the songs, Hohman said. There was one moment in which Miller's amp for his guitar wasn't working and he had to borrow Boyd's Rickenbacker guitar. Afterwards, Miller had to quickly give Boyd back his guitar before going back to playing keys.
"I think that almost makes it better when you have to improv like that," St. Clair said. "It's the natural part of music."
One of these improv moments happened while the band projected videos of their road trip to Los Angeles. Right before the song, Miller thanked his audience for their support.
"It really means the world, and we obviously couldn't do it without the help of friends and fans," he said. 
When The Never Ending Fall finished their show with their song "Hillside," Miller told the crowd that he loved them and that he'd see them soon. But then the crowd demanded more.
The band obliged, three times over.
CORRECTION: A previous version of this story's photo captions misstated the month of The Never Ending Fall's performance at the Metro Gallery. The performance was on Feb. 11, not Jan. 11. The captions have been updated.