If the universe created a Spotify Wrapped for books I read in 2021, my top genres would include spiritual self-help books, novels you read in the early 2010s and thrilling additions to series you're invested in. I think you can tell what that says about the state of the world (and also my personal well-being). 
Nearing the third year of this pandemic, I've tried to reintegrate reading into my regular schedule. While I've left more than my fair share of books half-read this year, we at The Diamondback wanted to create a list of some books we read in 2021 in the event that you would like to get reading back into your schedule, too. 
Below are some of our favorite books from this year, including LGBTQ+ friendly novels and other stories that explore underrepresented communities, both nonfiction and fiction. They're listed alphabetically and did not need to be published in 2021, only read. 
— Rachel S. Hunt, director of digital strategy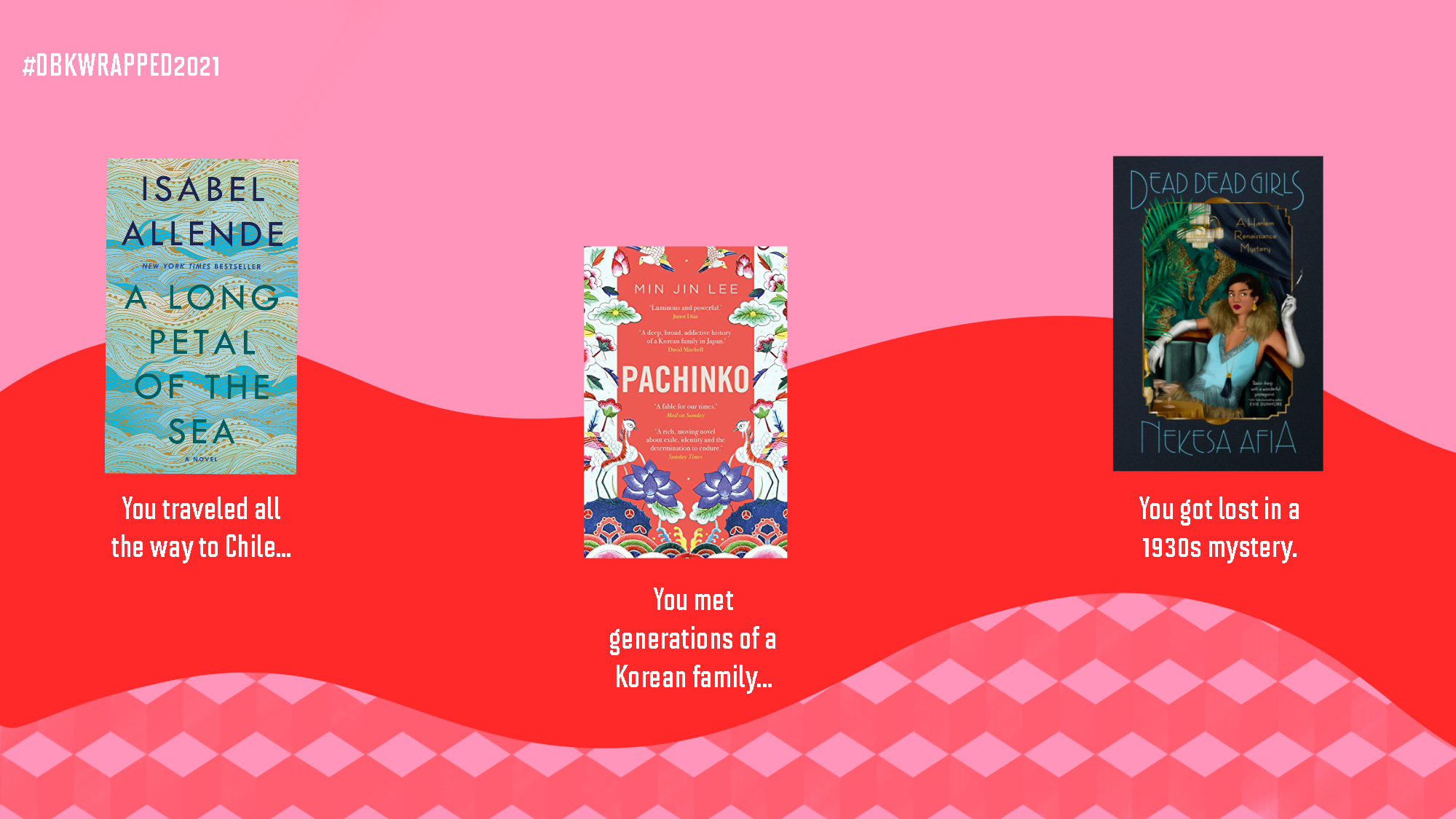 1. Dead Dead Girls by Nekesa Afia
As an Agatha Christie lover, I'm always intrigued by new historical murder mysteries. This book is a Harlem Renaissance mystery that has the ability to both delight and horrify you. It follows Louise Lloyd, a young Black woman, who is roped into helping police solve the murders of other young Black women in Harlem, New York. While I picked up the book hoping for a cozy murder mystery, I got much more. Afia uses this book to comment on the racism and sexism Black women faced and continue to face today. She added grit to the classic 1920s era murder mystery. The novel had an intriguing start, unpredictable twists and an ending that will leave you unsatisfied. What really drives the book are Afia's beautiful, multi-dimensional characters. Louise is fierce and quick on her feet, and watching her grow throughout the novel is a joy. I look forward to the sequel, and I hope Afia can create a mystery as beautiful and complex as her characters.
 — Olivia Janik, copy editor 
2. The Feather Thief by Kirk Wallace Johnson
In this bizarre true crime story that reads like a fiction, Edwin Rist, a young adult and one of the best fly-tiers in the world, has nearly perfected the peculiar art form. Rist has spent most of his life meticulously tying flies — the type that fly fishers use — but there are still a few he's never been able to make. It's not for his lack of skill, but rather because he can't get his hands on the feathers he needs to authentically tie those flies. Many of the feathers used in most complicated flies come from rare, sometimes extinct birds. Rist's hunger to accomplish the most complicated ties consumes him. When he breaks into the British Museum of Natural History and steals hundreds of bird skins, it transforms the fly tying community as well as environmental and biological science forever. This book is not only a look into a life of obsession, but also offers a small window into the curious and often covert world of fly tying. While reading, you'll have to remind yourself that you aren't reading a fictional novel. Good luck putting this one down. 
— Victoria Stavish, news reporter
[These books show the power of reading in college]
3. The Fifth Season by N.K. Jemisin
Like all great genre fiction, the first part of Jemisin's Broken Earth trilogy blends expansive world-building with powerful social commentary. Set on a supercontinent called the Stillness, we follow a group of orogenes, or people with the power to control energy. At risk of spoiling some great surprises, I'll leave the plot summary at that. I love the way Jemisin uses prose in this series, utilizing narration in a way I've truly never seen before. Jemisin truly finds a way to infuse her epic fantasy storytelling with an emotional, personal journey for her characters. She also finds a way to comment on real-world issues, such as climate change and racial discrimination, in a way that is not heavy-handed and completely germaine to the world she's created. For anyone at all interested in fantasy or science fiction, I can't recommend this series enough. 
— Adam Cullen, opinion columnist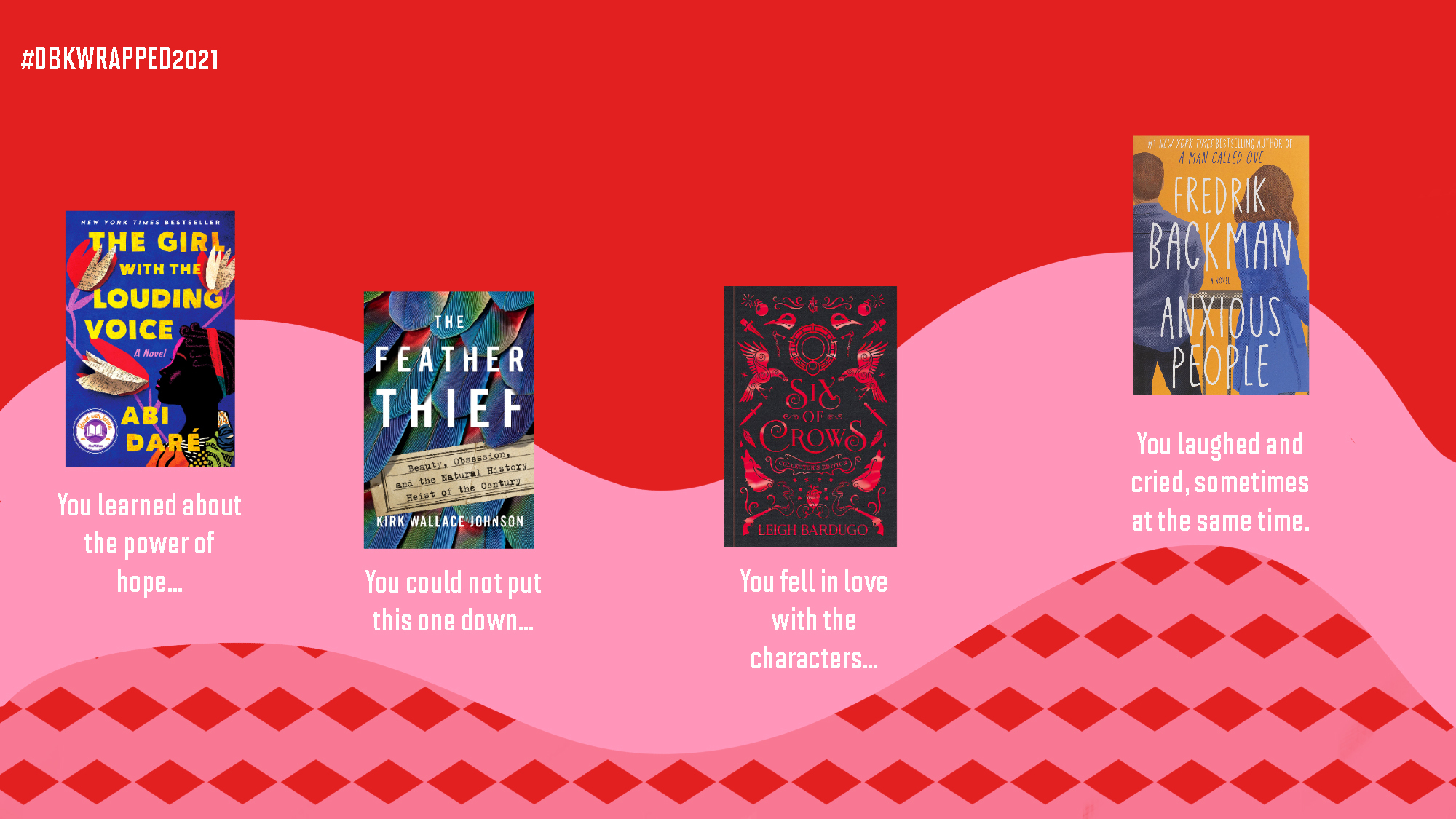 4. The Girl with the Louding Voice by Abi Daré
Daré's debut novel makes it so incredibly easy to root for the main character, Adunni — a teenage girl from Nigeria who dreams of going to school and becoming a teacher, but instead falls prey to a patriarchal society where she is married off to a much older man and then forced to work under abusive conditions in a wealthy family's house. As Adunni faces trial after trial, your compassion for her will only grow, and you will want to keep turning the pages. Daré's prose is simple but beautiful. The book is written in dialect, and while that can take a bit to get used to, it adds to the plot and is truly an insight into the rich culture portrayed in the book. It's a story of both heartbreak and the power of hope, and I came away from reading it with admiration for all those who exhibit the same resolve, determination and optimism as the main character. 
— Shifra Dayak, news reporter
5. How the Word Is Passed: A Reckoning with the History of Slavery Across America by Clint Smith
In this nonfiction book, Smith leads readers on a tour of monuments and landmarks across the United States and overseas that offer pieces of the story of slavery and how it has shaped not only the nation we live in but the people who live here. Smith visits places that both are and aren't honest about slavery and analyzes how the stories we tell ourselves shape how we remember and reckon with the intergenerational effects of slavery. It's not just the descriptions about the places and the things that happened there that make this book so impactful, but the individual stories Smith tells as well. We learn about the people Smith meets at these landmarks and Smith's own stories on how his visits to these landmarks affect him as a Black man and the great-great-grandson of enslaved people. Smith's storytelling is vivid and vulnerable. When Smith's heart races, so does yours. When he squirms in his chair or feels watched, so do you. This book and all of the stories it encompasses are powerful and necessary.
— Victoria Stavish, news reporter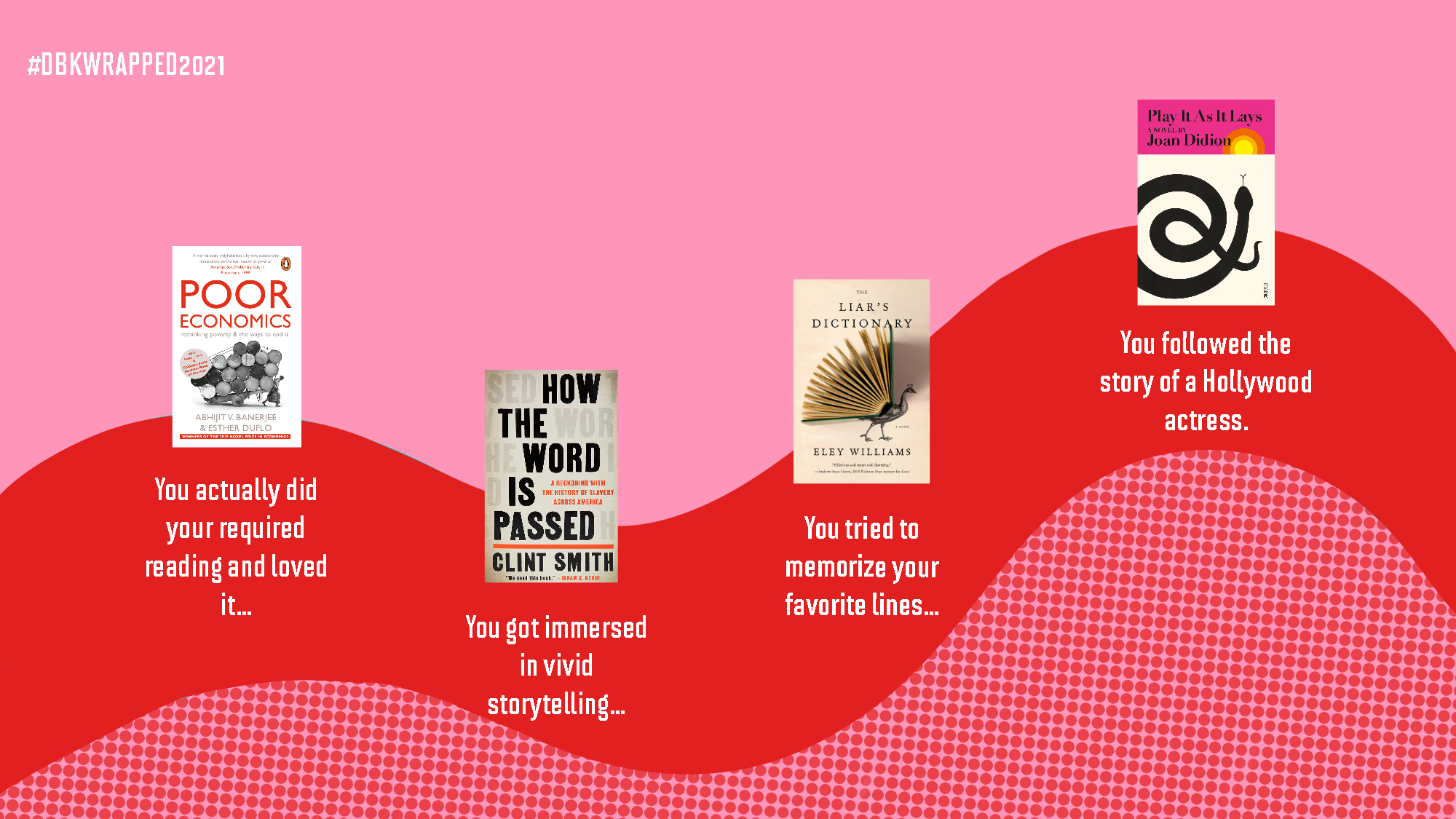 6. The Liar's Dictionary by Eley Williams
In a celebration of words and the lexicographers who collect them, The Liar's Dictionary weaves together two narratives a century apart centered around Swansby's New Encyclopaedic Dictionary. In 19th century London, Peter Winceworth, a shy and peculiar fellow working at the dictionary, makes his own fun at his boring day job by inserting mountweazels — made-up words — into the dictionary. Winceworth falls in love with an exhilarating woman, uncovers corruption and deceit, defeats a pelican for love and survives a train bombing, all the time remaining unobtrusive and unnoticed by the few people in his life. In London a century later, Mallory is the only remaining employee at Swansby's. As she digitizes the dictionary, she discovers Winceworth's mountweazels and is faced with the futility of the dictionary and the people in charge of it. A reader should not open this book for the plot, but rather for the wit and charm that charges nearly every sentence and situation. This book is fun, simply put. I found myself rereading lines, burning them into my brain and wishing I could knit together words and sentences in the way that Williams does in this fabulous novel. 
—  Victoria Stavish, news reporter
7. A Long Petal of the Sea by Isabel Allende
If you're a historical fiction junkie like I am, then this is the book for you. Set in the late 1930s, as the fascist General Francisco Franco is about to win the Spanish Civil War, this novel is all about hope, exile, longing, love and feeling at home. It follows Roser, a young pregnant widow who must marry Victor Dalmau, an army doctor who is the brother of her deceased lover, to flee Spain and immigrate to Chile. The story follows their struggles as a family, escaping persecution and fascism in Spain only to face it once again in Chile when another fascist regime takes place 40 years after their arrival in the country. This story explores what the true meaning of home really is and feels like you're stepping right into the thick of all of these historical events; the writing is fresh and descriptive. Isabel Allende doesn't miss, and this book is just another reminder of that. 
— Maya Rosenberg, opinion editor
8. Pachinko by Min Jin Lee
Beginning in the early 1900s and spanning all the way to the late 1980s, Pachinko follows four generations of one Korean family, sparked when a young woman's unplanned pregnancy leads to her immigrating from Korea to Japan with a minister who married her to save her family from the shame of a bastard child. The copy I have is at least 400 pages, and I blazed through it in only a couple of days this summer because I could not stop reading. While the plot is interesting, what truly carries this novel for me are its captivating characters. They feel like they're more than fiction — they feel like people you could know and you love. This story shows a new way of learning about history through the heart-wrenching tragedies and joyous victories of this family. By following the family's generations, you'll get to watch Lee's characters grow up from toddlers to adults, from teenagers to grandparents and learn how living as Korean immigrants in Japan affects them in different ways. Pachinko is funny, devastating, happy and bittersweet all in one, and I highly recommend it to anyone looking for a story to tug at their heartstrings and teach them about the bonds of family.
— Gabrielle Lewis, assistant managing editor 
9. Play It as It Lays by Joan Didion
Most of Didion's writing has remained timeless, and Play It as It Lays is no exception to that. The 1970 novel is one of Didion's few fiction pieces, but she tells this story with the same elegance and rawness her nonfiction pieces are known for. This book tells the story of Maria, a Hollywood actress who is just emerging from a psychiatric institution. The story follows her not-so-lucid experience of a charming and grim life in Hollywood, as her personal life and career begin to fall apart. It's a beautifully sad story of mental health, womanhood, motherhood, fame and relationships. Reading this book in college gives a certain perspective on life — but it's not inspirational, quite the opposite really. And I doubt Didion had any intentions for it to be. But the story has stuck with me with a degree of empowerment. Maria is an unreliable narrator, but aren't we all? Be aware if you choose to read it, it does deal with sensitive subjects such as suicide, abortion and depression.
— Zoe Pierce, editor in chief
10. Poor Economics: A Radical Rethinking of the Way to Fight Global Poverty by Abhijit Banerjee and Esther Duflo
Though I admit this is a relatively old academic book, it reads more like your friendly neighborhood podcast (even if I did go at it with sticky notes and discussion sessions at the ready for a class). That being said, Nobel-laureate economist power-couple Banerjee and Duflo tell a story of the impoverished world's humanity, hopeful future and crushing reality with empirical insight. Published in 2011, there are certainly outdated aspects of their work, but their insistence on compassion and understanding rather than pity or conjecture for the most unfortunate of the Global South should be a cornerstone of not only development economics, but every field which claims improving mankind as a goal. Anyone who has any ambition to contribute to global society should find the time to read this book — highlighter and sticky notes optional.
— Jessica Ye, opinion columnist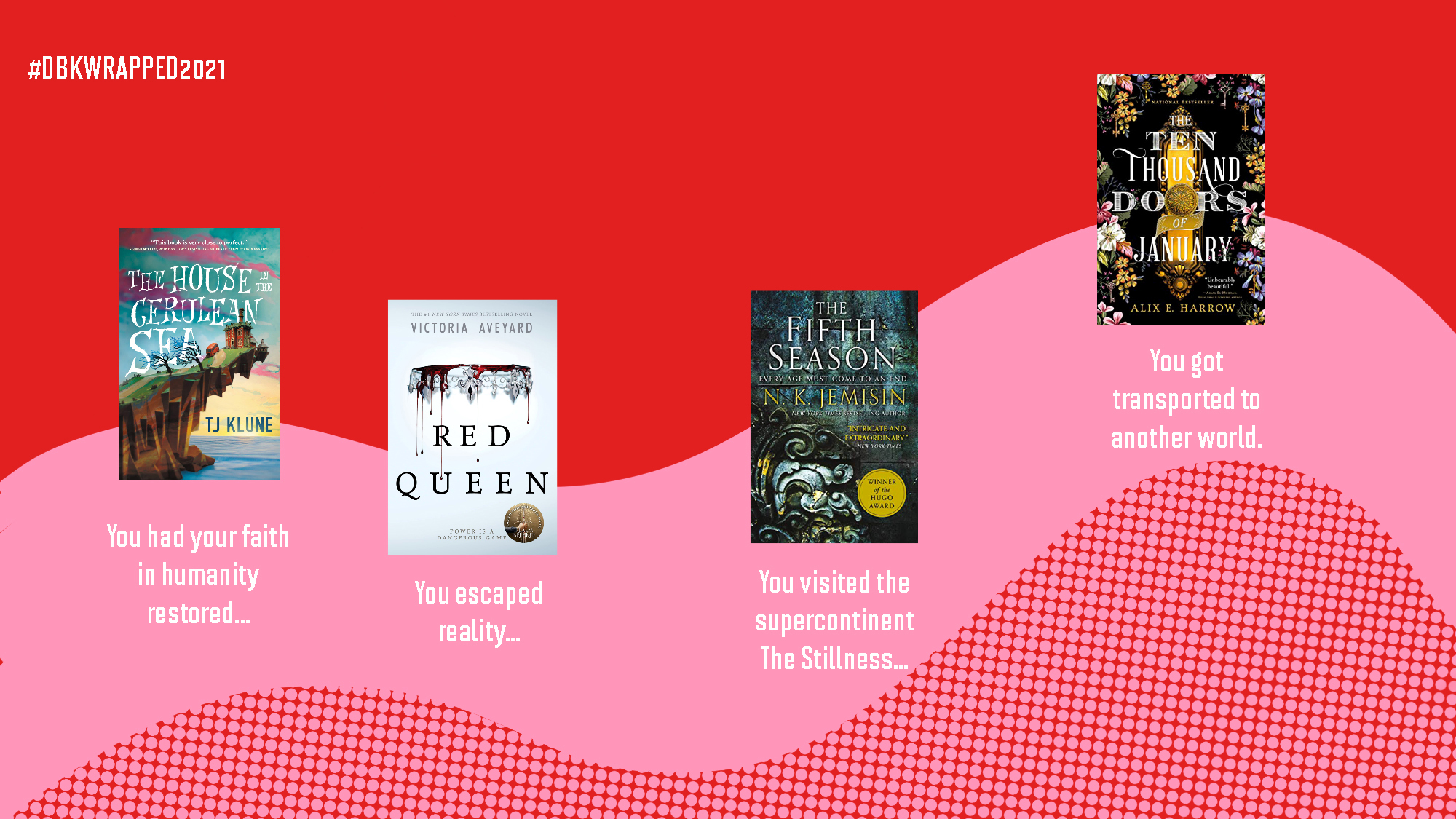 11. Red Queen by Victoria Aveyard
If you like dystopian novels with fantastical elements and futuristic societies, this should be your next read. In this world, the color of people's blood divides them. People with silver blood have special abilities and are at the top tier of society, while those with red blood do not have abilities, so they are treated poorly and are at the bottom. Mare, the main character, is so easy to connect with, and her passion, bravery and fierce protectiveness of those she cares about is truly admirable. Also, Mare gets swept into the world of royalty, so you get to be immersed in the glitz and glamour of grand balls and a beautiful castle, as well as the ruthlessness and hunger in pursuit of power among the royals. There's the perfect balance between romance, action, emotion, suspense and dramatic plot twists. I couldn't put this book down. It's part of a series, so after you finish this, you already have more books lined up for you to escape into. 
— Courtney Cohn, copy editor
[You can thank Vince Guaraldi for Charlie Brown's holiday magic]
12. The Seven Husbands of Evelyn Hugo by Taylor Jenkins Reid
An actress from the golden age of Hollywood is ready to spill the tea to a rookie journalist about her exciting life, especially her seven husbands. It's hard to find words to describe this book other than that it's beautiful. Reid not only makes you feel like you're wearing a faux fur drape on the red carpet, but she evokes raw emotion with the glamour as well. This book is iconic and will be a classic read in the future. You heard it here first. It changes the way you think about love, and Reid's writing style puts you under such a strong spell that when you start reading, the next thing you know, the sun is rising. This story is emotional, turbulent and will break your heart. It's one of those books that you have to experience for yourself and anyone else who hasn't read it… well, they just don't get it.
— Clara Niel, assistant news editor 
13. Six of Crows by Leigh Bardugo
A rough and tough group of thieves band together to kidnap back a boy with a secret that will not only make them wealthy, but unleash the boundaries of magic in their world as they know it. I read this book early in the summer, and I absolutely fell in love with the world-building and the characters themselves as they're changed by the adventure. I found watching the characters struggle to leave behind their pasts as they were plunged into a fear-filled unknown nothing short of amazing. Bardugo did an amazing job with this novel, and it stands on its own merits. The book is pure action from start to end, with violence and heart-wrenching schemes making pronounced entrances that left me hanging on the edge of my seat throughout. If you like fast-paced, emotionally raw, super-charged characters and gorgeously decadent backstories, grab this series because it will rock your world.     
— Izzy Quintana, copy editor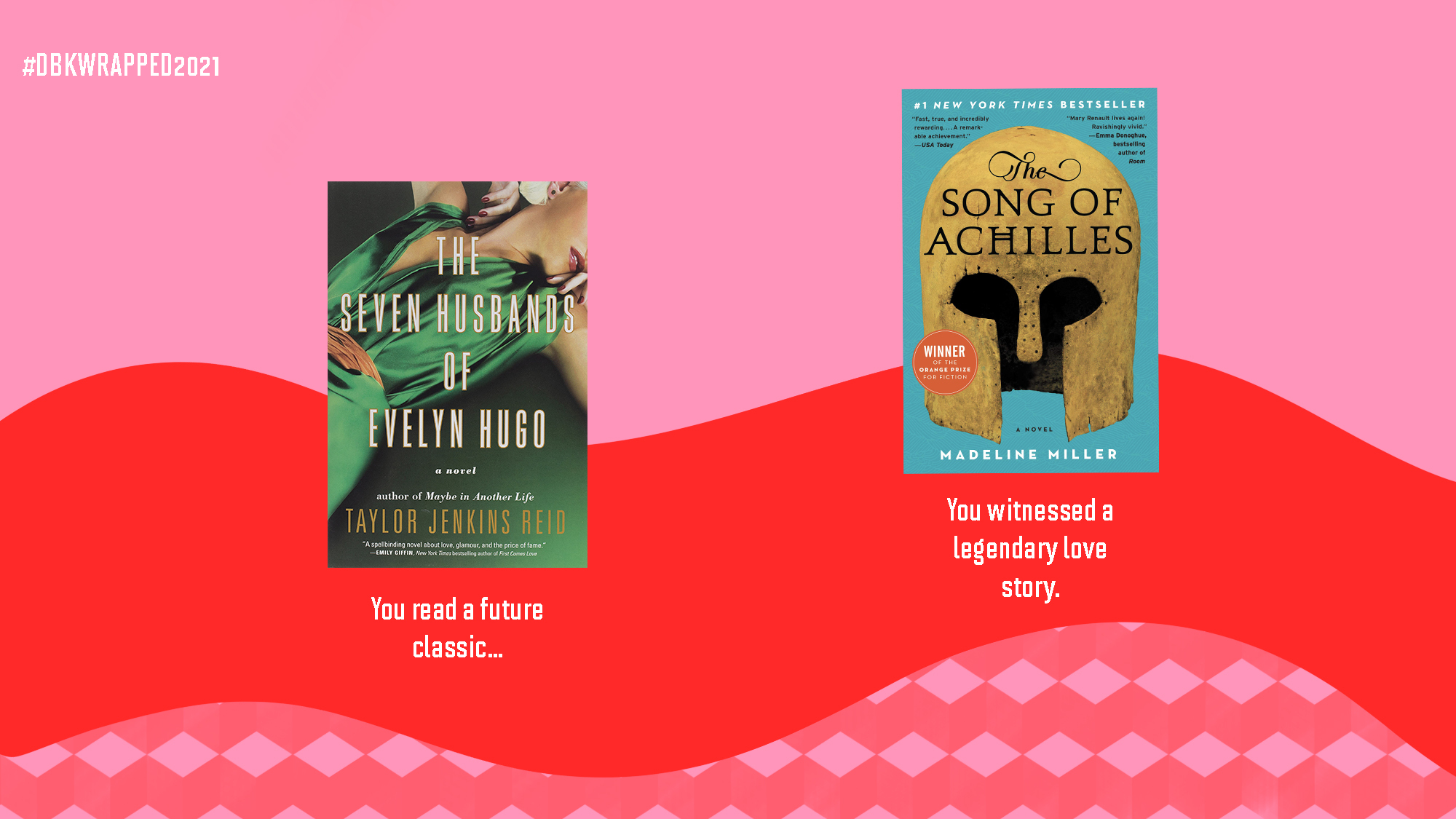 14. The Song of Achilles by Madeline Miller 
This award-winning novel weaves a tale of adventure, hubris and heartbreak as it follows Greek legends Patroclus and Achilles on their journey to Troy. If you never got over your Percy Jackson phase, like me, this is the perfect book for you. Think of Call Me By Your Name set in 1200 B.C. Miller's historical expertise shows with her unique and powerful writing style. Her world feels realistic, catching each detail with finesse. You feel all of Patroclus' longing and angst as he embarks on his relationship with Achilles, often overshadowed by the young hero's pride even as he falls more and more in love. Greek mythology retellings never get old, especially when characters are brought to life, imbued with rich backstories and complex motivations. Miller made sure to include an explanation to everything world-related, making the story that much more realistic. Expect feelings of frustration when you start this book and whatever you do, don't expect a happy ending. 
— Rachel S. Hunt, director of digital strategy 
15. The Ten Thousand Doors of January by Alix E. Harrow
January Scaller finds a book full of mystical takes about magic doors, love and alternate worlds. The book ends up taking her on a long journey to find not only herself, but the mysteries that lie within its pages. Harrow's work of fiction is in itself like a magic door that takes you to another world with its beautiful writing and fantastical storyline. You'll weave seamlessly through January's narration and the magic books, keeping the story itself fast-paced and interesting while experiencing a plethora of emotion. As a fantasy nut, this book has made it on my list of favorite fantasy books. 
— Clara Niel, assistant news editor