University of Maryland students evacuated St. Mary's Hall Sunday morning after a burst hot water pipe flooded the building, damaging walls and ceilings. Ten residents were told to temporarily relocate due to the incident.
The pipe burst caused hot water from the heating system to leak into the dorm, according to a statement from the resident life and residential facilities departments.
Repairs to the affected areas will begin once the extent of damage is determined, according to the statement.
Evacuations from the building, which houses the university's Language House Living and Learning Program, took place at approximately 8:20 a.m., according to the statement. As the water infiltrated the dorm, residents of upper floors climbed out of windows with assistance from firefighters.
The flooding affected four apartments and ground-level common areas, according to the statement. At 3 p.m., residents who did not have to relocate could return to their apartments.
[Residents of six UMD dorms can resume water usage after sewage backup is cleared]
Mareike Debye said she woke up just before 9 a.m. to her roommates telling her they were trapped by steam in their third-floor apartment.
Steam was wafting into the apartment, the sophomore enrolled in letters and sciences said. By the time the firefighters arrived to evacuate their apartment, the stairwell was so hot and full of steam that the firefighters had to take them out in small groups, she said. It felt like a "dystopian moment," she added.
"As soon as we opened the door outside of our apartment, it was like a wall of steam, and you couldn't really see in front of you," Debye said. "I remember I just had my eyes trained on the step in front of me because it was so dense."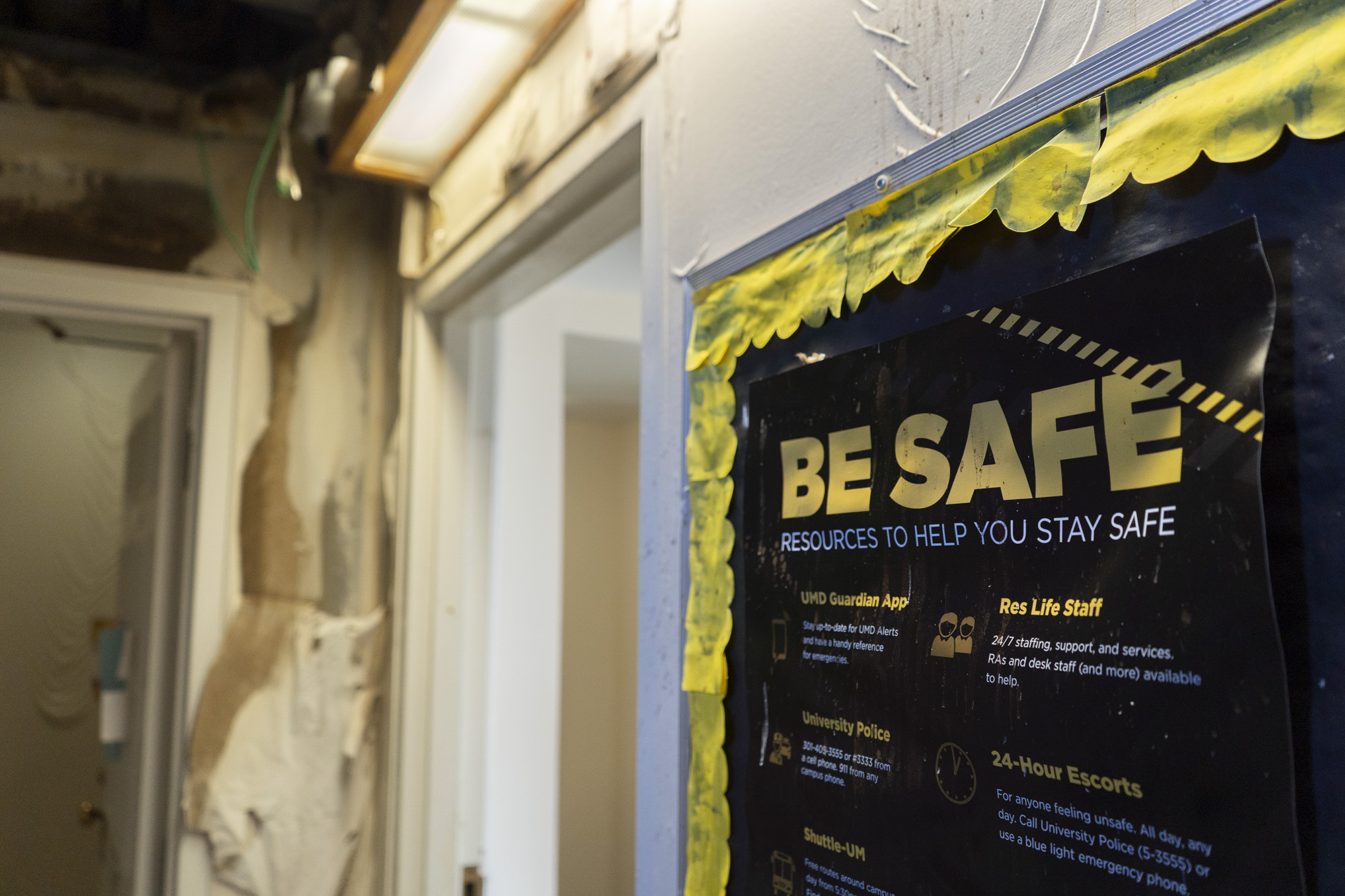 When she returned to her apartment in the afternoon, she encountered an "odd, weird, stinky kind of smell … like hot dog water" in her apartment. One shower in her apartment did not have hot water, Debye said.
Marcella Finelli, on the other hand, is among the 10 residents who had to relocate. The students could receive temporary room assignments in Leonardtown apartments while staff completed remediation efforts, according to a resident life and residential facilities statement. Finelli is relocating to Prince Frederick Hall after asking to be in a dorm closer to her classes, she said.
"Everyone I know is fine," the junior Italian education major said. "None of our stuff was super damaged."
Finelli saw water covering the ground of her apartment when she left her room in St. Mary's Hall Sunday morning.
She had woken up earlier and heard walkie-talkies and saw a fire truck and police officers outside her window, she said. The window in the common area of her apartment was covered in steam. And as she was leaving her apartment, the fire alarm went off.
"The carpet was, it's like sopping wet," she said. "When you walk, you hear the squishing of the water."
Hannah Yocum lives on the second floor of St. Mary's. The pipe burst did not affect her side of the building, but they still had to evacuate from the building.
After leaving the building, Yocum and others were told to go to Stamp Student Union to wait. 
"We were like 'what, relocate?'" the senior psychology and Russian language and literature major said. "We're really startled because we're like, we don't really know what's going on and you're telling us we might have to be relocated from our whole building."
There was a lot of uncertainty after evacuating, she said, since the extent of the problem was unclear.
"Those first two hours were really confusing because we were just kind of sitting there waiting," Yocum said.
At around 11:30 a.m., Yocum said she was allowed to go back inside to get essentials — the other side of the building where there was flooding could not go back in. Yocum said they were allowed to return and stay in their dorm in the afternoon. 
The ordeal was confusing for Yocum, but it was not surprising, she said. They've lived in St. Mary's since 2019 and have encountered a host of problems, including water damage.
"The general vibe from all of us is kind of like this building is really old. And it needs to be 'fixed fixed,' not just continually have band aids put over it," they said.