Geordan Somerville walked around the University of Maryland's First Look Fair in 2015 in search of a club or activity to join his sophomore year.
Suddenly, a "very enthusiastic" member of a group called Sketchup jumped at him with a flyer and told him to audition for the group.
"I did it, and the rest is history," Somerville said.
Somerville graduated from this university in 2018 with a bachelor's degree in psychology. He moved away from Maryland after graduation and has only returned to the campus a few times. 
He came back this weekend, though — and so did many other alumni of Sketchup, this university's only all-sketch comedy group. They came for "Sketchup: Back and Better Than Never," a performance at Stamp Student Union's Hoff Theater on Saturday to celebrate the group's 25th anniversary.
The group originated in 1996 and had a different sense of humor. In the past, there were many jokes about sex and poop, Somerville said.
"There was only one other comedy group on campus, and I thought there was room for other forms of entertainment," Sketchup founder Eric Bloom told The Diamondback in a 1998 article.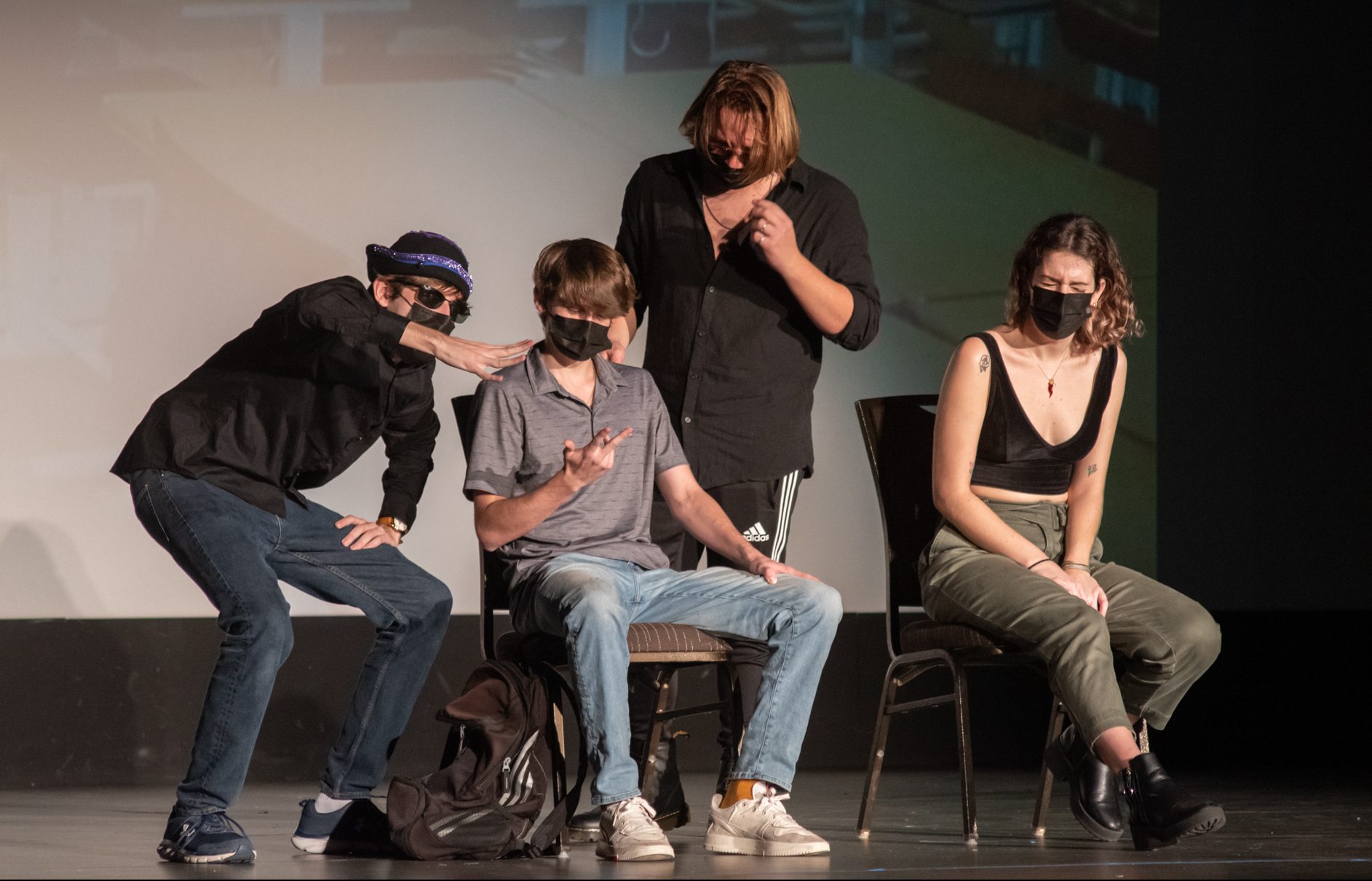 [UMD clubs turn to Discord Student Hubs to meet, recruit members]
Alex Goldstein graduated from this university in 2020 as an information systems and marketing major. He is now a graduate student at this university studying human-computer interaction, but is no longer part of the group because it is only for undergraduates.
In Goldstein's words, Sketchup is "a chance to be an idiot for two hours a day."
The group performs original sketches — members don't like to refer to them as skits, said junior mechanical engineering major Joseph Odutola, who described a sketch as "a written dialogue of a performance that you're about to have." Each sketch is about three minutes long, and the group has a big performance each semester with about 20 sketches.
Members aim to write five sketches per semester, Odutola said. Each sketch faces edits and critiques to make it more funny for the audience, he added.
"The process of trying to nail jokes or nail punch lines is really important," Odutola said.
Eliza White, a junior animal sciences and Spanish major, said it "doesn't take super long" to draw up the first draft of a sketch, but the time it takes to finalize a sketch varies.
Some sketches take only a few weeks to finalize, while others can take two or three months, she said.
"For each sketch we write, we bring them into rehearsal, and we read them out loud and take notes on them," White said.
Saturday's show took place in a hybrid format, meaning there were blocks of stage sketches followed by blocks of video sketches.
This allowed the group more flexibility: From a logistical standpoint, members were able to rest their voices and conduct costume changes, and from a technical standpoint, the group could use filming in different locations and video editing to their advantage.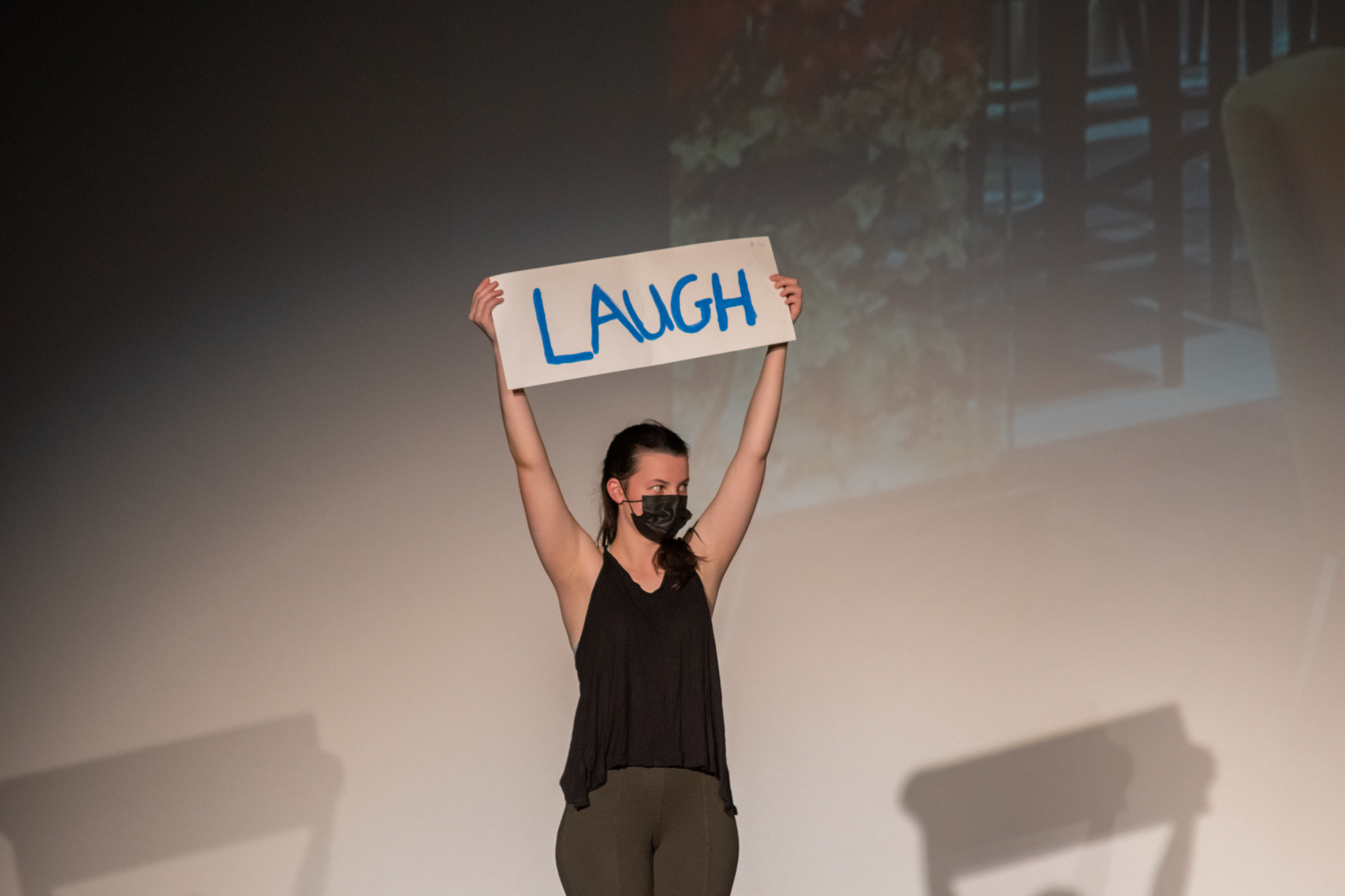 [UMD student creates group to push for better bike infrastructure]
Mathieu Prat, a junior government and politics major, said he enjoys the video sketches.
In particular, Prat was a part of a sketch called "Dorsal Hand." In this video sketch, Prat's character has a hand protruding from his back, similar to a dorsal fin for a dolphin.
Another member of the group portrays a stunned reporter who investigates the situation, only to discover that Prat's character's siblings all have dorsal objects as well — including a newborn with a "dorsal Keurig."
The sketch ends with the reporter sprouting a "dorsal hand" of her own.
"I love seeing those video sketches slowly come together over time with weeks of editing and that slow process of finally coming to fruition and getting the right timing on a joke," Prat said.