By Clara Niel and Ryan White
Staff writers
Content warning: This article discusses rape and sexual assault. 
As dozens of red-clad students marched across the University of Maryland's campus Friday afternoon, Josie Urrea's voice stood out.
The junior public policy and Chinese major led chants from a black megaphone: "UMD do better," and "We demand change!"
The group of students roared, sometimes yelling other chants.
"We will not be silenced," the crowd yelled. "We will be heard."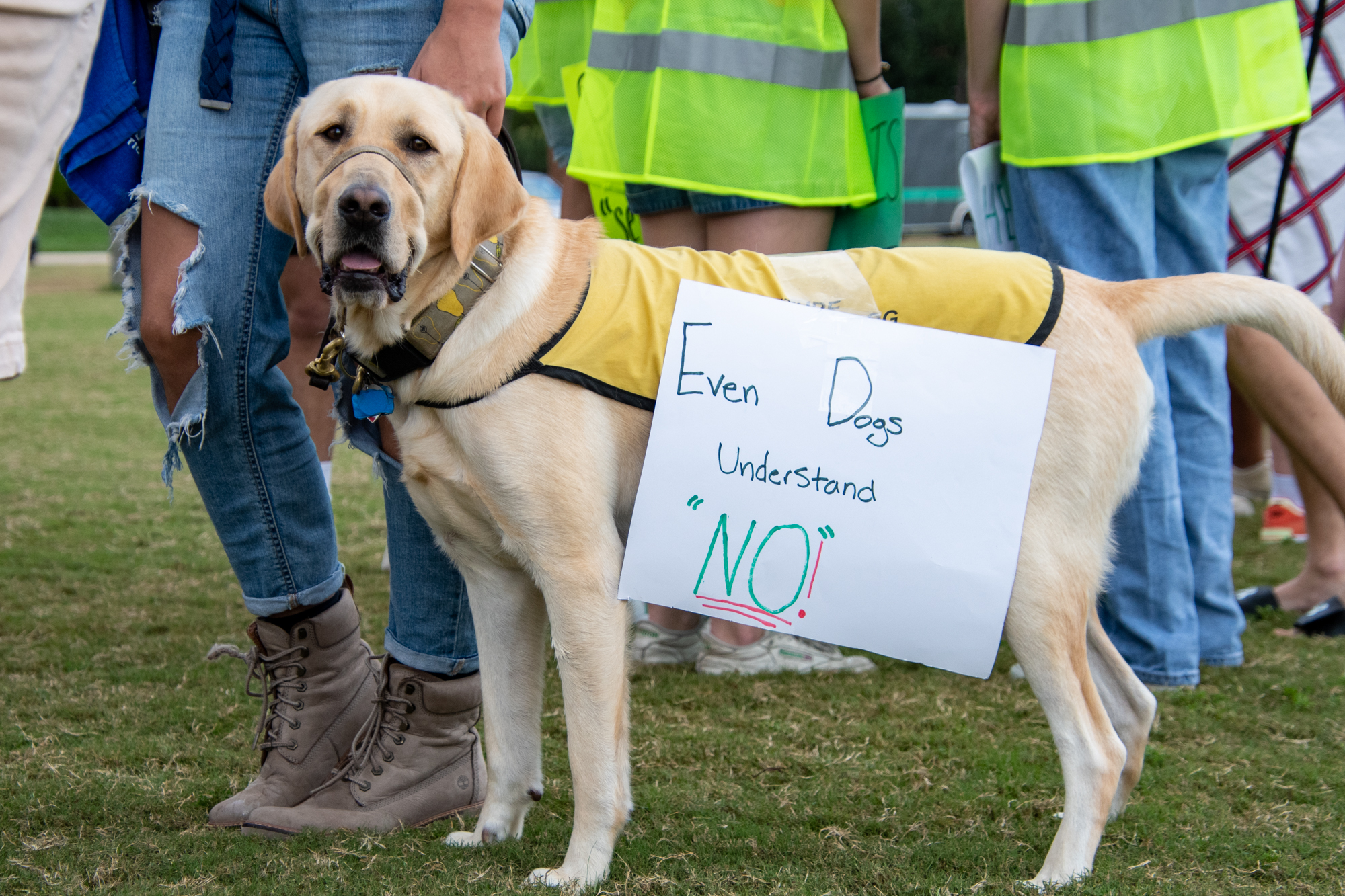 The students were taking part in the Reclaim the Red: Rally for Respect, a march led by the Student Government Association that called for the university to do more to address sexual assault on campus. As students marched from McKeldin Library to Fraternity Row, their anger and frustration was palpable.
The rally was part of the SGA's annual Reclaim the Red campaign. The campaign brings awareness and educates the university community about the "red zone" – the first couple of months of a college year where about 50 percent of all campus sexual assaults are statistically found to occur.
[Sexual assault allegations in UMD Greek life prompt calls for accountability]
The march comes after sexual assault allegations at the university surfaced in September involving the Pi Kappa Alpha fraternity. In response, campus organizations pledged to do more to confront sexual misconduct on campus. The Interfraternity Council governs more than 20 social fraternities on campus and is now partnering with the SGA and Preventing Sexual Assault to conduct trainings and programs for IFC members.
IFC and the Panhellenic Association — the governing body for certain social sororities on campus — helped put together Friday's rally.
"We wanted to make sure that all players [at the] University of Maryland were being represented, because it not only affects Greek life … it affects everybody on campus," said Urrea, the SGA's sexual misconduct prevention director.
For Amanda Catipon, the rally hit close to home. In high school, she said, she was sexually assaulted. Her friends helped her out of the situation, she said. 
She hopes that the rally will help raise awareness surrounding the prevalence of sexual assault perpetrated within Greek life.
"They need to be held responsible for what they do," the freshman cell biology and genetics major said. "Girls and boys in general like, we are not objects … just because we are partying does not mean we need to be assaulted like that."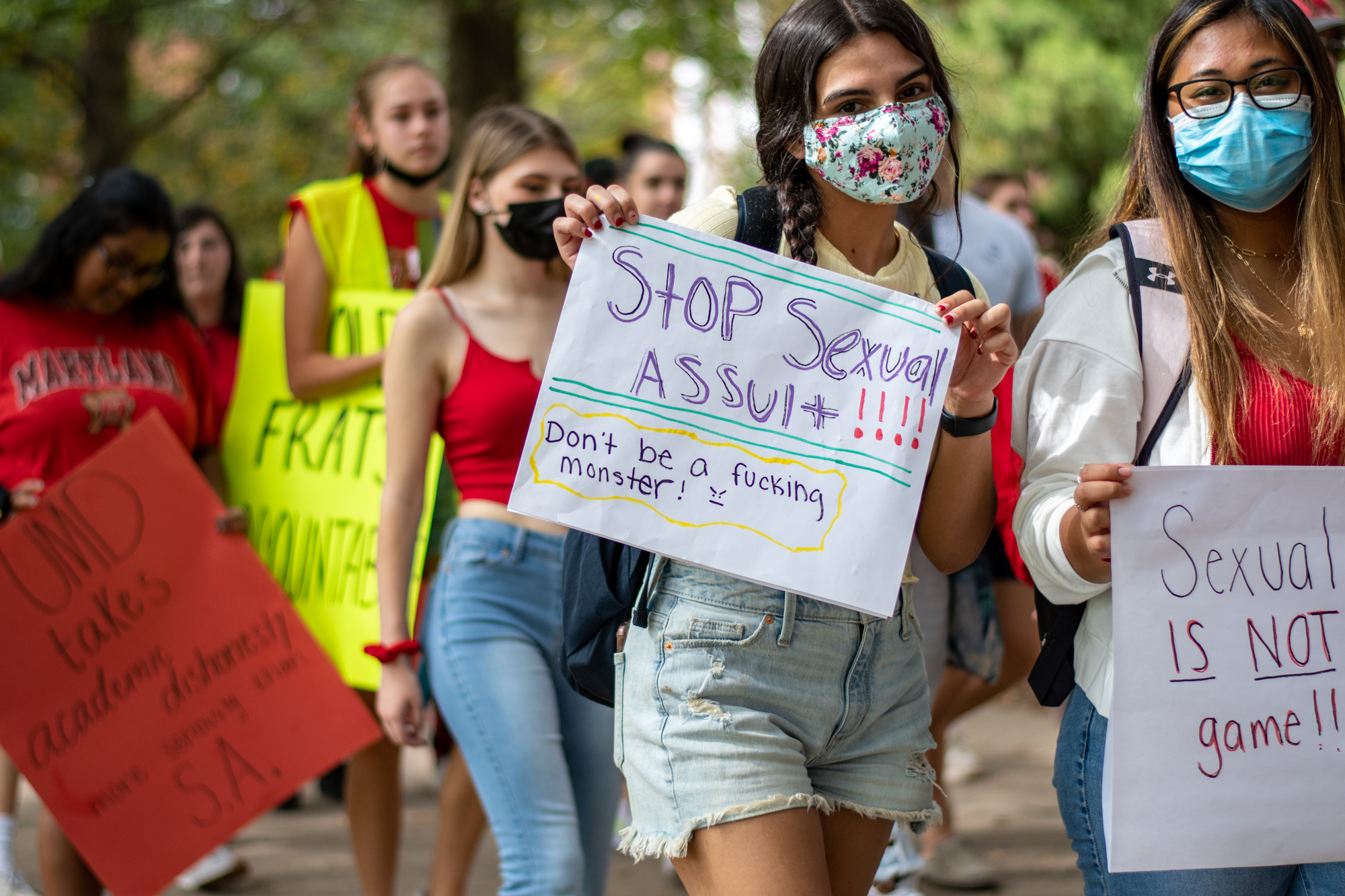 During the march, she carried a sign that read, "Sexual Assault IS NOT a fucking game!!!" The poster had colorful drawings of Pac-Man and the video game's ghosts. The sign was a reference to a "game" she has heard about, in which some men keep count of their sexual partners to compete to see who has had the most, she said.
"That's disgusting," Catipon said. "You should not be counting that."
Ifeoma Eleazu, SGA's diversity and inclusion director, was also at the rally. She told the crowd that she was raped as a student and reported it. While she managed PTSD, her rapist remained a resident assistant and even won an Employee of the Month award, she said.
She mentioned how women of color are often overlooked in these issues. She said sexual assault is looked at in terms of whiteness, leaving many groups behind and feeling voiceless. 
"I feel like intersectionality is a huge thing because we have to recognize victims who keep having even smaller voice[s] in policy and in politics about these things," she said. 
At one point in the rally, a student asked why administration hasn't done anything to solve these issues. Urrea answered there's an obvious disconnect between administration and the students on campus.
[SGA calls on UMD to address environmental concerns of Guilford Woods development]
In an interview with The Diamondback earlier this week, university President Darryll Pines discussed the matter of sexual assault on campus, particularly within Greek life. In his tenure, he said he hasn't heard of many sexual assault cases among Greek life members, especially considering there were very few people on campus last year and the pandemic limited the number of social events.
"I don't think we have a big problem here in Greek life," Pines said. 
He emphasized the resources available to students, such as reporting sexual misconduct to the university's Office of Civil Rights and Sexual Misconduct. It's also an issue very sensitive to him, and one he wishes he could eliminate altogether, he said.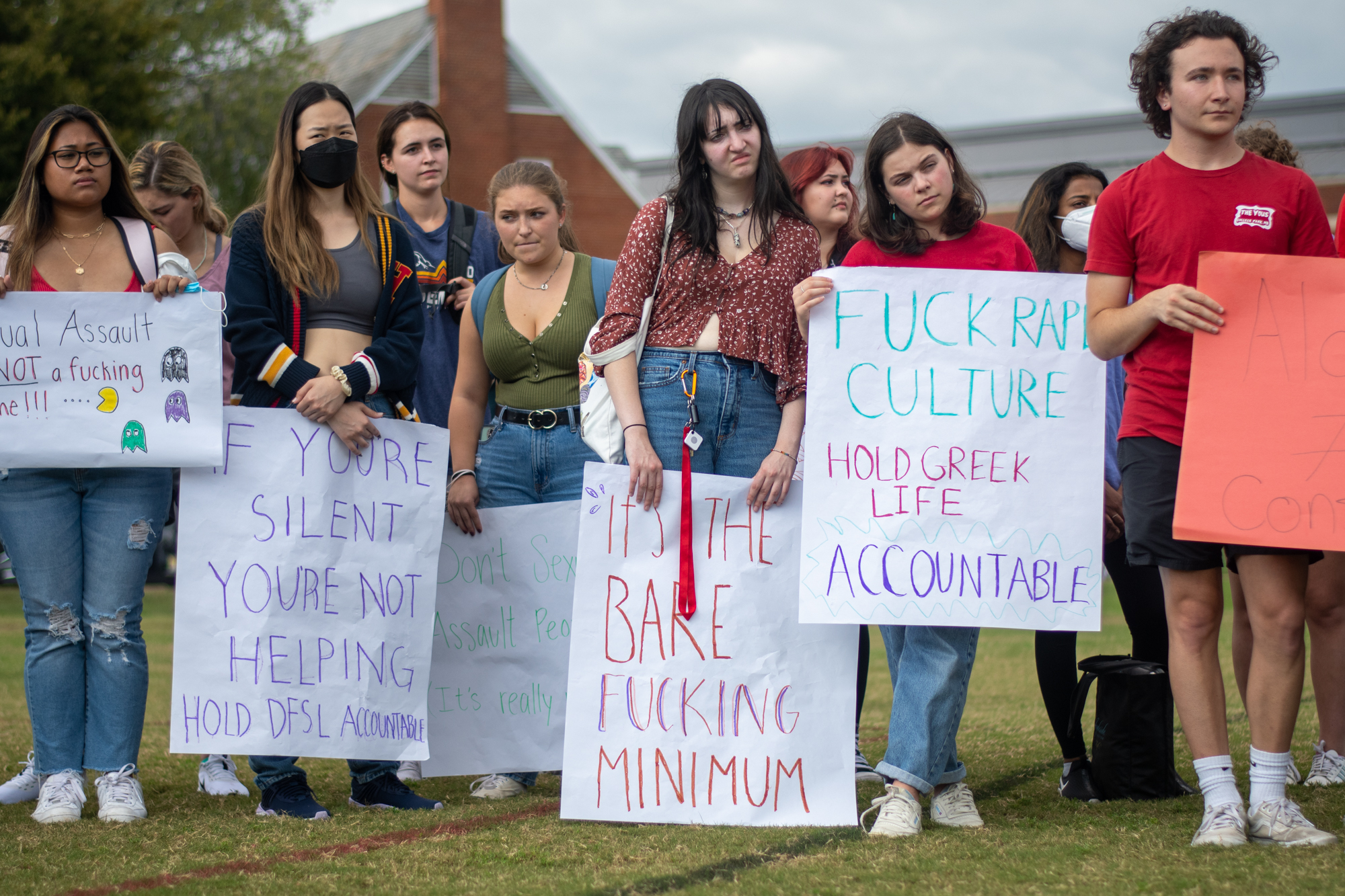 About 13 members from the Alpha Delta Phi fraternity attended the rally. The members were encouraged to attend the rally if they had no prior commitments, said Stephen Kerchner, a junior information science major and a member of Alpha Delta Phi.
Kerchner believes that Greek life members are stereotyped as sexual predators due to the actions of  "a couple bad eggs."  
"I'm not bashing on any other fraternities, but fraternities should make it a priority to voice their opinion," Kerchner said. "I just wish more fraternities and sororities were here."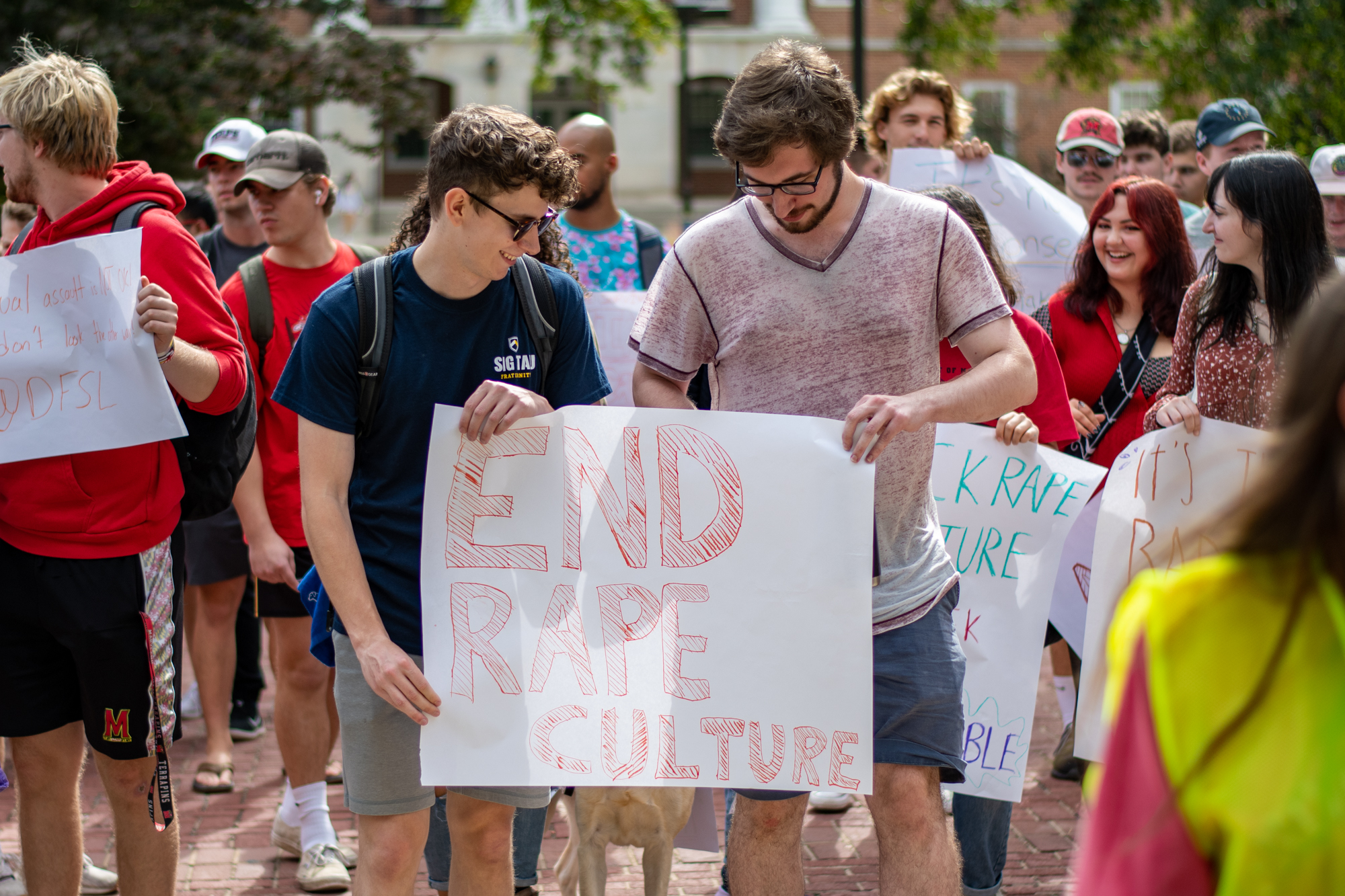 Nick Marks, a freshman secondary education and government and politics major delivered a fiery speech, asking fraternity members whether they uphold the values they advertise in their organizations. Fraternities have a responsibility to hold each other accountable, he said.
Small hoots erupted from the crowd as Marks called for individuals to educate their sons before they protect their daughters. He emphasized a need to educate men on respecting women and reporting incidents that occur within their fraternities. 
"When you're quiet, you're complicit," Marks said. "And when you're complicit, you are just as bad as the perpetrator."
The University of Maryland's CARE to Stop Violence crisis line can be reached at (301) 741-3442. The university's counseling center can be reached at (301) 314-7651. Individuals can file sexual misconduct or discrimination reports through the university's Office of Civil Rights and Sexual Misconduct here.