On the University of Maryland's corner of the internet sits a group of Instagram accounts. The accounts each have their own purpose, with the common theme of existing specifically for students at this university.
Some accounts represent celebrity fandoms, and others review different features on the campus. More of the accounts transcend either of these categories, covering some niche within the community. But all of them are just for Terps. We're firm believers that there's at least one account for everyone.
The Diamondback staff came together to review some of our favorite accounts. While this is by no means an exhaustive list of university-specific, meme-like Instagram accounts, these ones are a great place to find a little campus community to be a part of.
umdbarbz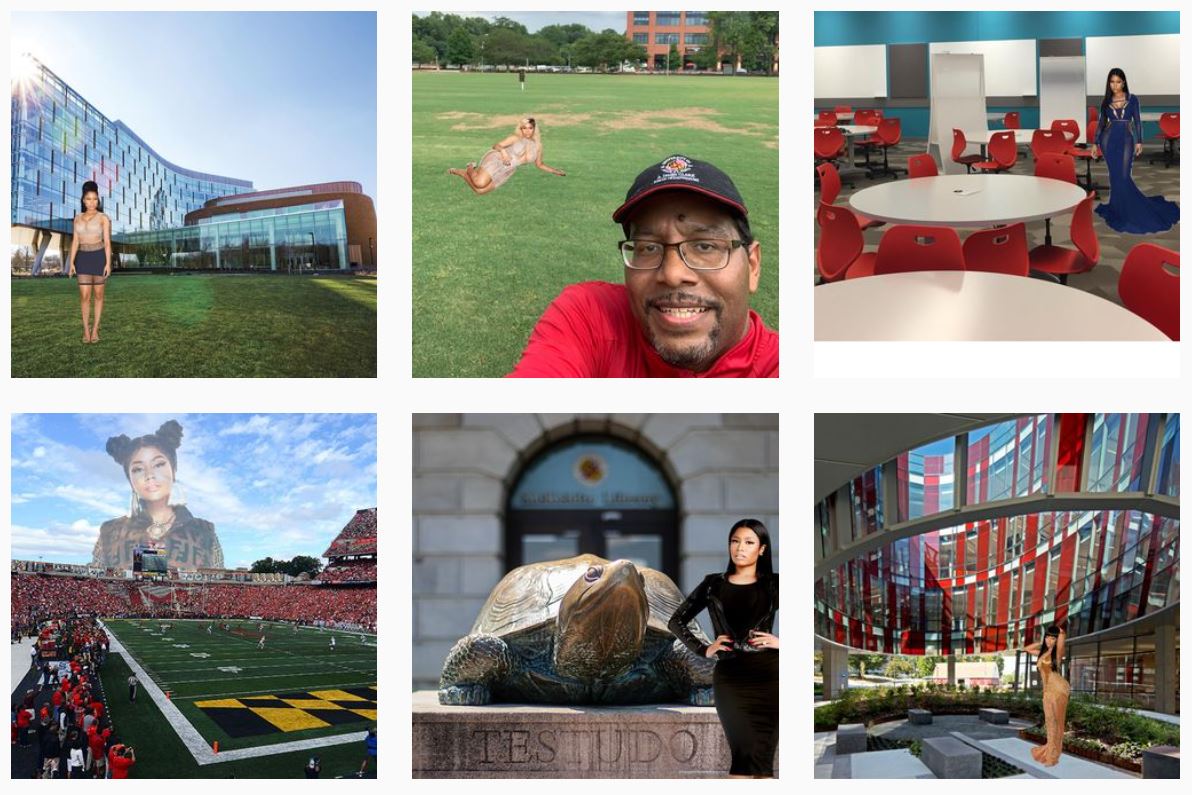 What happens when you combine the queen of rap and the University of Maryland? You get umdbarbz. Umdbarbz highlights the fanbase of Nicki Minaj, the barbs and their place at the University of Maryland. The account posts edits of the queen herself all across the campus. Nicki's been featured with university President Darryll Pines, in the Memorial Chapel, at the Jim Henson statue and many more iconic campus locations. 
On top of posts of Minaj across campus, they also do occasional story posts where people can confess all types of things, recap their week and much more. What makes umdbarbz so great is they're unafraid to shy away from the more controversial sides of their icon. Umdbarbz is a fun account that shows an amazing hidden gem of this university's community. 
— Evan Hecht, diversions writer
college.park.affirmations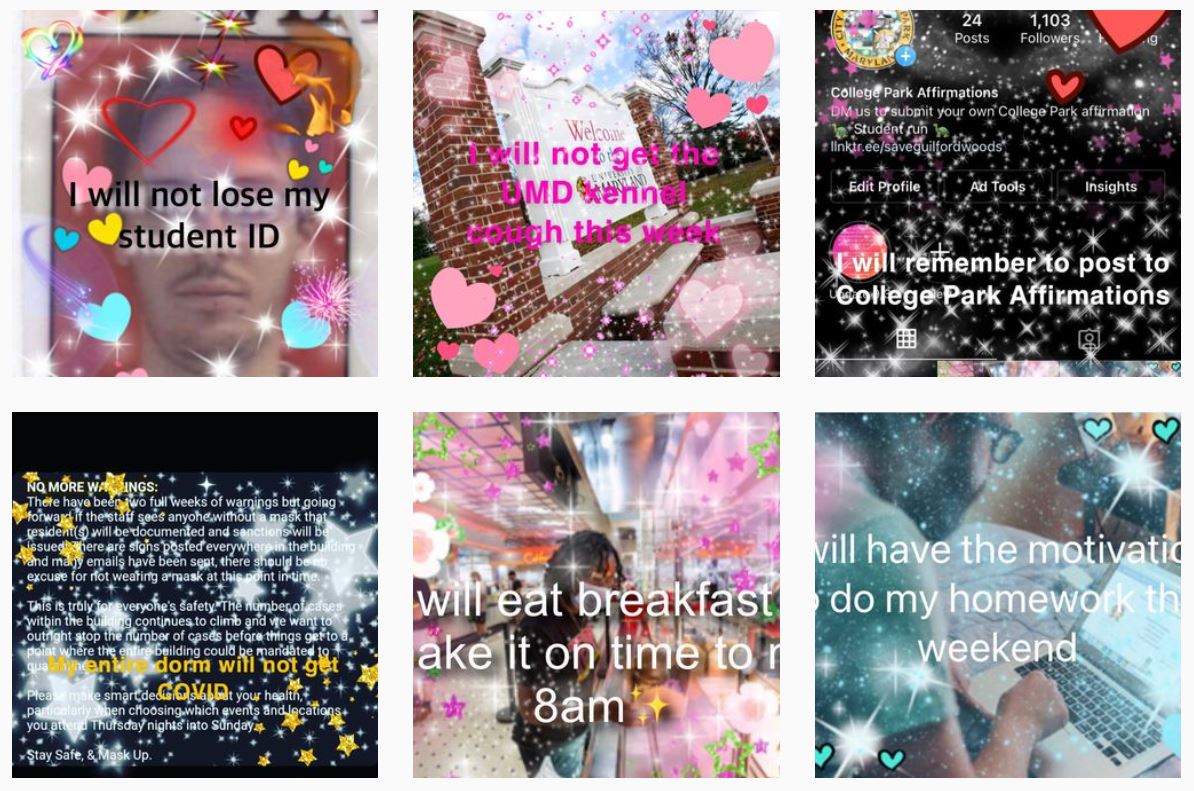 college.park.affirmations offers a refreshing amount of positivity that social media often lacks. The account posts affirming statements, reassuring people they'll succeed in various university-related situations and tasks. Examples include: "I will not get the UMD kennel cough this week" and "I will have the motivation to do my homework this weekend." 
Manifesting has gained a lot of popularity since the pandemic, mostly via TikTok, and I love the way college.park.affirmations makes it relevant to daily campus struggles. Plus, they accept submissions from their followers, so anyone can participate in manifesting a successful day at this university.
— Emma Grazado, diversions, engagement editor
[Review: Foundation could be Apple TV's big hit]
umd_squirrels_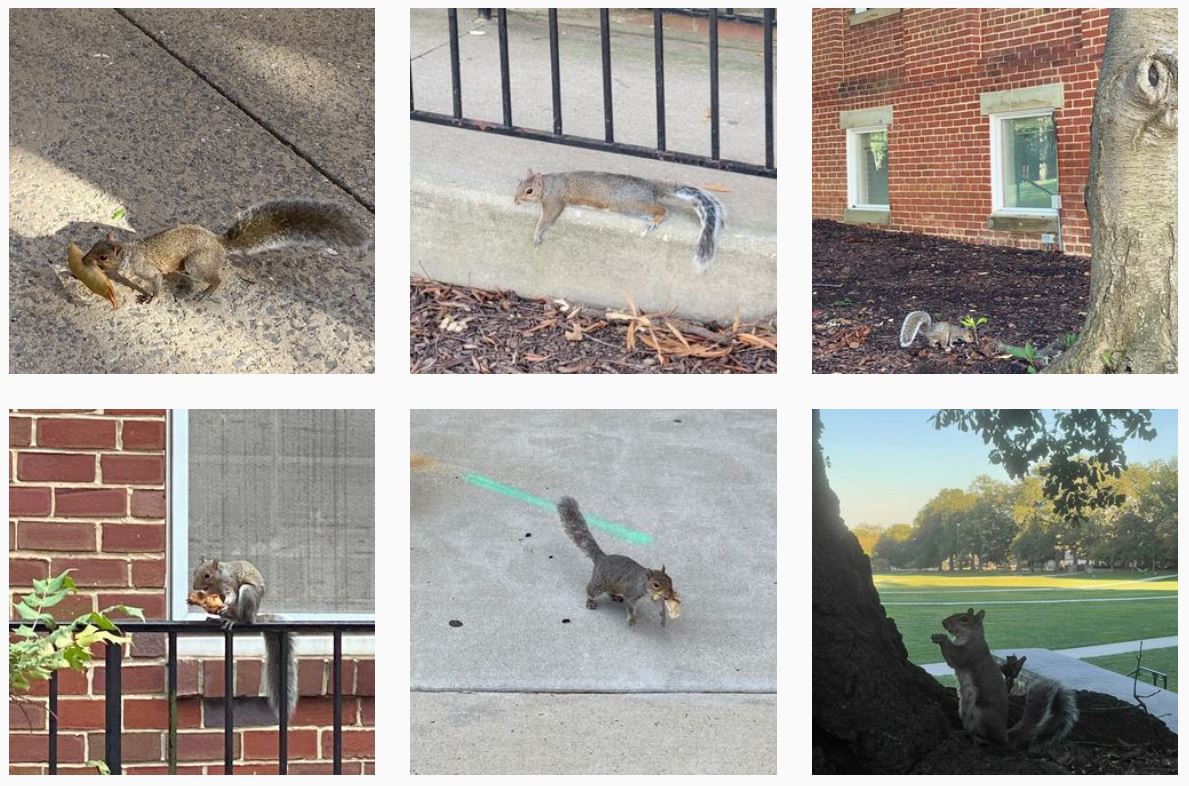 For those who adore looking at pictures of cute animals, umd_squirrels_ is perfect. The account has been around since November 2018 when Spencer Lin — who graduated from this university in the spring — posted his first squirrel spotted at McKeldin Mall. Since then, the account has been a space for students to appreciate the playful squirrels around the campus. Earlier this month, account ownership was given to Lin's friend and former roommate Logan Heller, a senior government and politics major. 
My favorite posts are definitely the candids. One picture shows a squirrel sprawled on top of a bicycle seat, "melting from the summer heat." Another shows a squirrel resting on a tree branch, holding a sandwich in a super protective manner. Overall, umd_squirrels_ provides unique content that will definitely put a smile on your face. 
— Sofia Garay, news desk
umdroaches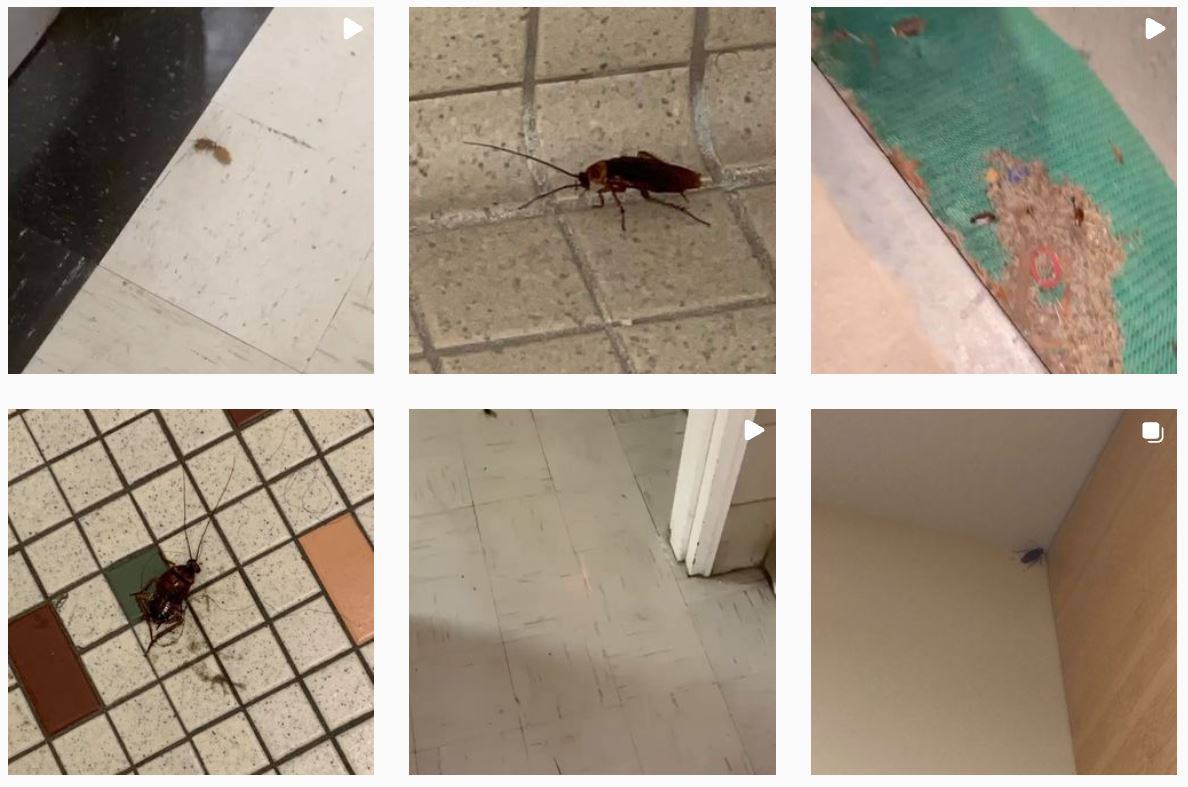 "Roaches are gross," freshman criminology and criminal justice major Caroline Dougherty said.
Dougherty runs the Instagram account umdroaches, which posts pictures and videos of roaches submitted by students on the campus. She started the account Sept. 13 after her own encounter with a roach outside the Edward St. John Learning and Teaching Center and her friends telling her about how they saw roaches too.
"I just thought it would be funny to … make a little joke out of it," she said.
What makes the umdroaches account special is its lighthearted tone while exposing the university's roach problem. The account posts every day with captions praising the roaches and noting their attractiveness. It also informs its followers of where roaches are an issue, since almost every post includes a location.
"I think it weirdly makes people come together," Dougherty said.
Whether the umdroaches serves a higher purpose or not, its dedication to "honoring" the university's roaches is undeniably funny.
— Dorvall Bedford, diversions writer
[The Woodlands transform into a mythical land for the Firefly Music Festival]
umdimagines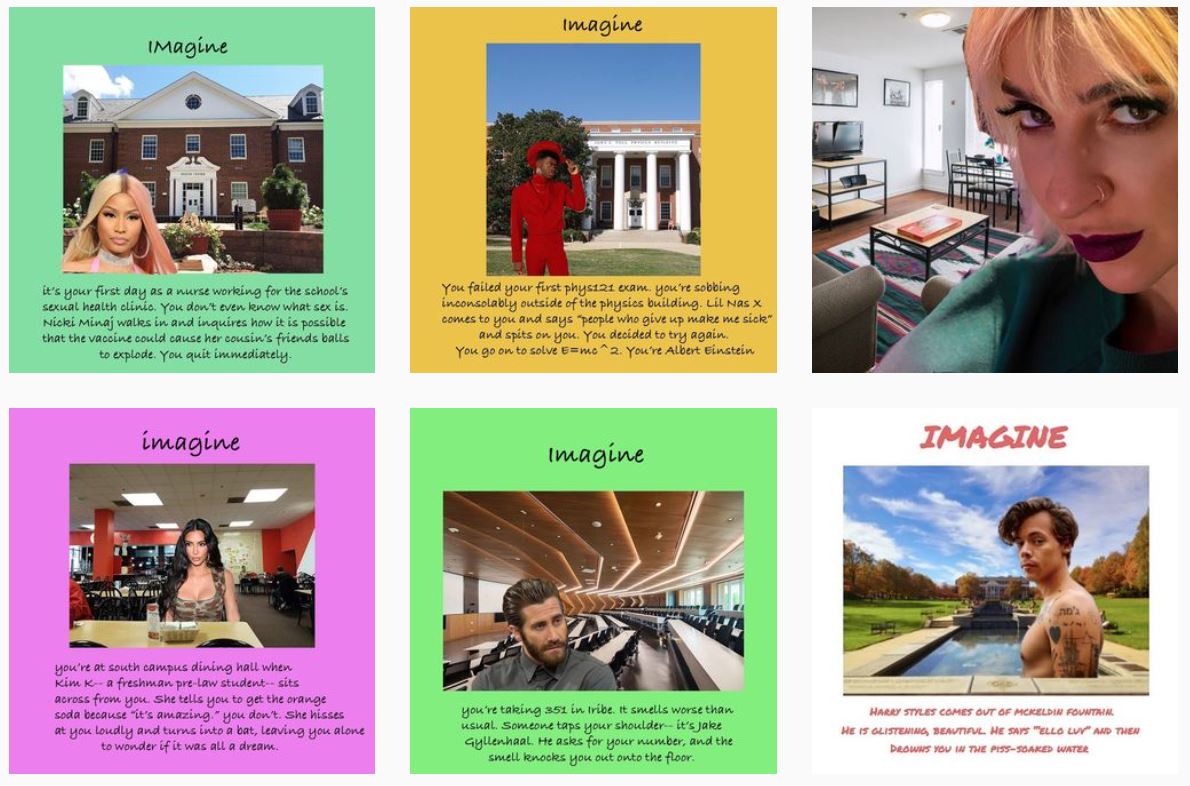 When I first saw the umdimagines page, I laughed. I didn't know what to expect from the name, but it sure wasn't a Liam Payne profile picture with "terps i am suffering" edited in. As I read the bio — "fearless ideas," "dm celebrities for imagines on campus" and the "not affiliated with UMD" disclaimer — it started to make more sense, but it wasn't until I saw the posts that I actually understood what the account is about.
Different celebrities are photoshopped onto campus locations; each is accompanied by the simple instruction of "imagine" and then a second-person blurb. I once saw a tweet declaring that second-person storytelling is just gaslighting — the thought lingered in my mind as I examined the posts.
In each scenario, the reader (hint, it's you) is told to imagine themselves in a particular discombobulating situation. Then, a celebrity appears and the reader reacts accordingly.
The final verdict: very creative! The name itself isn't as clear as umdbarbz or umd_squirrels_, but once you look at the account, it all makes sense. 
— Christine Zhu, staff writer
umdswarbz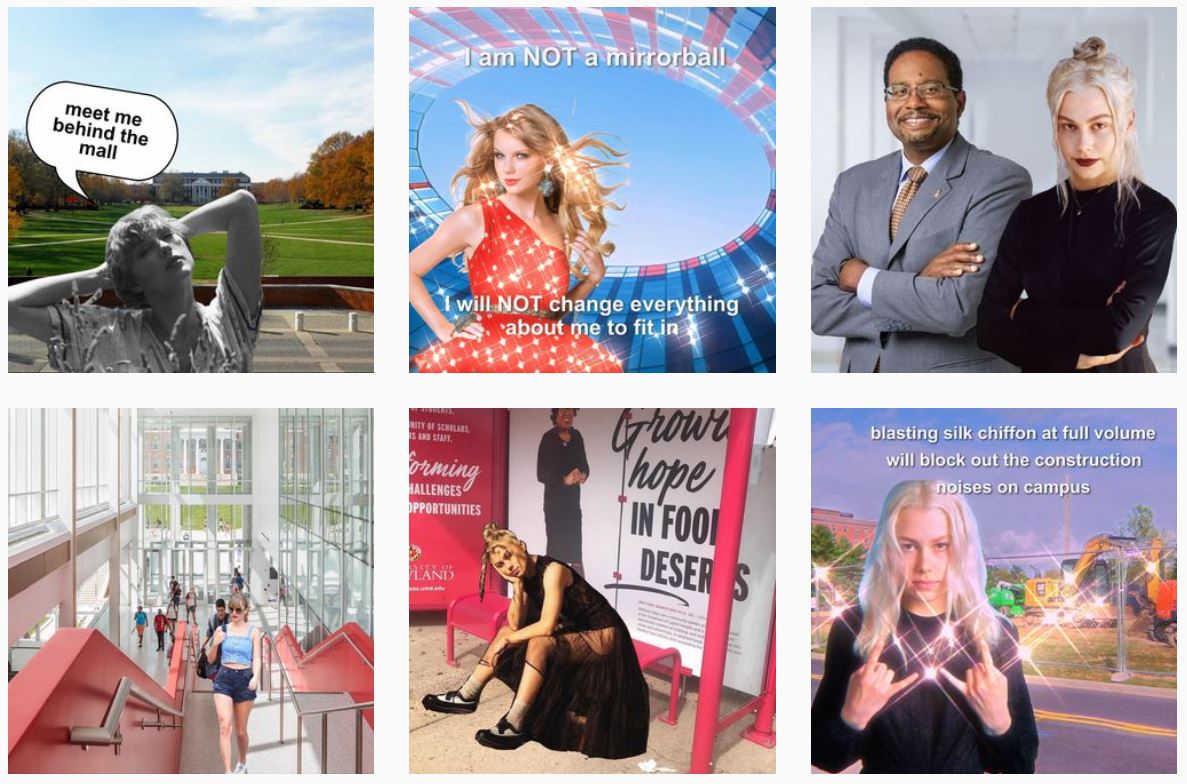 Two of my top Spotify artists last year were none other than Taylor Swift and Phoebe Bridgers. That's why I was elated to see that umdswarbz joined the ranks of university-adjacent Instagram accounts Sept. 14. They started off strong, with a debut post featuring Swift splashing in the McKeldin Mall fountain — an ode to the disgustingly hot weather in the area recently. 
The account's running theme is photoshopping Bridgers and Swift into various locations on the campus, from the St. John Center to a Shuttle-UM bus stop, and it hasn't gotten old yet. My personal favorite posts, though, are their affirmations, especially the one about drowning out the endless construction in College Park by blasting "Silk Chiffon," Bridgers' latest collab. 
They don't have a ton of posts, so there's always room for them to grow. In the future, I'd like to see the owner of the account branch out, maybe even touching on the endless theories about Swift's album release dates. 
— Shifra Dayak, staff writer
umdvirgins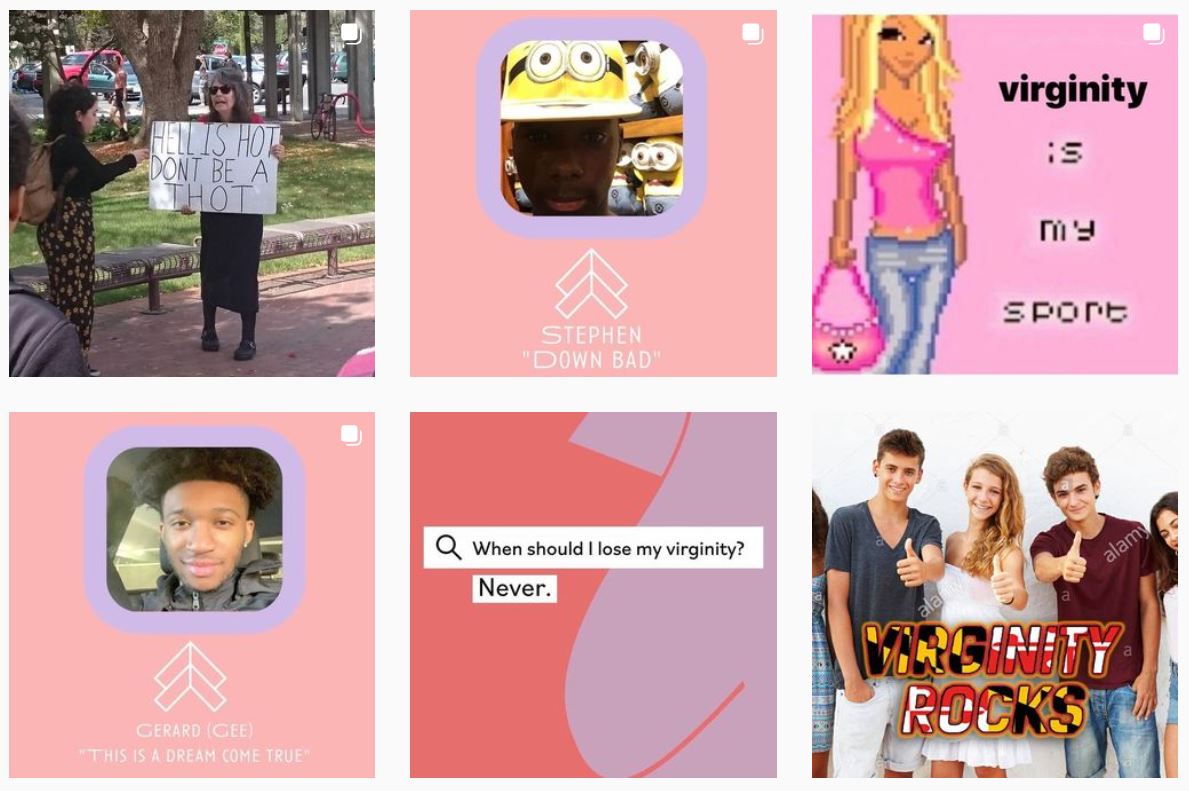 Full of (somewhat) wholesome and humorous energy that mirrors the teaching of Brigham Young University's virginity club (not affiliated with the university) and its "Pious Girl Summer" campaign, the umdvirgins Instagram account makes those values into its own. With memes that Maryland-ize Danny Duncan's Virginity Rocks logo, it's an amazing account that plays on irony and satire coupled with its teachings.
Although the account hasn't posted since June 23, the presence still lingers with its most recent slideshow of Sister Cindy, the first image of her holding a sign with a catchy slogan, "Hell Is Hot Dont be a thot." While it is unclear who runs the account, whoever holds the keys to this masterpiece deserves to be appreciated for their intense dedication to the cause of abstinence, especially on a college campus.
— Daryl Perry, diversions writer
benches_of_umd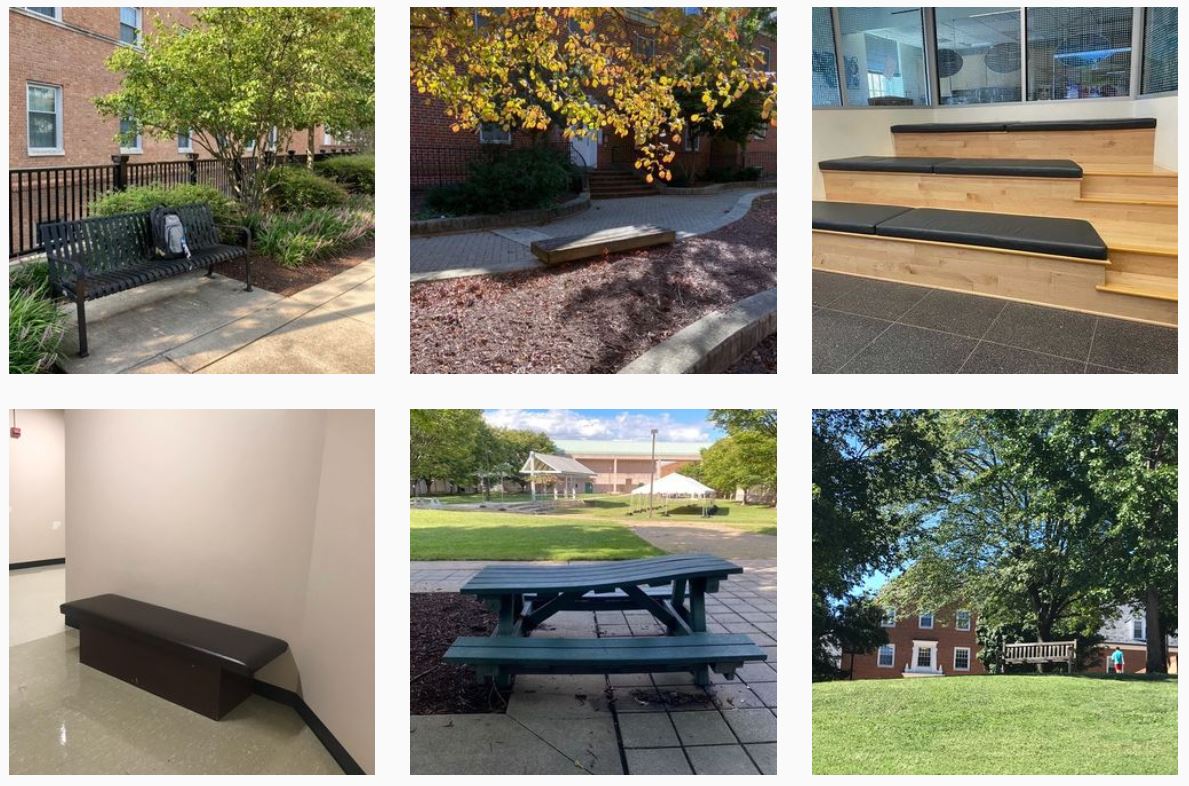 The benches_of_umd Instagram account dutifully documents benches of all shapes and sizes on the University of Maryland's campus.
Benches_of_umd takes submissions and posts about once a day, with each post featuring a different campus bench. Some are hopeful and triumphant, like the picture of wood beams laid on the lining of a flower bed captioned, "new benches ??" The Dining Services account then commented confirming new benches outside the South Campus Dining Hall. Others are heartbreaking, like a post of a toppled concrete bench at a bus stop captioned with the fallen soldier hashtag. 
There is one image that isn't seating furniture, and that is a slug that someone saw while enjoying a campus bench. The account offers a whole bunch of wholesome bench content and is worth a follow. 
— Rylan Bassett, diversions writer