This story is a part of The Diamondback's 2021 Graduate Student Guide. Click here for the rest.
By Khushboo Rathore and Shreya Vuttaluru
Staff writers
Developers are in the early planning stages for EcoGrads, an apartment complex at the intersection of Route 1 and Quebec Street that, if approved, could offer a beacon of affordability for University of Maryland graduate students who have long voiced concerns over the city's pricey housing market.
The project plan, which would sit on a lot across from Taco Bell, would be developed by Manzoco Construction. It plans to add about 470 beds in micro-units that are smaller than traditional apartments, priced below the market rate. Real estate developer Mark Manzo plans to submit the proposal to the Prince George's County planning board before Thanksgiving, according to an email.
Manzo is hoping these nearly 600-square-foot units can meet the needs of graduate students. The units will prioritize graduate students and researchers at this university while promoting sustainability.
[Green Tidings food truck won't return to UMD this semester due to staffing shortages]
"My motive is to solve the problems of the community and to try to make people happy," Manzo said.
The proposed location will only have 60 parking spots, which Manzo hopes would promote carpooling. There will also be electric shuttle service to this university and a new bike lane right in front of the development, according to Jeremy Feldman, a consulting engineer and former university graduate student.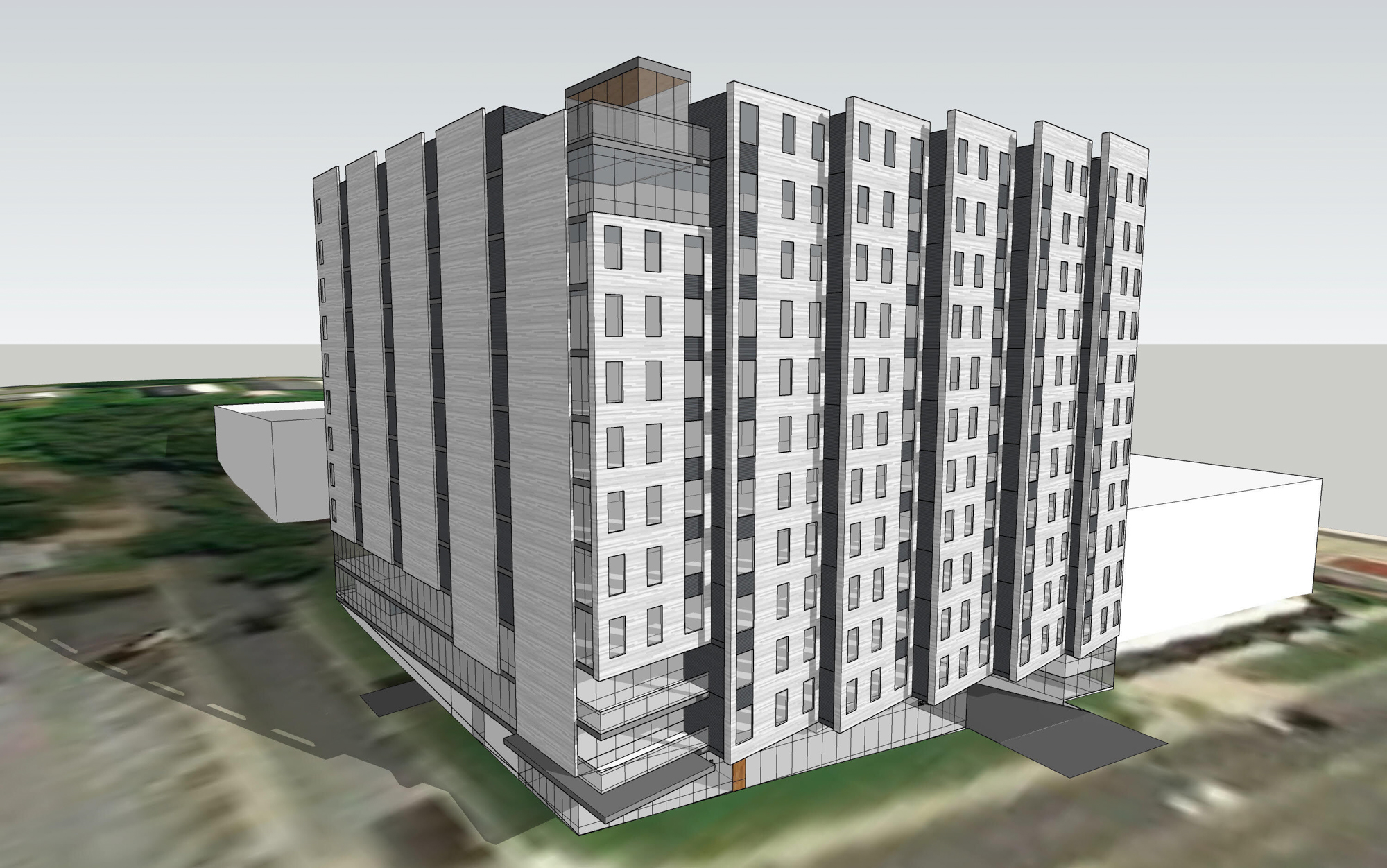 In order to offer the apartments at more affordable rates, the developers will have to build higher than current zoning laws allow—just under the Federal Aviation Administration limit, Feldman said.
Feldman, a former systems engineering master's student who graduated in 2017, related to the struggles that students face in finding less expensive housing.
"Grad students don't have any more money than undergrads," Feldman said. "Housing is expensive."
Autumn Perkey, the legislative affairs vice president for the Graduate Student Government, is hesitantly supportive of the development. It seems to have come out of nowhere, she said. The GSG is working on another housing project, a partnership with Gilbane, that they are hoping to get approved.
Perkey has been a vocal advocate for affordable, local graduate student housing. The current options in Graduate Gardens and Graduate Hills are often problematic for students. Perkey has heard about insects and lease violations, among other things.
[UMD professors join in effort to bring free WiFi to Prince George's County park]
The GSG's Executive Board is set to meet with Manzo to get more information about the development.
Manzo found the site in an urban infill zone — undeveloped land that sits in an existing community — and was quick to act on it. The site was an extremely lucky find, he said.
Manzo also hopes to promote art in the area with a jazz and a basement lounge in the development, he said.
Terry Schum, the city of College Park planning director, doesn't know that the project would be feasible, particularly with limited parking on the lot, zoning regulations and the smaller size of units.
"The parking and the height and the overall density of the project are going to scare a lot of people," Schum said. "Really it represents over building the site."
Schum believes that the community would need to rally behind the development in order for the Prince George's County planning board to approve an exception for the height limit. University View also faced similar zoning hurdles, but was ultimately approved because of community support, Schum said.
Manzo has been working on connecting with stakeholders to ensure that the project goes smoothly.
"Many of them have already expressed support, they're excited about it," he said.
Feldman also thinks that the micro-units won't be a deterrent for students looking for housing, especially given the low price point.
"People can live more efficiently in smaller spaces," Feldman said. "Current trends are open to smaller spaces that are efficiently designed."