Bright Djampa remembers sitting in an introductory food science class in spring 2019 at the University of Maryland, listening to the professor talk about the benefits of Omega-3, a type of fatty acid.
At the time, research on the fatty acid was fairly new — in the world of academia, that's 10 to 15 years worth of research, Djampa said.
Soon after learning about the fatty acid, Djampa launched Omega 3, a homemade granola bar company that uses the fatty acid in its products. And the bars recently hit shelves in stores across this university's campus. 
So far, the company has sold more than 7,000 bars across 12 stores and two university campuses, Djampa said.
Omega-3 contains a hormone called docosahexaenoic acid, or DHA. Some studies suggest DHA can be used as a natural treatment for several mental health related-conditions.
Recognizing Omega-3's benefits, Djampa decided to create a product for everyday consumers.
"[Omega-3] was a very good preventative step that people can look towards," he said. "It's something that you consume when you're perfectly healthy in an effort to maintain that healthy state of mind."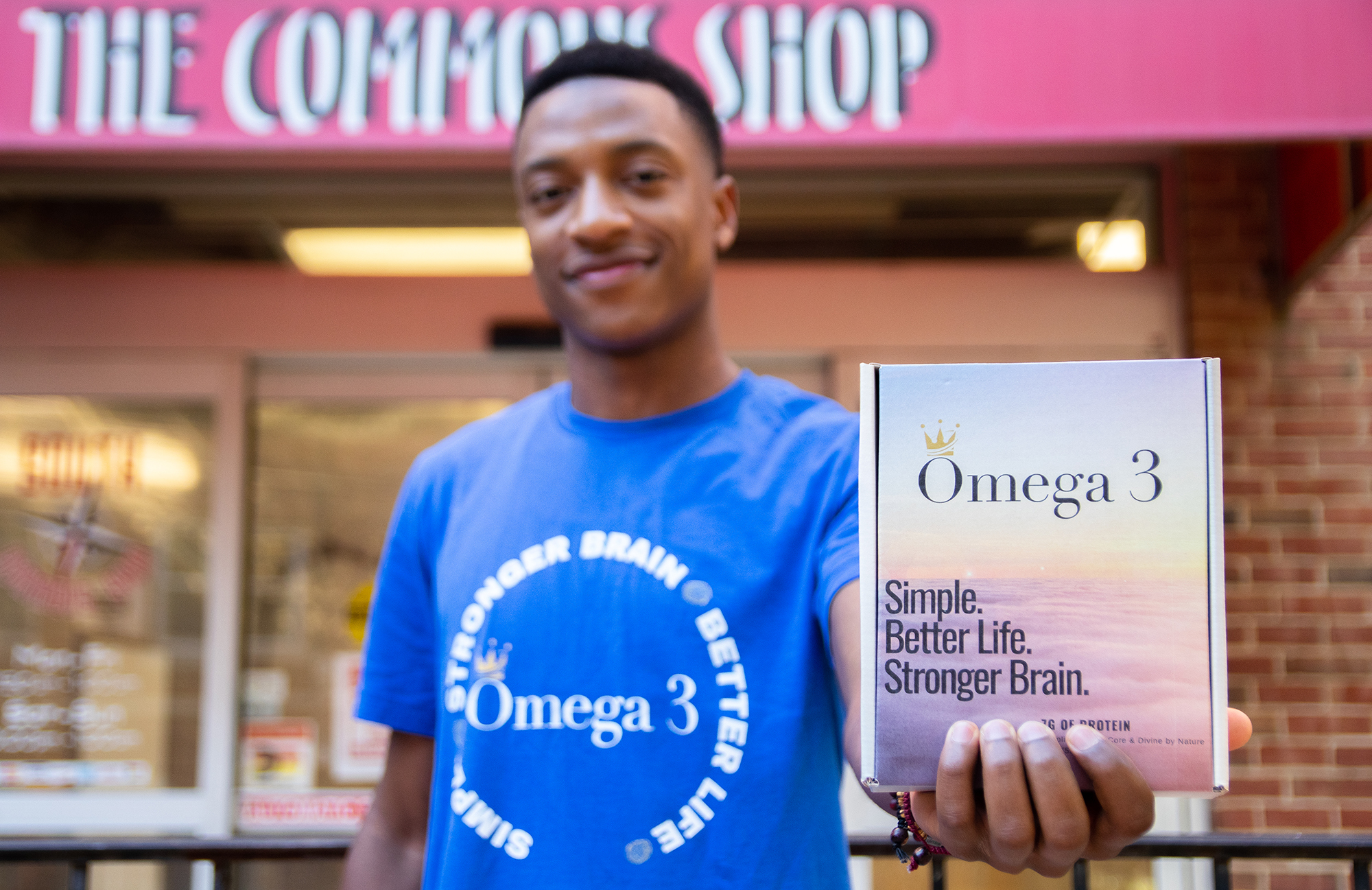 [UMD Farmers Market to in person, bringing community together in Tawes Plaza]
Djampa started working on the bars in the summer of 2019, launching the website that fall. It was hard at first — almost all of his sales happened in person, which he said is "unsustainable." Up until June 2020, he wanted to give up.
That summer, the company made it into its first retail store: Rooster Moon Coffeehouse in Hagerstown.
From there, business quickly picked up. The bars made it into seven other stores over the span of August and September. Online sales were increasing, too.
There was a sharp dip in sales in the winter, around the time coronavirus cases were rising, Djampa said. The eight stores still purchased the granola bars, but not as much as before.
Last March, there was a boom of online sales. Then in May, the unexpected happened.
A Georgetown University professor reached out to Djampa and asked to purchase 350 bars.
"I was like, 'How did you hear about us?' and he told me he literally went online and searched up Omega-3 foods," Djampa said. "We were one of the first places to pop up, which made me really happy." 
As a result, the bars became available on a university campus for the first time.
The order ignited something in Djampa, he said. He reached out to the National Alliance on Mental Illness and became a partner, sponsoring some of their walks. 
"[It] really aligned with our core values in terms of foods that prevent mental health illnesses," he said.
[UMD Muslim community establishes 'stable home' with newly renovated Musallah]
Virgil Sermon, a senior information science major, is an Omega 3 board member and ambassador. He and Djampa often bounce ideas off each other to come up with new things, such as the ambassador program where students serve as brand ambassadors for the product.
As Djampa's freshman year roommate, Sermon has witnessed the evolution of Omega 3. He's a fan of both available flavors — cranberry and cinnamon — but if he had to choose a favorite, it'd be the cinnamon one.
"The bars have been really good," he said. "They've honestly just gotten better in terms of quality over time."
Students at this university can expect to see more of the bars around campus in the coming weeks. Not only are they available in campus stores, but Djampa's working on expanding the ambassador program, too.
The company plans to hand out free granola bars and information cards outside of McKeldin Library and Stamp Student Union, said Mahalet Samson, a senior neurobiology and physiology major.
"[It's] just to expand the recruitment and let people know that the granola bars are on campus and they're made by a UMD student," she added. 
Samson, another ambassador, enjoys the cranberry flavor.
"[It] just has a bit of a zesty taste to it," she said. "It's fruitful, but at the same time, it feels fulfilling and I'm satisfied after it."