About 20 years ago, some Muslim students at the University of Maryland began using a repurposed women's locker room in Cole Field House as their campus Musallah. Despite enhancing the prayer space with cozy pillows and framed religious texts, many Muslim students were still confined to a small room for prayer and reflection.
The space was old, but functional, said university Muslim Chaplain Imam Tarif Shraim. But Monday night, hundreds of students gathered to reconnect in prayer for the first time since the beginning of the pandemic at the Musallah's renovated space. 
The walls were full of religious paintings and string lights. A bright, sticky note prayer wall stands on the left side of the room when standing in the doorway. The new prayer space also meets university fire codes and includes new air circulation system.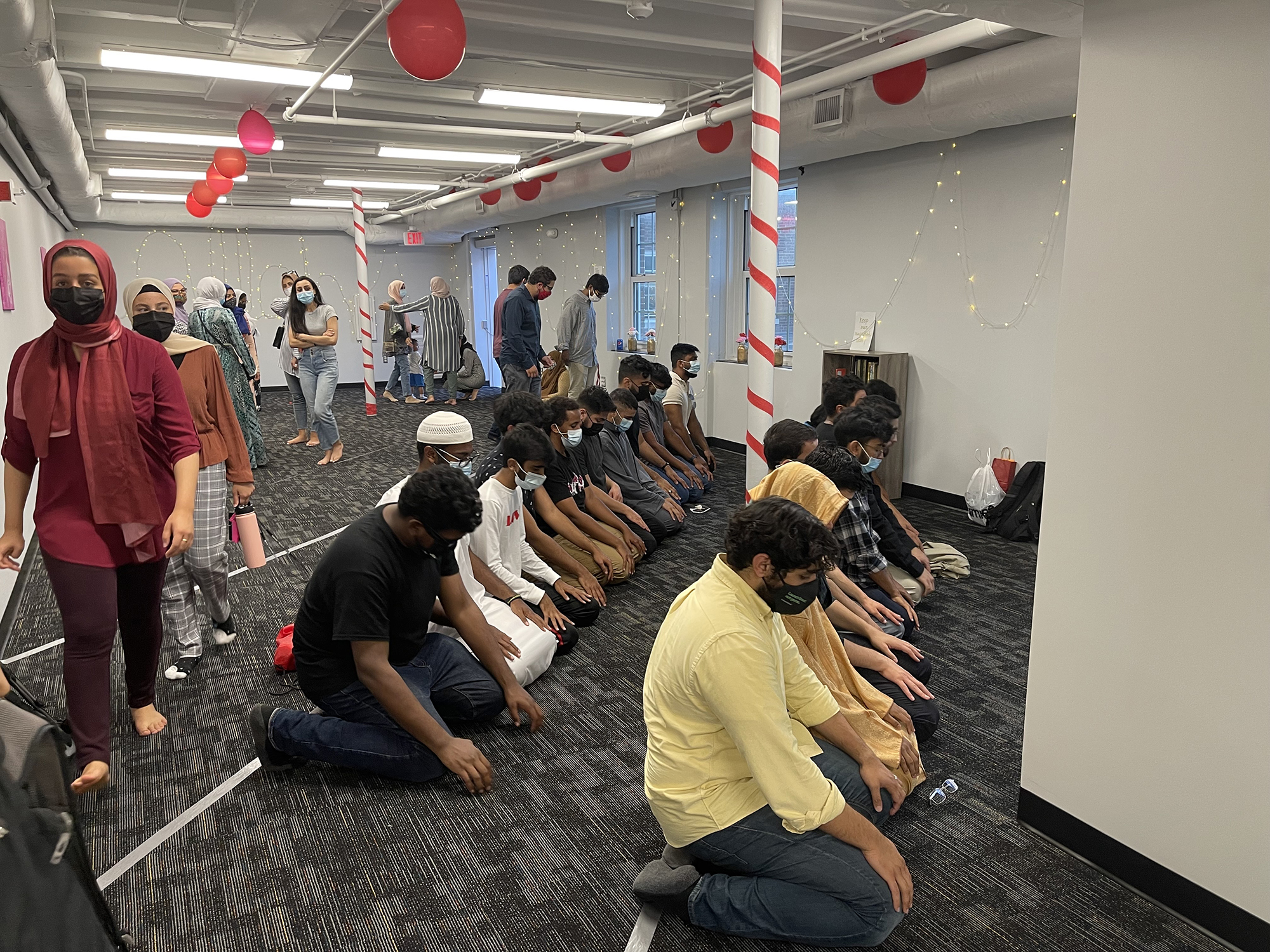 "Everything I have, I owe to this space," said guest speaker and class of 2018 alumnus Haris Ansari. "There's no other campus I've been a part of that sits with their students saying, 'This is not enough for us,' and then actually does something about it." 
The renovations began in 2017 when Shraim and members of MSA recognized the prayer room desperately needed an upgrade. What began as a "dream" for Shraim and MSA leaders became a $220,000 university project that the Office of the Provost and Stamp Student Union sponsored. 
Funds from the student facilities fee went toward the project, which accounted for $200,000 of the total, McMullen said. Stamp Student Union also contributed around $20,000, according to Stamp Student Union Director Marsha Guenzler-Stevens.
["A Ramadan of isolation": UMD Muslim students reflect on holy month during a pandemic]
"In the last 20 years, [the Muslim community has] been in two other locations, so this is a 'final home' for them. I don't think that this space is going to have any other needs, other than what this is," said Tom McMullen, this university's assistant to the provost.
Shraim agreed, saying the renovation left a sense of fulfillment but also the stability of a home. 
"To essentially be in a space, in a university climate where you're able to access a space that supports your religious identity, that allows you to connect with other students that share your faith … the importance of that can never be understated," Shraim said.
Patty Perillo, this university's vice president of student affairs, echoed the sentiment of an established home for the Muslim community at the university. 
Some students shared excitement in the space's central location on the campus, which makes it easier for them to find a quiet space to pray between classes. Many are also looking forward to having a community gathering place to return to after a long period of spiritual isolation due to the pandemic. 
[A new UMD major focuses on the development of Christianity, Judaism and Islam]
Arzoo Paracha, a senior bioengineering major and the vice president of the Muslim Student Association at this university, is one of those students. The space will also serve as a way to continue working on her spirituality while focusing on studying as well. The space offers the community a "shine of hope," Paracha added.
With the space fully renovated, Muslim community members are looking forward to connecting spiritually with one another for semesters to come. 
"To all the young students here, do not forsake this space," Ansari said. "You will find company here you cannot find anywhere else … Any time you spend in here studying, praying, learning, talking, laughing with your friends, it will not go to waste."