This article is part of The Diamondback's 2021 Orientation Guide. Click here for the rest.
Managing meals can be difficult in college. Here are some tips, tricks and recipes to get you through the year.
Plan your meals
Take a day every week to plan meals for the upcoming week. Cook more complex meals when you have more time and simple recipes when you need to get something done quickly on a busy night. Plan your meal schedule based on when you have time to cook.
By planning ahead, you can make sure you don't spend more money than necessary. You only buy what you know you need, which limits how much you spend, and less food goes to waste.
Secondly, it saves you a lot of time. Your plan isn't rigid, so if something unexpected comes up, you can always shuffle it around to adjust instead of frantically trying to figure out what you'll eat. Also, it discourages from falling back on going out to eat. Instead of spending money on takeout, you already have everything you need for dinner.
Leftovers are also great. Cooking food in bulk to store for later comes in handy, particularly in the middle of the day during the rush of classes and work.
Food storage
There are different ways you can store food in order to make sure it doesn't go bad. With that said, I try to freeze food as much as I can.
With bread, storing it in the freezer prevents it from getting stale and moldy. Slice it as necessary and throw it in a zip-close bag to store it. To defrost it, it just needs to be put in a toaster for a couple minutes.
You can do the same with chicken. Separate the chicken into portions and on the day you're planning to make chicken, take it out in the morning and let it thaw on a plate. It'll be ready to cook in the evening.
This strategy also works with sauces and soups, which becomes very helpful in the winter. Making soups and sauces in bulk helps because they can be stored in jars or Tupperware. You can do the same thing with fresh herbs. Chop them ahead of time and store them in a jar to freeze.
When it comes to produce, note that fruits and vegetables will likely last a week or two, maybe three if you have a colder fridge. Try to plan your meals so you eat the more perishable produce first and make your way to the less perishable ones. Or, you can invest in canned versions, for a cheaper and less perishable option.
Grocery shopping
College Park is full of different locations for grocery shopping, but some places are cheaper than others. Lidl is a discount grocery store featuring good deals college students should take advantage of.
If you can't find what you need at Lidl, there's also a Giant in Greenbelt. Its produce is slightly better and has more options to choose from, but it's still affordable.
A good strategy is to grocery shop from least expensive to most expensive. Also, always be on the lookout for deals and cheaper substitutes. Start at Lidl and move your way up until you have everything you need.
With roommates, it can be easier to grocery shop as one unit. Go and buy everything you need as a household and what you want individually, such as snacks and drinks. Have one person pay and then use the receipt to figure out how much people owe.
Recipe ideas
Caprese Pasta
This pasta dish is a simple and quick recipe that can easily be stored for future meals. With a reliable tomato base, it's delicious with summer flavors.
Ingredients
1 box of cavatappi pasta
2 cloves of garlic
4 tomatoes, diced
1 tablespoon of tomato paste for thickening
Extra-virgin olive oil
Kalamata or black olives
Mozzarella, diced
Capers, if desired
Basil
Salt to taste
Make it!
In a large bowl, pour a generous amount of olive oil and the tomato paste. Mince your garlic and capers, if desired, and add them in.
Boil a pot of water for your pasta. Always salt your water with a handful of salt before putting in the pasta. While your pasta is cooking, dice your tomatoes and olives. Add into the bowl of oil and mix.
When your pasta is finished, drain it, and add it into the bowl of tomatoes. While you wait for it to cool down, dice your mozzarella and add when the pasta is at least room temperature. Store in the fridge. Slice basil to add on top when eating, and enjoy!
Pepperonata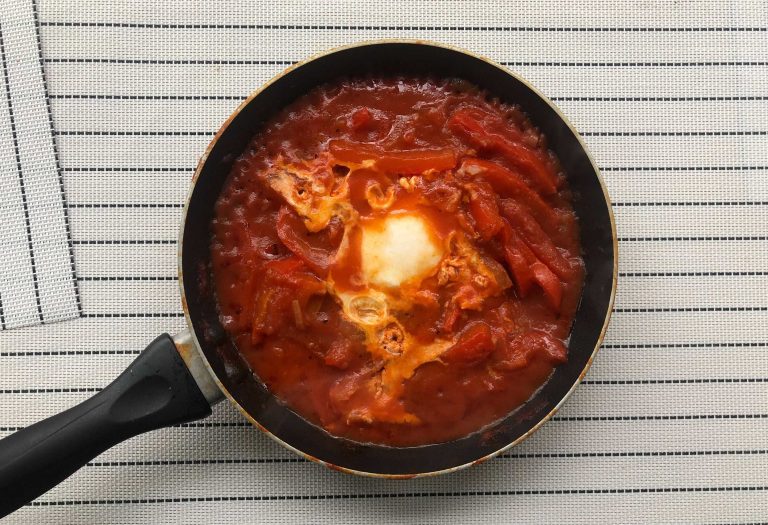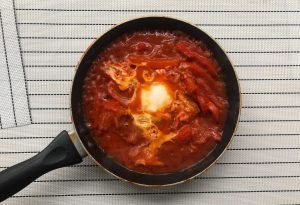 This is a very versatile dish that works in all the seasons. While this recipe only has peppers, other vegetables like eggplants, zucchini, carrot and potatoes can be added to incorporate more vegetables. It can be eaten without the eggs or with another protein, such as chicken, as well.
Ingredients
Extra-virgin olive oil
2 bell peppers
1 yellow onion
1 can of tomato sauce
Cayenne pepper
Salt and pepper
2 eggs
Make it!
In a large pan on medium-high heat, throw in a generous amount of olive oil. Slice your onions into strips and add them to the pan. Stir occasionally.
While the onions are cooking, slice your bell peppers and add them into the pan. Cook the vegetables until they smell fragrant. Take your can of tomato sauce and add it into the pan. We want this to be saucy, so if you need to add more than one can, open another.
Bring the heat down to medium or low-medium, and put a lid on the pan. Let this cook for at least 30 minutes. Halfway through, add cayenne pepper for desired spiciness and salt to taste.
For eggs, we want them sunny side up. You can either cook them in the sauce or cook them in a separate pan. To cook them in the sauce, make holes for the eggs to crack them into. Put your heat on low and cover the peperonata again for 5 to 7 minutes, or until the eggs are cooked to your liking.
Serve in a bowl and enjoy!
Mediterranean Quinoa Bowls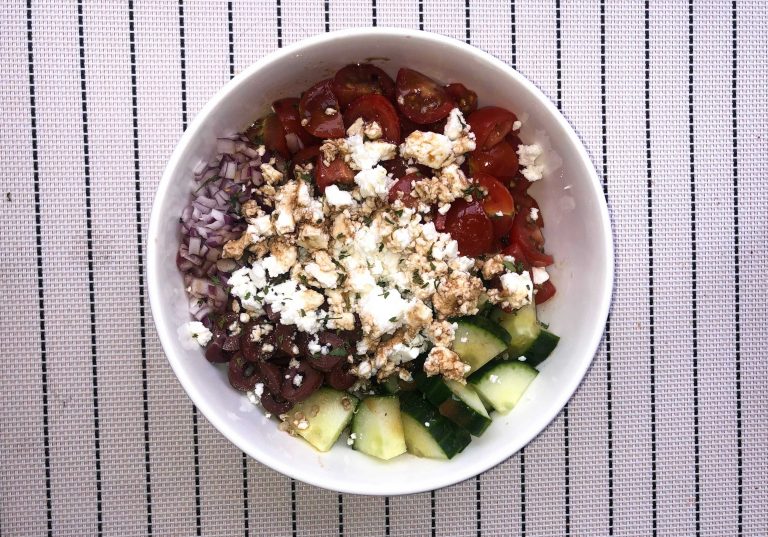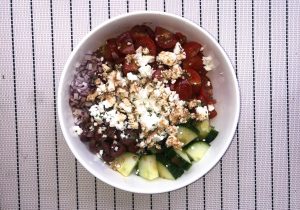 This is a great recipe to make that you can easily store the ingredients for later. It's simple and quick to get in a quick meal in the middle of the day. The dressing can be made in bulk and used for any salads or bowls you make in the future.
Bowl ingredients
1 cup of quinoa
Cucumber
Cherry tomatoes
Red onion
Kalamata olives
Crumbled feta cheese
Mint leaves, optional
Dressing ingredients
1 clove of garlic, sliced
1 ½ teaspoons of Dijon mustard
1 teaspoon salt
1 teaspoon ground pepper
2 tablespoons balsamic vinegar
1 tablespoon red wine vinegar
6 tablespoons olive oil, regular and extra virgin
Make it!
Get a pot with two cups of water. Bring to a boil and add one cup of quinoa. Boil for 12 to 15 minutes.
While the water is boiling and quinoa is cooking, dice the red onion and slice kalamata olives. Chop the cucumbers and tomatoes into bite size pieces. If desired, chop your mint. Use as much of these ingredients as desired.
For the dressing, use a jar for storage purposes. Take your clove of garlic, slice it and put it in the jar. Add the mustard, salt and pepper. Then, add the balsamic vinegar, red wine vinegar and olive oil. Shake or mix together until mustard looks somewhat dissolved.
When the quinoa is done, scoop out your desired amount and add toppings. Add your feta cheese, drizzle salad dressing and add mint if desired. Add salt and pepper to taste, and enjoy!