This article is part of The Diamondback's 2021 Senior Edition. Click here for the rest.
Last summer, Reese Mona was sitting in on a team Zoom call when he read a text from Maryland men's basketball coach Mark Turgeon: he'd received a full scholarship for his senior year.
Going into his senior year, Mona had been hoping for that elusive moment. And when it finally came, he erupted in excitement.
"I called my parents right after, and they were speechless too, just so happy," Mona said. "I knew they were choked up and were all emotional."
It's moments like these that Mona says he will cherish the most when looking back at his basketball career. And as his senior year comes to an end, he realizes that it is time to hang up the uniform. 
For many college athletes, senior year represents the last time they will play their sport competitively. And this year, athletes are once again turning away, leaving behind the sport they grew up playing and looking ahead to the future.
"I do believe I got the most out of my career," Mona said. "I can walk away not having any regrets."
***
Mona has been playing basketball since he was eight years old. Other sports came along the way — soccer, football and baseball, for example — but basketball was always his favorite growing up.
Within a few years, Mona's passion for basketball grew. He eventually joined Maryland as a walk-on in 2017, and in his senior year he played an average of just over six minutes per game — the highest in his four years.
Looking back on his career, a few moments stand out to Mona. He won a title at St. John's College High School and a Big Ten regular season championship, started on Maryland basketball's senior night and played meaningful minutes in a March Madness game. 
"When I was a little kid, that's what I dreamed of is playing significant minutes in an NCAA Tournament game," he said. "And for that to happen was really awesome."
But he recognizes that his time playing competitively has come to a close. 
Mona has begun to focus on the next chapter of his life. He has already earned his undergraduate degree in finance and will earn his Master's of Science in Business and Management in May.
Mona has accepted a job to work at Morgan Stanley as a part of a financial advising group. 
And he hopes other incoming seniors get to cherish every moment.
"Early morning practices, practices on the weekend — try to enjoy every second, every moment, every practice, every game because when it's over and you're not playing professionally, it's your last game. It's done," he said.
***
Anthony Sountis was introduced to wrestling in seventh grade — only he didn't know that at the time. He was playing football and tackled another kid by grabbing their leg and throwing it over their head.
"And one of my friends [says] dude, that was a wrestling takedown," Sountis said. 
Sountis was encouraged to go speak to the wrestling coach and give wrestling a shot. He instantly fell in love with the sport and decided to stop playing football to focus on wrestling.
Sountis transferred to this university after wrestling his freshman year at SUNY Oswego, a Division 3 school. He remembers during the pre-season of his sophomore year when the coaches gave him a belt for working the hardest during practice. It's one of Sountis' favorite moments of his wrestling career.
"I was able to not only come in and then make the team, but also, make that impact and impression," he said.
It's not just those specific highlights that will last with him the most — it's the relationships he made as well. 
"The best experience was the people," he said. "I have some of the best friends that I could ever ask for."
Now, Sountis is hoping to pass another goal. After graduating with a kinesiology degree, he plans to enlist in the U.S. Navy.
"Everything wrestling taught me is going to make me succeed in that," Sountis said.
***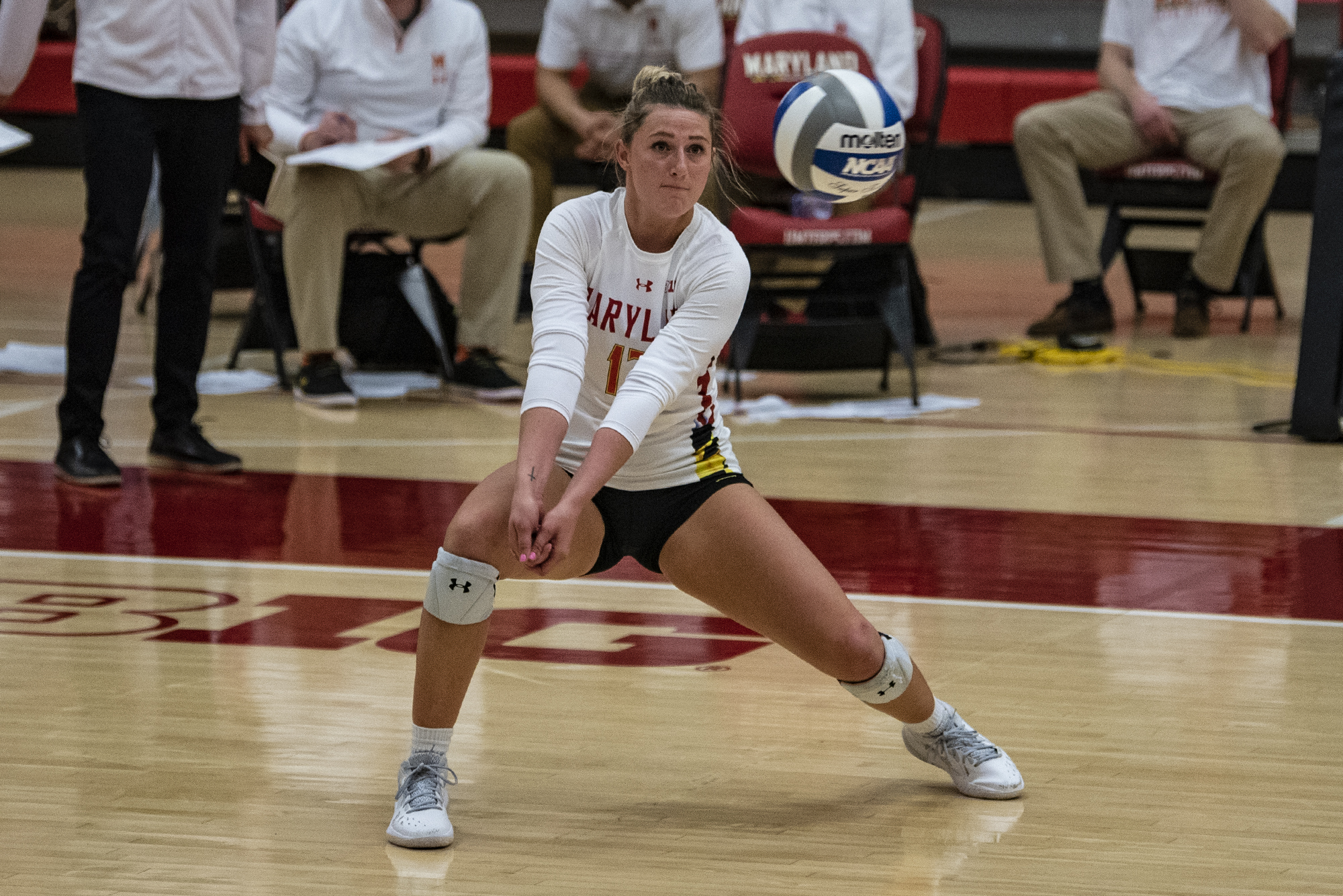 On April 3, Sam Burgio knew her volleyball career was over.
The volleyball had dropped and hit the gym floor one last time, as Maryland volleyball's season came to a close with a loss against Northwestern.
"I started bawling my eyes out because [volleyball] has been a huge part of my life and watching it come to an end was very difficult," Burgio said.
Originally a basketball player, Burgio started playing volleyball when she was 11 years old.  When her mom recommended she go to a volleyball camp, her passion grew.
"[Volleyball] had a huge impact, I think it played a very important role as to figuring out who I am and what I want to do with the rest of my life," Burgio said.
If there's one thing Burgio is going to miss about volleyball, it's being around her teammates, she said.
"It's a sense of security to always have friends that you see for hours every single day, traveling with them, eating with them," Burgio said. "We literally do everything together."
Burgio's favorite accomplishment playing volleyball wasn't a statistical one — it was a personal one. Throughout her career, she prioritized being a teammate first, even as she piled up impressive stats.
"I had the high [statistics], I had other things going for me," she said. "But I was able to not get caught up in that but instead just be able to be there for my team."
Burgio is graduating in May with a degree in sociology. She plans to return home after graduating to volunteer at her church with People Against Trafficking Humans. She also plans to get married to a former Maryland baseball player.
And now that her career is over, she gets to experience a newfound flexibility.
"Playing volleyball for so long and competitively for so long, I haven't really had a lot of opportunities for actual jobs," Burgio said, "So I'm going to try things out."
***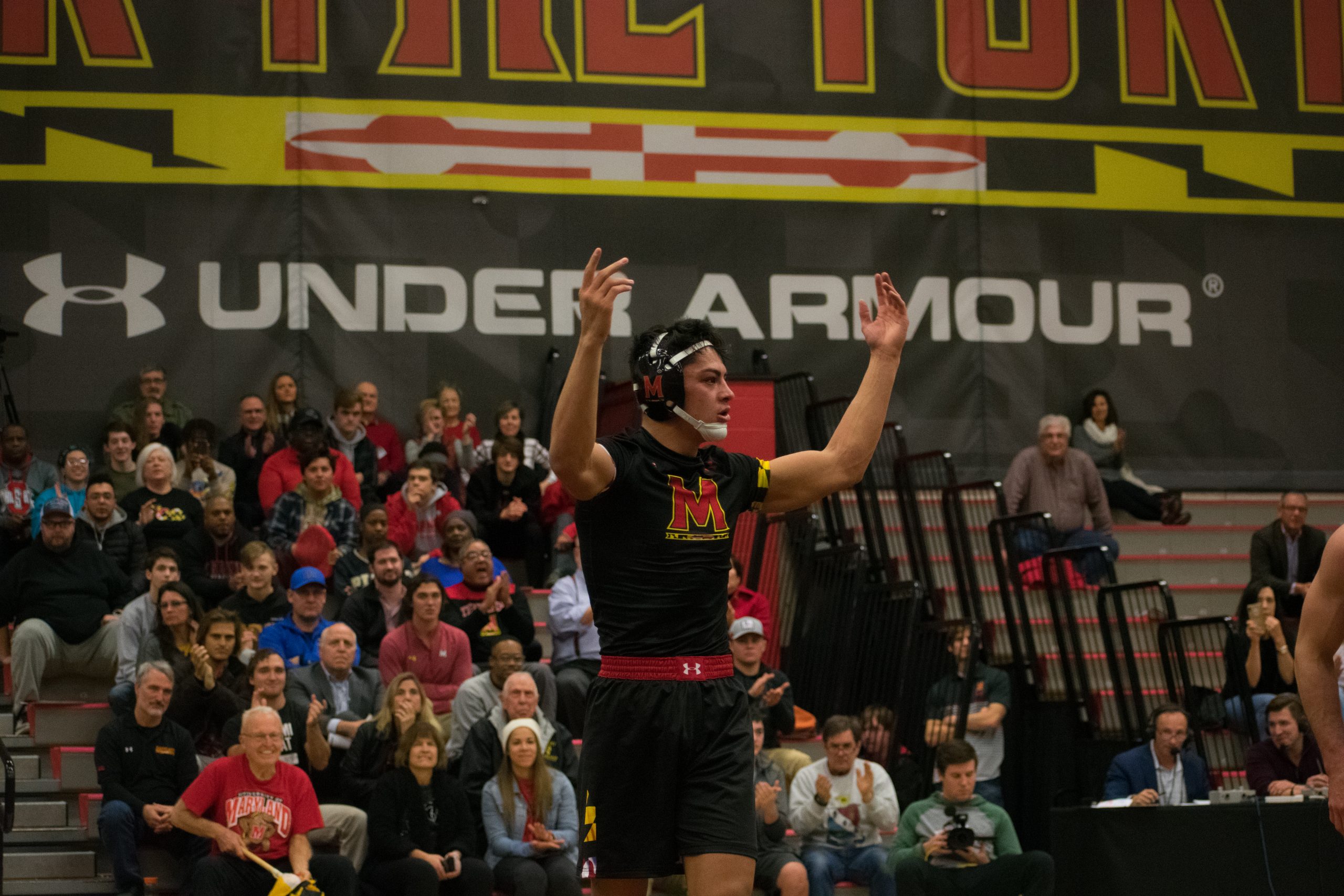 Michael Doetsch remembers the energy of the crowd during a home meet against University of Pittsburgh. He had earned a decision victory, and the crowd erupted.  
It was this moment full of adrenaline that stood out most to Doetsch. 
"It wasn't necessarily the win that I was hyped about," Doetsch said. "It was the crowd."
Doetsch started wrestling when he was six years old, following in the footsteps of his father, who had also wrestled in high school. He also played football but realized he was too small to keep playing.
"I absolutely love playing football, but I knew I was never going to have the size frame," Doetsch said.
As a wrestler, he wanted to get into a good college so that he could keep playing the sport. This convinced him to try harder in school, he said.
But if there is one thing Doetsch will miss about wrestling competitively, it's the relationship he had with his teammates.
"I'm going to miss being pushed that hard in workouts and stuff, being pushed to the brink of exhaustion," Doetsch said.
Now, Doetsch is focusing on the next chapter of his life, including getting his real estate license.
"It does suck, but I felt like it was time to move on," Doetsch said.