Art Attack kicked off Monday at the University of Maryland, with the annual art festival looking different due to COVID-19 restrictions.
In past years, Art Attack was a daylong outdoor festival with music, art and activities. This year, it's taking place on campus and will last until Friday. Activities are spread out throughout the day, and students are required to register for each event. Masks must be worn at all times, and a 20-minute limit is placed on the interactive art exhibit. 
Despite these restrictions, directors and organizers of Art Attack managed to schedule an action-packed week to engage students on campus and at home.  
Liv Brady, concerts director for the Student Entertainment Events, said the decision to make Art Attack a weeklong event was more about rekindling the environment of a campus community. 
"The campus has been through hell and back, with dealing with COVID regulations and dealing with just a lot of bleakness," she said. "We wanted to make sure that we supplied students with the chance to have fun and celebrate getting through this crazy year, which is why it became a weeklong festival."
[The European Super League tried to put fans last and no one bought it]
Monday's activities consisted of a do-it-yourself vinyl painting session, an interactive art exhibit and a comic book drawing class. The '70s theme was part of the larger weeklong decades-themed festival that will include outdoor movies, a talent show, games and dances. 
Brady said Art Attack's decades theme was inspired by SEE's 50th anniversary this year. 
"We've been around for a while, and we really wanted to commemorate that by going through the 50 years that SEE has been around," Brady said. 
Brady added she's particularly excited for the DIY events — a series of art projects students can participate in, such as vinyl record painting, tie-dye bandanas, sand art and making bath bombs. 
"DIY events in the past have been extremely successful because they're just very relaxing," she explained. 
The serenity of the campus on a beautiful spring day matched the calmness of Monday's Art Attack activities.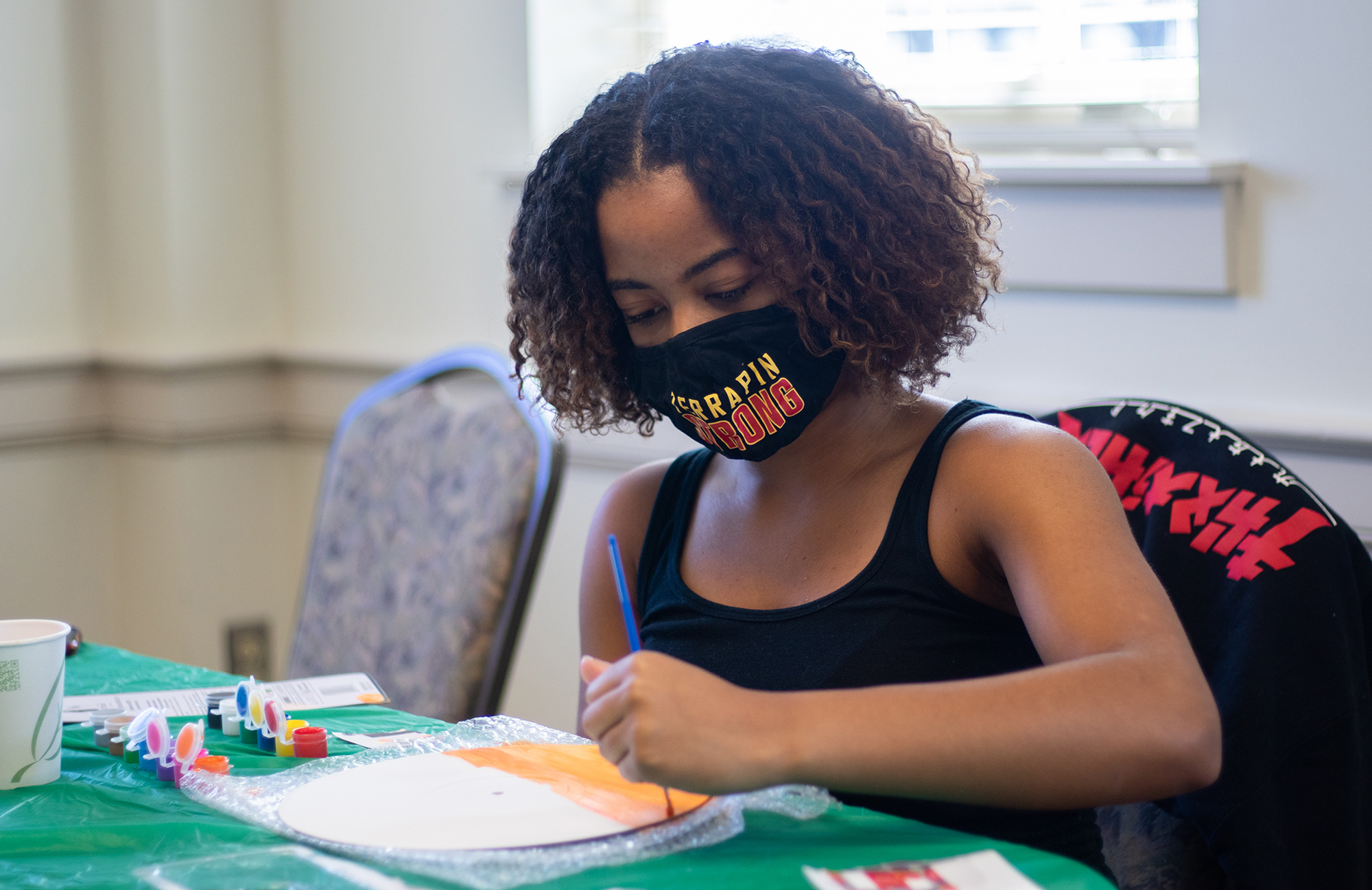 As the "Top U.S. Hits" playlist played on Spotify in a classroom at Stamp Student Union, two students quietly painted their vinyl records with the individual kits they picked up. 
"It's really relaxing because finals are coming up and school is stressful, but I'm painting," said freshman government and politics major Jordan Bellamy. 
Evan Cranmer, a freshman government and politics major who was painting with Bellamy, agreed. 
"I feel like with COVID there's been minimal events you can do in person. And also art is just a great way to express yourself and just kind of chill out," he said. 
['The Falcon and the Winter Soldier' addresses tough social and political issues]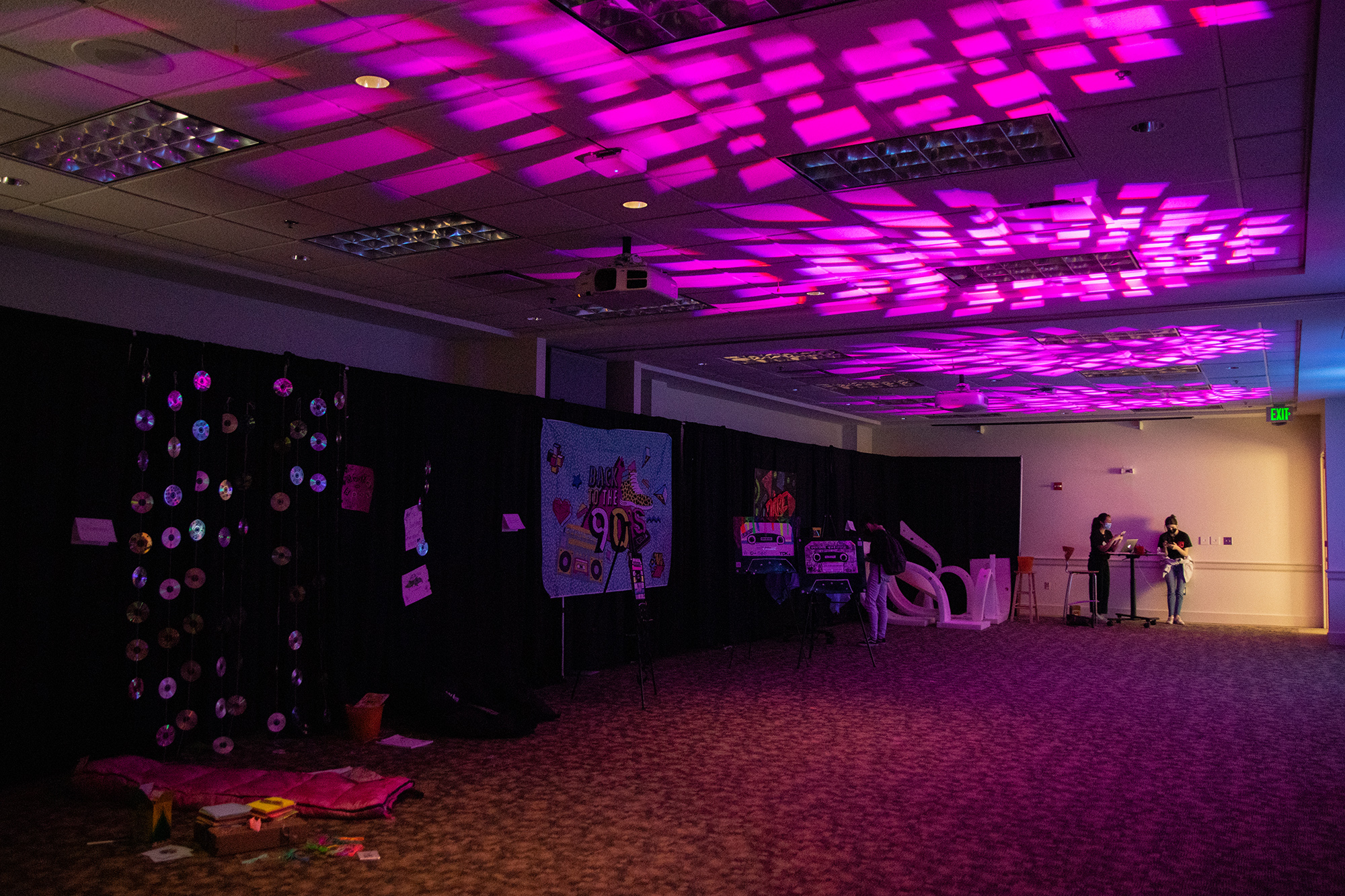 Walking through the interactive art exhibit, I noticed each piece of art represented a different decade as well. The darkened room was filled with LED lights with pieces lining the back wall. The quite accurate depiction of a sleepover in the 2010s caught my eye. It was surprisingly spot-on, complete with CDs, journals, a sleeping bag and a booth nearby with Taylor Swift's "Wildest Dreams" queued up.
The artwork that represented the '70s was an extravagant foam structure meant to represent the disco. Students who visit the exhibit can place stickers on the structure in order to represent the light of a disco ball. 
Senior studio art and computer science major Daniel Merkowitz-Bustos said it was difficult to come up with something that fit the '70s theme but was also interactive. Merkowitz-Bustos and his partner Reines Esguerra Maliksi threw around a few ideas before deciding on the foam structure.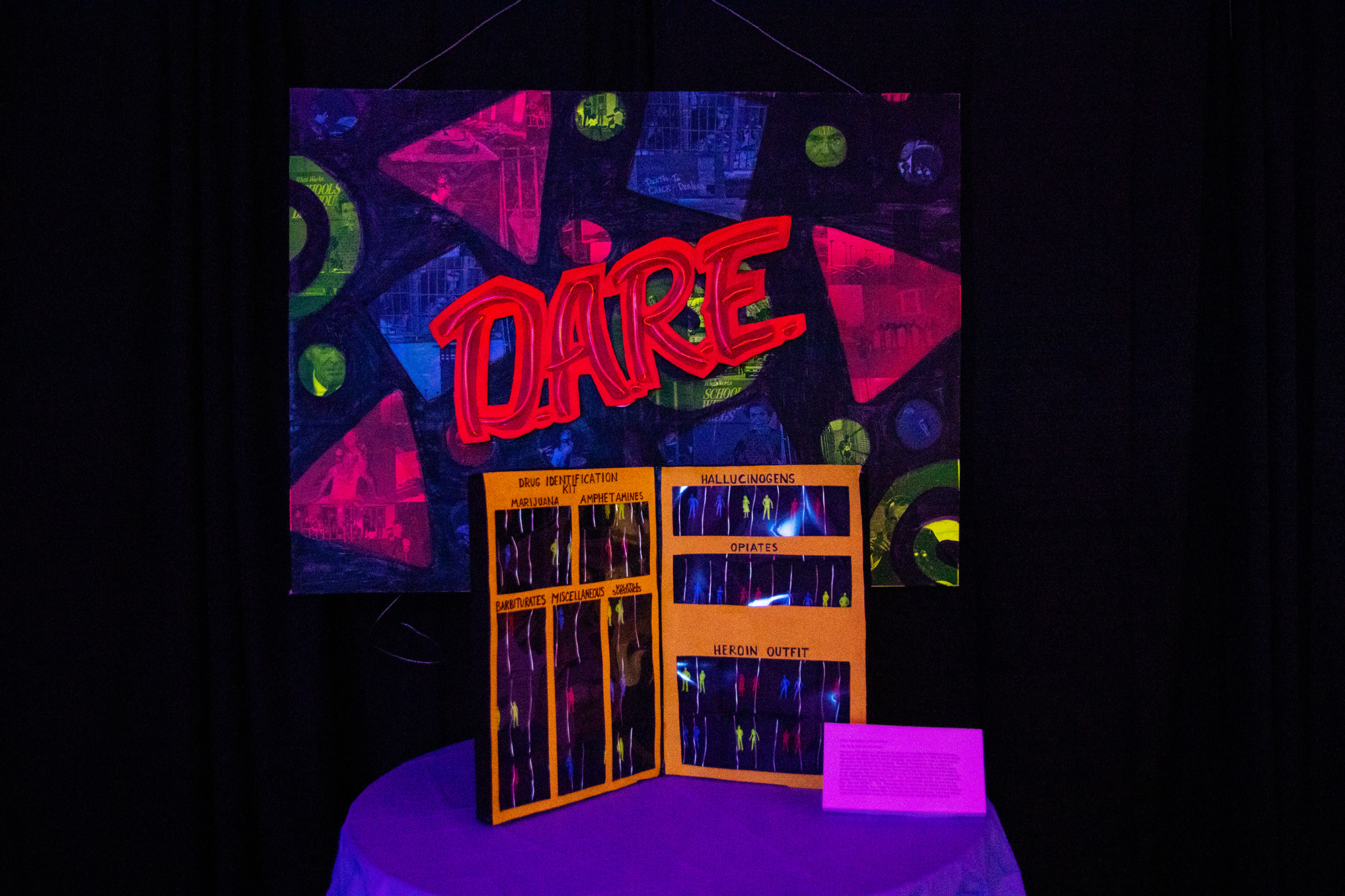 "We figured that we could tie that in with the 70s through the atmosphere of disco with a very fluid, almost dancey structure. And then stickers, which would bring the sort of sign of the disco ball," he said. 
Merkowitz-Bustos said he was drawn to the '70s because of disco specifically. 
"We just really thought it was kind of a very celebratory time and it was very fun. And we could really take advantage of those different aspects of that time," Merkowitz-Bustos said.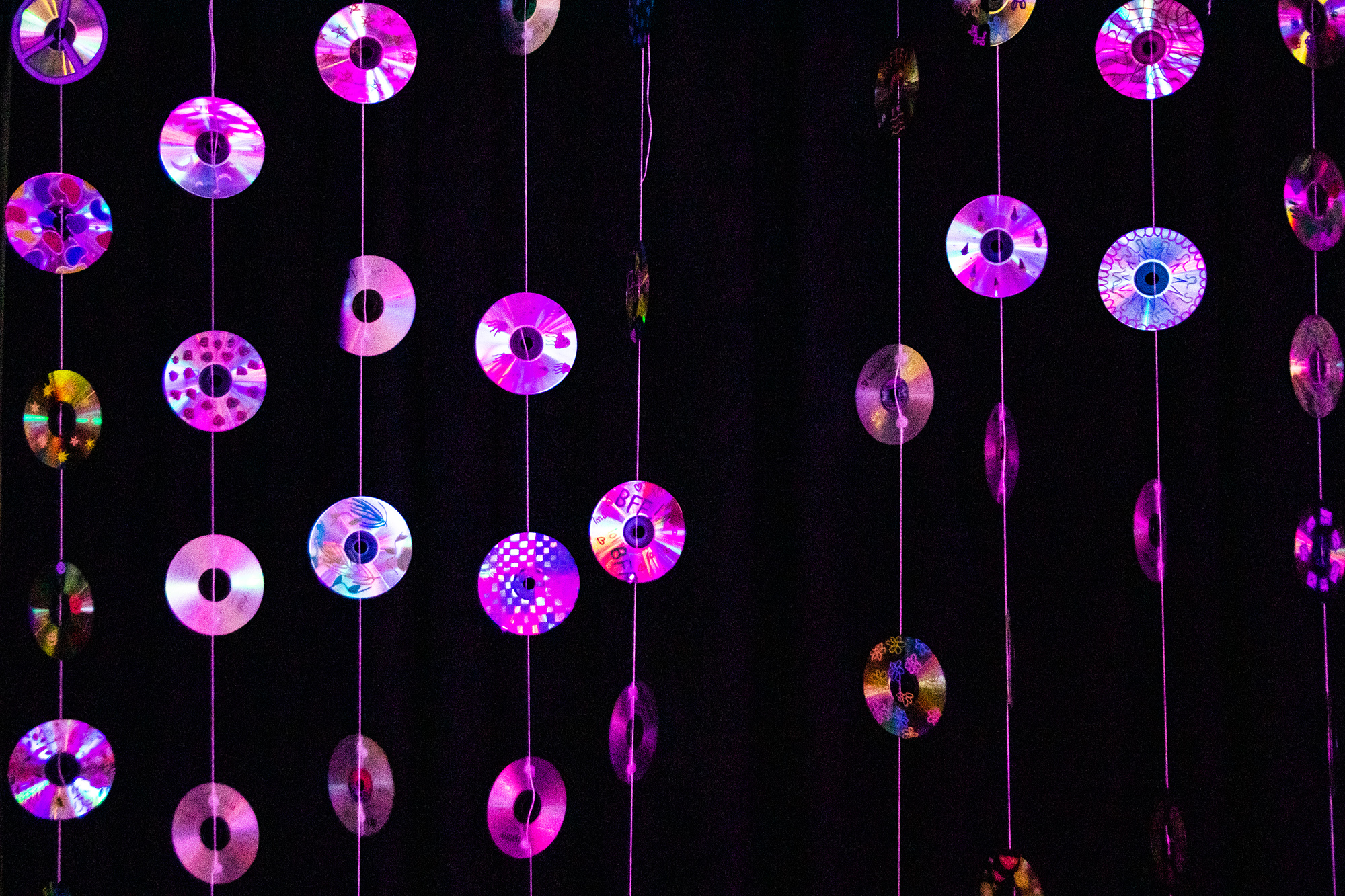 The hybrid comic book drawing class was held both on Zoom and in person and led by comic book artist Will Sliney. 
Sliney has worked on Marvel, Spider-Man, Star Wars and several other well-known studios. 
In the room, each student had their own table complete with a pencil, a journal and a small "Create Your Own Comic Book." The attendees both at home and in person listened closely as Sliney spoke about his journey to becoming an artist. 
"The beauty about comics is that anybody can create them. And if your story's good enough, you can go out there into the world, and affect the world," he said.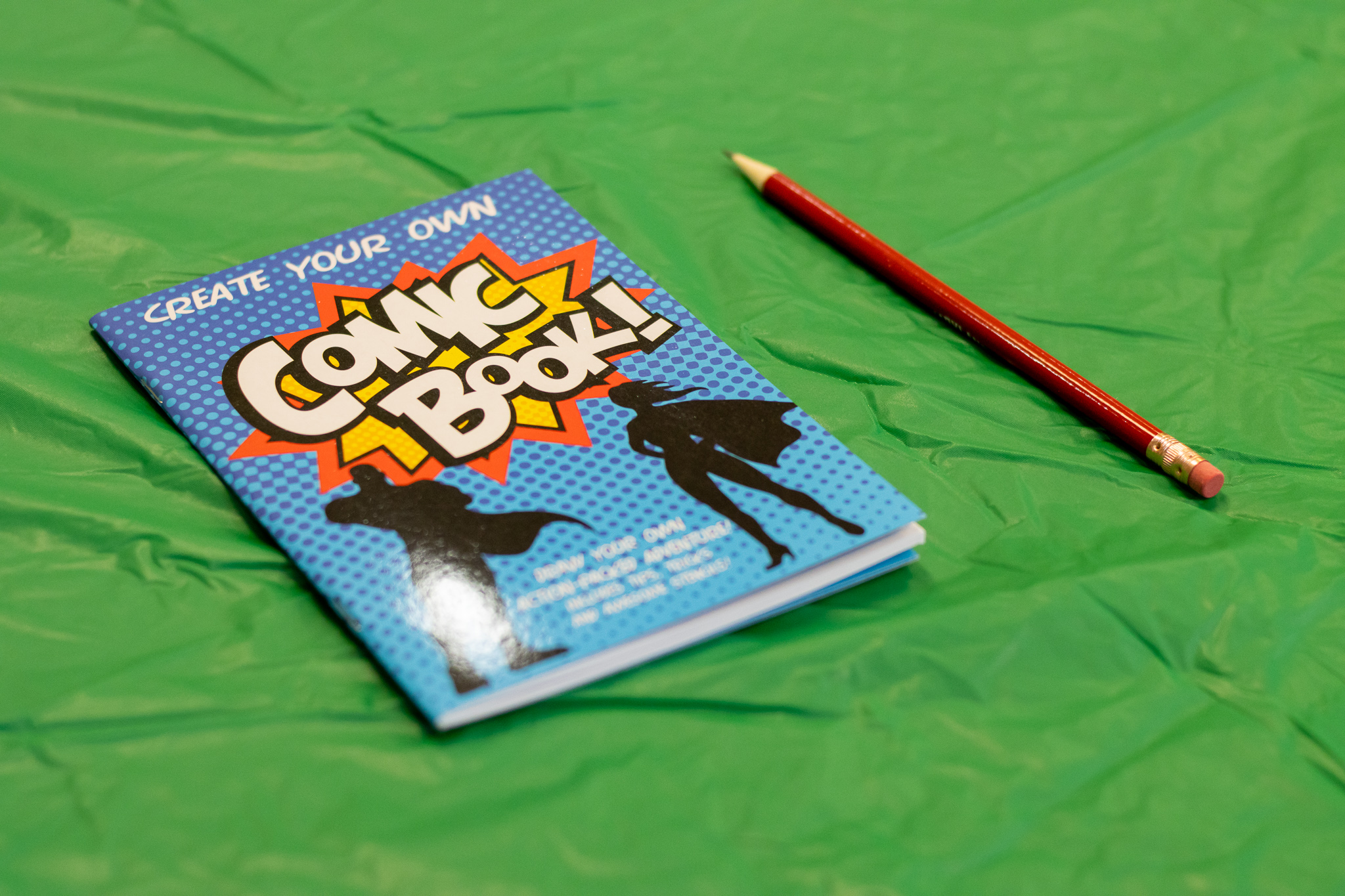 The rest of the week will be filled with activities emulating the '90s, 2000s and 2010s. Movies like Men in Black, Shrek and Avengers will be shown every night. Virtual events, such as games, will be available for students at home and Stamp will be filled for the rest of the week with classes and DIY projects. 
For more information on upcoming Art Attack events, visit SEE's Instagram.