At 4 p.m. on the day University of Maryland decisions were coming out, James Hubert Blake High School student Ella Jacobs was freaking out. 
The decision email was supposed to have arrived, but instead there was radio silence. The clock ticked on until 4:40 p.m., when Jacobs finally received the email she had been waiting for: she had not only been accepted into this university, her top choice, but also into the Honors College. 
"When I opened it, I just screamed with joy and ran around my living room and hugged my mom," Jacobs said. "I was so relieved I got in, and happy of course, because this is something I've imagined for a long time."
Over the course of the coronavirus pandemic, the college application process has gone through major changes. This university joined the Common Application on top of MyCoalition and implemented a test-optional policy amid widespread SAT and ACT testing scheduling difficulties. This university has since announced it will keep the test-optional approach for the spring and fall semesters of 2022 and 2023.
Under these changes, the University of Maryland brought in a record 50,000 applicants for this coming fall — including historic highs of Black and Latinx applicants, according to a Monday campuswide email.
[It's been a year since most UMD classes moved online. Here's how students are handling it.]
"More than a million students use Common App each year, and I think it just made it easier for students to consider the University of Maryland," said Shannon Gundy, director of undergraduate admissions.
However, for some students applying to this university, the road to acceptance was still anything but easy.
Alycia Wong, a senior at Dulaney High School in Baltimore County, said that even though the university was test-optional, the general consensus among her classmates was that it would still be better to submit a test score. But the first time Wong scheduled an SAT, it was canceled a week before the test. Her second test was canceled the night before. 
"Everyone was telling me that they were driving to Pennsylvania to find a test which I just did not want to do," Wong said. "I was going to but then I found a place 30 minutes away in Columbia, Maryland and I was able to take my test."
And yet, by the time Wong had to submit her applications, her test scores hadn't come in. So she wasn't able to send them to this university when she applied.
Matt Landsman, a New York native who is planning on majoring in journalism at Maryland, also struggled with SAT scheduling. His planned SAT test was canceled four times, and he wasn't able to get a test score. 
Instead, he said he made sure his GPA and extracurriculars were solid to make up for the lack of test scores. 
"I feel like it was the smartest decision for me instead of going into a place where they're taking SATs in the middle of a pandemic," he said. 
[With campus COVID cases on the rise, UMD community sounds off on sequestering order]
Like Landsman, Clinton Kobe, who goes to high school in Upper Marlboro, didn't submit a test score. He took his first SAT his junior year and wasn't satisfied, so he decided to try and take it again this year. But because of the lack of test spots, he didn't submit any.
So, Kobe would constantly check his grades to make sure they were up to par. But the essay also stressed him out. 
"My essay took a long time to write," Kobe said. "That's probably the most time I've invested in an essay, just trying to discover myself."
Other than standardized testing, Jacobs added that the all virtual environment just complicated the process. Her college and career counselor quit, she said, so she had to rely on the new counselor who was still learning everything — which made it difficult to keep up with deadlines. 
Landsman also mentioned that the lack of face-to-face contact made it hard to get letters of recommendation from his teachers. Without the ability to waltz into a classroom and ask for recommendation, Landsman had to constantly email his professors, who had their own difficulties adjusting to virtual learning. 
"I didn't get [the letters] until senior year, but mine came just in time from when I was applying to colleges," Landsman said. 
Despite the challenges, prospective students say there is joy in getting accepted and lots to look forward to.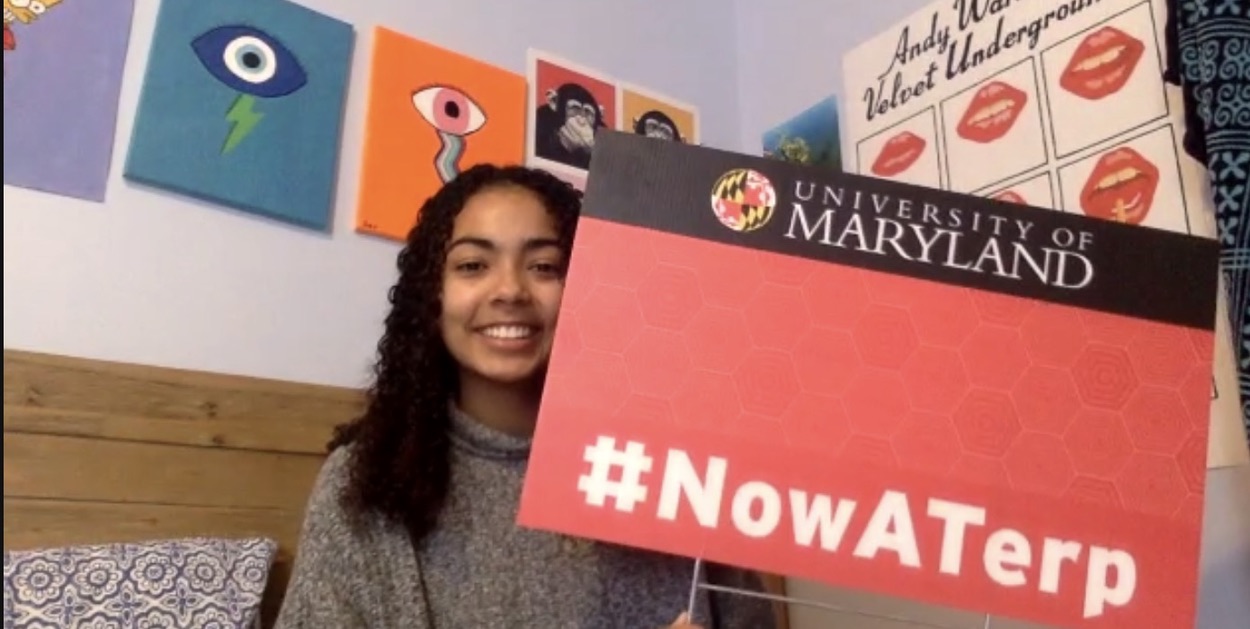 Savanna Sikorski, who lives in Danbury, Connecticut, read her acceptance letter three times when she got it. Though she's nervous about finding a roommate, she's excited to experience college life.
Landsman is also excited for a new place with new people and a chance to start over. Jacobs is looking forward to freedom and independence.
Wong, who said she is coming from a school that lacks diversity, is excited to be with a more diverse group of individuals — regardless of what school she decides to attend come decision time in May. "It's a little scary to voice opinions sometimes," Wong said. "At college, that won't exist and you'll just be in like a melting pot of people and ideas."