By Natalie Drum
For The Diamondback
Personal protective equipment has been in high demand during the coronavirus pandemic — and in Prince George's County, many small businesses have been using their materials to assist with the demand for almost a year now.
AwardsPlus, an awards manufacturing company in Clinton, had to shut down its showroom in March 2020 when Maryland Gov. Larry Hogan ordered all nonessential businesses to close.
Patty MacCrory, owner and president of AwardsPlus, wanted to do something with the equipment she still had.
"I can't just sit at home and do nothing," she said.
Since late March, AwardsPlus has been producing face shields, masks and desk barriers for Maryland hospitals and businesses.
Shortly after transitioning into PPE production, AwardsPlus received the Maryland COVID-19 manufacturing innovation grant, which helps pay for the manufacturing of masks and face shields, MacCrory said.
AwardsPlus was able to make 20,000 face shields from mid-April through mid-June with support from the grant, MacCrory said, which also allowed the business to double its staff. They chose to hire college students, she said.
"That was the best part of this whole thing," MacCrory said. "Being able to hire young people who were so passionate and desperate to do something to help and seeing how proud they were of what they were doing."
Now, manufacturing PPE makes up about 15 percent of AwardsPlus' business. The company distributes the equipment to Doctors Community Hospital and Anne Arundel Medical Center. But the business has still struggled, MacCrory said. Her company operates at a loss each month, she said, and at the end of 2020, sales were down 25 percent.
"It will take 3-4 years to pay off the debt incurred to keep the business operating during this past year," MacCrory said.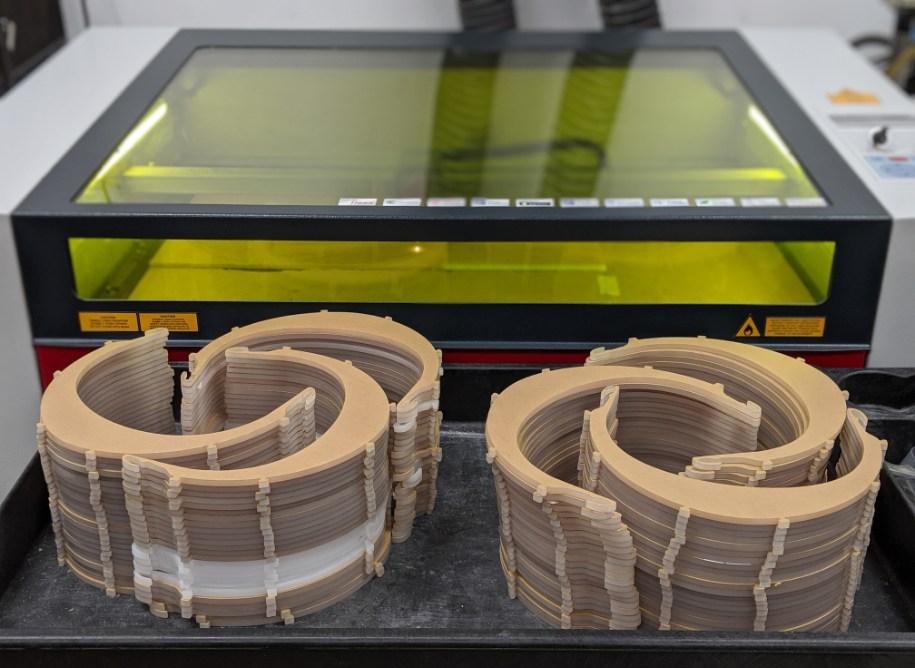 Jim Hull, owner of Marked Promotions — a screen printing, embroidery and promotional products company in Fairwood — said his business was motivated to pivot toward PPE production to stay in business and keep its employees.
In mid-March, Marked Promotions' usual business stopped, Hull said, but since then, they have supplied masks to schools, universities, hardware stores and lumber yards, among others.
As long as there is a market for PPE, Hull said, the business will continue to sell it. He hopes that once COVID-19 is under control, Marked Promotions will be able to transition back into its usual line of business.
Marilyn Johnson, founder and CEO of Marilyn Johnson Sewing Design Studio in Laurel, has also been manufacturing PPE through her company.
Near the beginning of the pandemic, Johnson said the city of Laurel ordered 200 masks from her. She fulfilled mask requests from several nonprofits, too — sometimes for a significant discount and sometimes for free.
After she researched fabrics and effective mask styles, Johnson said she worked out a way for her staff to come off of unemployment and work at least part-time to help make masks.
[With campus COVID cases on the rise, UMD community sounds off on sequestering order]
Since then, Johnson has been able to keep her staff employed, though with fewer hours, she said. But as larger companies have begun fulfilling the demand for PPE, her mask orders have declined.
"Since June, I have probably only sold 10 or 12 masks and before that … between March and June we sold well over 1,000," Johnson said. "It really pulled the rug out from under businesses like mine."
For Johnson, producing PPE was a way to keep her business alive.
"It was a way of keeping my staff employed, keeping them still connected to the studio and making them feel like they were doing something positive to help us get through this," Johnson said.
Cecily Habimana, co-founder of Sew Creative Lounge — a sewing school in Mount Rainier that has been producing masks during the pandemic — said she has also seen a recent decline in sales.
[Prince George's County pauses first dose vaccines through Monday due to shipment delays]
Habimana started making masks in April after closing her business in early March, she said, because as soon as masks were mandated, there was no way for people to find them.
"I brought back all of my staff, all of the seamstresses that work with us and we basically just started making masks from that point," Habimana said.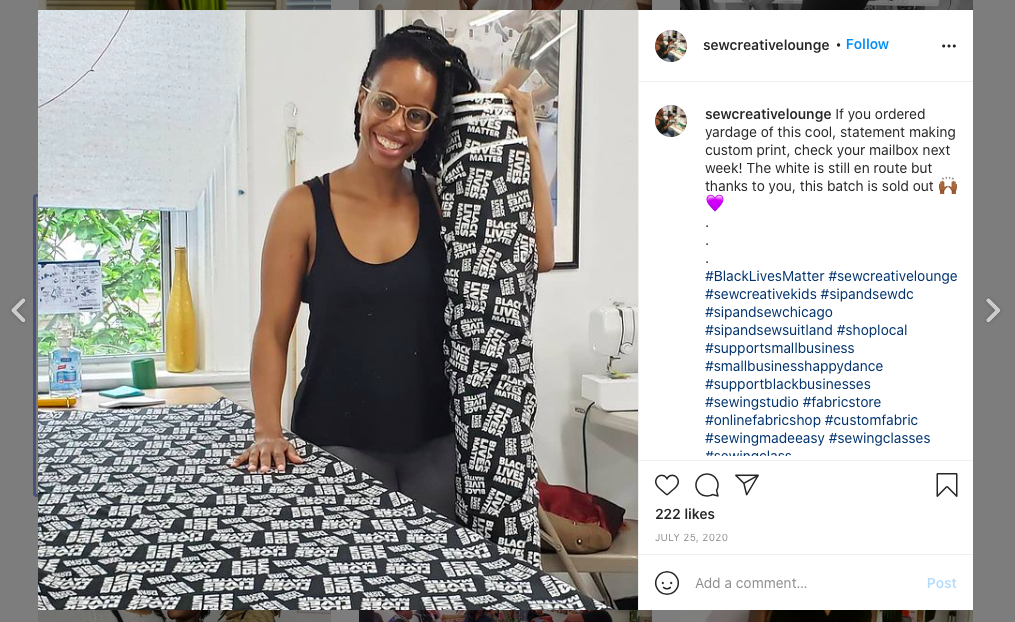 Most of the masks Sew Creative Lounge produced were sold to consumers, but some were donated to Prince George's Hospital, where many went to the maternity ward, Habimana said.
Before the pandemic, Sew Creative Lounge made the majority of its sales from sewing classes, but now, most sales come from selling retail fabric, Habimana said.
The once 40-person sewing classes now only accommodate eight people, Habimana said, but she hopes to increase capacity in the fall.
"We just don't have the space or are not allowed to have the numbers we had before," Habimana said.
Johnson said she remains optimistic despite the challenges small businesses like hers face with both their operations and their PPE sales and production.
"I am hopeful, we have made it through before, but it's kind of scary right now," Johnson said. "We have come through tough spots before, we can do it again. I'm not giving up."