Para leer este artículo en español, haga clic aquí.
It's been two months since the state of Maryland started rolling out the COVID-19 vaccine. The rollout has been lengthy, and only 4 percent of Prince George's County residents and workers have received the first dose of the vaccine — the least of all Maryland jurisdictions.
To facilitate vaccination appointments, the state of Maryland has created three phases to determine when people can get the vaccine, with specific requirements as to who fits in each category. 
Relying on the Moderna and Pfizer vaccines, the county has administered 36,897 units of the first dose and 7,889 units of the second dose. 
But some questions still remain: What do I need to know about getting the vaccine in Prince George's County? What do I do when it's my turn to get the COVID-19 vaccine? And when will it be my turn? Am I even eligible to receive it in the county?
Here's what you need to know about the COVID-19 vaccine in Prince George's County:
The big picture
More than 1,000 shots are administered each day, according to Ernest Carter, the county's health officer, at two clinics located at the Sports & Learning Complex and the Southern Regional Technology & Recreation Complex. 
But Prince George's County is the second-most populous county in Maryland, making the current vaccine rollout comparatively slow. The county remains the most affected by COVID-19, with more than 70,000 confirmed cases, according to the county's coronavirus dashboard.
The phases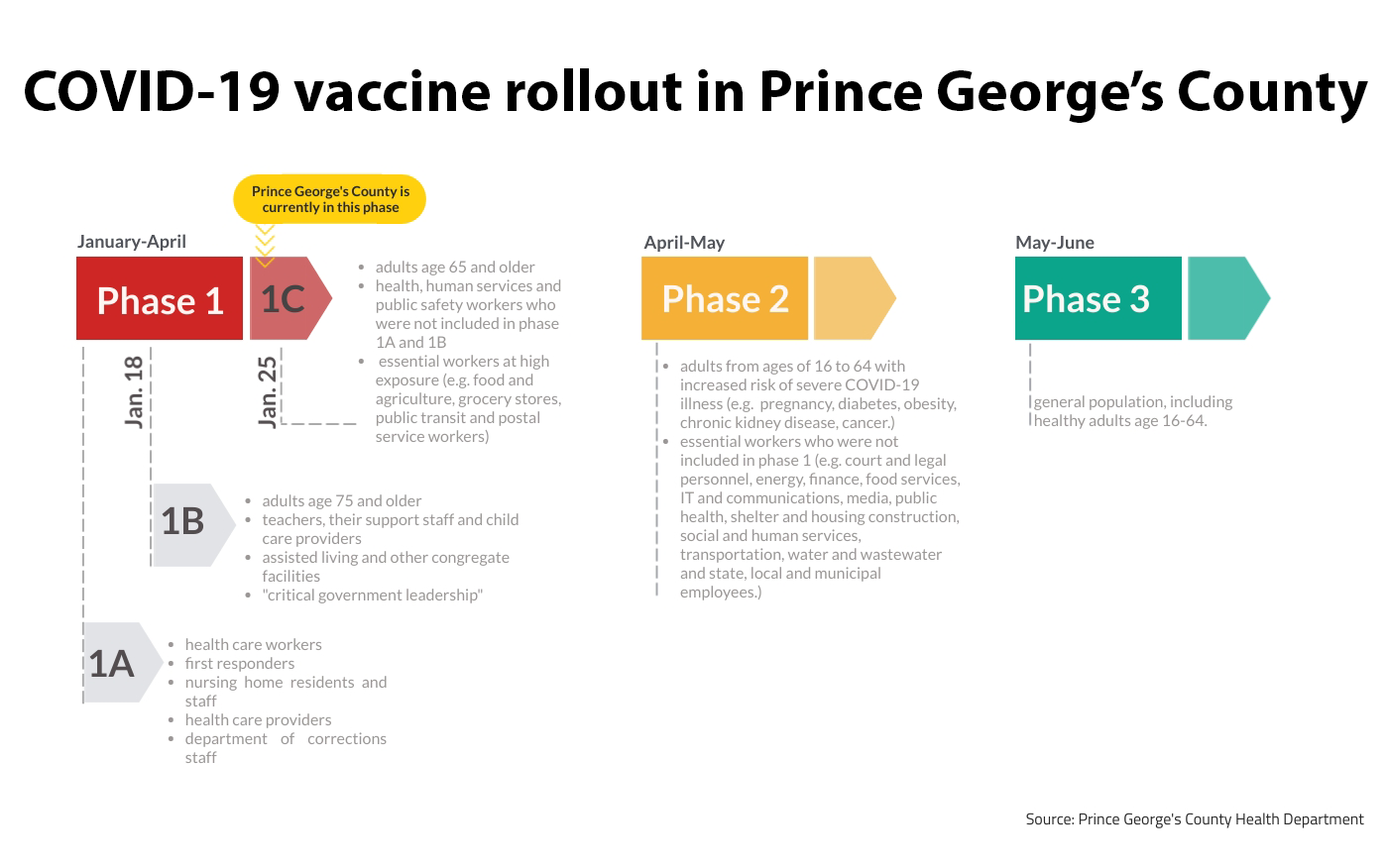 For those who fall under vaccination categories Phase 1A, 1B and 1C, appointments are already underway.
Phase 1A includes hospital and frontline health care workers and providers, residents or staff of nursing homes, correctional staff and first responders. Phase 1B includes those in assisted living or group homes, adults who are 75 and older, those who work in education and essential government employees.
Phase 1C covers adults between the ages of 65 to 74, health and human services and public safety employees not included in Phase 1A, and essential workers with high risk of exposure, such as grocery store workers.
[Dr. Anthony Fauci fields COVID-19 questions at Prince George's County webinar]
The county could remain in Phase 1C until April, according to the county's website, though the reason is unclear. 
The next phase will be Phase 2, incorporating individuals who are 16 to 64 years old with pre-existing medical conditions, essential workers who were not covered in Phase 1C and remaining government employees.
Then around May, Phase 3 is slated to begin, which is when the general population can start to make appointments to receive the vaccine.
Currently, the University of Maryland does not have any vaccines on the campus to distribute to students and staff, according to a campuswide email from Spyridon Marinopoulos, the health center director. Some employees at the university, however, are able to receive the vaccine if they are teaching an in-person class or deemed as "essential" workers.
If vaccines are available, Prince George's County is offering vaccines to employees at the university, Marinopoulos wrote in the email.
Where to get vaccinated
There are currently two clinics open for vaccination appointments in the county: The Sports & Learning Complex, located in Landover, and the Southern Regional Technology & Recreation Complex in Fort Washington. 
Vaccination appointments are also available at select Safeway and Giant Food locations across the county. Some medical centers are also offering vaccines, such as the UM Capital Region Health Medical Center. 
Additionally, the Six Flags America in Bowie became a mass vaccination site on Friday, according to a statement from Gov. Larry Hogan.
Eligibility and signing up for a slot
As of now, the county is only accepting appointments from residents and those who work in the county, after Marylanders from outside jurisdictions traveled to Prince George's County to receive a vaccine. The incidents raise concerns about a shortage of appointments for those in the county.
"We're making sure that residents have first access to this life-saving vaccine and are not in the back of the line," County Executive Angela Alsobrooks said. 
COVID-19 shots are free for all who live and work in the county. Eligible people seeking a vaccine can complete a pre-registration form, and when appointments are available, the county's health department will send an email with instructions on how to make an appointment to receive the first dose. 
[County cancels nonresident COVID vaccination appointments to prioritize Prince Georgians]