With the clock ticking toward zero and Maryland men's basketball's lead shrinking to just one, the Terps were in need of a savior in Jacksonville.
And as the ball caromed and bodies spilled on the floor deep into Maryland's NCAA tournament matchup with Belmont on March 21, 2019, it was Jalen Smith who answered the call: the then-freshman darted to the rim, a wiry flash looking to make an impact.
Then, he soared, leaping beyond the outstretched grasp of Dylan Windler to slam a Darryl Morsell feed through the hoop — sealing a momentous victory for the Terps.
Smith's dunk encapsulated so much of what he brought to Maryland during his two-year stint in College Park, a bespectacled sparkplug who carried the Terps on both ends of the court. And on Thursday, the Baltimore native reached the pinnacle: The Phoenix Suns selected Smith No. 10 overall in the NBA Draft.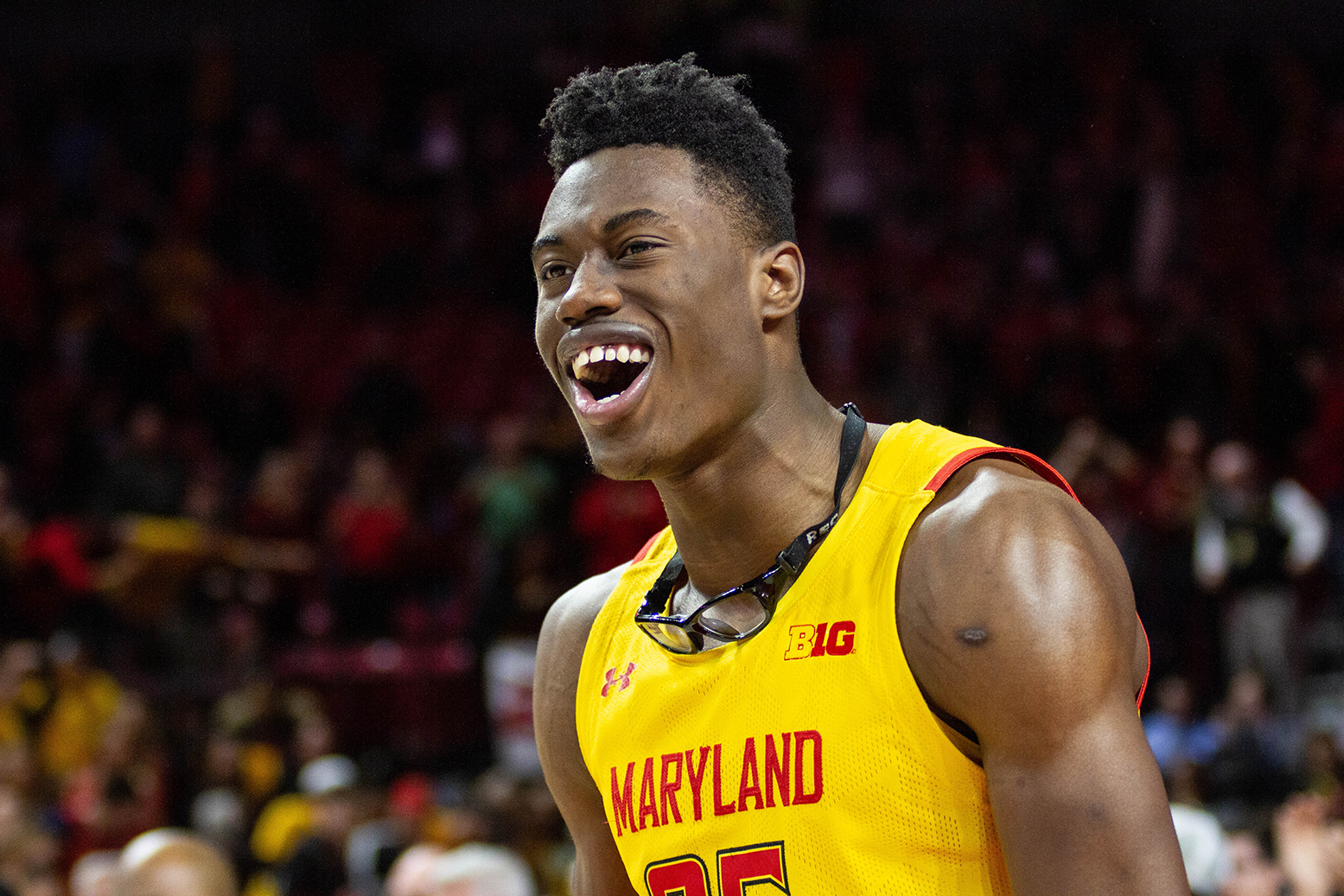 The moment was a long time coming for Smith, a former five-star recruit who came to College Park with heightened expectations: he was only Maryland's third McDonald's All-American since 2003.
Smith showed signs of his potential as a freshman, striking a far more imposing figure than his lithe 6-foot-10 frame would indicate on defense, while providing a steady — and versatile — skill set with the ball in his hands.
Smith averaged 11.7 points, 6.8 rebounds and 1.2 blocks per game in 2018-19. It was in tournament play when Smith took the next step, however. His leap to the rafters against Belmont was the highlight of a 19-point, 8-for-9 display in which Smith paced the Terps while Anthony Cowan struggled. And in Maryland's follow-up game against LSU, Smith was a force in the paint, swatting five shots away as the Terps fell just short of a Sweet Sixteen berth.
Bolstered by his tournament exploits, Smith went to work. He shed the lankiness that had come to define his game, adding 35 pounds to his frame.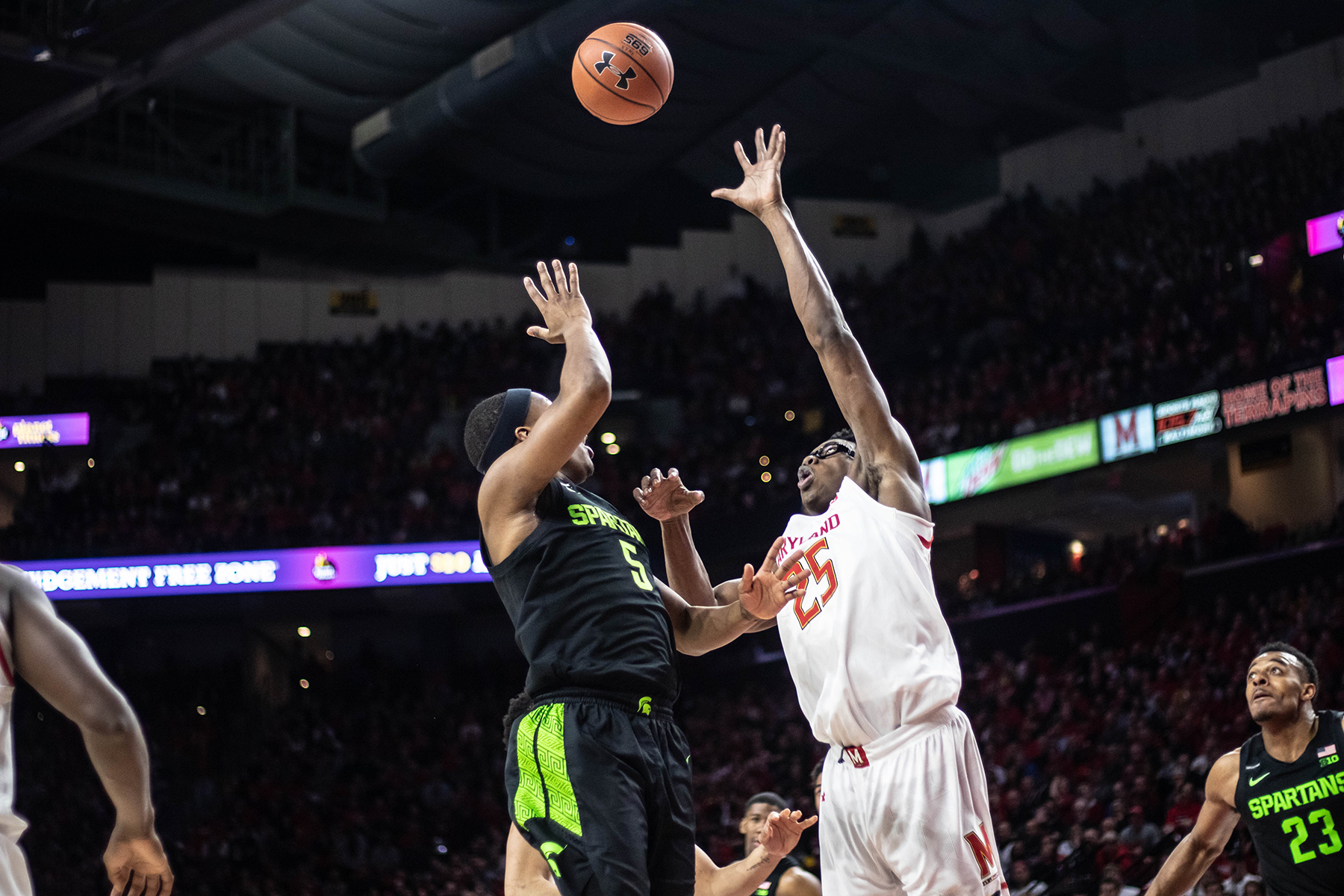 [Maryland basketball forward Jalen Smith turned his hatred for losing into motivation]
Smith's game evolved, too. Once a streaky shooter, the sophomore refined his stroke. Soon, he became a legitimate threat from beyond the arc, slotting away three-pointers at a respectable 36.8 percent clip.
That athleticism and mobility remained, though. Thunderous finishes on the fast break and emphatic blocks were all the more common, his added strength making him more impervious to contact. Soon, Smith's averages perked up — this time to 15.5 points, 10.5 rebounds and 2.4 blocks.
And although Smith wasn't able to show off his growth in last year's NCAA tournament, the Baltimore native established himself as a star in College Park, earning himself some hardware in the process — a share of the Big Ten regular-season title. He also received numerous awards and honors: Third Team All-American, First Team All-Big Ten and a top-five finish for the Karl Malone Power Forward of the Year Award, among others.
And now, Smith has reached the zenith. It's a journey that has taken longer than he would've expected when he first declared for the draft, as the coronavirus pandemic pushed the draft back to November.
But now, Smith's finally among the giants — another Terp set to make his bow in the NBA.