The voice could be heard from a street away.
The melody it carried soared through the early evening light of downtown Washington, D.C., hovering over city blocks that were crowded with the people who had not wanted to mark this moment alone. Waving signs, they laughed and danced in the middle of the street. And at the intersection from where the music was emanating, they swayed from side to side, cheering as the young man standing before them belted notes that reached impossible heights.
Jennifer St Sume, a third-year doctoral student at the University of Maryland, didn't know the young man at the center of attention. But there she was, a blue plastic bucket lifted high above her head as she waded through the sprawling circle that had gathered around him. She had seen others collecting coins for street musicians and thought it was a nice thing to do.
When she heard that Pennsylvania had flipped blue for Joe Biden, pushing him just over the edge to be projected as the United States' 46th president, St Sume had been at home in Mount Pleasant, Washington, D.C. Right away, she said, she turned the music up and started dancing. That's what her mom and brother have been doing all day, too, she said. Singing, dancing, screaming, celebrating.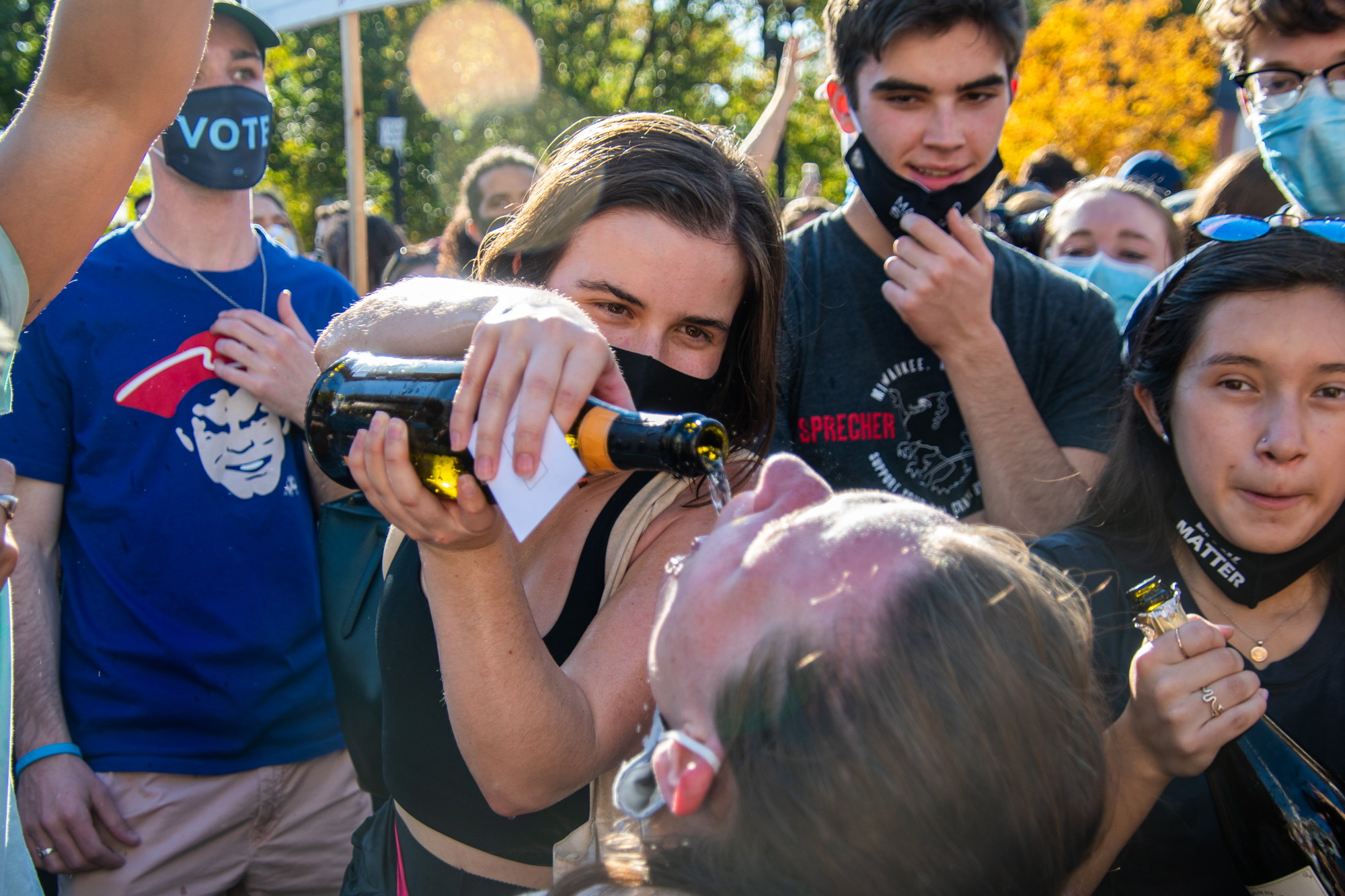 "Deep down in my soul, in my spirit … We have to thank Black women," said St Sume, a first-generation Haitian American. "We have to praise Black women across the globe, specifically in North America, specifically in DeKalb, in Cobb County, in Atlanta … in Philadelphia, in Pittsburgh, in Nevada, in Los Angeles, in Arizona."
"I think," she added, "what happened is you're seeing a new electorate — an electorate that's going to drive us forward."
Spontaneous celebrations broke out all across the country Saturday morning as people rejoiced in the victory of Biden and Kamala Harris and in the defeat of Donald Trump. In front of the White House, one man scaled a traffic light pole to spray bottle after bottle of champagne over the gathered crowd. Traffic jams clogged the city's streets, but people were beaming as they laid on their horns. Some hung out of their sunroofs, waving American flags. One man leaned out of a car window, banging a wooden spoon against a frying pan.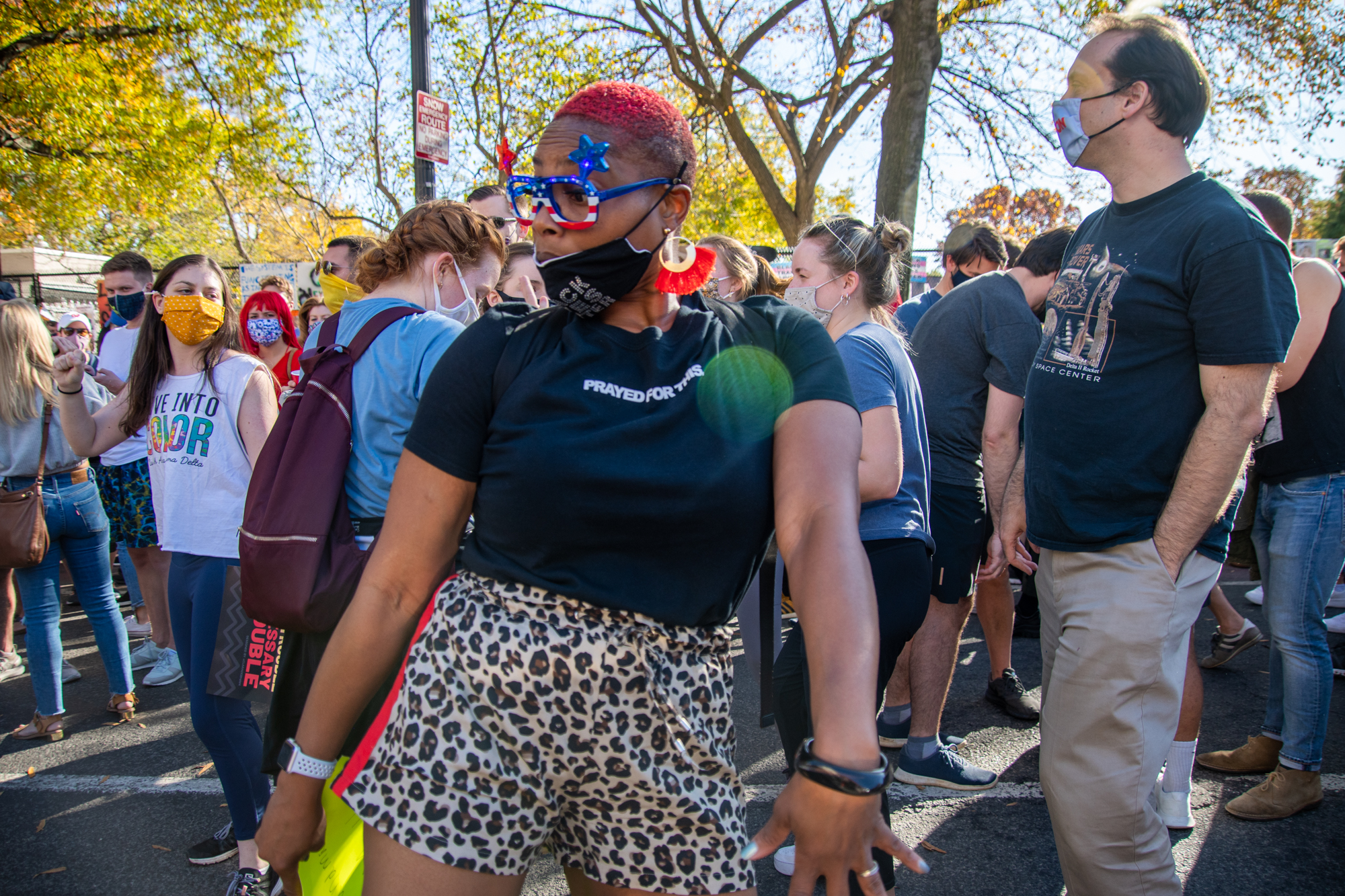 In comparison, the main thoroughfare in College Park was relatively quiet on Saturday afternoon. A group of college students in one car rolled their windows down to let the sunshine in, music pounding from the stereo. Laughing, smiling, they started up a chant as they turned onto College Avenue: "Fuck Donald Trump! Fuck Donald Trump!"
But, of course, not everybody was pleased by the outcome of the five-day-long election night. The Trump administration, which has continued to make baseless claims about widespread voter fraud, has filed lawsuits in states including Nevada, Pennsylvania, Georgia and Michigan. Some students expressed doubt the president would ever concede to Biden.
Tony Proulx, a junior mathematics and secondary education major at this university, voted for Trump by mail. However, he said he wasn't surprised by the president's loss. He also said the thought of a Biden administration doesn't make him angry or upset.
"Now, it's time to move forward and look toward the future. It is time to look forward and see what we can get done as a country," said Proulx, president of this university's Young Americans for Freedom chapter. "Joe Biden, you have four years in office, in your first term. Prove me wrong about me not voting for you. And I hope you do."
In all, more than 71 million people voted for Trump, over eight million more than did in 2016. And, according to preliminary estimates from exit polls conducted by Edison Research, over half of white voters supported the president for a second term.
To St Sume, this means that over 70 million people voted for 230,000-plus deaths from COVID-19 and for nonconsensual hysterectomies allegedly forced upon those held in detention by U.S. Immigration and Customs Enforcement. And the country, she said, can't escape that reality.
As she spoke, a single-file line of Metropolitan Police officers walked past her. She counted them out loud as they passed: 20, 21, 22, 23, 24 officers heading to an area that doesn't need protecting, she proclaimed. 29, 30, 31, 32, 33, 34 officers who were never asked to protect the White House, she said — a building, she added, which doesn't need protecting.
She was shocked — disappointed — by the presence of law enforcement amid a peaceful celebration of democracy. This, walking past her, she said, was the remnants of the legacy of Jim Crow and white supremacy.
"What are you all protecting? Who are you all protecting?" she called after the officers. Nobody answered her.
[One for the history books: Local voters cast ballots at UMD on Election Day]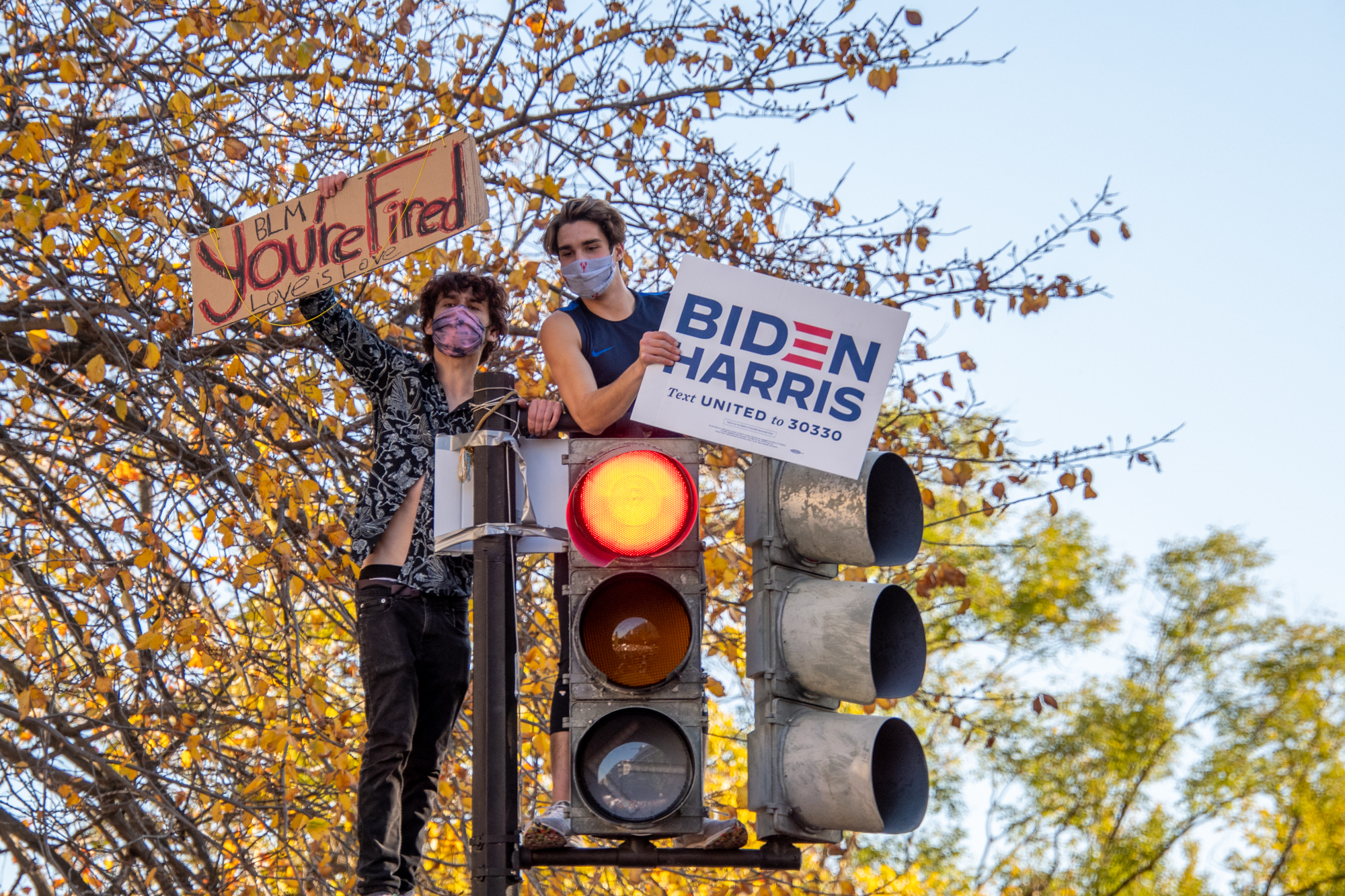 The following afternoon, the university's campus remained relatively peaceful. On McKeldin Mall, students leaned against oak trees, books propped up against their knees. 
Lily Hagopian, a freshman public health science major, sat with three friends, all of them stretched out on blankets. They had all been in the same Elkton Hall dorm room when Pennsylvania had been called the previous day. Hagopian said she cried.
She tries to move about the world with kindness and empathy, she said, and wants her leaders to demonstrate the same values. She's also the granddaughter of Portuguese immigrants, and she is immunocompromised with a number of preexisting health conditions.
"So, to feel like the administration didn't care whether sick people like me lived or died?" she said. "The only thing I could do to prevent that is to vote. Which I did. And was very vocal about doing so."
What she wants over the course of the next four years, she says, is peace. The country is so divided right now, but she has hope that under a Biden presidency, it will begin to heal.
And, her friend, Alexa Stimpson, added, it won't hurt to have a president who acknowledges climate change and treats people like human beings.
Across the mall, sophomores Laila Ghorab and Dalya Oskay sat with their backs pressed against a brick wall, sipping on bubble tea. They said they'd both been glued to CNN since Tuesday. And when Biden was declared president-elect on Saturday, they'd rejoiced at the news.
When Trump was first elected in 2016, Oskay was living in Turkey, her birth country. She was devastated. And when she came to America, she said she saw corruption and racism everywhere — things she had thought the country had a handle on. It felt like things were moving in reverse, she said.
"So when I voted this time and saw this change, I'm just expecting to live in a country [that I learned about] in history and I know," Oskay said. "So I want unity and less aggressive actions and policies toward people."
Back in D.C., St Sume said it made her sad to think that the world had watched as more than 70 million people kept the country waiting, by the skin of its teeth, to see whether it believed in freedom and human dignity.
We deserve better, she said. We know we deserve better.
"And," she went on, "I think — I hope — that we build better."
Then, shrugging her backpack on, she walked back into the gathered crowd. By this time, the sun had almost completely set, and the sky was nearly dark.
But on the city streets, singing, laughing, dancing, the people had not yet left. They were going to stay for a while.
Senior staff writer Clara Longo de Freitas contributed to this report.