Written by Angela Roberts, with reporting from Julia Nikhinson, Khushboo Rathore, Christine Zhu, Eric Neugeboren, Jack Hogan, Clara Longo de Freitas, Clara Niel, Rina Torchinsky, Taneen Momeni and Angela Mecca
Staff writers
Minutes before polls closed for good in the state of Maryland, it was quiet at the University of Maryland's Xfinity Center. Street lamps cast a fluorescent glow onto sidewalks that had been bustling with a steady flow of first-time and veteran voters just hours before.
Then, the clock struck 8 p.m. Sixty seconds later, the Associated Press had called the state for former Vice President Joe Biden.
It was a breakneck resolution to a long day, jam-packed with apprehension, nerves and excitement for College Park and Prince George's County voters. With little ones on their hips, surgical masks across their noses — and, for one Hyattsville man, a baby raccoon in his car — they made the trek to the university's campus to exercise their right to vote. As they cast their ballots, they were thinking of the hundreds of thousands killed by the coronavirus pandemic and the faltering economy. They remembered the slurs hurled at them after President Donald Trump's 2016 election, and some wondered what the future will hold for their children.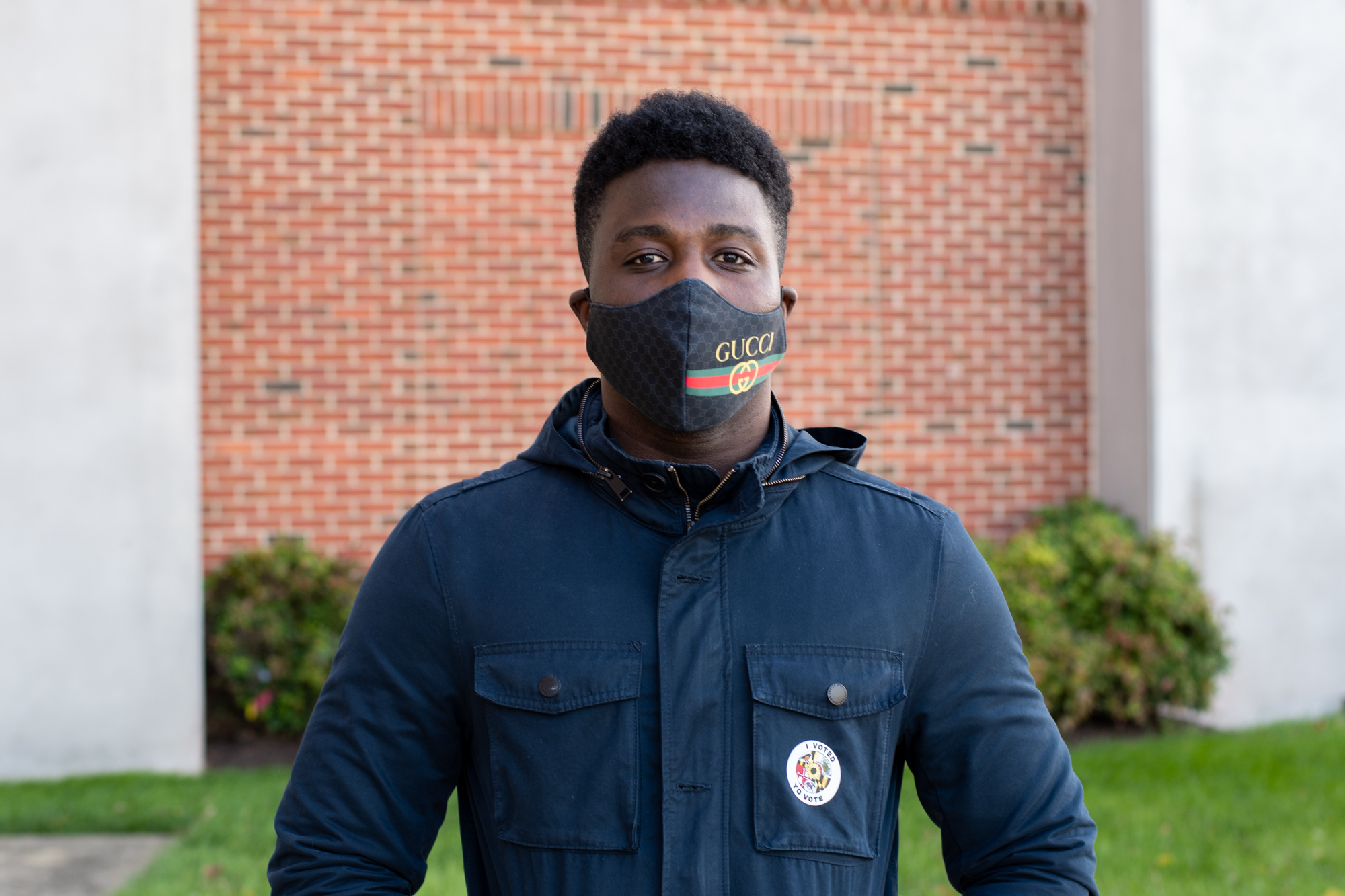 But even in the midst of their fear and anxiety, there were bright spots. Tuesday, for instance, marked 25-year-old Hakeem Champagnie's first time voting in an election since becoming a U.S. citizen.
"I finally feel like I'm an American," said Champagnie, who is from Jamaica. "Now it feels like I serve my people well, serve myself well, hopefully serve the country well."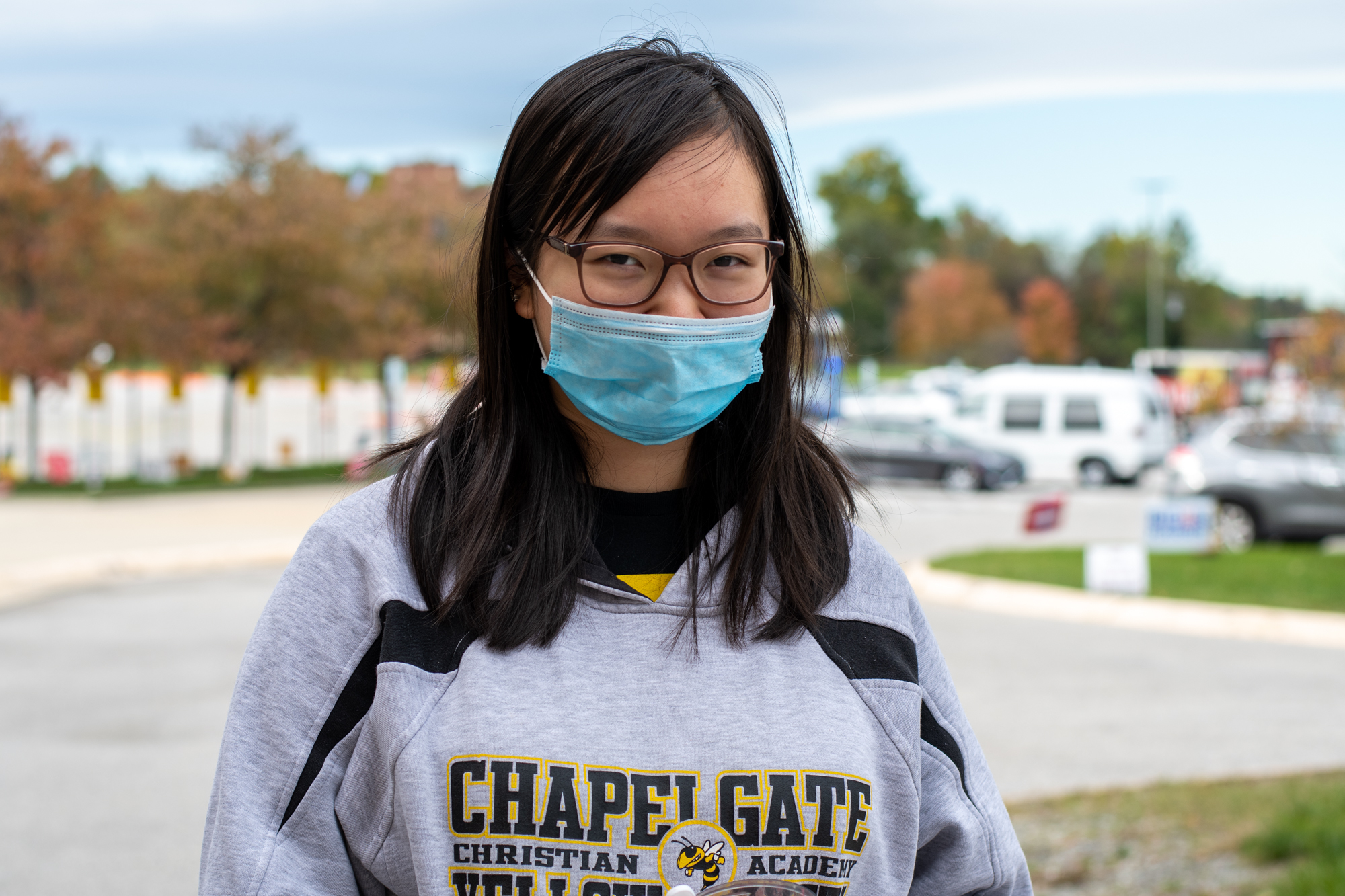 It was also Lori Zhao's first time voting in a U.S. election. She's a freshman at this university, and her family supports Trump. Zhao, however, does not. Instead, on Tuesday, she cast her vote for Biden, even though she isn't fully on board with his policies.
Voting this way felt "liberating," she said, like she's not defined by her family. Last week, she turned down their offer to come vote with them. Do they know she voted for Biden?
"Fuck no," she said.
Zhao's lukewarm support for Biden was echoed by other voters, many of whom said their main purpose in turning out for the candidate was to get Trump out of office. Still, other students and College Park residents declined to settle for the former vice president, instead casting their ballots for third party candidates and some more unconventional figures.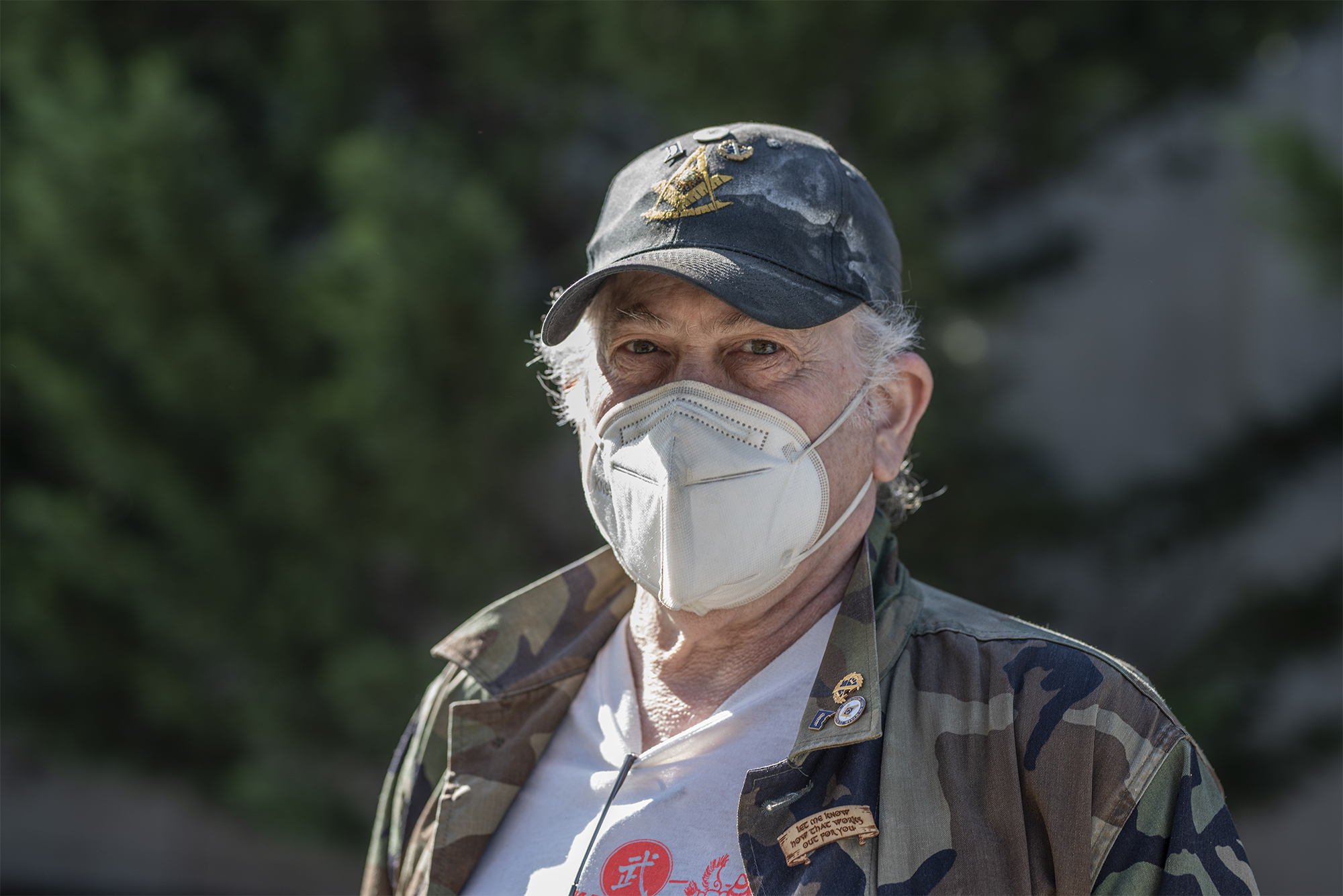 Beltsville resident Doug Cohen, for instance, wrote in Harry Callahan — a Clint Eastwood character from the 1971 film Dirty Harry — on his ballot. Fidgeting with a faded black cap that was decorated with pins, Cohen said the move was a statement against the choices presented by this year's election, which he described as one big toilet with a bunch of "you know what" in it. But he still identified voting as his duty, responsibility and right.
"I would be a fool not to vote," Cohen said.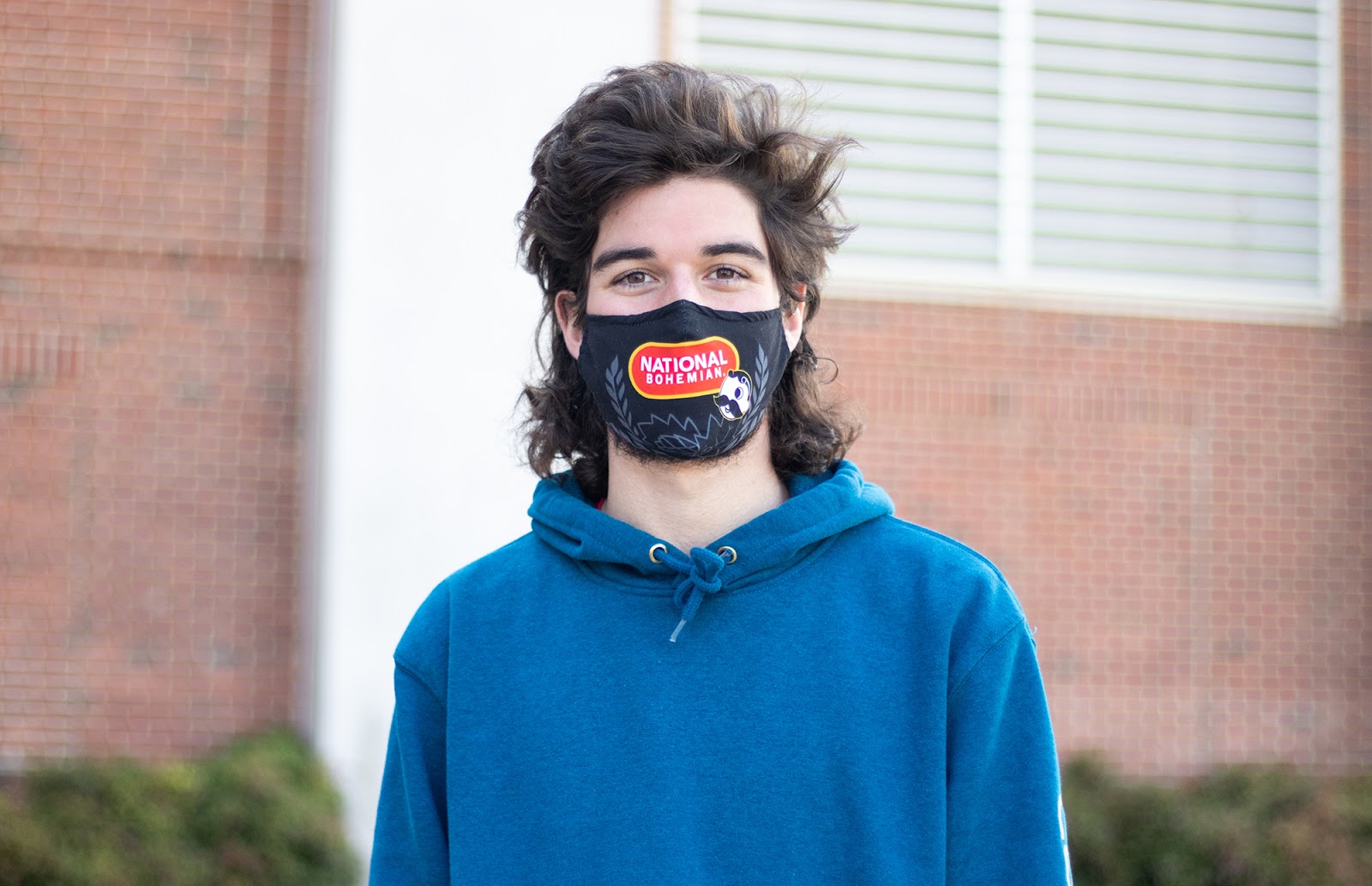 Mark Schaefer, a sophomore at this university, also expressed frustration with what he saw as a lack of viable options presented by both parties. A first-time voter, Schaefer said he almost didn't cast a ballot his year, but his mom convinced him to. Though he doesn't have faith in either major party candidate, he said he wanted to do his part to help out.
Still, he said, it shouldn't be this way.
"People should have pride in who they're picking. I shouldn't be picking against someone," he said. "And I feel like it's kind of been like that."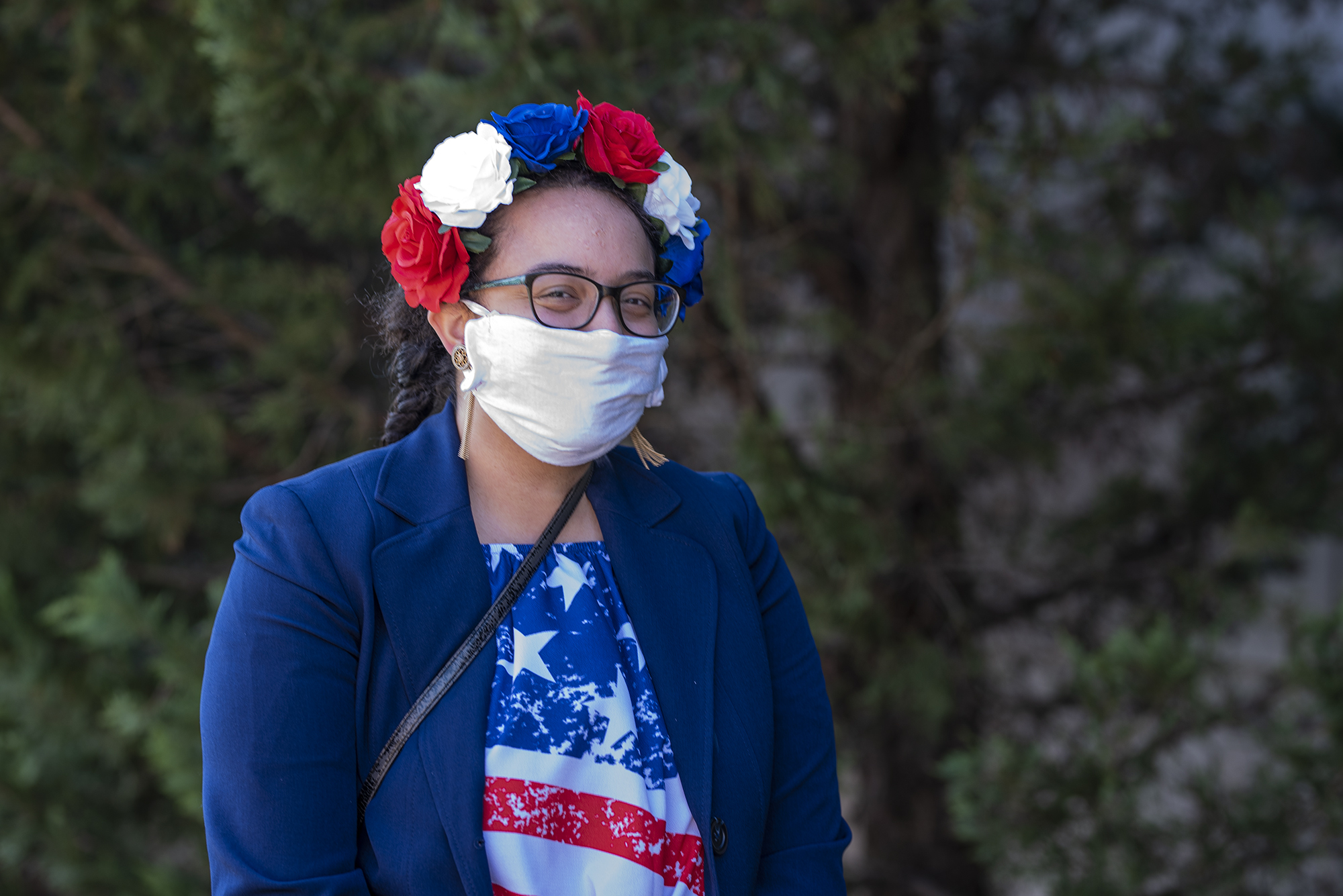 Meanwhile, other voters took to the polls with more enthusiasm. Jordan Dewar, for instance, had a skip in her step as she made her way to Xfinity Center. She had put on an American flag shirt and a headpiece with red, white and blue flowers for the occasion, and she said her girlfriend had dressed up as the Statue of Liberty when she voted.
Dewar said she voted for Biden, specifically because of his plans to strengthen the U.S.'s alliance with Kosovo, a country in southeastern Europe that was devastated by a genocide in the late 1990s. Dewar is a government and politics graduate student at this university who studies the Western Balkans, where Kosovo is located, as her field of expertise. She also says she has friends who are survivors of genocide."The fact is that they can't really vote, but their lives are gonna be completely changed by whoever wins," Dewar said.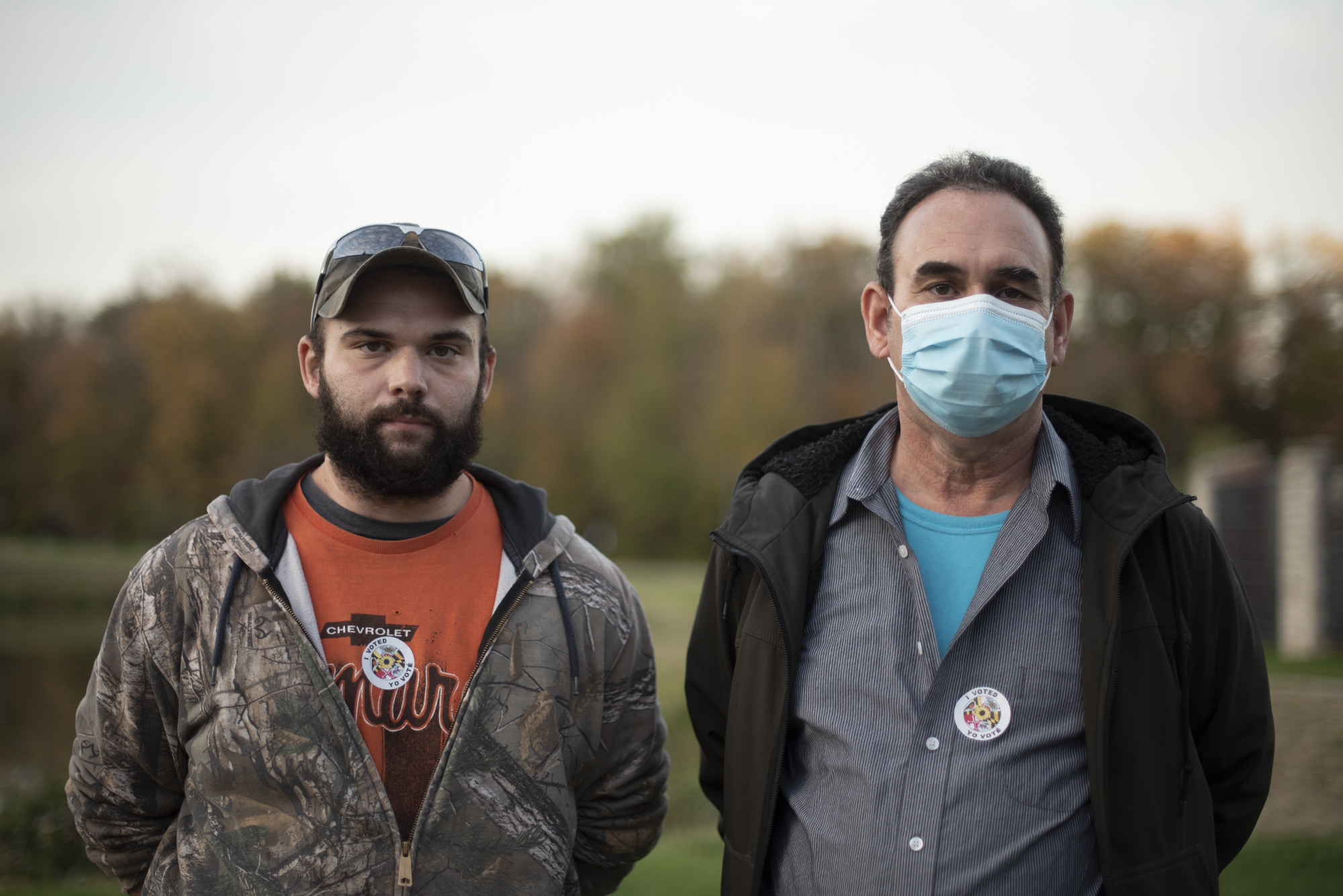 Though 57-year-old Patrick Guy declined to say who he voted for, he said he was casting his ballot for the merits of his chosen candidate, rather than their political party. He also expressed discontent with the "stonewalling in Congress," calling it unbelievable.
"They can't get anything passed because they're nitpicking and playing political games that they've been playing for the last 35 years," he said. "It's getting this country nowhere."
Guy came out to vote with his son, 25-year-old Dan Guy. Though Dan Guy also declined to say who he voted for, he described the country as divided and condemned the Black Lives Matter movement for trying to "provoke hate and anarchy" in the nation. He also raised concern about the destruction of monuments in the country. 
"That's part of our history, that's what we are as Americans," he said. "People are trying to take away [from] that, and I don't think that should be [shown] as a caring movement."
Earlier on in the day, as the sun streamed down onto the pavement, a cycle of prominent university and county officials stopped by the College Park polling center.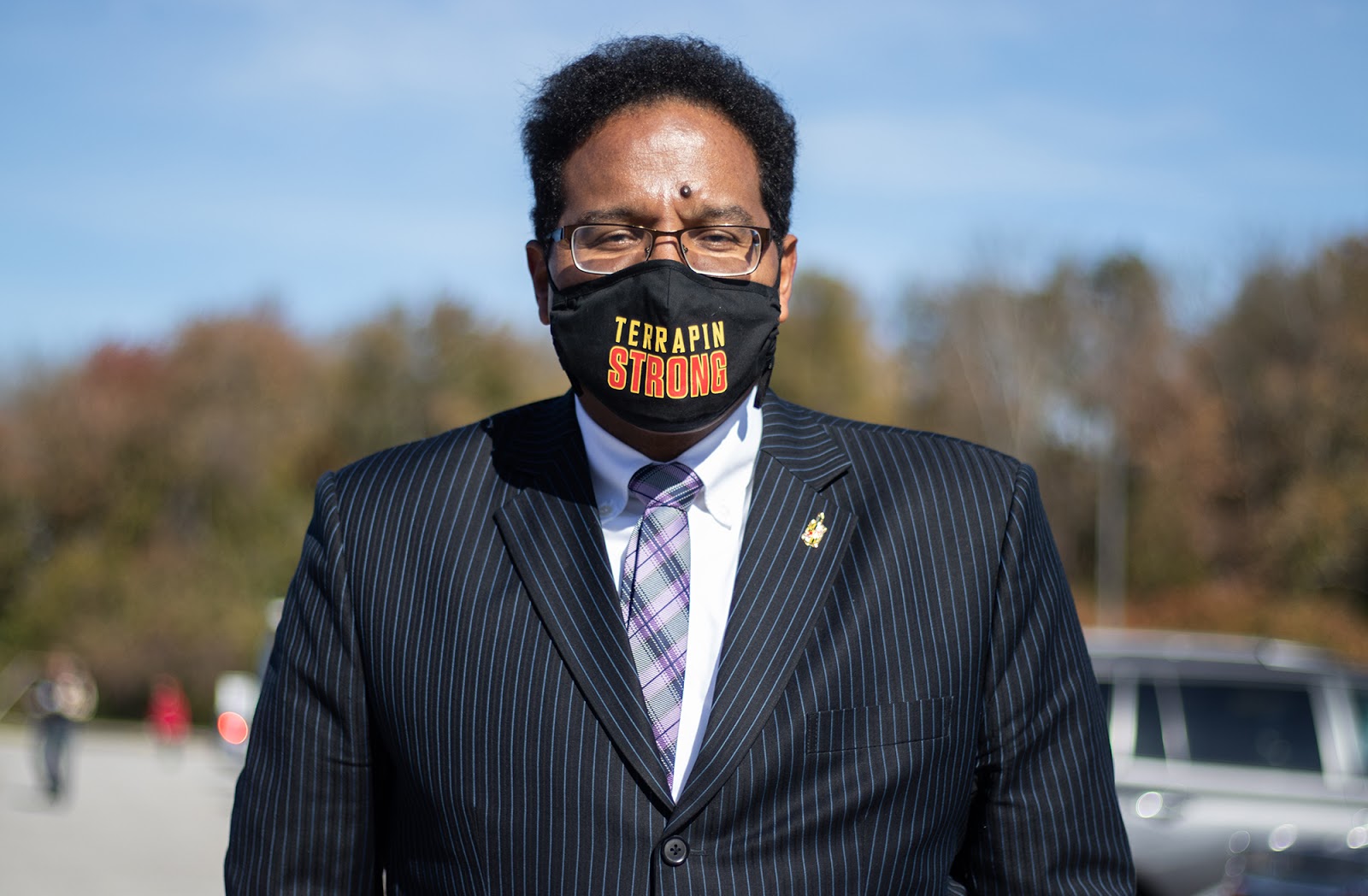 As he squinted in the sunshine, university President Darryll Pines said the election is the "most important competition we're having at Xfinity, in the history of Xfinity." He said he voted for "the future of the country, for the future of your generation and the future of our democracy. He strongly encouraged students at the university to do the same.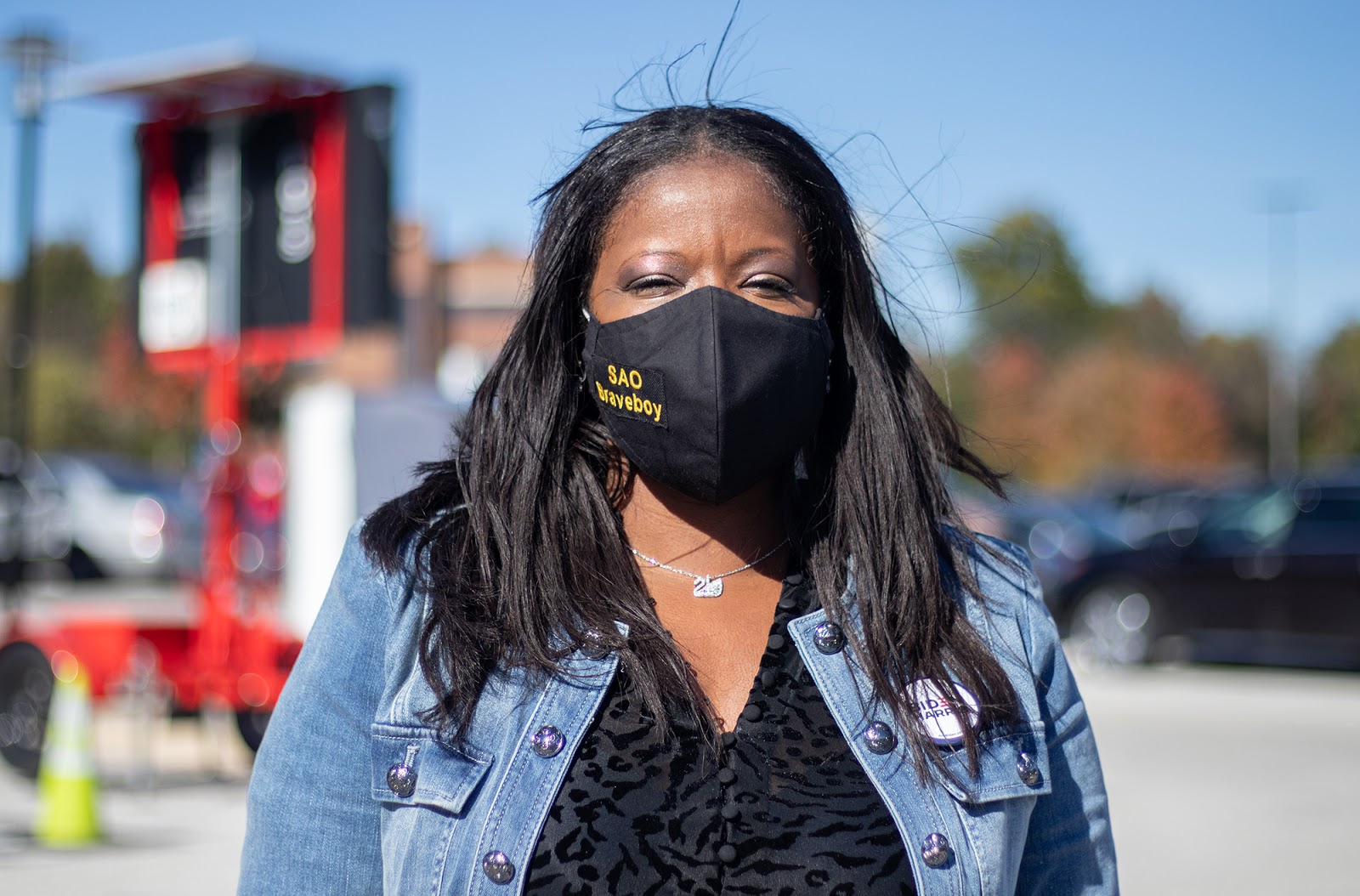 Aisha Braveboy, state's attorney for Prince George's County, similarly put stock in turnout among young people this election cycle, because "it is their future that we are fighting for, and they need to be a part of this process," she said. "And I think they will be."
And seated in a golf cart, ready to head off to his next meeting of the day, Maryland football coach Mike Locksley remarked that, too often, people just sit back and complain about problems in the country rather than stepping up to exercise their right to vote.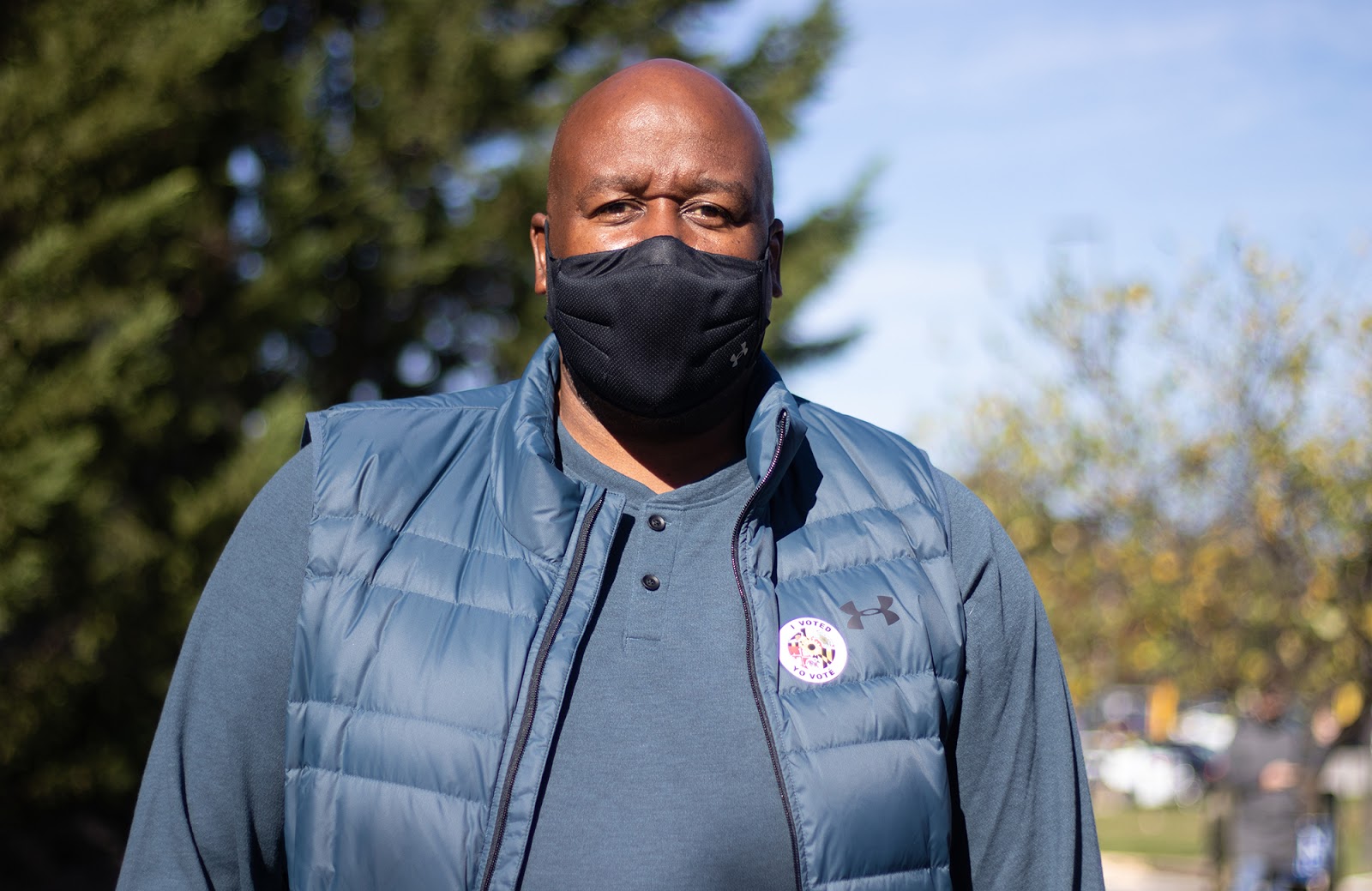 "In the coaching world, we call them 'Monday Quarterbacks,' where, after the game, [they] have a ton of issues with what was done and how it was played and did nothing to be a part of getting an answer on the front side of it," he said.
Later on in the day, freshman Tristen Stallworth cast a ballot for the very first time, for Biden. For him, the choice was simple: "One candidate believes in [climate change], and the other doesn't," he said. Listening to scientists — both in terms of combating global warming and stemming the spread of the novel coronavirus — is vital in a president, he said.
By 2 a.m. on Wednesday, the Associated Press had already called the presidential race in over 40 states. But the election isn't over yet, and with no guarantee of when a winner will be announced, some voters expressed worry for the days to come.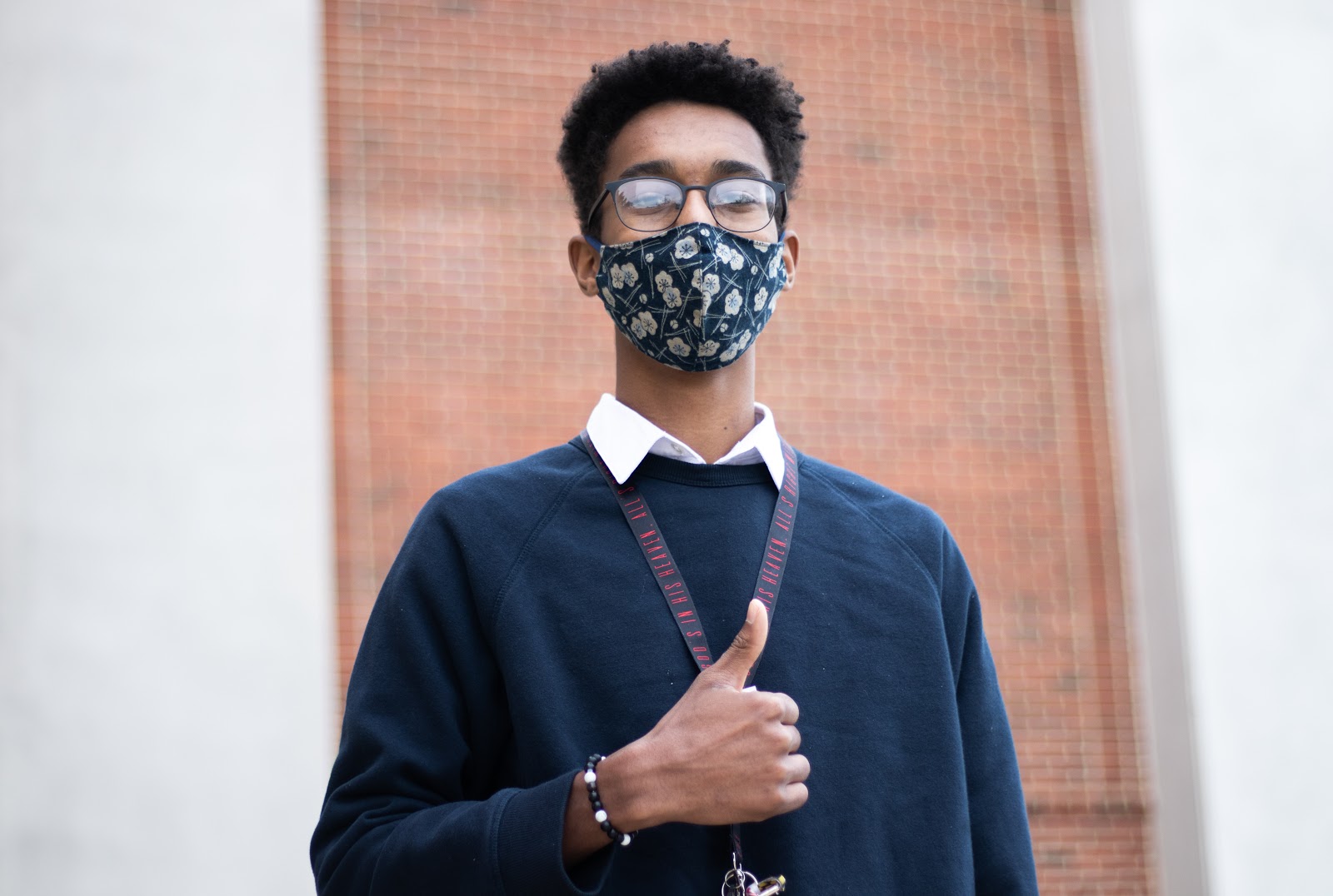 Despite who comes out on top, though, Stallworth said one thing will stay the same.
"It's gonna be in the history books," he said. "Things are going to be pretty crazy in the next few weeks, no matter who wins."