After 12 years of planning and a year of construction, Hollywood Gateway Park officially opened at 10 a.m. on Monday with a ribbon cutting ceremony.
College Park Mayor Patrick Wojahn, council members Fazlul Kabir and Maria Mackie, planning director Terry Schum and city manager Scott Somers attended the ceremony for the park, located on the southeast corner of Baltimore Avenue and Edgewood Road. 
Construction on the park began last March, and it was scheduled to be completed in September 2019. But, after coordination issues from contractors and other construction delays, it was pushed to October 2019, then to this March. 
The park was projected to cost $1.3 million, according to the city's website. Construction was estimated to cost $969,000. 
The site used to have a vacant house and a few lots nearby, but during council discussions, it was decided that the location wouldn't be good for residential or commercial development. So instead, the council decided they could take the land and turn it into something beautiful, Wojahn said. 
"We wanted to make a place that would be a place where people can gather, a place that is exciting and vibrant and looks good in a key part of the city," Wojahn said. 
The park includes a pavilion with bamboo chimes, pathways, micro-bioretention features and native plants in the landscape. For Kabir, who represents District 1, the pavilion was a sight to behold.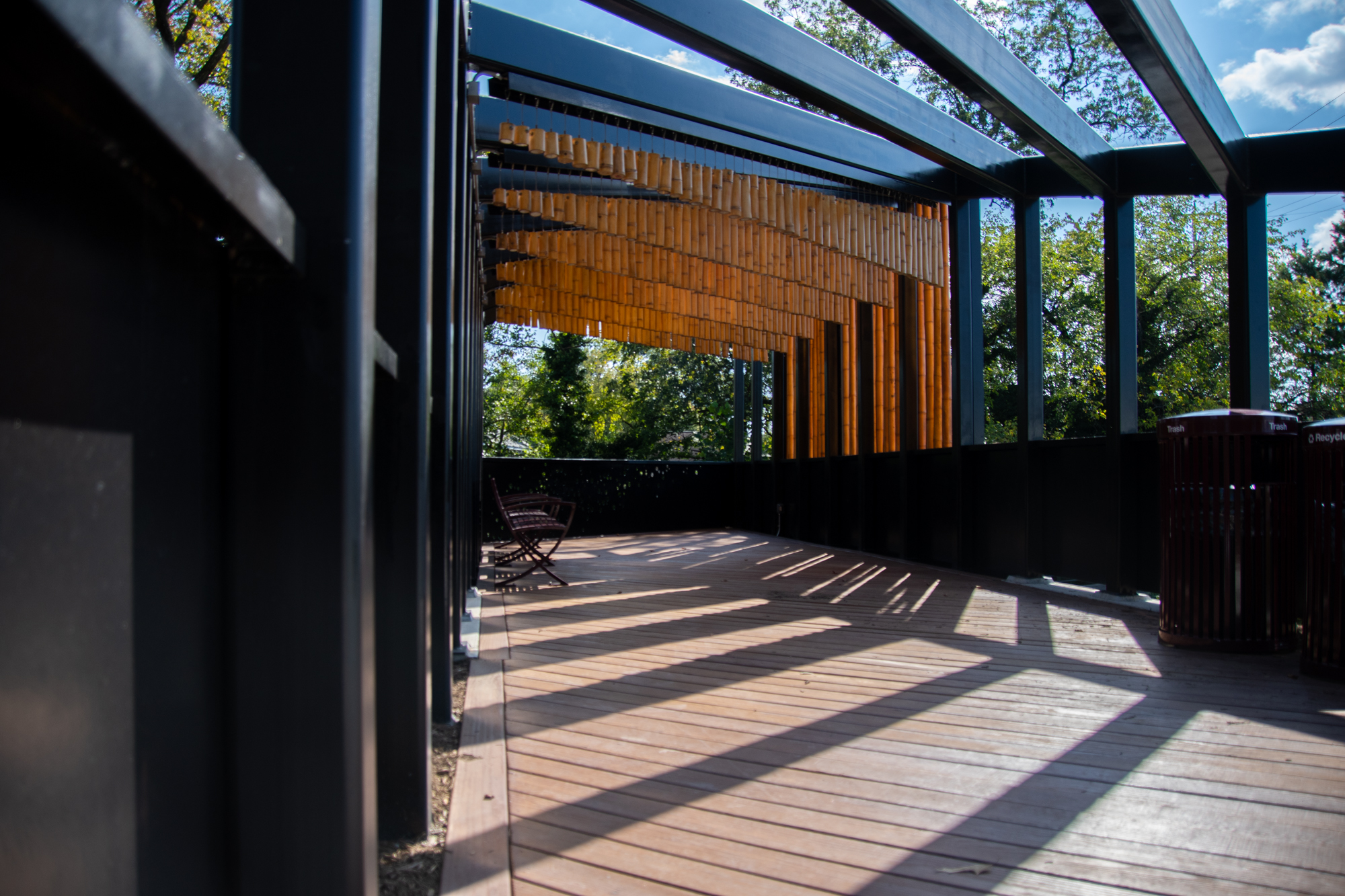 "The pavilion is pretty unique, it's pretty nice. On a windy day, you'll hear the chimes of bamboo moving," Kabir said. 
Both officials said the park manages to supply the community with a green space for residents to connect with nature. Kabir said 200 families are within walking distance of the park. But the park isn't just a pretty amenity. It also has sustainable features, such as planters that serve as rain gardens and stormwater management to deal with runoff from Route 1. 
Being only 69 feet above sea level and located in a floodplain, College Park has historically had issues with flooding. Some recent and projected developments include solutions to help deal with the excess water. 
Amid the COVID-19 pandemic, Wojahn said he felt like the park was a good addition for the community since people are always looking for places to be outdoors. 
One of Kabir's neighbors already went to visit the park with her dog. Kabir said he was glad it could be used by residents, but still urged safety on their part.
"We're still sending [a] cautioning message telling people to maintain social distancing," Kabir said.