By Brittany N. Gaddy
For The Diamondback
As a part of the University of Maryland's latest precautions to limit the spread of the coronavirus, white shapes have been painted on the grass on McKeldin Mall to encourage students to sit at least six feet apart.
The figures are shaped like turtle shells to represent the university's mascot, a diamondback terrapin. The shapes appeared on the grass at the beginning of the fall semester, and there are now about 200 of them, each measuring 10 feet long and six feet wide.
Brian Ullmann, the acting associate vice president of marketing and communications at this university, said the circles painted on the ground at Domino Park in Brooklyn, New York, which encourage visitors to maintain social distancing, inspired the idea for the shapes.
The shapes are part of the "4 Maryland" campaign, which Ullmann spearheads along with the university's strategic communications office. The campaign aims to inspire a sense of community, Ullmann said.
But the shapes on McKeldin Mall do more than just tell students to stay safe, Ullmann said. 
"Instead of saying to people, 'maintain six feet,' we wanted to show people," Ullmann said.  "Come outside, be on the mall, maintain physical distancing. But still enjoy the campus and still enjoy being around other people — that was really the goal."
Although he doesn't think there's anything wrong with them, William Pastios said he doesn't see them as useful. 
While he understands the shapes are there to encourage physical distancing, the senior computer science major said, he thinks people who don't want to follow the rules aren't going to care.
"I feel like that if people want to social distance, it's not exactly difficult," Pastios said. "I don't think the circles themselves have any influence on what people are going to do."
[With most classes online, some UMD students are turning to GroupMe]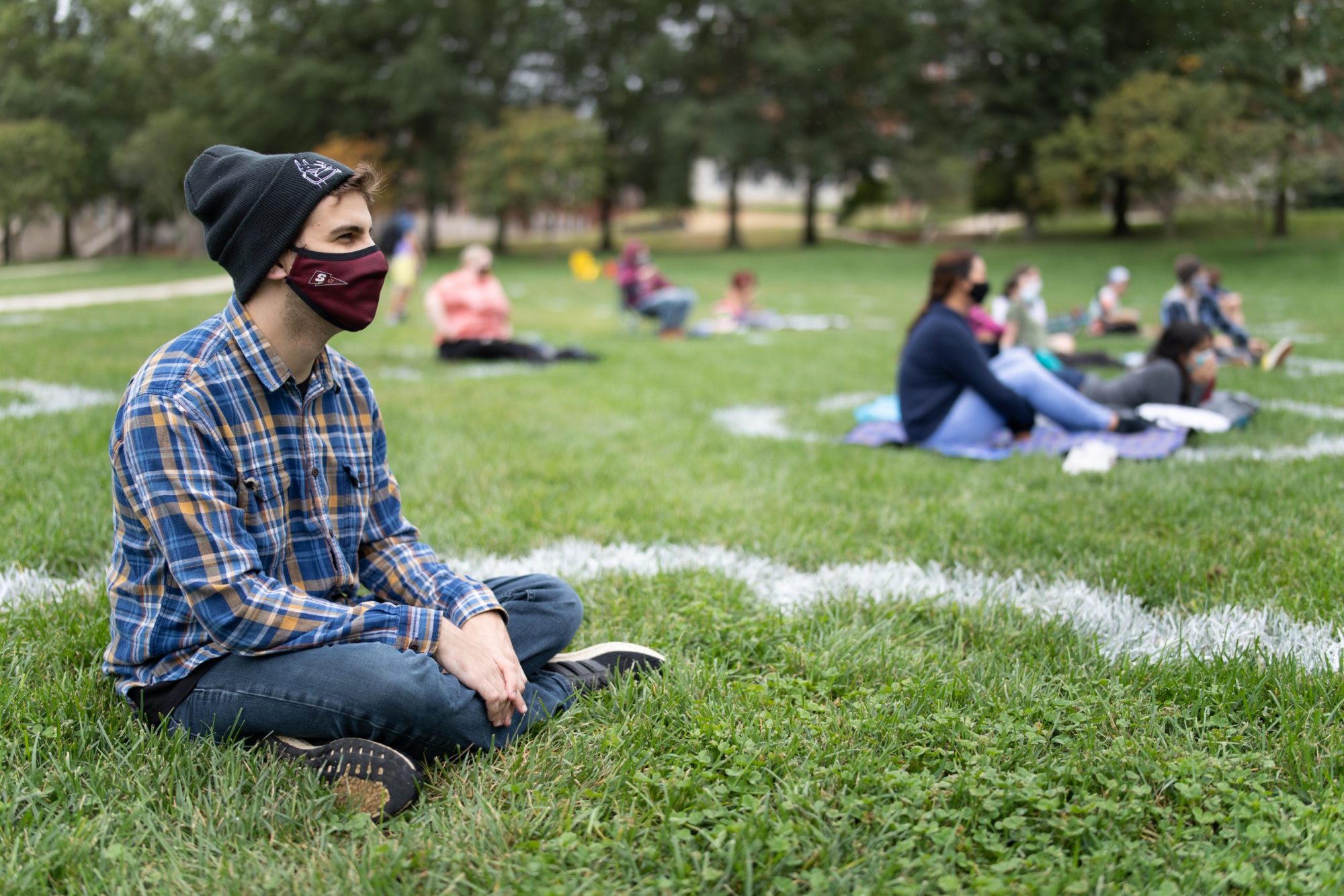 Yves Quibuyen, a sophomore public health science major, disagrees. 
Quibuyen said he sits in the shapes about two times a week, and it's nice to know that he's at least six feet apart from other people. 
"I think they're really helpful," Quibuyen said. "They allow for people to go outside and have a visual representation of, 'Hey, this is six feet apart.'"
The shapes were also used during a performance by Erasable Inc. — an improv group at the university — last Friday. 
Stephanie Moy, a senior physiology and neurobiology and psychology major, is a creative director for Erasable Inc. She said last week's performance was the group's first in-person event since last semester.
Typically, the group performs in front of McKeldin Library while the audience sits on the steps, Moy said. But last week, the actors faced the Administration Building, and the audience sat in the painted spaces on the grass.
"As improvisers, we're always up for adapting to things," Moy said. "We definitely tried the virtual thing, but doing it in-person and being safe about it was something that was really encouraging to us as performers."