The frontline workers at the University of Maryland know what's on the way.
In the coming weeks, College Park's population will increase by thousands as students swarm to a campus that's been quiet for months. It's a milestone that many employees have been eyeing with anxiety — and fear.
Though many workers have been reporting for duty on the campus during the summer, the union that represents them still has questions about how the university plans to keep them safe during the novel coronavirus pandemic. How will employees be equipped to work inside buildings where students are being quarantined? How exactly will the school react when positive cases crop up?
For months, the union — the American Federation of State, County and Municipal Employees Local 1072 — has been trying to pull the university to the bargaining table to hash out protocols to protect the health of its employees. But according to the unfair labor practices complaint AFSCME filed last month with the Maryland State Higher Education Labor Relations Board, the university has repeatedly refused, saying it has no obligation to bargain with the union over health and safety practices.
But union members say accepting the school's response is not an option.
"Our job is to make sure that our members are kept safe and not brought into scenarios and situations that are going to put them or their families at risk," said Celina Sargusingh, clinic coordinator at the University Health Center and AFSCME member. "That's a legitimate enough reason to come to the table and bargain over health and safety, and put these things in writing — and not just give us lip service about how we're all in this together."
[UMD union still concerned on-campus workers aren't getting proper supplies, guidance]
The university does not comment on pending complaints or litigation proceedings, according to university spokesperson Natifia Mullings. Erica Snipes, executive director of the State Higher Education Labor Relations Board, said Tuesday that a response has been filed to the complaint, and it is now being investigated.
In a statement emailed by Mullings, the university said it has continued to meet with union representatives, keeping "lines of communication open, informing AFSCME about the health and safety protocols we have in place and discussing the concerns they have raised as we continue our gradual return to campus."
But meeting and bargaining are two different things, says Todd Holden, interim president of the AFSCME's local chapter. In a collective bargaining agreement, he explained, both sides understand that they have certain shared responsibilities, and there will be consequences if those responsibilities are not met. 
Right now, he said, it feels as if the union is chasing after the university as it releases coronavirus policies, calling for officials to address gaps in them as they go — and he doesn't think that will change until administrators come to the bargaining table.
On Tuesday, he addressed a crowd of socially distant, mask-wearing protesters gathered at a parking lot outside of a church close to the university's campus, promising that AFSCME won't back down from the fight ahead.
"The stakes are too high," he said. "We're talking about people's livelihoods. We're talking about people's health and safety."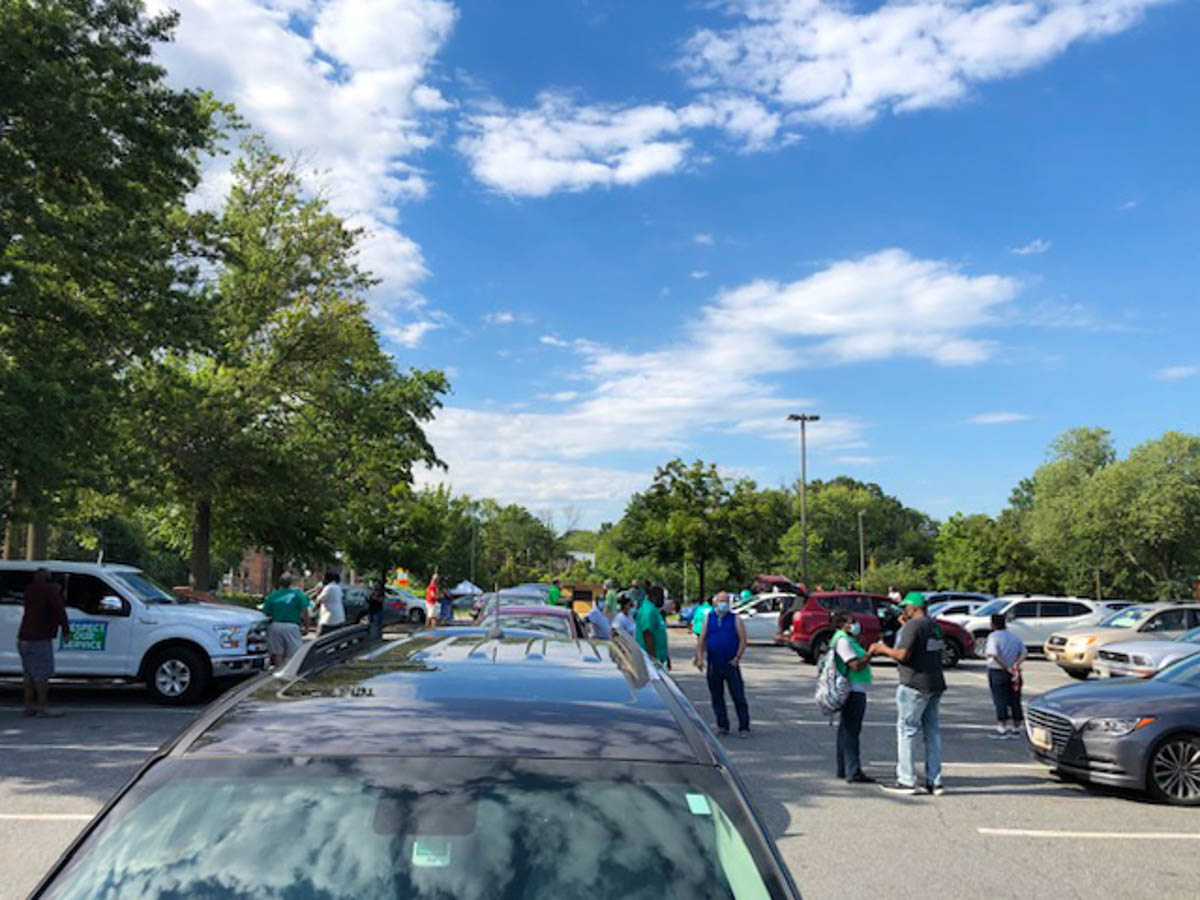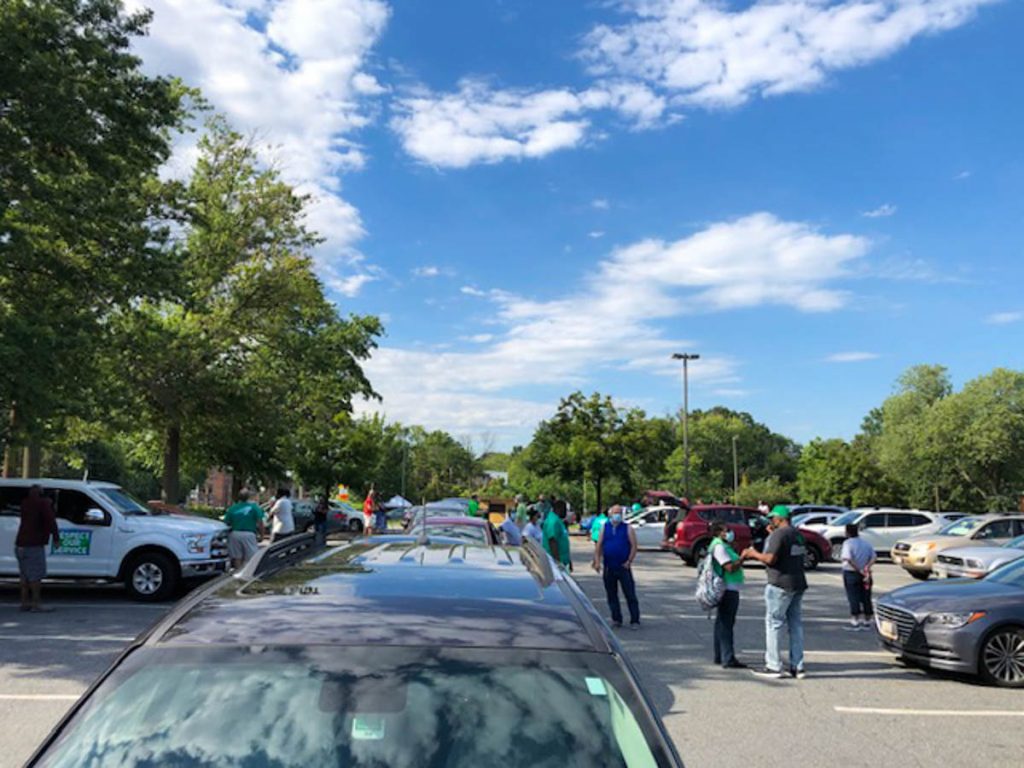 From the church parking lot, union members and campus allies drove through campus, horns blaring, to draw attention to AFSCME's demands. Union representatives said more than 70 cars turned out for the demonstration.
AFSCME is also demanding that the University System of Maryland bargain directly with the union to work out a standardized policy for health and safety for its 12 member institutions. Currently, policies for confronting the virus' spread vary across the system's institutions, which doesn't doesn't make much sense, said Stuart Katzenberg, director of growth and collective bargaining for AFSCME Maryland Council 3.
In a statement emailed by system spokesperson Mike Lurie, the USM said campus leaders have worked hard over the past several months to prepare their institutions to reopen, looking to the latest federal, state and local public health information for guidance. In July, the system announced that all students and employees returning to member institutions would be required to be tested for COVID-19 no more than 14 days before their arrival and to monitor their symptoms daily in the 14 days leading up to their return.  
Institution leaders have also worked to de-densify campuses to the "maximum extent possible," and will require all campus visitors to wear a face covering, maintain physical distancing and employ "vigilant hand hygiene," according to the statement.
"Since the beginning of the COVID-19 crisis, concern for the safety of our students and employees has guided the University System of Maryland's … planning and decision-making," the system's statement read.
[UMD takes more steps to help housekeepers working without AC]
But according to the results of a survey conducted by AFSCME, many system employees — 57 percent of the 1,428 respondents — said they have either "a great deal" or "a lot" of concern about their university's reopening plans. Forty-seven percent of respondents also said they worry screening and testing procedures will be inadequate.
And though AFSCME celebrated the system's announcement that all workers and students would be required to be tested before coming back to campus, the union continues to push for regular mandatory testing. The union also continues to demand that the university provide in-person screening at the entrances of buildings or the campus, instead of leaving it to individuals to monitor their own health.
One housekeeper, Maria Ayala, says the current system of screening doesn't work: Some of her coworkers have shown up to shifts even while exhibiting symptoms, she said. And though the university is offering free COVID-19 testing for all community members in the next three weeks, Ayala says she hasn't heard anything from her supervisors about how often testing will be required.
According to the statement sent by Mullings, the university will be keeping community members updated about the presence of COVID-19 on the campus by publishing metrics on a dashboard, including campus density measures, the number of tests administered, the number of new positive cases by week and the positivity rate.
But according to the AFSCME survey, many system employees are concerned about their institution's capacity for contact tracing: 52 percent of respondents said they worry they won't be notified in a timely manner if someone on their campus or in their building tests positive for the virus. Additionally, 39 percent of respondents say they haven't been provided with personal protective equipment, cleaning supplies or disinfectants — the availability of which can vary wildly, even across departments on a single campus.
For example, even though Ayala and Crystal Foy both work as housekeepers at this university, the two women don't report receiving the same number of masks per day. Ayala, who works for Residential Facilities, says she receives one surgical mask per day and has to ask her supervisor if she wants another one. Foy, on the other hand, works for Facilities Management and said she receives five masks per day — a marked increase from when she initially returned to work, when she was receiving five masks to wear over the course of two weeks, she said.
"If it wasn't for the union, we wouldn't have the supplies we have," Foy said. "As a housekeeper, you do a lot of grunt work … It's like they had no empathy or sympathy for that."
Ayala and Foy are also scared that some students won't wear masks or follow social distancing guidelines as campus reopens. Ayala, though, is resolute: If people are crowding around her, she says, "I won't work."
MaryPIRG President Greeshma Anand says students should care about the situation facing workers, too. She participated in Tuesday's demonstration and pointed out that many of the issues worrying the employees — securing sufficient testing and contact tracing, for example — are also worrying students. 
Amy Rivera, president of Political Latinxs United for Movement and Action in Society, agreed. The student group sent a representative to Tuesday's protest.
"[Campus employees] put their lives on the line to make sure that our lives are a little bit safer," she said. "As students, it's our responsibility to make sure that they are well taken care of, and that they are safe to do the jobs that they are being paid to do."
And to ensure that workers are able to do their jobs safely, Sargusingh emphasized, the university must meet the union at the bargaining table.
"There's no other way around that," she said. "This is not optional."