This article is part of The Diamondback's 2020 Senior Edition. Click here for the rest.
By Christine Condon and Lyna Bentahar
Senior staff writers
Elonna Jones was at home in Baltimore the summer after her freshman year at the University of Maryland. She was babysitting her younger sister, and the news was playing on television in the background.
That's when the story about 2nd Lt. Richard Collins came on.
Jones had already heard about Collins' death. She already knew that the young black man, a soon-to-be graduate from Bowie State University, had been standing at a bus stop on the campus when he was approached and stabbed to death with a pocketknife.
But suddenly, the tears started coming.
"I just found myself crying. I wasn't even sure really where the tears came from," she said. "It was almost like the sudden re-realization of why black bodies really don't matter."
Nearly three years have passed since then, and Jones and other graduating seniors at this university are still carrying with them what most other current students do not. They know what it was like to be on the campus before Collins' death — and after.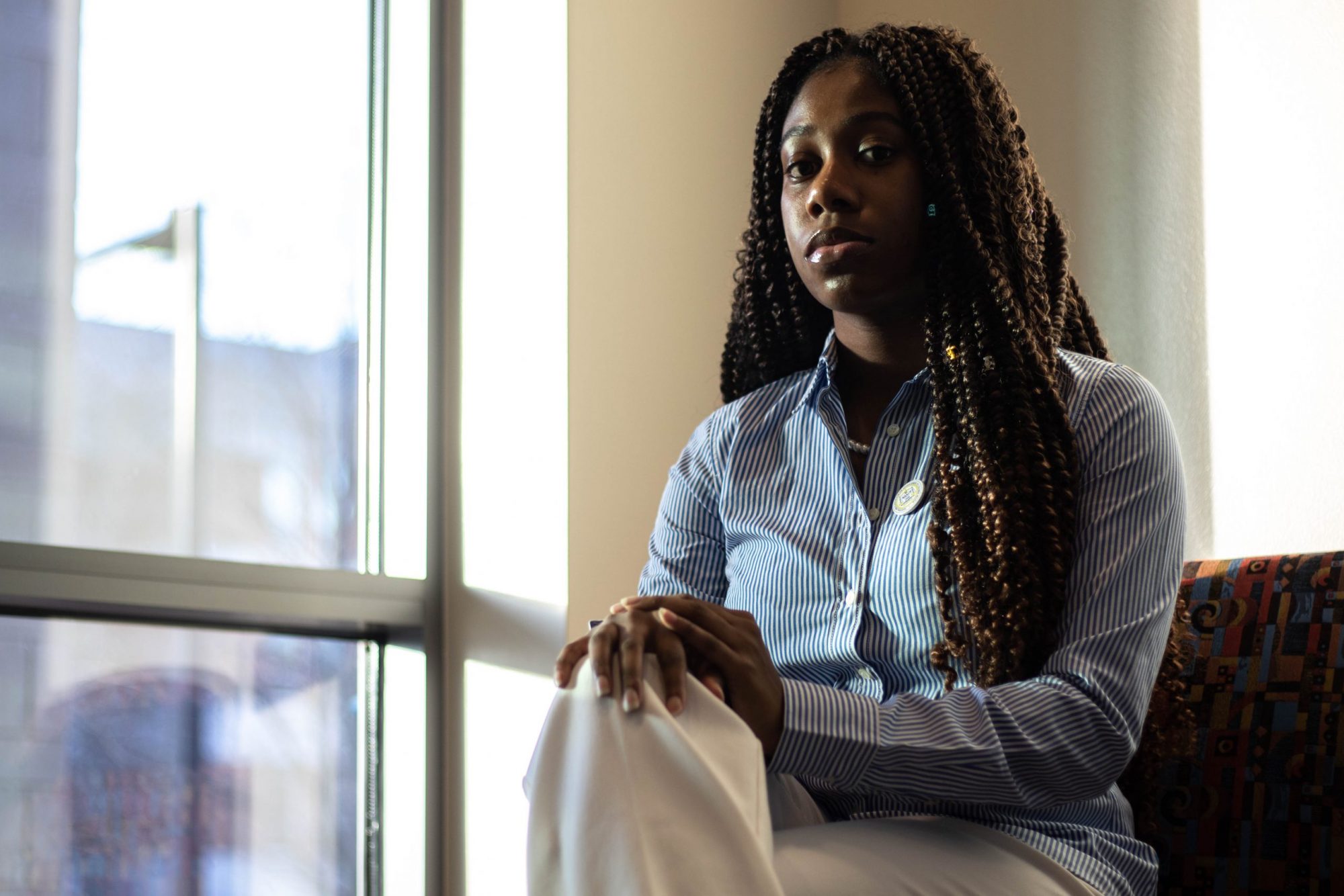 And their time at Maryland has been stained by a series of agonizing losses. The death of Jordan McNair, a football player who suffered heatstroke at a team workout. The death of Olivia Paregol, a freshman whose battle with adenovirus cost her her life.
These four years have featured court cases and task forces, investigations and reports. By now, most of those things have come and gone. But the painful memories will linger, for the friends and family of those who were lost and for the senior class that bore witness to tragedy after tragedy.
For Jones, now the president of this university's NAACP chapter, Collins' death was something of a call to action. Then a commuter student who was struggling to get involved, Jones decided to apply for the chapter's board.
"I knew that after my freshman year, especially after he was murdered, that I wanted to try to do something," said Jones, a senior government and politics major.
For her, it was about being heard by the university's administration, which was grappling with campus racism in the wake of Collins' killing and had started developing programming in an attempt to address it.
"How do we make the university and the administration hear us, and not only hear us but really have sympathy and understand our plight as black people, and then also as black students?" she said.
That concern had long existed, becoming especially poignant after a string of racist incidents in 2017. Posters proclaiming America is a "white nation" appeared on the campus, and a noose was hung in a campus fraternity house.
In May 2017, Isha Kamara, a senior African-American studies major, joined a protest in front of the president's house, demanding the administration take action to prevent more incidents in the future.
"It's someone's blood that's going to be on your hands," Kamara recalled the protesters saying.
A little over a year later, McNair's death unearthed many of the same concerns.
For Kamara, it felt like "Richard all over again."
The investigation into McNair's death would reveal that the training staff charged with caring for him were slow to recognize the signs of heatstroke and didn't pursue the proper remedy, which would have required them to submerge the young athlete in an ice bath.
The story felt familiar to Jones. It was a jarring reminder that black people's pain is sometimes discounted and undertreated in medicine as a result of racial bias.
"We have suffered tragedy as a university community in recent years, and we have always kept at the forefront our need to support our students through difficult times," said university spokesperson Katie Lawson in a statement. "Through sadness, we have worked to provide the opportunities for all of us to unite and lean on one another. As we near the end of the academic year, we honor loss as we also celebrate the many accomplishments of our graduates."
Mrinalini Nagarajan, a senior criminology and criminal justice major, felt her heart break when she got news of Collins' and McNair's deaths. In the wake of losing each of them, she felt called to stand up and support them.
In one instance, she spoke up against students who continued to use the bus stop where Collins was killed, even after it had become a de facto memorial to the young ROTC student.
This winter, Sean Urbanski, a former student of this university, was convicted of first-degree murder in Collins' death, although the hate crime charge against him was dropped. Still, no permanent memorial to Collins exists on the campus.
After McNair's death, Nagarajan participated in a rally in McNair's honor, entitled "Justice for Jordan."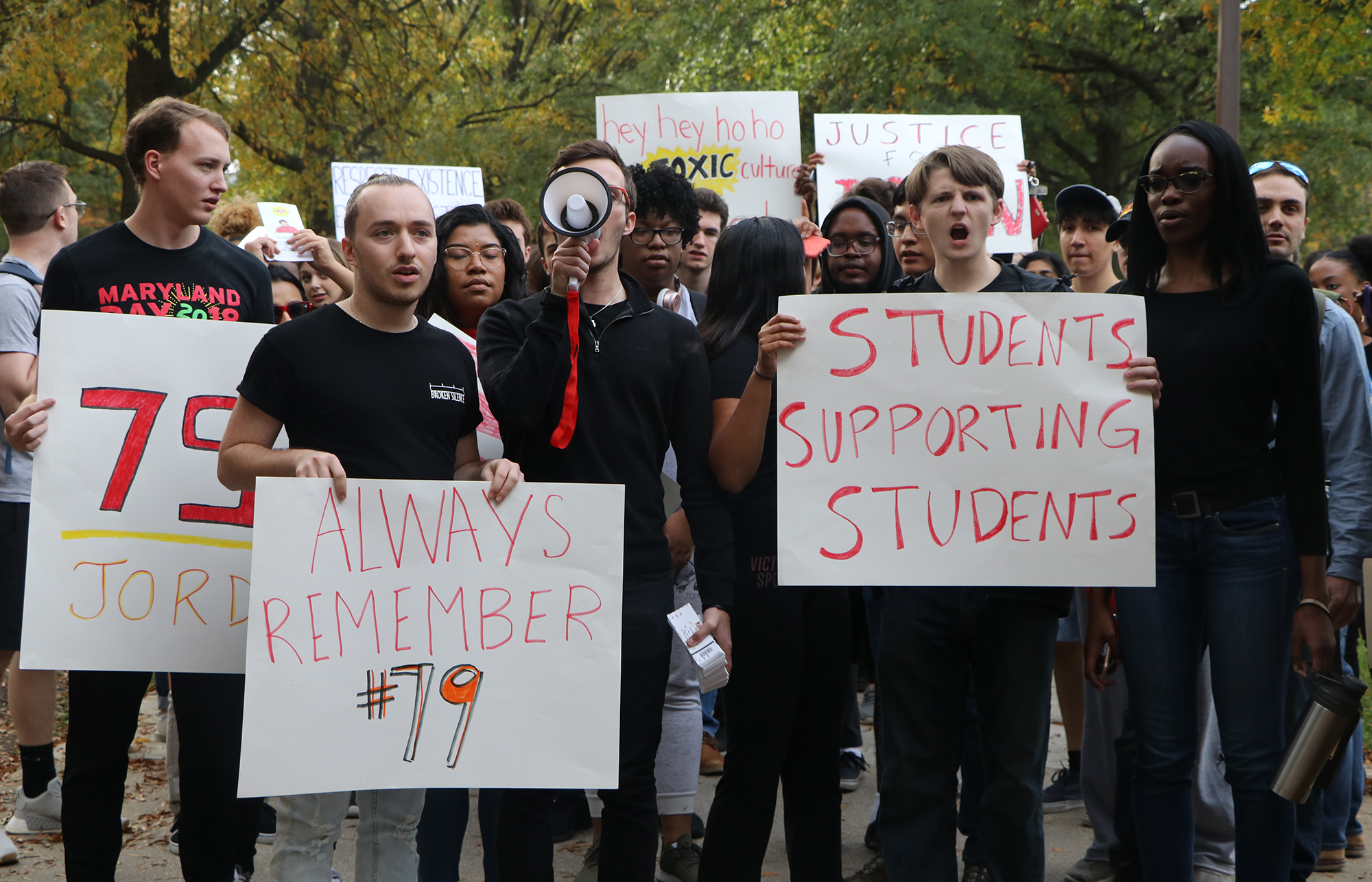 Though the rally was originally a protest against football coach DJ Durkin's reinstatement, it ended up taking place after the coach's departure. It devolved into disorder as two factions emerged: those who still felt dissatisfied by the administration's approach, and those who wanted to use the rally as a public show of support for student athletes. But, most importantly, the rally showed the student body cared about what had taken place, Nagarajan said.
"That was really just something I felt proud to be a part of at the end," Nagarajan said. "At least we're bringing awareness on campus."
Seeing the university come together after each loss brought Nagarajan hope, she said.
"A lot of people were there to support one another during the toughest time," she said. "I think, over the years, more changes will be made in the right direction."
Alex Ostrander, a senior psychology major, looks forward to seeing the current engineering school dean, Darryll Pines, as this university's next president. She hopes that, under his leadership, university administration will become more transparent.
The tragedies exposed the university's inability to be proactive, Ostrander said, convincing her that the administration was continually withholding information from the community.
That belief was reinforced, Ostrander said, after the adenovirus outbreak that struck campus in 2018, killing Paregol. The university waited 18 days before notifying the campus community of the virus' presence on the campus. Investigations revealed the university followed the necessary protocol, but that communication between departments was troubled.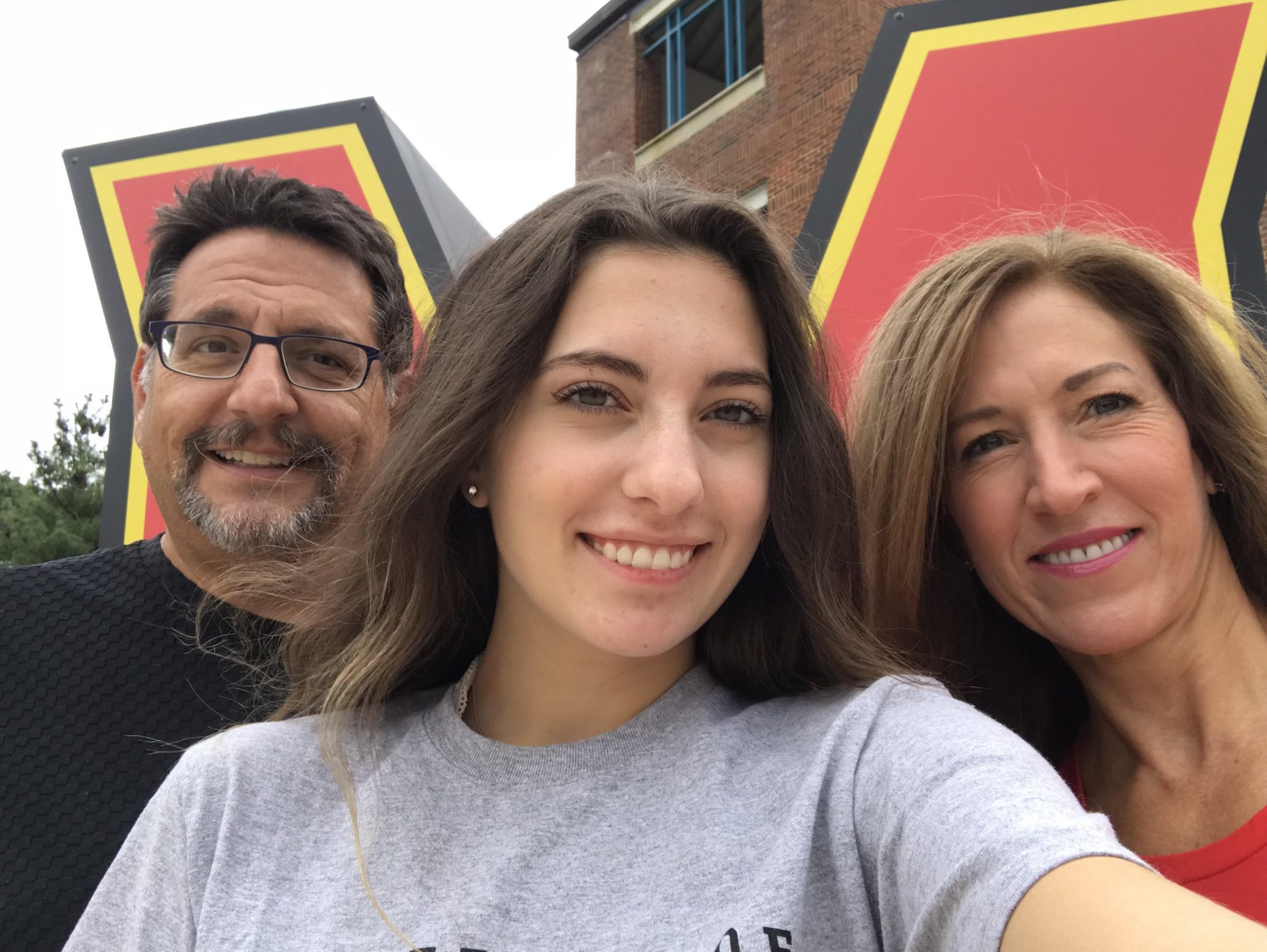 "It's crazy that the student ended up dying because the university didn't make them aware of [the virus]," Ostrander said. "With all these situations, nothing's really done about it until there's a horrific incident."
The death of Maria Fisher also lingers in Kamara's memory. Fisher, a freshman from Pennsylvania, was hit and killed by a car as she crossed Route 1 early one morning in October 2017. In the months after the crash, Fisher's family revealed she had woken up in a strange room that morning and called several friends in distress. But the police investigation revealed little about Fisher's whereabouts before she was killed.
Kamara said she felt as though the university didn't provide students with enough information about what happened to Fisher.
"Her story was just kind of thrown away," Kamara said. Meanwhile, she said, her fellow students "have to wake up every day and live with it for the rest of their lives."
As her time at Maryland draws to a close, Jones is reflecting on the difficult times. She remembers the personal challenges — the commutes filled with car trouble that, more than once, stranded her on the side of I-95 — and the challenges for her community: overcoming loss and, in Collins' case, what still feels like a lapse in justice.
But she remembers the good times, too, like the moment this winter, when she gathered with other students at the Montgomery Hall bus stop to memorialize Collins on what would have been his 26th birthday, candles held aloft in the midnight air.
"Activism is still very much alive on this campus," Jones said. "I feel like I'm leaving campus in a better state than when I came here as a freshman."